Multiple images claiming to be representative of the clashes that broke out between two groups in Haryana's Muslim-dominated Nuh district on July 31 during Vishwa Hindu Parishad's Brij Mandal Jalabhishek Yatra are currently viral on social media.
Users have shared these images while asking Hindus to protest against 'jihadi traitors'. "It is very sad to see all this that this is the condition of Hindus in the country of 120 crore Hindus? Are you getting beaten up all around? Whenever they want, they blow your property worth crores of billions everywhere and go to their home peacefully and are called peace-loving! You are called a rioter by raising the slogan of Jai Shri Ram? Now this was all that was left to be seen?", wrote verified user @ChandanSharmaG. He also hailed cow-vigilante Monu Manesar as the "true heroic child of this Mother India". (Archive)
The tweet garnered over 7000 likes and over 3,000 retweets.
वाह रे हरियाणा के वीर हिंदुओं
तुम पूरे दिल्ली को बंधक बना सकते हो?
तुम भारत सरकार को चैलेंज कर सकते हो?
सड़कों को जाम कर सकते हो?
लेकिन अपनी इज्जत नहीं बचा सकते?

यह हाल तो होना ही था जब तुम सड़कों पर बैठकर इन्हीं जिहादी गद्दारों का समर्थन ले रहे थे? आज इन्हीं गद्दारों ने तुम्हें… pic.twitter.com/gAr0fC5Ouj

— Chandan Sharma (@ChandanSharmaG) July 31, 2023
Some of these pictures were also tweeted by verified account @BiharwaleSir with the same caption as in the aforementioned tweet. (Archive)
वाह रे हरियाणा के वीर हिंदुओं
तुम पूरे दिल्ली को बंधक बना सकते हो?
तुम भारत सरकार को चैलेंज कर सकते हो?
सड़कों को जाम कर सकते हो?
लेकिन अपनी इज्जत नहीं बचा सकते?

यह हाल तो होना ही था जब तुम सड़कों पर बैठकर इन्हीं जिहादी गद्दारों का समर्थन ले रहे थे? आज इन्हीं गद्दारों ने तुम्हें… pic.twitter.com/41LVaAm35I

— Khan Sir ( Son Of Bihar ) ₚₐᵣₒdy (@BiharwaleSir) July 31, 2023
Several users tweeted the same claim using the same images.
This slideshow requires JavaScript.
These images are also viral on Facebook.

Fact-checking Image 1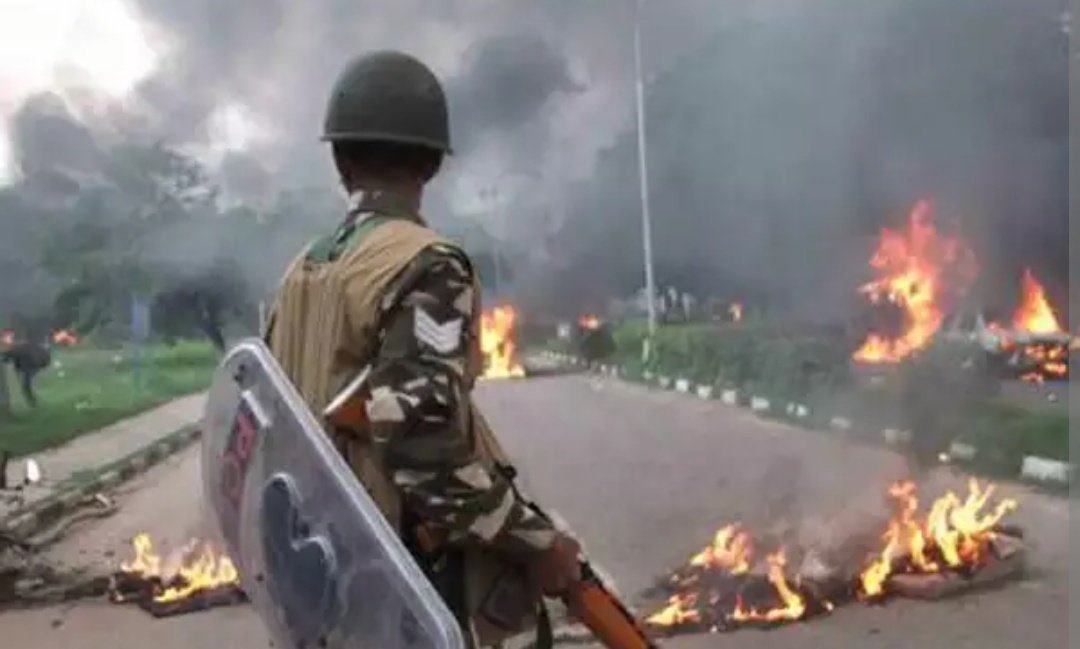 We found that this image is at least six-year old. In a report published in The Times of India on August 26, 2017, this picture was used to represent the large-scale violence that broke out over the conviction of Dera chief Gurmeet Ram Rahim Singh in Panchkula. At least 31 Dera Sacha Sauda followers were reportedly killed and more than 300 others were injured when the police and paramilitary forces opened fire to disperse a violent mob that had gone on the rampage after the Dera chief's conviction. The image was also used by Firstpost in their report, published on the same date.
This slideshow requires JavaScript.
The Tribune too reported on this violence in a report dated August 30, 2017. They used an AFP picture clicked from a different angle.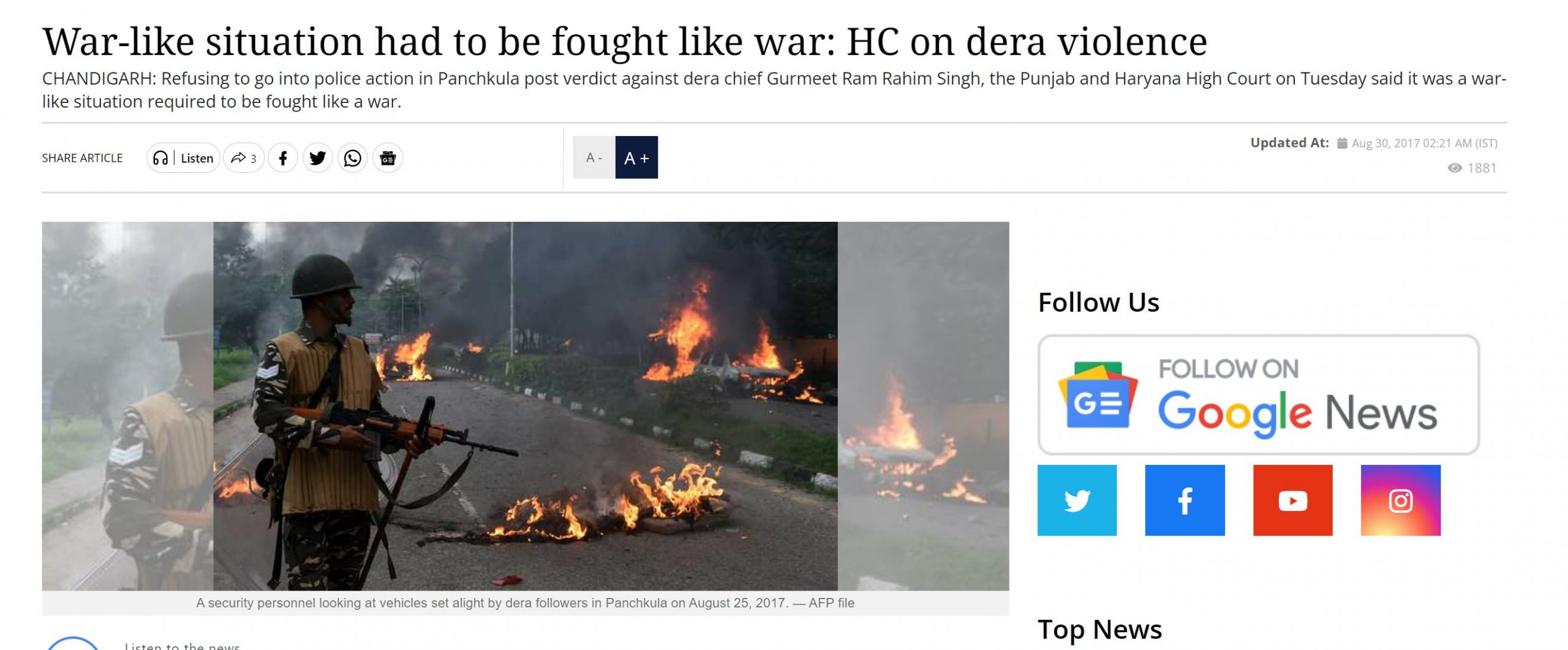 Fact-checking Image 2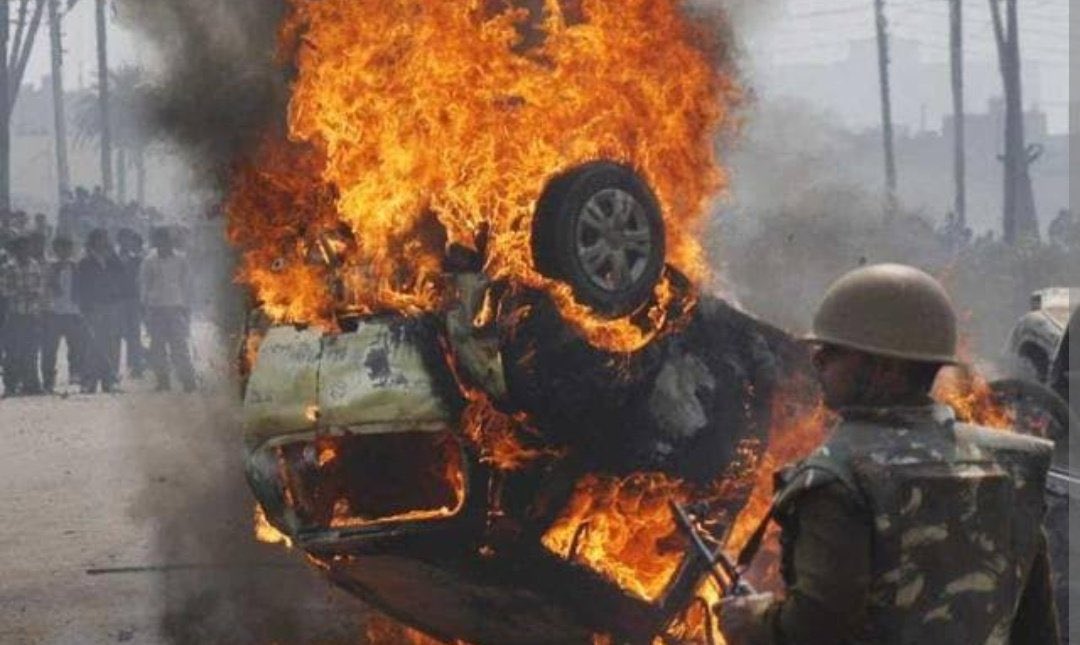 On performing a Google reverse image search of the image, we found a Hindustan Times article published on February 20, 2013, which reported the violence on the first day of the 2-day nationwide strike called by trade unions. The strike evoked a mixed response with banks paralysed and public transport disrupted. A union leader was killed in Haryana and factory units were damaged in Noida in sporadic violence.
The image was also used in another Hindustan Times report related to the strike on February 21, 2013. NDTV, too, used the same image to document cases of violence during the strike, in a report dated February 20, 2013.
This slideshow requires JavaScript.
Fact-checking image 3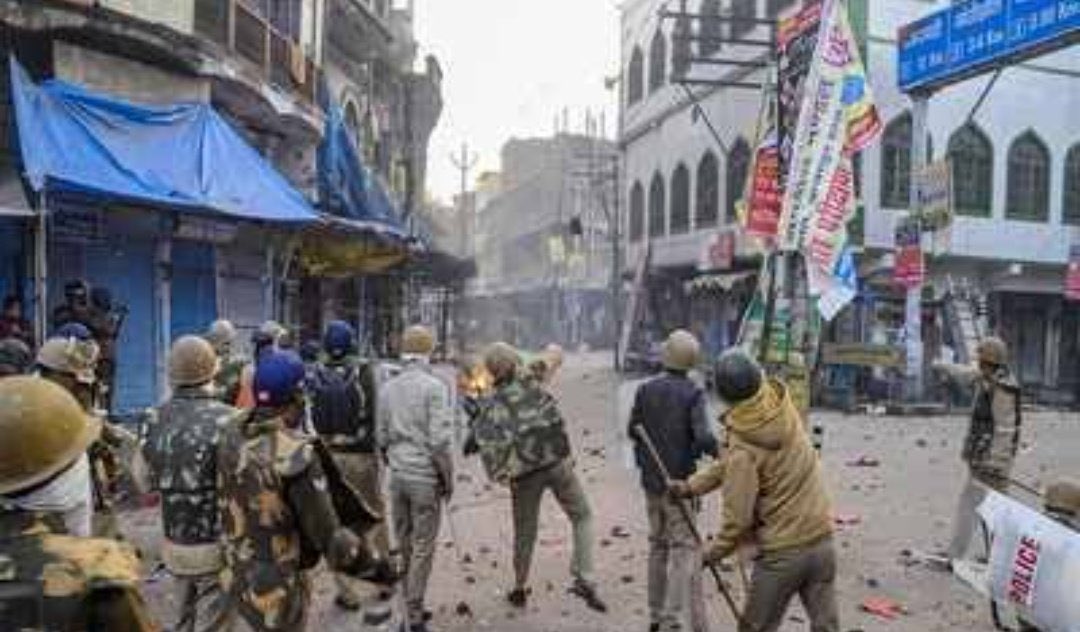 Upon a Google reverse image search, we found that this image was a PTI photo that showed the clash between police personnel and protesters during a rally against the Citizenship Amendment Act (CAA) in Kanpur on December 21, 2019. The image was used in a article in The Times of India dated December 25, 2019 which reported the constitution of a Special Investigation Team to probe cases of rioting registered in Kanpur during the anti-CAA protests.
Anti-CAA protesters reportedly had set Yatimkhana police post on fire. Two persons had died in the clashes between the protesters and police and another succumbed to injuries at a hospital. Police had to lob tear-gas shells and use canes to disperse them and fire tenders were rushed to control the flame. The image was also used by TOI in their December 26, 2019 report titled "Anti-CAA protests: 1,113 arrests, 5,558 preventive detentions, 19 dead in UP". Deccan Herald used this image in a December 22, 2019 report titled, "Anti-CAA stir: Declare hospitals safe zones, says IMA".
This slideshow requires JavaScript.
Fact-checking Image 4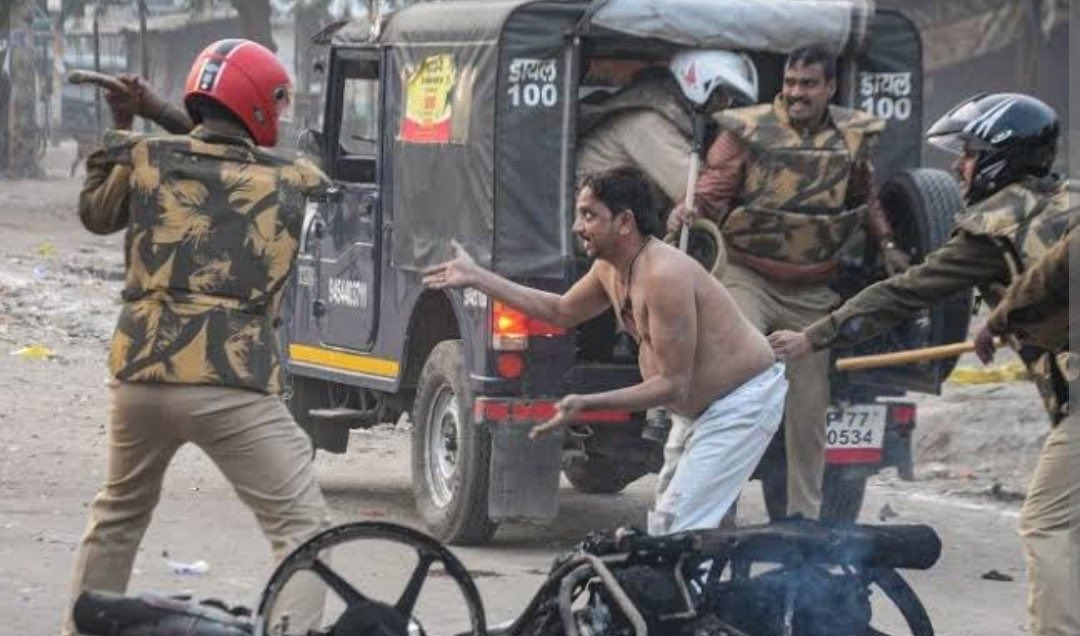 The fourth picture, too, is a PTI photo clicked during the anti-CAA protests in Kanpur. The image was used by the Times of India in a December 21, 2019 report titled, "Babupurwa in Kanpur turns war zone, 1 killed". Anti-CAA protests reportedly turned violent resulting in the death of one protester while 13 others sustained gunshot wounds in the Babupurwa area of Kanpur. The police had, however, denied firing even a single shot during protests
The image was also used by News 18 and Newsclick in similar reports about the anti-CAA protests.
This slideshow requires JavaScript.
It is thus clear that old photographs are being shared on social media out of context with false claims linking them to the recent violence in Haryana's Nuh.
Donate to Alt News!
Independent journalism that speaks truth to power and is free of corporate and political control is possible only when people start contributing towards the same. Please consider donating towards this endeavour to fight fake news and misinformation.