A video has been circulated widely on social media, in which a person is seen handcuffed and escorted by policemen while several people blacken his face. The message along with this video claims that the individual is Mohammed Ilyas who the raped and murdered the 8-year old girl in Kathua, Jammu in January. "ये मुहम्मद इलियास जिसने 8 साल की बच्ची आसिफा का रेप कर के उसका मर्डर कर दिया था और मन्दिर मे फेक दिया था. BJP और RSS के लोगो का झूठा नाम लगा कर बदनाम किया था उसके बाद बॉलीवुड के दल्ले भडवे कांग्रेस के कुत्ते हिन्दुओ को गाली देने लगे मन्दिरो पर सवाल खडे करने लगे……. अब ये दल्ला पुलिस हिरासत मे है (This is Mohammed Ilyas who raped 8-year-old girl Asifa, murdered her, then dumped her body inside a temple. The names of BJP and RSS workers were wrongly dragged and their reputations hampered. After this, Bollywood sell-outs and Congress dogs began abusing Hindus and questioning temples. Now, this pimp is in police custody.)," reads the message.
*कठुआ केस की सच्चाई*

ये मुहम्मद इलियास जिसने 8 साल की बच्ची आसिफा का रेप कर के उसका मर्डर कर दिया था और मन्दिर मे फेंक दिया था.. BJP और RSS के लोगों का झूठा नाम लगा कर बदनाम किया था। उन्हें झूठा प्रताड़ित करवाया गया था सारा मीडिया व तथाकथित सेक्युलर सडकों पर उतर आए थे उसके बाद बॉलीवुड के दल्ले हिन्दुओं को गाली देने लगे मन्दिरों पर सवाल खडे करने लगे……. अब ये कुकर्मी पुलिस हिरासत मे है। अब कोई भी इसका प्रचार नहीं कर रहा।

Posted by कवि अनूप कुमार नवोदयन on Monday, 6 May 2019
The claim is massively viral on Facebook.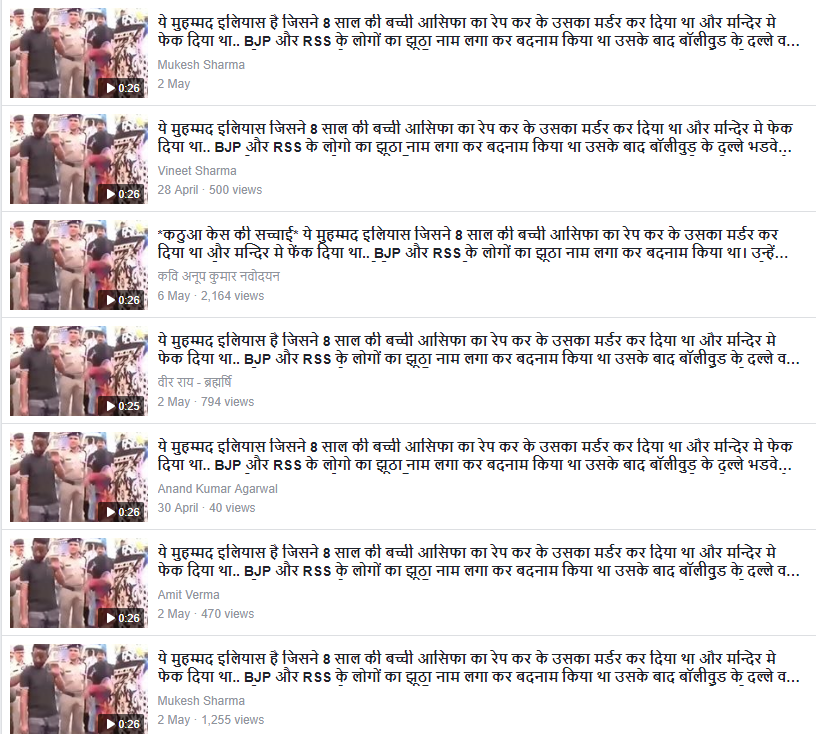 It is also being shared on Twitter.
खबर है की ये मुहम्मद इलियास है जिसने 8 साल की बच्ची आसिफा का रेप कर के उसका मर्डर कर दिया था और मन्दिर मे फेक दिया था, बाद मे BJP और RSS के लोगो को खूब बदनाम किया गया था…अगर किसी के पास और जानकारी हो तो बताये plz pic.twitter.com/N8K1AuBF3H

— चौकीदार/Chowkidar 💯%F🔙 (@Nationalist_RSS) May 5, 2019
Viral since last year
This video was also circulated in 2018 using a similar claim.
As can be seen in the video posted above, the man is being escorted by a posse of policemen. His face is blackened by bystanders and he is also slapped by a woman.
What is the truth?
Alt News fact-checked this claim and found that it is not related to the Kathua rape and murder case. The video posted below was uploaded by News Nation on April 5, 2018, and it states that the incident occurred in Uttar Pradesh where a youth accused of raping a 13-year old girl was beaten up in the presence of policemen.
Interestingly, another article from Dainik Bhaskar dated April 20, 2018, reported about the incident occurred in the 'Union Territory' section, referring to Chandigarh. The headline read, 'Rape accused's face blackened, beaten with slippers, video viral' (translated).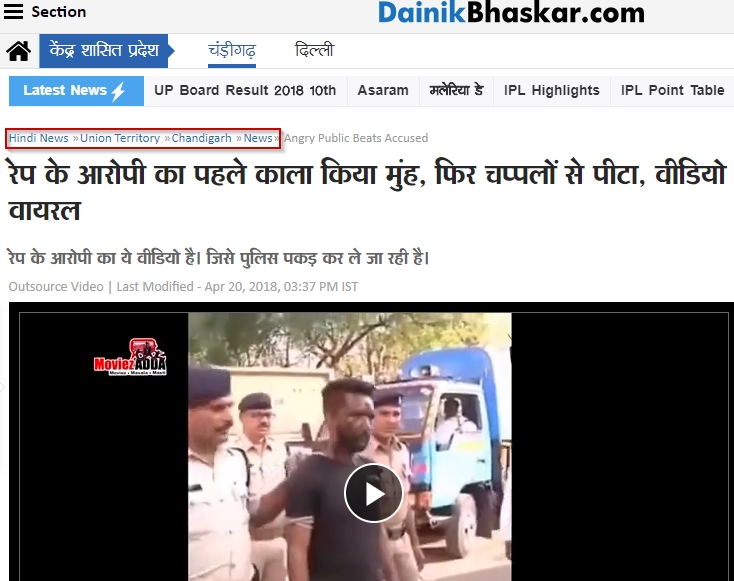 Since two different sources ascribed two different locations to the video, we decided to investigate further. From the visual cues in the clip, we found that the video is probably from Madhya Pradesh. This inference was arrived at through two clues – the insignia on the policeman's uniform and the number plate of the police vehicle. As can be seen from the image below, the insignia of 'MP Police' is visible on the shoulder of the policeman. The number of the vehicle is MP 02 3431.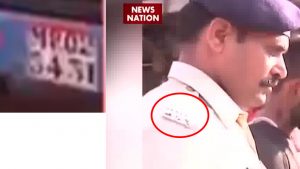 We also spotted signboards in the video. One of them read what seemed like 'Arshi Kendra Hanumangarh or (Hanumanganj)'. Another signboard that we spotted in the video read what seemed like 'Fani Trading Company'.
However, the above information wasn't enough to determine the exact time and location of the video. We posted a slowed down version of the video on Facebook and sought information from the public with regard to the origin of the video. Some users on Facebook pointed out that the incident is from Hanumanganj area of Bhopal.

Based on these clues, we zeroed in on Bhopal. The incident had occurred in the Hanumanganj area of the city. Alt News spoke to Sudhesh Tiwari, Town Inspector (SHO) at Hanumanganj police station in Bhopal. He confirmed, "This video is from here. He has been accused of raping a 13-year old girl. We were taking him to court when people blackened his face and women beat him up as an expression of public anger. He was accused of raping a 13-year old girl due to which he was assaulted by the people."
Later, we found that this incident had also been reported accurately by www.eenaduindia.com on April 6, 2018. According to the report, the accused is from Uttar Pradesh.
The video was shared extensively on Facebook last year where it was uploaded by popular pages. Individual users also shared the video with identical textual description which suggested that it was circulating on WhatsApp. This video was posted on a group called अगर आप राजपूत है तो join कीजिये ये ग्रुप, देखते हैं FB पर कितने राजपूत है with over 16,00,000 members and was shared more than 20,000 times. A person called Gobinda Das also uploaded it and his post was shared more than 19,000 times.
In the aftermath of the Kathua rape and murder case and the resultant public anger, there was a flurry of fake news about the incident on social media. In this instance, a video from Madhya Pradesh was passed off as that of the Kathua rape accused. The video was shared thousands of times and is still circulating on various social media platforms.
Donate to Alt News!
Independent journalism that speaks truth to power and is free of corporate and political control is possible only when people start contributing towards the same. Please consider donating towards this endeavour to fight fake news and misinformation.