A video has gone viral in which an aged traffic policeman can be seen breaking down in tears while saying that someone misbehaved with him. He uses the words 'mantri ji'. He says that goons affiliated with a local minister misbehaved with him while he was trying to do his duty.
This video was uploaded on YouTube by a channel named HR NEWS 24, which had about 8,000 subscribers. The video is accompanied by a caption in Hindi that says, "Muslim youth misbehaved with the policeman for removing a car. This is the condition of police in Congress-ruled states."
Former mayor of North Delhi and BJP leader Ravinder Gupta shared this video on Twitter, with a similar caption in Hindi. It said, "In Churu (Rajasthan), a young man of a particular religion misbehaved with a Hindu traffic policeman on the matter of removing the vehicle. He said to the cop, "Come to the minister's house". The policeman got scared and started weeping on the road. If this is the condition of police in Congress rule, what will happen to the common man?".
चूरू(राजस्थान) में गाड़ी हटाने की बात पर विशेष धर्म के युवक ने की हिंदू ट्रैफिक पुलिसकर्मी से अभद्रता, कहा: मंत्रीजी की कोठी पर आ जाना, घबराया पुलिसकर्मी सड़क पर ही फूट-फूट कर लगा, ये है कांग्रेस राज मे पुलिस तक की हालत तो आम आदमी का क्या होगा , @BJP4Rajasthan pic.twitter.com/eYyLxRdaV2

— Ravinder Gupta 🇮🇳 (@guptaravinder71) April 23, 2023
The video was then shared by multiple users on Twitter and Facebook. Screenshots of some of them can be seen here:
This slideshow requires JavaScript.
Fact Check
By breaking down the video using InVid and searching the key-frames on Google, Alt News came across a news report from Dainik Bhaskar. The headline in Hindi said, "Traffic policeman weeps bitterly in the middle of the road: When asked to remove the car, the driver threatened saying, "Come to the minister's house". The incident took place in Churu, Rajasthan. The report adds that the accused, Narendra Singh, was arrested.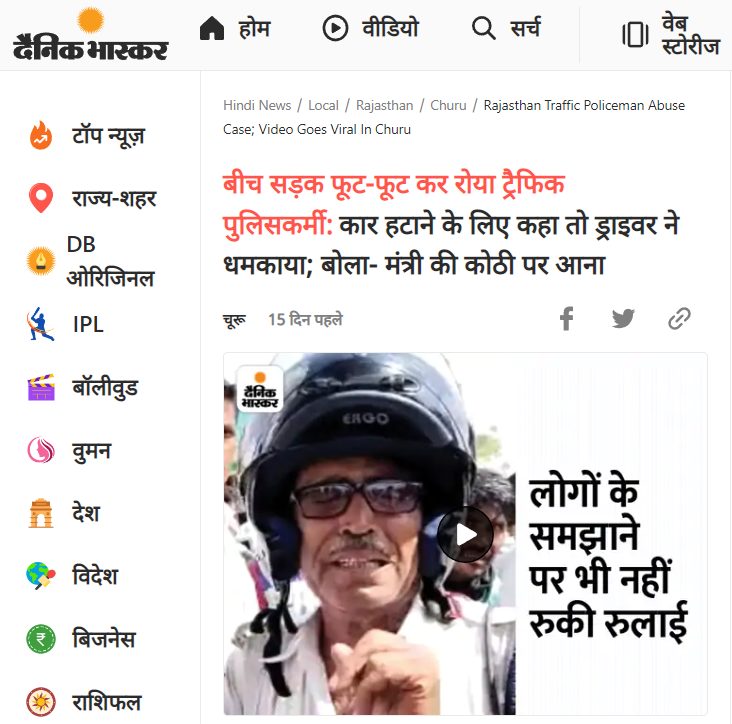 The report had a statement from SP Rajesh Kumar Meena. He said, "A case has been registered in the Kotwali police station regarding indecency with the traffic policeman. IPC sections related to obstructing a public servant from doing is duty and threatening have been added. An investigation is underway."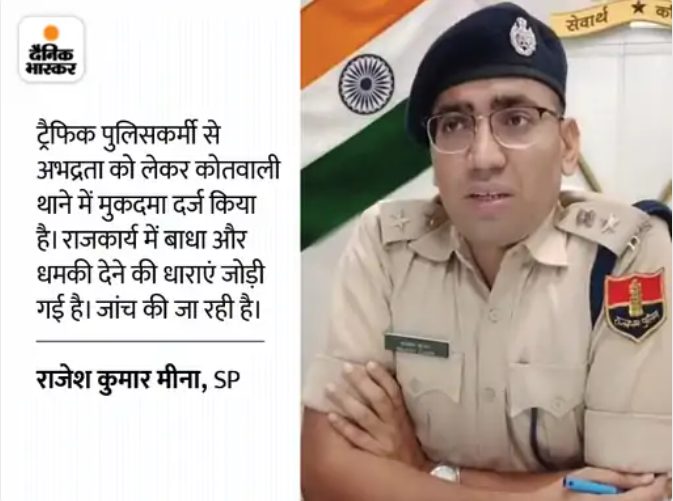 An official tweet by the Churu Police confirmed the name of the arrested was Narendra. Hence, the claims that a Muslim man misbehaved with a Hindu policeman are false.
ट्रैफिक पुलिसकर्मी के साथ दुर्व्यवहार व राजकार्य में बाधा उत्पन्न करने वाले आरोपी नरेंद्र निवासी घाँघु पुलिस थाना सदर चूरू को हिरासत में लिया गया।@IgpBikaner @PoliceRajasthan@1stIndiaNews pic.twitter.com/UWGYbBgr8T

— Churu Police (@ChuruPolice) April 18, 2023
Therefore, the claims on social media circulating along this video that a Muslim man misbehaved with the traffic policeman are false. In an official statement from Churu Police, the accused was identified as Narendra. Media reports said his name was Narendra Singh.
Vansh Shah is an intern at Alt News.
Donate to Alt News!
Independent journalism that speaks truth to power and is free of corporate and political control is possible only when people start contributing towards the same. Please consider donating towards this endeavour to fight fake news and misinformation.