On December 24, Zee News published a report with the headline, "Ira Khan is fed up with Aamir Khan's third wife, she said – it's difficult to handle all this!" (आमिर की तीसरी पत्नी से तंग आई बेटी इरा खान, कहा- ये सब सहन करना मुश्किल!) Zee News reported that Khan's daughter Ira posted a video stating that her father's third marriage has led to depression.
The featured image of the article purportedly shows Aamir Khan with Bollywood actor Fatima Sana Shaikh. They have been portrayed as a 'newly married' couple. This image is juxtaposed with a photo of teary-eyed Ira.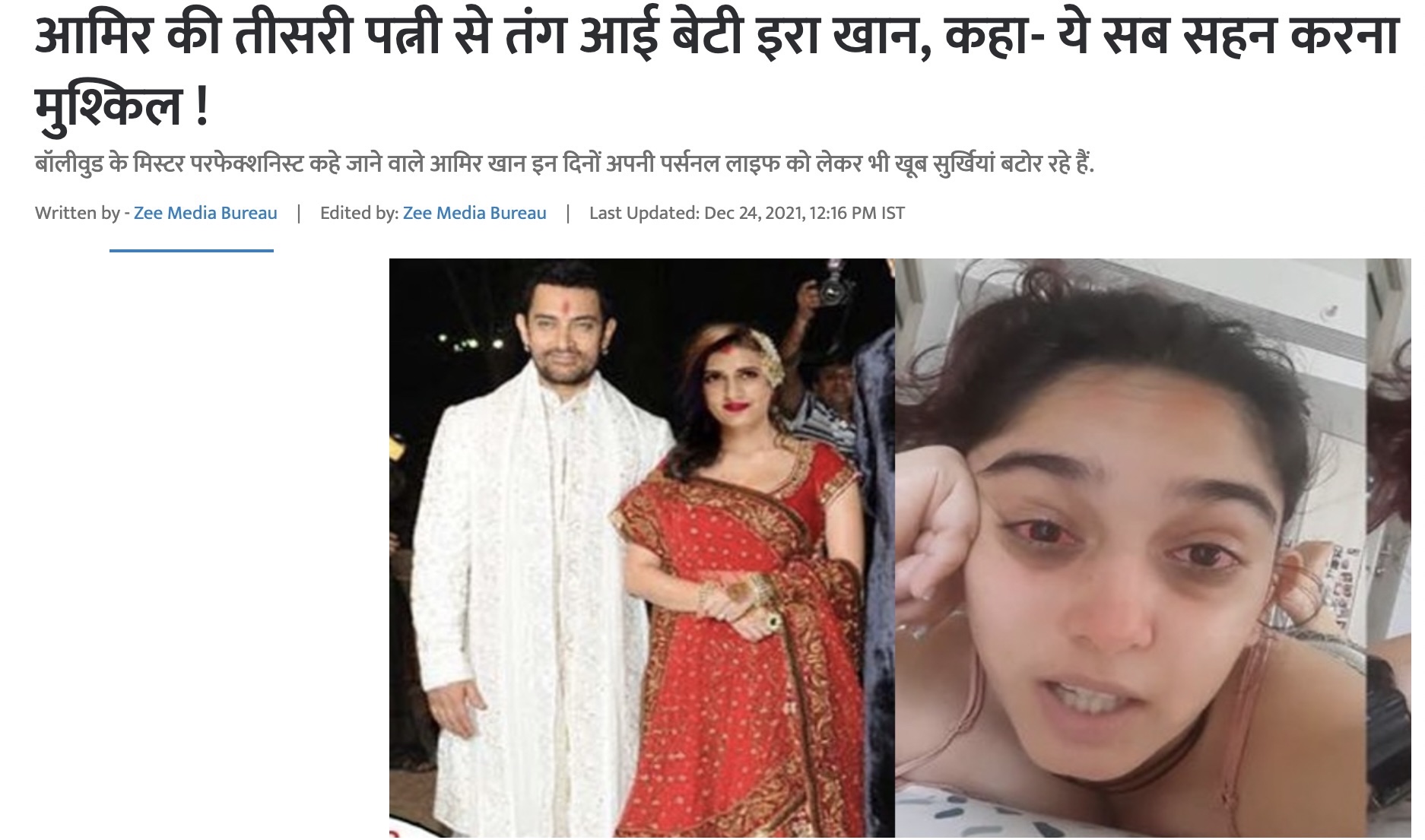 Two days later, an outlet named FewNews published an identical report. While this website is not a mainstream news portal like Zee News, several Facebook pages with large follower count shared its report (view spreadsheet) — Aayat Rahman [close to 3 lakh followers], Suman [over 1.5 lakh followers] and Sumayya Khan [over 1 lakh followers].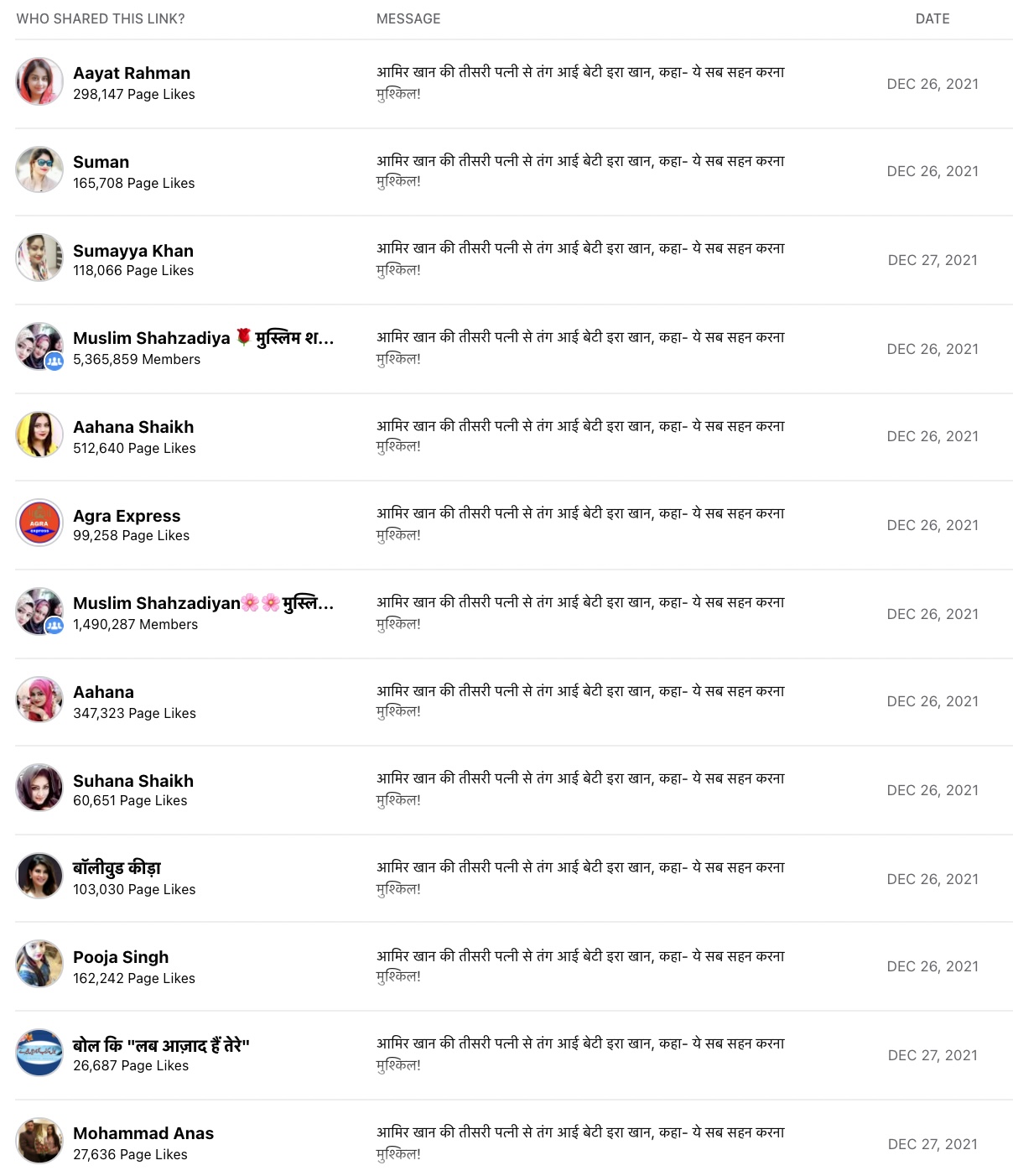 It must be noted that another image that shows Aamir Khan with Fatima Sana Shaikh is circulating on social media.
फातिमा शेख आमिर खान की तीसरी बेगम हो गई, फातिमा शेख वही अभिनेत्री हैं जिन्होंने फिल्म दंगल में आमिर खान की बेटी का किरदार निभाया था.!
खैर ये उसका निजी मामला है,
आमिर खान शादी से लाख इंकार करें लेकिन बेटी आमिर खान के बेटी ईरा ने सच उजागर कर दिया। pic.twitter.com/1vpouzG70Z

— हम लोग We The People (@humlogindia) December 22, 2021
Zee News has used a doctored image
Earlier this year in June, Aamir Khan and Kiran Rao announced divorce after 15 years of marriage. Since then, Khan has been subjected to moral policing and online trolling.
This is yet another instance where Khan was targeted with tasteless disinformation about his personal life.
Image 1

This is a morphed image. We found the original on a website called MissMalini. The original image was shot in 2010 at the wedding ceremony of actors Imran Khan and Avantika Malik. The woman next to Aamir Khan is Malik. Zee News has used a doctored version of this image that not only shows Aamir Khan next to Fatima Shaikh but also portrays Shaikh with vermillion on her forehead.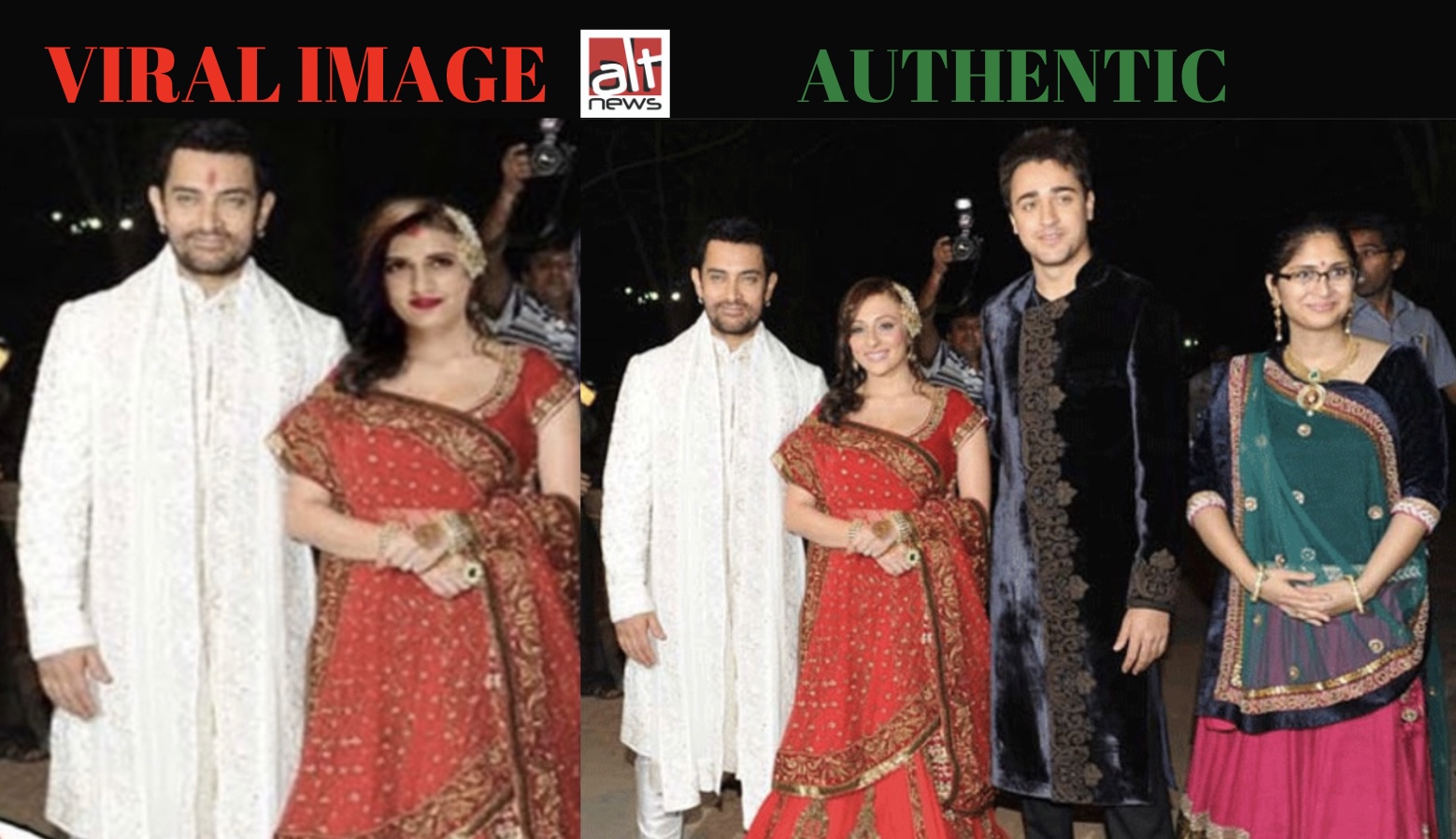 MissMalini also carried other images from the wedding. The event's images are also available on Alamy.
Image 2
This image is a screengrab from a video uploaded by Ira Khan in May earlier this year on her birthday. In the four-minute video, she expresses concern over the lack of fitness in her life and overall lethargy. She does not talk about her father.
In fact, as recent as December 27, Ira had uploaded an image with Aamir Khan on Instagram.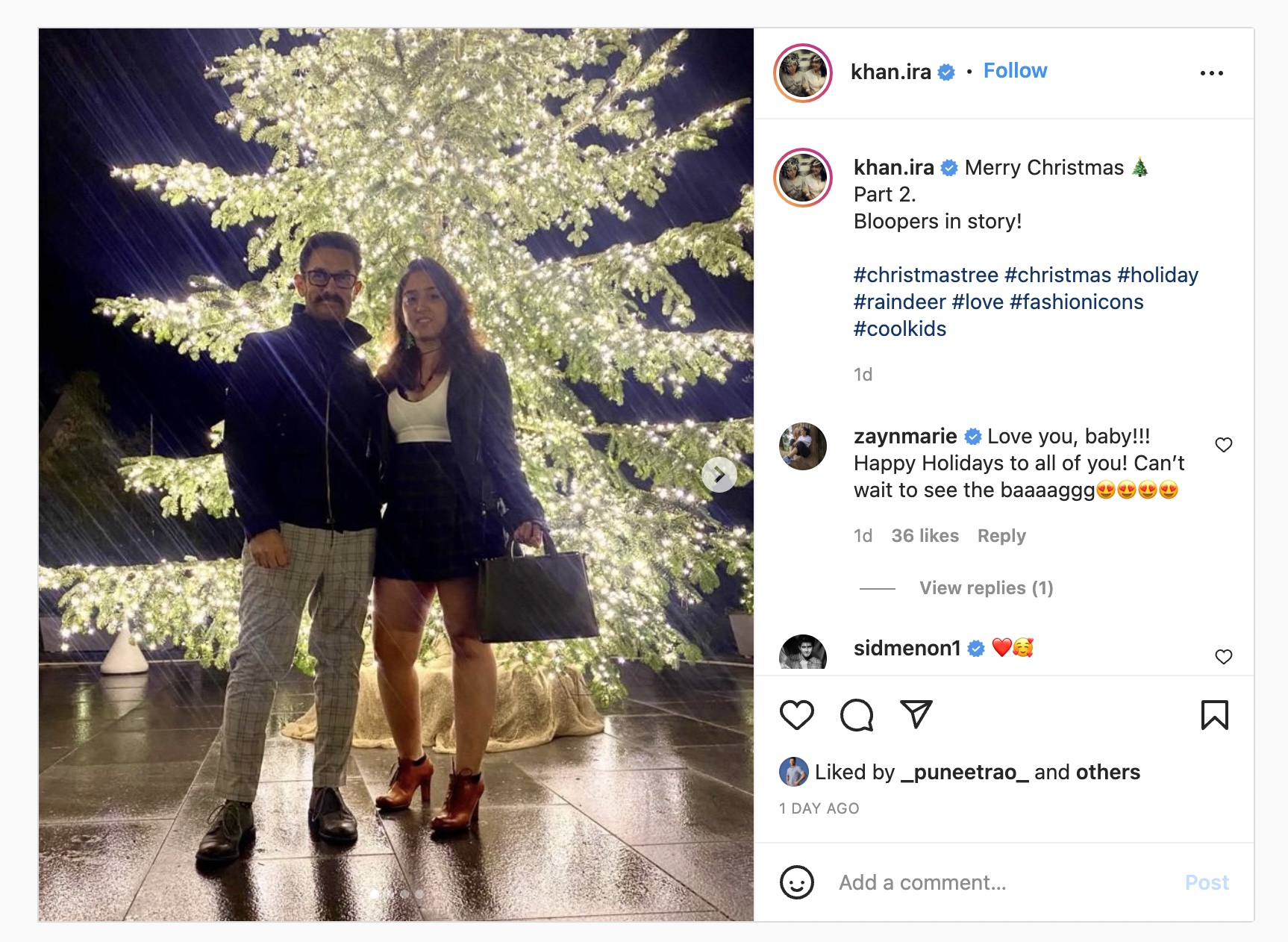 After it was pointed out on social media that Zee News has grossly misrepresented the images, the outlet ironically changed its report to a 'fact check' – "Truth behind Aamir and Fatima's viral image, did daughter Ira really get upset?" The URL of the 'fact check' is the same as the earlier misreport.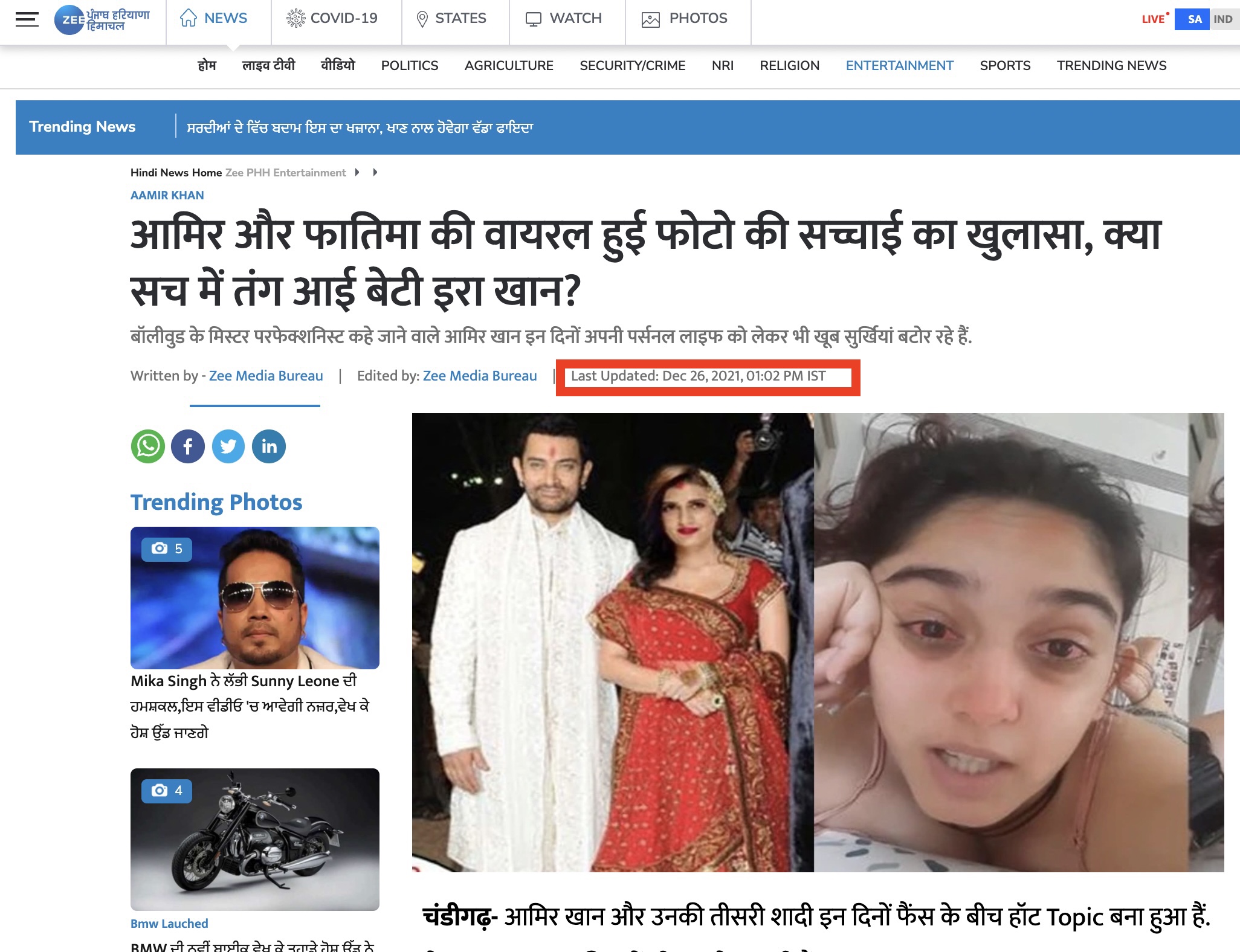 Image 3
This viral image on social media has also been morphed. The original image was clicked by photographer Manav Manglani, who had uploaded it on his Instagram. The woman next to Khan is his ex-wife Kiran Rao at Akash Ambani-Shloka Mehta's engagement in 2018.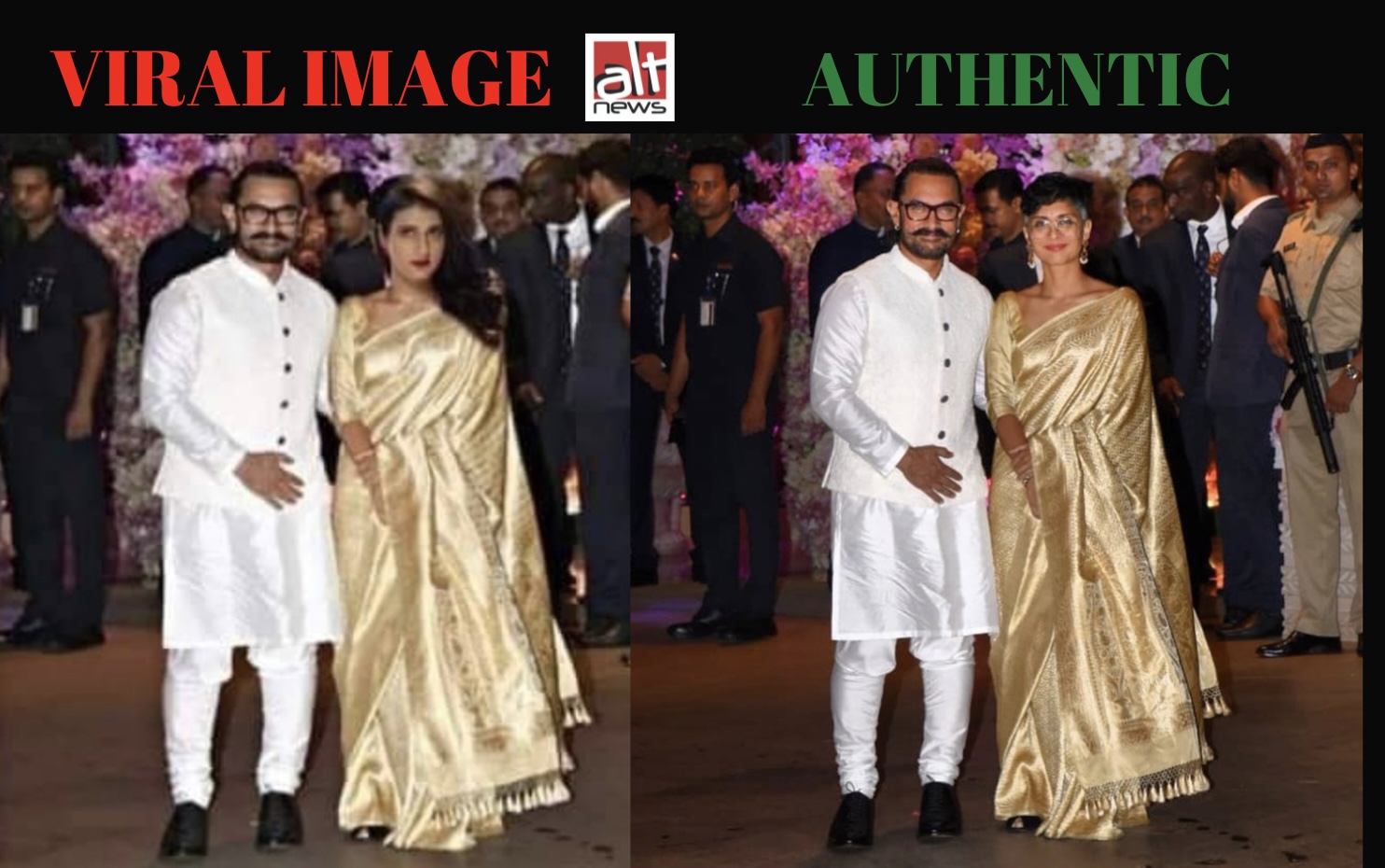 Zee News, therefore, used a morphed image of Aamir Khan and Fatima Sana Shaikh to portray that they recently tied the knot. The 'news' outlet also used a screenshot of an unrelated video shared by Aamir Khan's daughter Ira to claim that she was 'depressed' about her father's marriage. It must be noted that Khan has not remarried after his divorce from Kiran Rao earlier this year.
Donate to Alt News!
Independent journalism that speaks truth to power and is free of corporate and political control is possible only when people start contributing towards the same. Please consider donating towards this endeavour to fight fake news and misinformation.