The news of a double murder in Bengaluru broke, on July 11. Two men — Phanindra Subramanyam and Vinu Kumar — were allegedly attacked and killed by a former colleague. Social media users and some BJP leaders are now claiming that Phanindra Subramanyam, who was hacked to death, was a Hindu seer or a priest. They are claiming this while highlighting how Hindu leaders are under threat in Karnataka since the Congress came to power in the state.
Twitter Blue user Arun Pudur (@arunpudur) shared an image of Phanindra Subramanyam on July 12 and mentioned in his caption that 'another Hindu leader' has been killed and Dharmic Gurus are being eliminated in a 'systemic manner' ever since Congress came to power in Karnataka. The tweet has received over 3 lakh views and has been retweeted over 2,000 times. (Archive)
Mohabbat Ki Dukkan in Karnataka.

Another Hindu Leader Paneendra Subramanyam hacked to death in Bengaluru, Karnataka.

Are Dharmic Gurus being eliminated in a systematic manner?

CONgress opened their Dukkan a month and Hindu dead bodies have been piling up since then.

Media… pic.twitter.com/vh4yNNbAE8

— Arun Pudur (@arunpudur) July 12, 2023
The readers should note that Twitter user Arun Pudur uses the platform to share and amplify misinformation on a regular basis.
BJP leaders such as Union minister Rajeev Chandrasekhar and Sunil Deodhar tweeted similar claims about Phanindra Subramanyam. 🚩Mohan gowda🇮🇳 (@Mohan_HJS), the state spokesperson of Hindu Janajagruti Samiti in Karnataka, who has shared misinformation several times in the past, also tweeted the image of Subramanyam with a similar caption.
This slideshow requires JavaScript.
Fact Check
A relevant keyword search led us to several news reports about this incident. We came across a news report by the Indian Express from July 12 where the title said: "Rivalry over internet business led to murder of MD and CEO, says colleague in FIR".
The report mentioned that Phanindra Subrmanyam was the managing director (MD) of the firm, Aironics Media Pvt. Ltd. Police arrested three people in connection to the murders — Santosh (26) Shabarish alias Felix (27) and Vinay Reddy (23) and are also interrogating Arun Kumar, the owner of G-Net, a rival company to Aironics Media.
We checked the social media profiles of Phanindra Subrmanyam and we found that under the work experience section on his LinkedIn profile, he had mentioned that he was the managing director of Aironics Media Private Limited.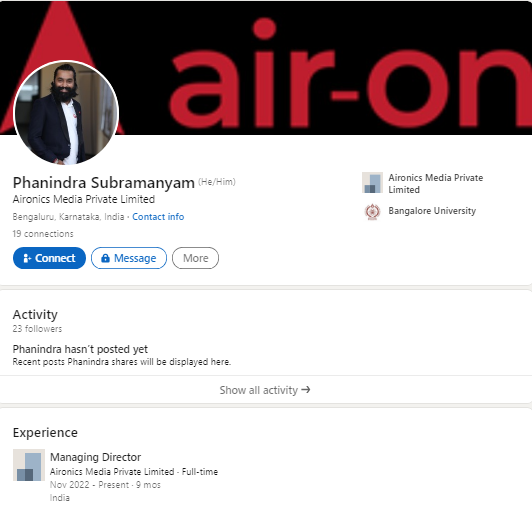 Subrmanyam's Facebook bio said that he worked at an organisation called "Hindu Nationalist Cause" and that he is an activist for Hindutva.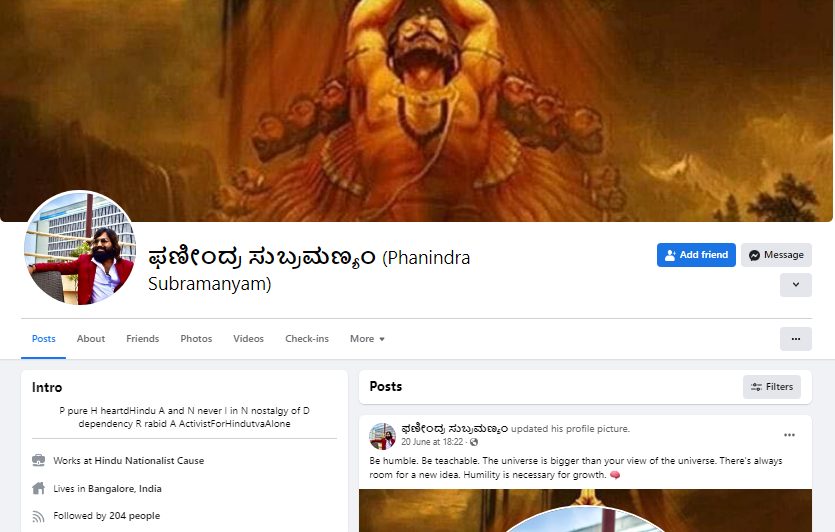 Alt News reached out to the complainant, the slain MD's colleague Shakara Narayan, who told us that while Subrmanyam was involved with Hindutva organisations, he never had any issues with anyone coming from a different faith and that the reason for his murder was business rivalry. He added that a number of employees from G-Net had quit the company and joined Aironics Media after Phanindra Subrmanyam started his firm.
Arun Kumar, the proprietor G-Net, was arrested from Bengaluru airport on the night of July 12. Additional commissioner of police (east) Raman Gupta told the Indian Express that Kumar had allegedly hired Shabarish alias Felix and others to eliminate Phanindra. A case under IPC Sections 302 (murder), 120b (criminal conspiracy) and 34 (common intention) was registered in this connection.
We reached out to Bengaluru DCP (north east) Laxmi Prasad to confirm the above. He said, "While Phanindra Subramanyam was involved with Hindutva groups, we haven't found anything yet that would suggest that he was a seer." He also added that there was no communal angle to this case, both the deceased and the victims were of the same faith and the motive was business rivalry.
We looked for the viral photo being shared with the 'Hindu seer' claim and found it on Subramanyam's Instagram profile. A reel was shared by the user on April 30 which showed some religious ritual, seemingly the inauguration of his company, Aironics Media. The viral image of Subramanyam can be seen at the end of the reel.
Therefore, the claims raised by the Right Wing and BJP leaders that Phanindra Subramanyam was a Hindu seer/leader are false. The murder of Subramanyam was a fallout of business rivalry and there is no communal angle to the alleged crime.
Donate to Alt News!
Independent journalism that speaks truth to power and is free of corporate and political control is possible only when people start contributing towards the same. Please consider donating towards this endeavour to fight fake news and misinformation.