On 24th May, BJP had announced a plan to gherao Lalbazar in Kolkata on 25th May. "We would do a Lalbazar Gherao because we had demanded the arrest of Tipu Sultan Masjid Imam Syed Nurur Rahman Barkati which was not done. Again we had demanded a stop of police atrocities on BJP workers and to restore the democratic setup of the state which the police had failed to meet, miserably," BJP state general secretary Sayantan Basu had told DNA.
ON 25th May, Kolkata Police used water cannons against the protestors taking part in BJP's march and also detained BJP leaders Kailash Vijayvargiya and Dilip Ghosh. Official BJP Bengal Facebook and Twitter accounts posted several pictures of protestors injured due to the police action.
However, one of the pictures posted by BJP Bengal social media accounts became controversial as the person in the picture had died the previous day (24th) in a road accident and wasn't a victim of police action. The same picture was posted by BJP Bengal's Twitter and Facebook accounts. At the time of writing, the picture on BJP Bengal's Facebook page has been deleted, and the picture posted with English Text on BJP Bengal's Twitter account has been deleted but the one posted with Bengali text is still available on their Twitter account. The person on the left in the first two pictures below and on the top left in the third picture is the accident victim.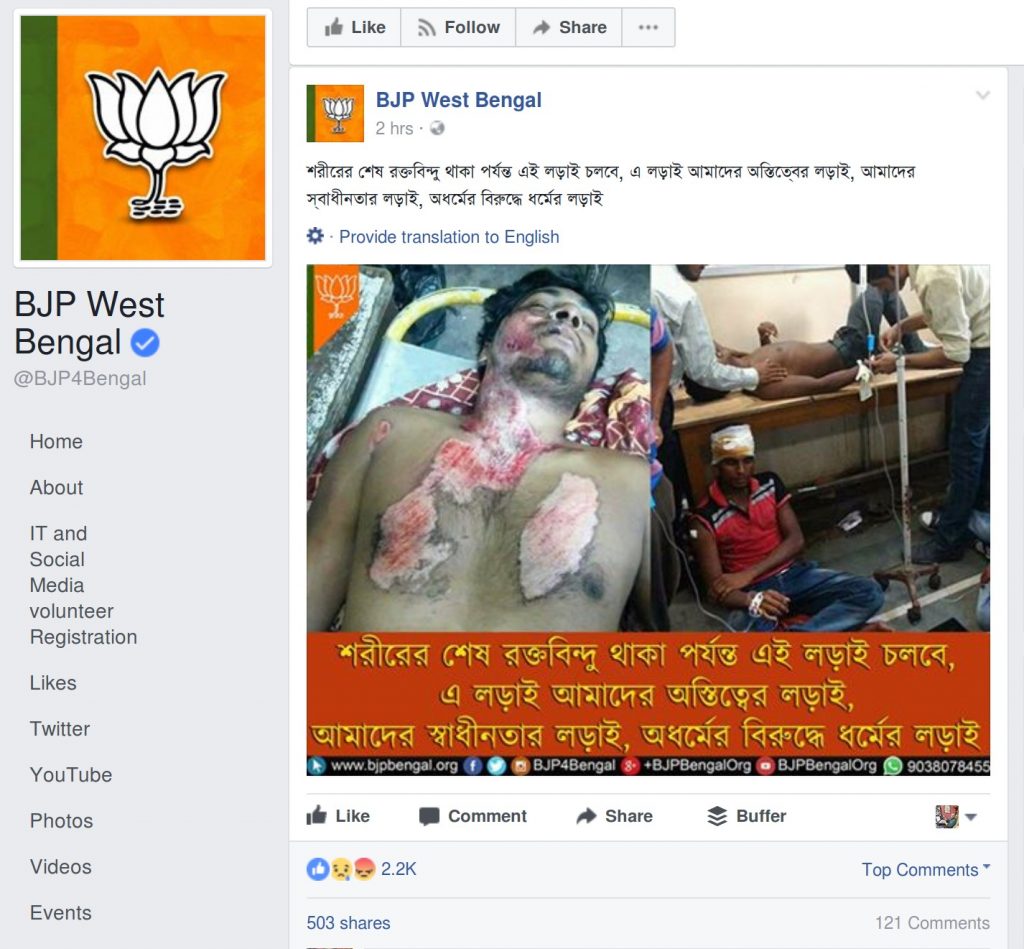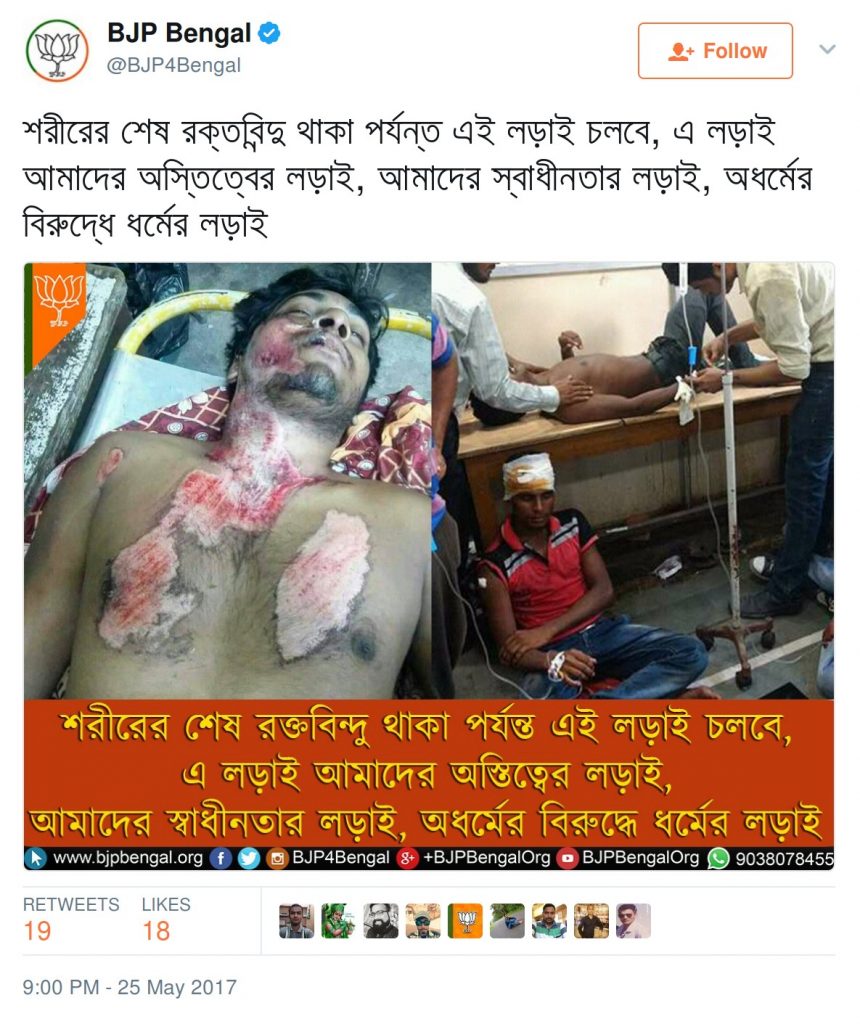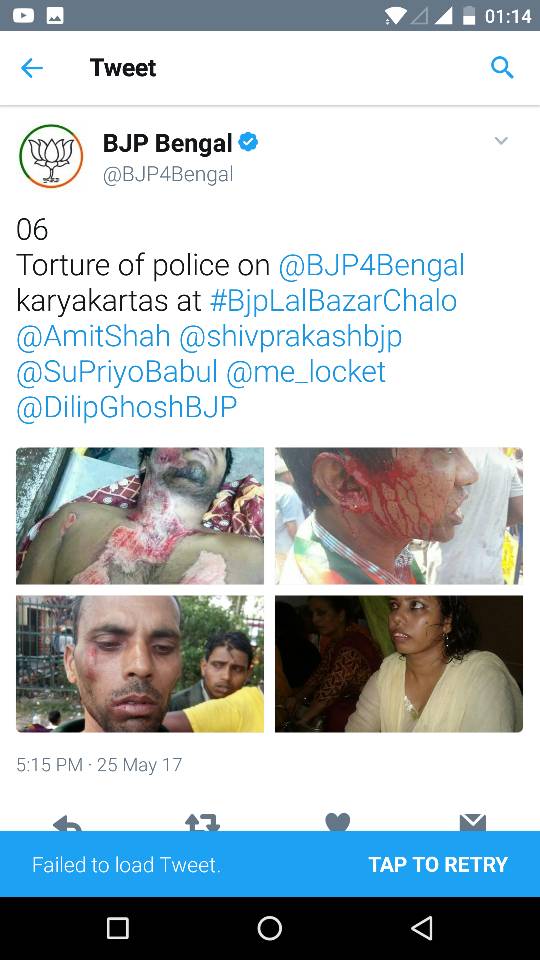 The picture of accident victim was originally posted by one Dipak Roy on his Facebook account on May 24th at 5:00 pm stating "Rupak Debnath – young chap from our area Kalirhat. He had gone for getting a job but lost his life instead. First accident and then hospital and now all is lost."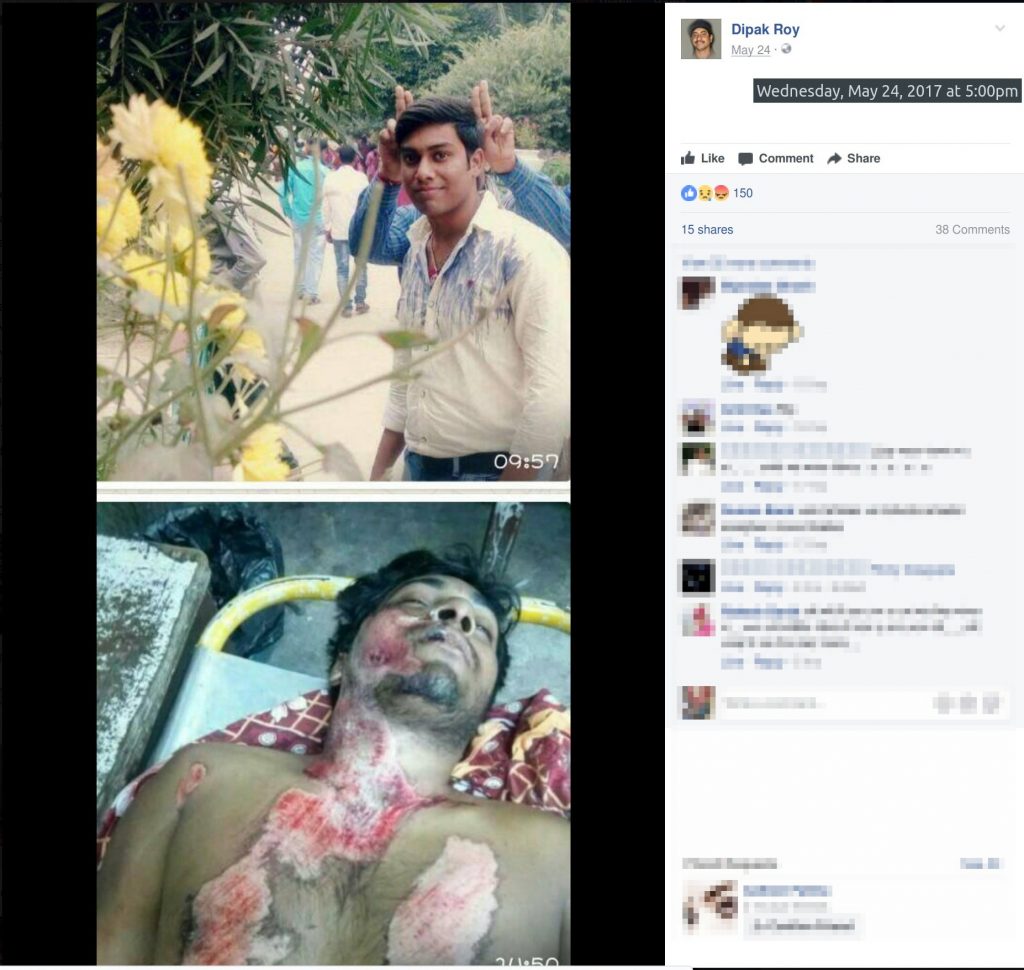 Dipak Roy noticed Rupak Debnath's picture on BJP Bengal's official page and on personal Facebook profiles of other BJP members. He posted the screenshots of all those who were misusing Rupak Debnath's picture and stated the following on his Facebook account.
"I have been born here and been a resident of this place ever since. This picture that is being shown to you is what I had put up on FB yesterday ie 24th May. This is the pic of a young boy of our area. He Rupak Debnath and is the only son of Yudhishthir Debnath, a resident of Kalirhat area. On last Saturday he met with an unfortunate accident and was rushed to a hospital in Shakti Nagar where he finally died. The incident is very shocking and sad for us as the young lad was in his way to appear for Group D examination. He was out to get a job but lost his life instead. Today BJP is shamelessly using Debnath's picture who died one day before the BJP rally at Lalbajar. I hope now no one else will do it anymore."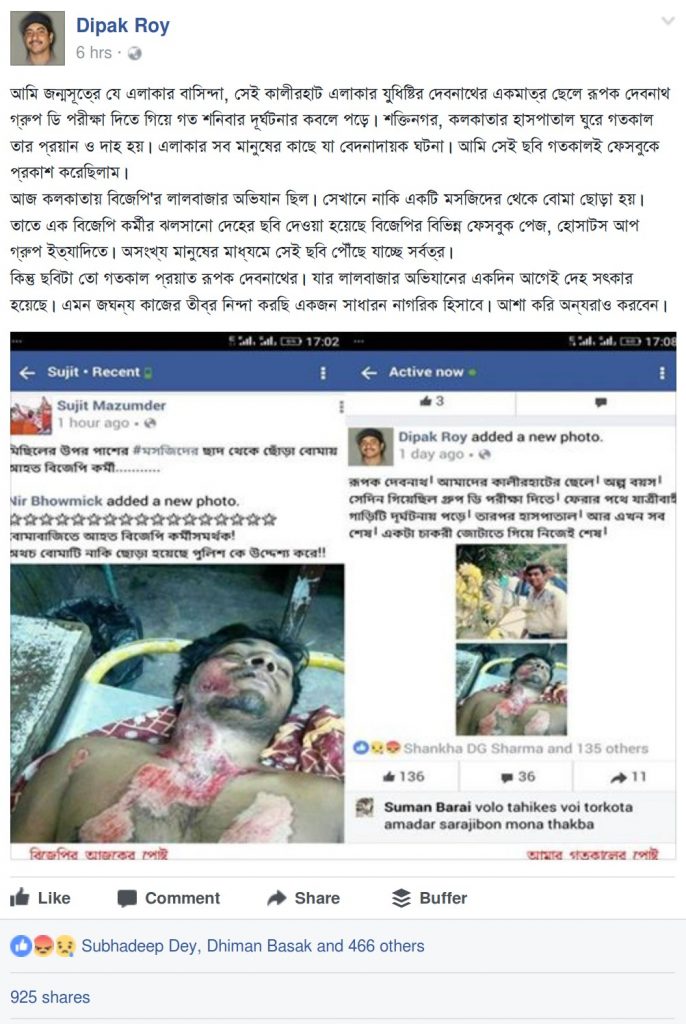 Other than the official BJP Bengal social media accounts, at least 2 other people who claim to be officially associated with BJP on their Facebook profiles had misused this photo for their political propaganda. One Dipankar Goswami had posted the picture stating, "Anti national Barkati is laughing. Demanding arrest of Barkati, BJP workers got injured in lathi charge by police in Lal bazar. Injury on head and bleeding and a bomb thrown from a mosque. The workers critically injured, can die too."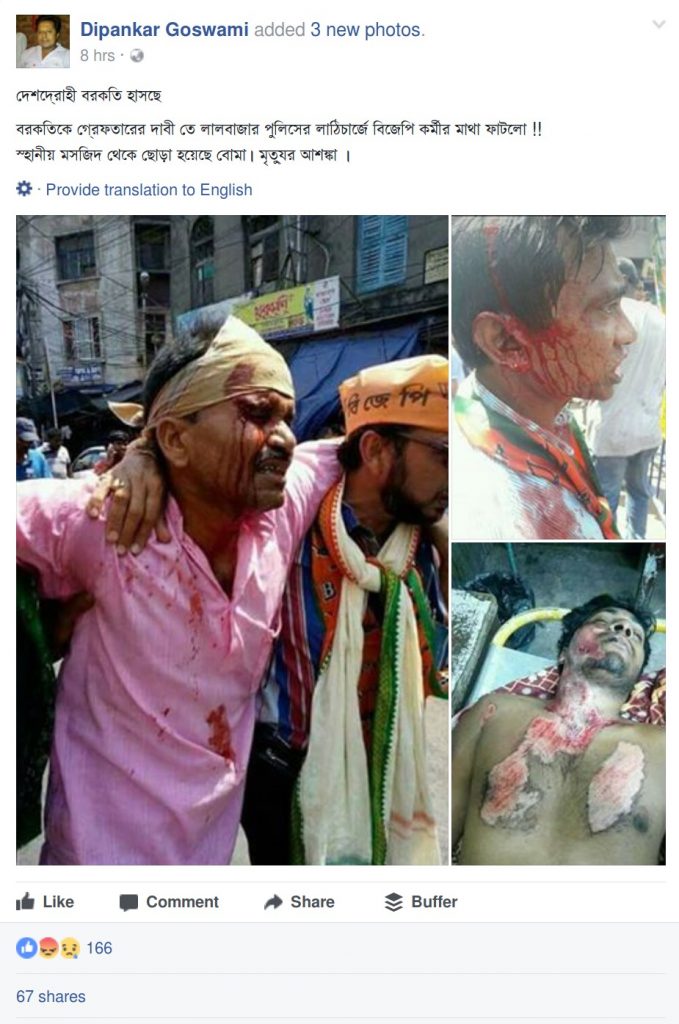 Sujit Mazumder who claims to be in various BJYM committees on his Facebook profile had also posted the picture. He later deleted the picture and apologized stating he was misled, "I shared a post by Nir Bhowmick without cross checking and I regret and apologise for the same."
Meanwhile, multiple video clips are viral on Facebook which shows people with BJP flags vandalizing and burning down a jeep. The person who posted the aforementioned clips claimed that the incident happened at BB Ganguly Street in Bow Bazar. Kolkata police also posted one of the aforesaid clips on their Twitter account. A combined version of all the video clips can be seen below.
Police's excessive use of force against protestors is an issue in every state in India and cannot be condoned. Even a rally by the Left Front on May 22nd led to many protestors and cops being injured. However, posting misleading pictures and deliberately damaging public property has to be condemned as well.
Donate to Alt News!
Independent journalism that speaks truth to power and is free of corporate and political control is possible only when people start contributing towards the same. Please consider donating towards this endeavour to fight fake news and misinformation.