The headline stunned everyone who read it, "Modi stuns opposition! On third anniversary, NDA government cites its negatives in report card". This was BIG. The Modi government is not particularly known for acknowledging its negatives. The Financial Express story went on to say, "As Narendra Modi government completes three years at the Centre today, it was expected that the BJP-led regime would indulge in grand display of its successes and successes only. The opposition leaders were also expecting the same from the government. But it seems, the opposition would have to be disappointed for now as Modi government has itself outlined all its most talked about failures and negatives in the last three years. In a report card of the three years of Modi government released by the President's Secretariat, the government has taken self-criticism to a new level by pointing out the failures as well".
From social media trolling to cow vigilantes, from farmer suicides to moral hazard due to loan waiver in UP, from increasing number of railway accidents to criticism of foreign policy, the list of negatives had it all.
Common sense tells you that if something sounds too good to be true, it is probably not true.
Many Twitter users started pointing out that the "Report Card" is in fact an article from Livemint. It turned out that Press Information Bureau (PIB) had "inadvertently" uploaded the Mint article as an official press release by the President's secretariat and Financial Express had reproduced it. Financial Express removed the story from its website and posted a clarification. The PIB press release, now deleted, can be viewed here.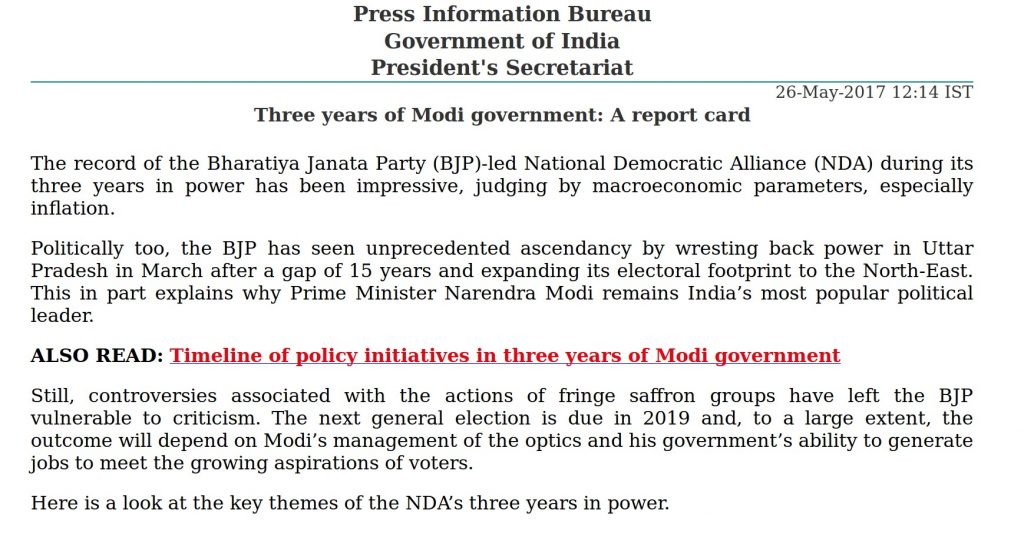 PIB had not issued any retraction or clarification till the time of writing this article. Meanwhile the "report card" itself has traveled far. It is available on India Defence Forum and also picked up by Pakistan Defence forum and scores of other sites.
The reaction of Modi supporters to the Financial Express article was rather hilarious. On one hand, there was a long list of negatives, and on the other the opportunity to stun the opposition. They seemed to have accepted all the criticisms listed out because the government said so. It did not seem to matter to them that for three years they were fighting tooth and nail to defend the government on these very points because the opposition was raising them.
Here is a small sample of some of the tweets hailing this "historic" move:
"Tony Thomas: #respect Mark of true leadership! India Govt cites its negatives as well in 3 year report"
"Dr Kanishka Rawat: 1st time Govt mentioned it's negatives too in their report card. That's actually Accountability👏 #3yearsofModiGovt"
"Abhinav Sharma: Now this is called appraisal. The #3yearsofModiGovt puts a report card that highlights negatives too. #disruptive"
"Eternal Optimist: In the history of Indian politics no govt has had d guts to callout areas of improvement #3YearsofModiGovt #MyPMModi"
"Anand Thakur: Only Pradhan Sevak can have guts to do this 👉 Modi stuns Opposition! On third anniversary, NDA government cites…"
Oblivious of the faux pas by PIB, many are still sharing the articles where the text of the now deleted Financial Express was reproduced and praising the guts of the government in sharing criticism. It will be interesting to see their reaction when they learn that the government did NOT display any such guts.
The Financial Express article had started off by saying, "it was expected that the BJP-led regime would indulge in grand display of its successes and successes only." Apart from a short-lived moment where everyone was "stunned" due to an "inadvertent" error by PIB, Modi government did not let us down in this regard. The third anniversary celebrations of Modi government are nothing but a grand display of chest thumping. PIB's own Twitter account is a testimony of the same.
Donate to Alt News!
Independent journalism that speaks truth to power and is free of corporate and political control is possible only when people start contributing towards the same. Please consider donating towards this endeavour to fight fake news and misinformation.