On December 28, 2022, the official handle of BJP Bihar tweeted a video where a group of people can be seen assaulting a policeman. The accompanying caption in Hindi can be translated as "Liquor mafia has beaten up the police. What sort of Bihar did the Mahaghatbandhan government end up making?"
In the minute-long video, we can see a few individuals repeatedly kicking and hitting a policeman with a baton. The clip has text superimposed on it. It reads, "Look at the reality of Nitish's good governance. Under the Mahaghatbandan government, the accused have so much power. The liquor mafia is attacking the police."
शराब माफिया ने पुलिस वालों को ही धो डाला,
ये कैसा बिहार महागठबंधन की सरकार ने बना डाला?#फर्जी_शराबबंदी#JungleRajReturns pic.twitter.com/W7M7YbQMTf

— BJP Bihar (@BJP4Bihar) December 28, 2022
Twitter user Sumit Singh, who claims to be a member of the BJP, shared the video on the platform with the same caption.
शराब माफिया ने पुलिस वालों को ही धो डाला,
ये कैसा बिहार महागठबंधन की सरकार ने बना डाला?#फर्जी_शराबबंदी#JungleRajReturns pic.twitter.com/JiGrrYIwxO

— Sumit Singh BJP 🇮🇳 (@singhsumitbjp) December 29, 2022
The Facebook page of Baby Kumari, general secretary of BJP Bihar and former MLA from Bochahan-91 constituency shared the video on the platform as well.
Fact Check
Alt News broke the video down to some key frames and performed a Google reverse image search on one of the stills. This led us to a tweet from Tej Pratap Yadav from September 2020.
Sharing the video he wrote, "Must watch this video of good governance, liquor ban and strong administrative systems being torn to pieces. The policemen who went to seize liquor consignment are beaten up and fired upon by the liquor mafia, yet there is good governance..! And yes the incident is near Bihar Vidhansabha."
सुशासन, शराबबंदी और मजबूत प्रशासनिक व्यवस्थाओं को एकसाथ चिथड़े-चिथड़े होते इस विडियो को जरुर देखिए।

पूर्ण शराबबंदी में शराब की खेप पकड़ने गई कुशासनी प्रहरियों को शराब माफियाओं द्वारा पिटाई और गोलीबारी की जाती है, फिर भी सुशासन है..!

और हाँ घटना बिहार विधानसभा के नजदीक की है।। pic.twitter.com/tyTOG78s0P

— Tej Pratap Yadav (@TejYadav14) September 6, 2020
Taking this clue, we performed a keyword search in Hindi and found multiple news reports about a face-off between the liquor mafia and the Bihar police on September 5, 2020. The police were tipped off that a liquor consignment was being dropped from a train at R block (Outer) in Patna. When two policemen went to check, they were allegedly attacked by locals.
A video report by News18 Bihar Jharkhand available on YouTube matches the visuals seen in the viral clip.

As per a report by Dainik Bhaskar, during a face-off between the liquor mafia and police on the railway line near R Block in the Zakkanpur Thana area of Patna, multiple rounds of bullets were fired, and there were injuries on both sides. The police were tipped off about a consignment being dropped and when they caught a suspect, Subodh Paswan, his family and some others attacked the officers.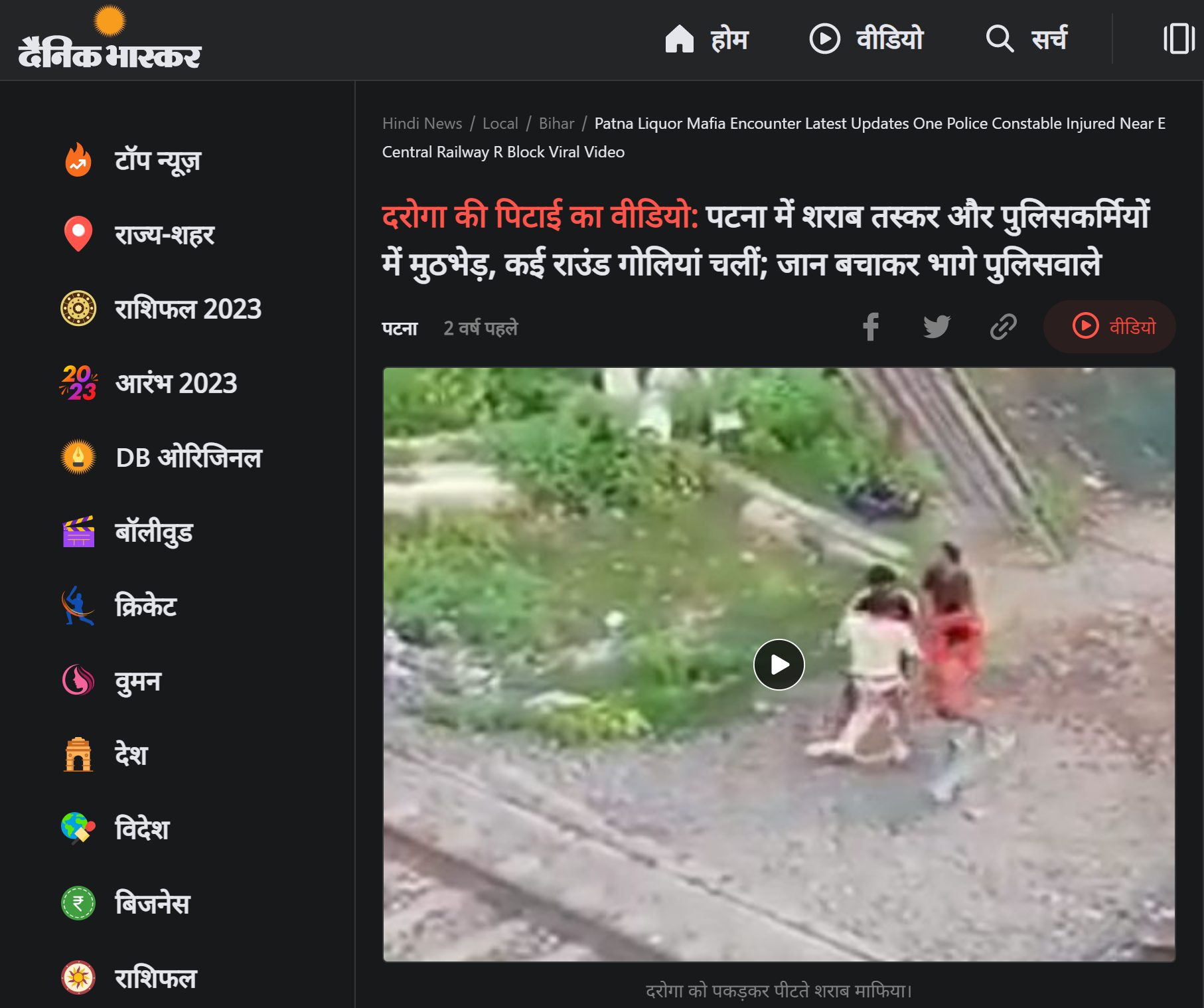 To sum it up, a video of a police officer allegedly assaulted by the liquor mafia during the BJP-JD(U) rule in Bihar was shared by the Twitter handle of BJP Bihar as a recent video.
Donate to Alt News!
Independent journalism that speaks truth to power and is free of corporate and political control is possible only when people start contributing towards the same. Please consider donating towards this endeavour to fight fake news and misinformation.