At 8.11 PM on January 3, Alt News published one of the first articles of 2022. It dealt with media misreports in a story involving a Punjab politician. Almost a year and 462 fact checks later, when Alt News looks back at its own repertoire of stories done throughout the year, it seems that the first article, in ways more than one, testified to the overused yet ever-so-true adage: Morning shows the day.
The first fact-check story of the year showed how major mainstream media houses of the country picked up old pictures of absconding Shiromani Akali Dal leader Bikram Singh Majithia on a visit to the Golden Temple from social media and published them as 'recent' without any verification. This was days after Majithia being booked under the Narcotic Drugs and Psychotropic Substances Act made headlines.
In retrospect, this was the first significant hint that the first story of the year gave us about things to come in 2022. Each headline-making event of the year — from state elections to the Russia-Ukraine conflict, the Hijab row to the Nupur Sharma controversy — opened the floodgates for misinformation on social media. And every time mainstream newsrooms got busy covering major events, the Alt News team got busy uncovering false claims and misinformation around them.
The other trend that the very first story pointed at was the increasing vulnerability of mainstream media in the face of this explosion of misinformation, and at times, its complicity in it. Note the fact that in the very first story, outlets like Times of India, Economic Times, Indian Express, Zee News and Aaj Tak acted as sources of misinformation as they published a photo, which was falsely viral on social media, without vetting. Throughout 2022, Alt News noticed how established and otherwise 'credible' news outlets failed to live up to the standards expected of them, and became a source of misinformation.
Each Alt News fact-check article is a source of metadata. It documents sources of misinformation (news outlets, political parties, prominent personalities etc), types of misinformation (religious, political, communal, history, defence, economics, etc), and other crucial data points which help in understanding major trends of misinformation. For the 2022 roundup, the members of Alt News staff captured various data points from 475 fact checks and reports published throughout the year to deduce major themes and trends related to misinformation. After two weeks of sifting through that data, we classified them into various groups and decided to publish a two-part year-ender series mapping categories, themes, sources and targets of misinformation throughout the year.
This story explores the themes of misinformation and types of content that we looked at in 2022, and seeks to show how each headline-making event of the year triggered a spark in misinformation.
MAJOR HEADLINE-MAKING EVENTS SPARKED MISINFORMATION
If a headline comes, can a spurt in misinformation be far behind? No, no poet ever wrote that, but this was true for 2022 nonetheless. The major headline-making events of 2022 gave birth to an enormous amount of misinformation, beginning with state elections (27.4%) spread across the year. Alt News documented multiple instances of misinformation around legislative assembly elections in Uttar Pradesh (February-March), Punjab and Goa (February) and Gujarat (December). We published the largest number of fact checks around the UP elections — 29 in total, followed by Punjab (14), Gujarat (5) and Goa (2).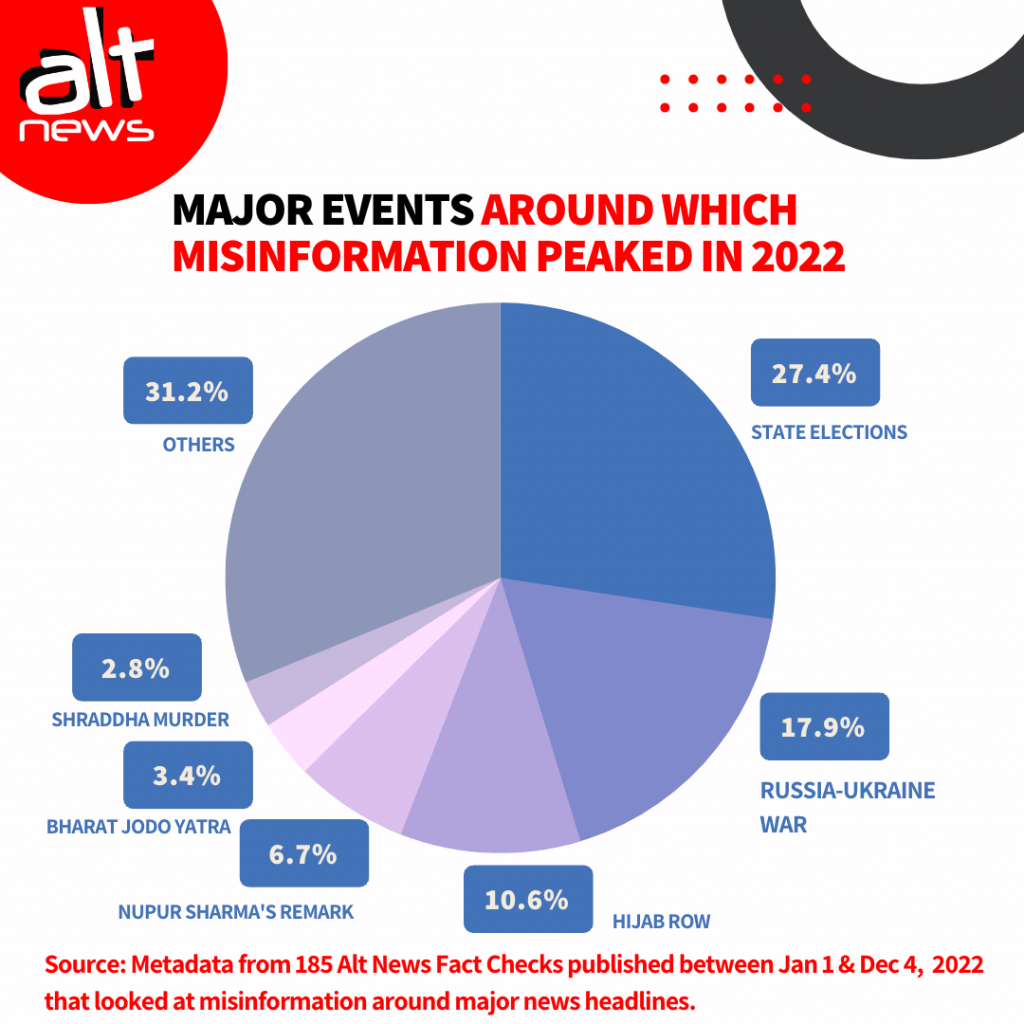 Misinformation around the Russia-Ukraine War was the second highest in this category, at a shade below 18%. Alt News published 32 fact checks debunking various claims related to the Russian invasion of Ukraine. In addition to misleading videos and images about the war, we also debunked claims that were manufactured to project that India's influence in global politics has increased.
In March, a false claim was amplified by journalists and media outlets that Russia "stopped the war for 6 hours" for the safe evacuation of Indian nationals. The ministry of external affairs, while denying the claim, termed it "absolutely inaccurate". Eight months later, in November, the same claim was made by home minister Amit Shah in an election rally, which was again debunked by Alt News.
A false claim was given prominence by journalists and media outlets that Russia "stopped the war for 6 hours" for safe evacuation of Indian nationals. The MEA, while denying the claim, termed it "absolutely inaccurate". #AltNewsFactCheck | @Pooja_Chaudhurihttps://t.co/fNxUGQViZK

— Alt News (@AltNews) March 4, 2022
It went on to show that politicians — in this case the home minister of the country — were not hesitant to amplify false claims and use misinformation — in this case one debunked by the government itself — as long as they helped in building a favorable narrative.
The Hijab Row, too, occasioned a spurt in misinformation. After multiple educational institutions refused entry to students wearing hijabs in Karnataka, protests were organized by students in many parts of the state. Alt News debunked 19 instances of falsehood around this issue in February and March, accounting for 10.6% of our stories which related to some headline-making event or the other.
The controversial remarks of former BJP spokesperson Nupur Sharma gave rise to false claims and misinformation in the middle of the year. 6.7% of our fact checks related to major events were on this issue. On May 27, Sharma remarks about the Prophet of Islam during a Times Now debate led to communal tensions across India. CNN reported that at least 15 Muslim-majority nations condemned her remarks. Alt News debunked at least 14 false claims broadly related to this headline-making event and its fallout. Two important stories related to this can be read here and here.
Below, we have shown the major events of the year around which misinformation peaked.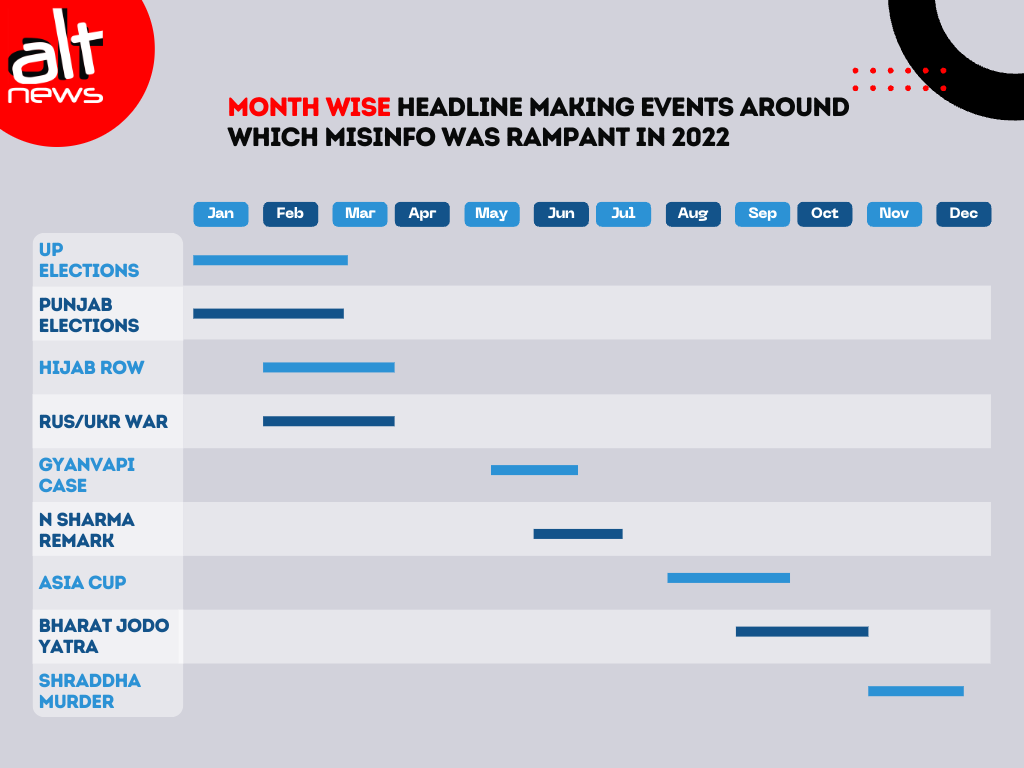 THEMES OF MISINFORMATION
A 2020 research published in Frontiers titled 'Political Misinformation in the Digital Age during a Pandemic: Partisanship, Propaganda, and Democratic Decision-making' said, "Understanding the mechanics of political misinformation and its connections with public opinion formation is, therefore, a vital challenge for democracy as high-quality information is critical for its functioning."
Since its inception, Alt News, too, has prioritized political misinformation as its main area of focus. As much as 41% of our fact checks in 2022 belonged to this category.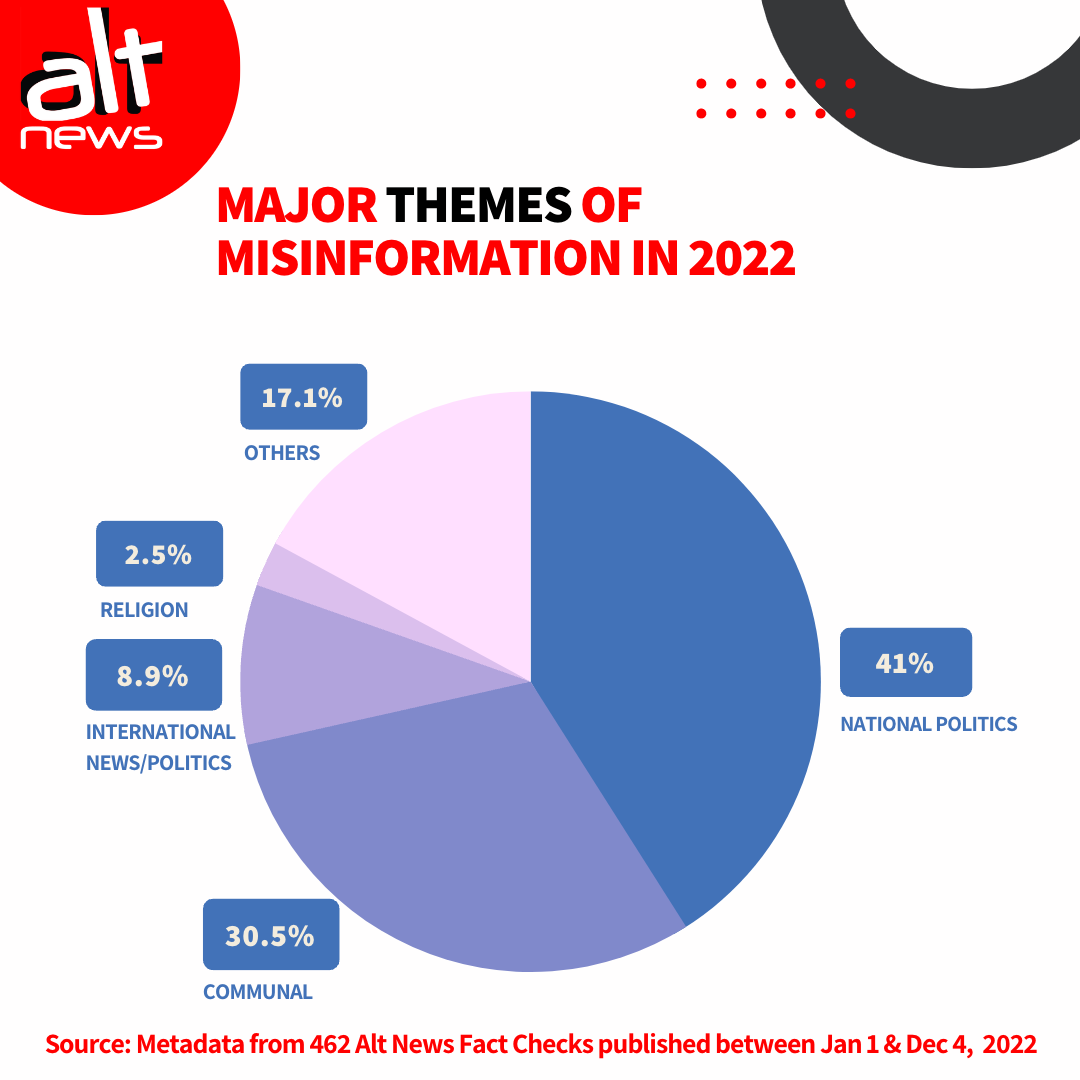 The details of these stories — who were the sources and targets for political misinformation — are discussed in the other article in this series.
The next major theme that emerged was communal misinformation. These accounted for 30.5% of the total fact checks this year. Likewise, 2.5% of fact checks were categorized under the theme of religion. The difference between the two categories is that in the case of communal misinformation, a community was targeted with the purpose of creating a narrative that is harmful and offensive, on the other hand, misinformation classified under the theme 'religion' was innocuous in nature (an example can be found here).
Upon closer analysis of 311 fact checks that had a clear collective target, we noticed that as per our database, 40.8% of misinformation directly targeted the Muslim community in 2022.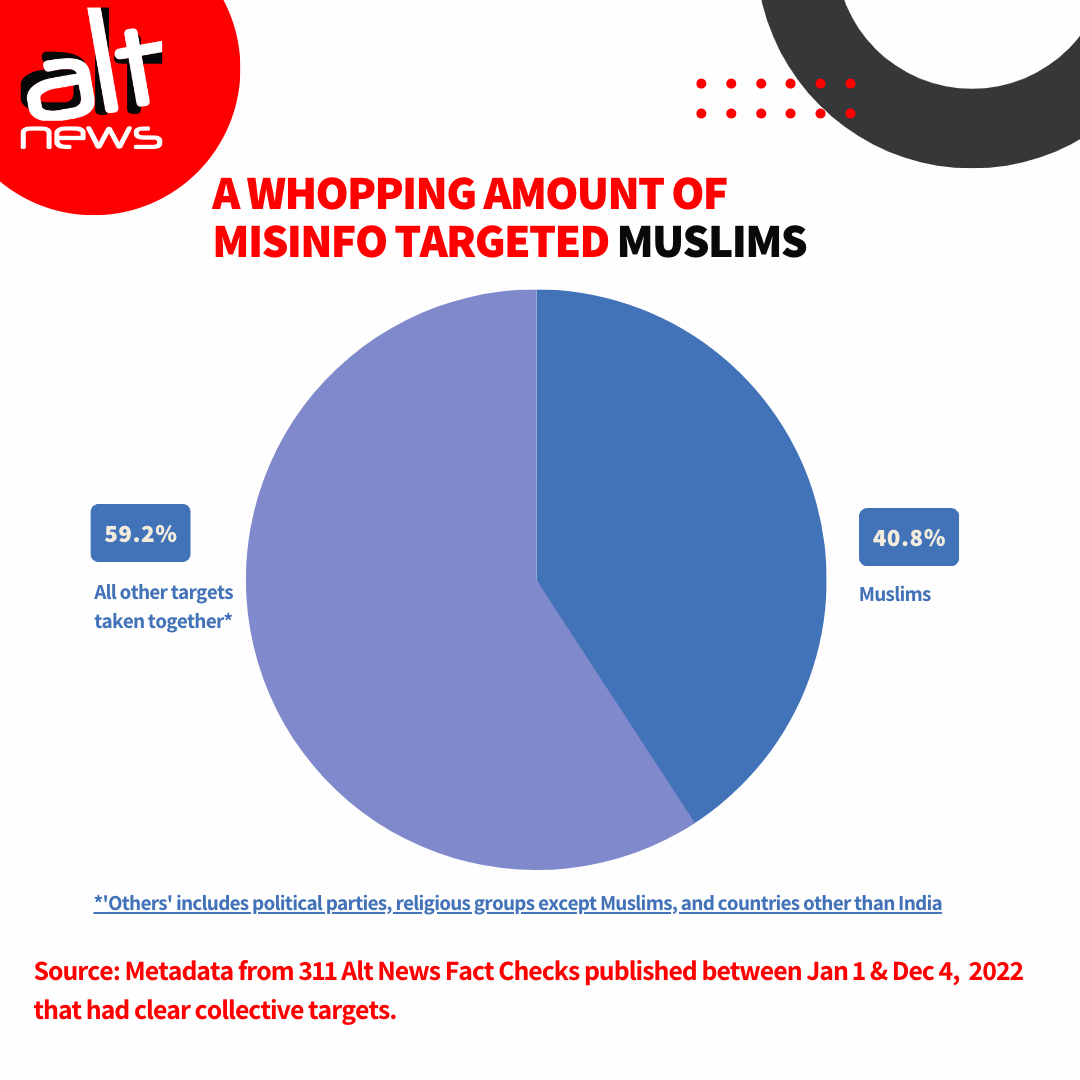 An important story where we debunked communally sensitive misinformation was about the film 'The Kerala Story' by director Sudipto Sen, the teaser of which targeted Muslims on the basis of a false claim that 32,000 Kerala women had become ISIS terrorists. The teaser was shared widely with many believing the claim that to be factual. Alt News found the figure was not backed by available data.
The other major theme this year was international politics. Many of the stories in this category were around the Russia-Ukraine conflict. Sports, defence, natural disasters, science, history, Bollywood etc were the other themes of misinformation.
The other pattern that emerged from a study of the themes of misinformation was in connection with rumours of child kidnapping. This is a dangerous social media trend where false or misleading claims about child kidnapping are shared along with a video. This year, we debunked at least 10 instances of misinformation related to child kidnapping. In many of those, scripted videos or unrelated videos were used to create a sense of fear.
In the first week of September, Alt News started receiving multiple requests to verify audio and video clips related to incidents of child kidnapping. Based on this, we analysed news reports using keyword searches, and also monitored social media. We observed that the attacks on individuals due to such rumours increased exponentially between August 30 and September 13.
Alt News documents how yet again child-kidnapping rumours in multiple states are leading to attacks on individuals. It has been a recurring issue for many years now with various governments doing little to look for a long-term solution. | @akhmxthttps://t.co/NOVqhdBA0S

— Alt News (@AltNews) September 17, 2022
The other was regarding Allegations of pro-Pakistan slogans. This trend involved sharing clips from political rallies and protests with the claim that pro-Pakistan slogans were raised. Since 2014, such claims have been made time and again to discredit opposition political parties and civil society protests.
In 2022, Alt News debunked at least 10 such claims. In none of the videos, pro-Pakistan slogans were raised. We found chants like Aqif bhai zindabad, Maati chor bhagana hai, Owaisi saab zindabad, Shakir Hussain zindabad, SDPI zindabad, Choti cha zindabad, Wazid bhai zindabad, and Popular Front zindabad were falsely claimed to be 'Pakistan zindabad'.
The Alt News report related to the chant Popular Front Zindabad was an elaborate one. A day after the claim was debunked, based on an analysis of other videos of the same event, a Marathi news channel questioned our fact check. Alt News then published a second report on the same incident, this time relying on a phonetic analysis of the slogans using higher-resolution videos, and reaffirmed its earlier findings.
Marathi news channel Saam TV aired a fresh clip of the PFI stir in Pune and claimed pro-Pak slogans can be heard. Alt News report analyzes the footage, refutes the 'evidence' and reaffirms there were no pro-Pak slogans | @shinjineemjmdr @Indra_Calcutta https://t.co/GGRtzQHlnP

— Alt News (@AltNews) September 28, 2022
TYPES OF CONTENT
Like most years, VIRAL VIDEOS accounted for the largest share of content that kept Alt News busy in 2022 as well. Over 50% of the false claims we looked at were made through or on the basis of viral videos. Among them, one category that we came across repeatedly was scripted videos. This social media trend involves re-sharing staged videos after omitting the section that shows the all-important disclaimer that this video is for entertainment purposes.
In June, Alt News published an analysis of this trend. It was noted that — a) multiple verified Facebook accounts shared such videos in order to monetize such content and b) many clips were being shared out of context targeting the Indian Muslim community.
A new 'trend' of celebrities posting staged 'CCTV' videos on Facebook has emerged. The videos carry disingenuous disclaimers thus misleading viewers. They are also picked up by the disinformation ecosystem and shared with anti-Muslim claims. | @ArchitMetahttps://t.co/wHgwKAz7Q7

— Alt News (@AltNews) June 9, 2022
At 25.2%, VIRAL IMAGES accounted for the second highest amount of content-type that Alt News examined in 2022. One significant story that the reader might go back to was done in July, when several social media users falsely claimed that Supreme Court judges Justices Surya Kant and JB Pardiwala, who reprimanded Nupur Sharma for her remarks on a TV show, were seen having lunch with NDTV's Prannoy Roy and Radhika Roy, CPI (Marxist) leader Brinda Karat.
This photo was shared with the false claim that NDTV's Prannoy and Radhika Roy, CPI(M) leader Brinda and The Hindu N Ram were spotted with SC judges Justice Surya Kant and Justice Pardiwala who had reprimanded Nupur Sharma. #AltNewsFactCheck | @AbhishekSayhttps://t.co/UYjQdZT7aK

— Alt News (@AltNews) July 7, 2022
The next major category was MEDIA MISREPORTS. If we classify them as a particular type of content, their share was 12.7%. When we went through each and every story of 2022, we found that out of 462 fact checks, in at least 105 instances, misinformation was shared by a media outlet. This means, at least 8 times a month, a mainstream media outlet amplified a false claim. The enormous reach of mainstream news outlets meant such falsities spread like wildfire.
In February, we reported how a 2020 YouTube video was aired by Times Now, Republic, News24, NewsX, and Jan Ki Baat as visuals of the ongoing Russian military operations in Ukraine.
In multiple instances, mainstream media aired communal misinformation. In July, NewsX called the flooding in Silchar 'flood jihad' and blamed Assam's Muslim community for the disaster after an embankment was damaged. In the same month, several media outlets falsely reported that Hindus offered namaz at LuLu Mall.
Last week, NewsX called the flooding in Silchar "flood jihad" and blamed Assam's Muslim community for the disaster after an embankment was damaged in May to reportedly relieve water logging. The communal spin was refuted by Assam CM and police. @ArchitMetahttps://t.co/6VeDyJTrtz

— Alt News (@AltNews) July 11, 2022
Just a month later, Times Now showed the national flag raised in a mosque in Jammu's Phagsoo with an alleged cleric giving sermons. Alt News found that a politician was coerced into posing as a cleric.
Times Now recently showed the national flag being raised in a mosque in Jammu's Phagsoo with an alleged cleric giving sermons. Alt News found that a politician was made to pose as a cleric, with the politician now alleging coercion. | @akhmxt https://t.co/zIeYdI76c0

— Alt News (@AltNews) August 14, 2022
In September, Zee Hindustan shared a video of an elderly woman assaulted over a land dispute as atrocities against Hindus in Pakistan. Alt News spoke with the victim, who confirmed to us that she hailed from the Muslim community. In the same month, multiple media houses shared an unrelated video clip from Madhya Pradesh and falsely claimed that it shows sadhus being beaten up for child theft in Maharashtra.
A number of mainstream media houses recently used an unrelated video clip from Madhya Pradesh in their bulletins/ social media posts claiming it shows an incident of sadhus being beaten up for child theft in Maharashtra. #AltNewsFactCheck | @HereisKinjalhttps://t.co/S2GcCweK5w

— Alt News (@AltNews) September 15, 2022
In November, the mainstream media claimed that Saudi Arabian footballers would receive Rolls Royce cars as gifts for defeating Argentina in the World Cup. The coach of the national team confirmed that the reports were untrue.
The other categories Alt News looked at included fake social media accounts, WhatsApp chain texts, and fabricated quotes. In August, we debunked a viral text chain doing the rounds on social media that suggested Nobel laureate Dr Amartya Sen has claimed that Sri Lanka is doing better than India in terms of various global indices.
ANALYTICAL STORIES
In 2022, Alt News did 12 long-form analytical stories. These were in the domain of media analysis, platform accountability and Alt News's relentless fight against hate speech in public discourse. In October, we analyzed how Aman Chopra of News18 glorified public flogging of Muslims by Gujarat police by calling it 'Police ka dandiya' in a celebratory tone, throwing all kinds of editorial ethics to the winds.
10 Muslim men were publicly flogged by cops in Gujarat's Khera on Oct 4. Reporting on the incident, Aman Chopra of News18 jubilantly described the beating as 'dandiya' & failed to raise pertinent questions about the illegality of the act. | @shinjineemjmdr https://t.co/3EsTUAHhOS

— Alt News (@AltNews) October 17, 2022
Again, in November, Alt News did back-to-back long-form stories on relentless hate speech by Yati Narsinghanand defying his bail terms and YouTube's failure to moderate problematic content in relation to child-kidnapping videos. We also did a story on how YouTube failed to act against a channel called Nation TV which thrived almost exclusively on politically biased misinformation of the most outrageous kind.
From 'PM's wife joining Rahul's yatra' to 'Modi's secret video leaked', YouTube channel Nation TV shares misinformation of the most outrageous kind on a regular basis. And it has 5 lakh subscribers. An #AltNews report | @Priyankajha0 https://t.co/DKuG8gGNki

— Alt News (@AltNews) December 2, 2022
While our fight against misinformation and disinformation will continue unabated in 2023, media watch and platform accountability are areas Alt News wants to focus on in the coming year in a more concerted manner.
All figures in the story are based on fact checks done by Alt News in 2022 and viral social and mainstream media claims examined by us.
Donate to Alt News!
Independent journalism that speaks truth to power and is free of corporate and political control is possible only when people start contributing towards the same. Please consider donating towards this endeavour to fight fake news and misinformation.