Trigger Warning: Violent Content. Viewer discretion is advised.
Over the past few months, rumours of child kidnapping have spread like wildfire in many parts of the country based on purported videos of abductions or attempted abductions and mob assaults, viral across social media platforms. Typically, these videos contain gory visuals and a warning that some people are roaming about in a particular area to kidnap children.
Back in 2018, IndiaSpend analyzed news reports from across India which said there had been " …61 (is) number of mob attacks sparked by rumours or suspicion of child-lifting circulated on social media since the beginning of the year. So far this year, 24 persons have been killed in such mob attacks. This more than 4.5 times rise in attacks and two-fold rise in deaths of this kind over 2017, when 11 persons were killed in eight separate attacks". The report also touched upon the fact that these attacks indicated an erosion of faith in the law enforcement system. A 2018 incident in Assam where two musicians were killed on the suspicion of being child kidnappers received global media attention.
Changing Contours of Misinformation Through Videos
The nature of misinformation in the context of child kidnapping has undergone some changes over the years. Initially, the viral videos were clipped from longer videos presumably made for raising awareness. Once these videos caused panic, people started attacking unfamiliar faces suspecting them to be child lifters, and the videos of those attacks were shared with the claim that they were actual child kidnappers being punished for their deeds. Subsequently, unrelated gory clips of dead bodies and mutilated corpses were shared as proof of organ trafficking.
The rumour-mongering was taken to the next level when YouTube content creators started to upload scripted child-kidnapping videos. Sometimes, they were circulated in regional languages. Eventually, the public reaction to child kidnapping became topical, inspiring the content creators to monetize the rumours through targeted viewership. The economy of staged videos was explained by an Alt News report in the past.
News reports have mentioned that the police have time and again appealed to the public to not fall for rumours and refrain from taking law into their hands. This report samples 20-odd scripted videos of child kidnapping and organ trafficking that have the potential to accentuate public fears on the issue, and puts them in the context of existing content moderation policy of YouTube. The objective is to draw attention to the scope and limitations of such policy and methods of moderation in the context of scripted child-kidnapping videos that are disturbing in nature.
The Impact of Such Videos
There have been numerous reports on the deep social impact of the scripted videos. Often, these rumours affect parents/adults because they fear for the safety of their children. Hence, such content instigates fear, suspicion and panic among people, and often results in an assault on the suspect/s. Besides, these videos create certain stereotypical impressions of who could be a child kidnapper. They are judged on the basis of how they dress and conduct themselves in public. For example, in the scripted videos, individuals are dressed as mendicants/fakirs, scrap dealers, hawkers or even vagabonds. Most of the cases of mob violence are reported from rural areas, a typical setting in the staged videos. While in many cases sadhus and mentally challenged people were at the receiving end, public officials and healthcare workers, too, were not spared.
Alt News has addressed and debunked several such rumours and videos of child kidnapping in the past couple of years (1, 2, 3, 4, 5, 6, 7, 8), and done a detailed analysis of real-life consequences of scripted or doctored videos of child abduction. It was observed that between August 30 and September 13, 2022, there were 27 attacks on individuals resulting from rumours of child abduction. There have also been several reports describing how unrelated visuals and scripted videos were passed off as real events.
YouTube Policy on moderation
The YouTube community guidelines outline a host of categories to address problematic content. The categories that concern us here are the policies on violent content, manipulated content, child safety and thumbnail.
YouTube includes the following under violent or graphic content:
Inciting others to commit violent acts against individuals or a defined group of people.
Fights involving minors.
Footage, audio, or imagery involving road accidents, natural disasters, war aftermath, terrorist attack aftermath, street fights, physical attacks, immolation, torture, corpses, protests or riots, robberies, medical procedures, or other such scenarios with the intent to shock or disgust viewers.
Footage or imagery showing bodily fluids, such as blood or vomit, with the intent to shock or disgust viewers.
Footage of corpses with massive injuries, such as severed limbs.
The videos we have sampled contain unsavory, gory thumbnails as well as visuals of physical attacks, torture, corpses etc. for public consumption and presumably to pump viewership. This is in direct contravention to the guidelines on violent or graphic content policies. In most of the cases the thumbnails do not necessarily reflect the actual content in the video, thus manipulating the audience into clicking on it.
These videos also fall under the category of manipulated content, described by YouTube as 'content that has been technically manipulated or doctored in a way that misleads users (beyond clips taken out of context) and may pose a serious risk of egregious harm'.
The child safety policy outlines conditions that could be flagged as dangerous for minors. It states, "never put minors in harmful situations that may lead to injury, including dangerous stunts, dares, or pranks". The videos have images of children being lifted and bagged, carried away recklessly, sometimes a weapon held in close proximity to them. These 'dangerous stunts' clearly violate the child safety policy.
The thumbnail policy lists various kinds of images that can't be posted as thumbnails. They include
Violent imagery that intends to shock or disgust
Graphic or disturbing imagery with blood or gore
A thumbnail that misleads viewers to think they're about to view something that's not in the video
It is pertinent to note that YouTube monetization policy mentions that to be eligible to monetize content, the content creator has to follow the community guidelines. "Violation of our YouTube channel monetization policies may result in monetization being suspended or permanently disabled on all or any of your accounts," the policy says. How the videos enlisted below violate the guidelines have been explained above. Here are the screenshots of some of the videos we have sampled that carry advertisements.
This slideshow requires JavaScript.
The Problem with Disclaimers
Alt News has, in the past, documented cases of disingenuous disclaimers in the context of scripted CCTV videos. In the child-kidnapping videos disclaimers come in different forms. A few of the videos carry a written disclaimer on the screen in English for a few seconds, some in Hindi. A lot of disclaimers come towards the end of the video where the cast explains why they made the video. They claim that the content is created for the purposes of entertainment and, at times, to educate adults on the dangers posed by child traffickers. However, in all these cases, the gory clickbait images and disturbing performances like pulling out organs, slashing body etc. serve as a voyeuristic inducement to attract viewership. This makes it a matter of serious content moderation.
Questions Galore
The effectiveness of policy issues is intrinsically linked to the dynamics of viewership. The questions that assume significance here include — Who are the stakeholders? Who is getting affected by the consumption of these violent videos? Is it only a law enforcement issue? What is the consent system in place to create content performed by children? How does YouTube monitor which of such channels are 'authoritative voices'?
Every policy has a target audience. The nature of the videos and ground reports of public reaction to suspicions of child-kidnapping certainly show that the target audience here is parents, guardians and impressionable teens, most likely living in rural areas, where children are likely to have lesser parental surveillance.
To add to the conversation on moderation, it is useful to look at it from the perspective of the rights of children. The YouTube policy guideline on children is restricted to abusive content or content that is sexual in nature. The guidelines are not exhaustive about what kind of behaviour could be deemed violent or obscene in respect of children. There is scope to create additional check gates for such videos by bringing in the question of the rights of children.
Responding to some of the above queries by Alt News, a YouTube communications representative said the platform's responsibility efforts were focused on four pillars: removing violative content, raising up authoritative content, reducing the spread of borderline content and rewarding trusted creators. More than 20,000 people around the world, including those with Indian language expertise, work to review and remove content that violates our policies, they added.
They also made the point that raising authoritative information was as important for the platform as removing violative content, and improving the platform to prevent the spread of harmful misinformation was a continuous process.
Recently, YouTube has flagged some gory videos involving children as inappropriate for some users. They are either unavailable or carry the warning that it is inappropriate for some users. Here are a few links to some of these videos: 1, 2, 3, 4, 5
Sample Videos
Most instances of child kidnapping rumours have a trend or pattern in terms of public perception. For example, the kind of people being profiled, the nature of public behaviour that would tantamount to suspicious activity, etc. The video below suggests how a child trafficker looks like. It creates the image of a person in tattered clothes or someone dealing with scraps, as a potential abductor. The disclaimer is posted at the beginning of the video and the text is in English, not necessarily the preferred language of the audience. The video was uploaded in 2019 and has garnered over 12 million views.
In the the second video (below), youngsters run amok with weapons to catch abductors. The disclaimer mentions the purpose of the video is entertainment. The feature image has two scary looking men stabbing a child. How does such an image come under the purview of entertainment? The video shows a group of armed youngsters taking law into their own hands. The channel 'The Three Bro' has over 3,34,000 subscribers and in one year, this video has gathered over 29 million views.
In the following video, the imagery is disturbing. Weapons are brandished to rip open children. There is a message in the end asking people to be wary of house guests. Such commentary is problematic in rural areas where visitors often rely on local hospitality. With more than 2,52,000 subscribers, the channel 'Bihari Babu Entertainment' has managed 2.7 million viewers in about a year.
There are several channels that have multiple videos on child kidnapping, claiming to make people aware. There does not seem to be any justification behind these videos other than monetizing content with wider reach.
The channel 'Arvind Singh Gopalganj' has couple of videos on kidney racket vis-a-vis child trafficking. In the video below, it is claimed to be an awareness video on such instances. The question is, does the channel need several such disturbing videos to raise awareness on the same topic? The video has had over 3,57,000 views in one year. A common theme in the messages is how the video is based on reports of kidney racket and child trafficking, and the public should scrutinize mendicants or similar loiterers before taking action.
The channel 'psy film production' has 1,48,000 subscribers. It has several such violent videos on child abduction, but passes its content as comedy. The video below has neither a disclaimer nor a message. It is gory, fear-inducing and disruptive. Underneath, there is also a slideshow of disturbing feature images from the videos of this channel.
This slideshow requires JavaScript.
There is this Youtube shorts shot to look like a live incident. There is neither a disclaimer nor message. People in the comments section call for police intervention. However, the video is clearly scripted. It violates the condition of context necessary for videos like these as per the guidelines. There are just a bunch of people in the middle of nowhere.
There are stock images of mendicants which profile individuals according to religious community, sometimes a Muslim and at times a Hindu.
The channel PBC entertainment, with 3,17,000 subscribers, has several gory imagery in its content on child kidnapping. Some of the videos have millions of views. Below is the screenshot of multiple videos from this channel. There are disclaimers given.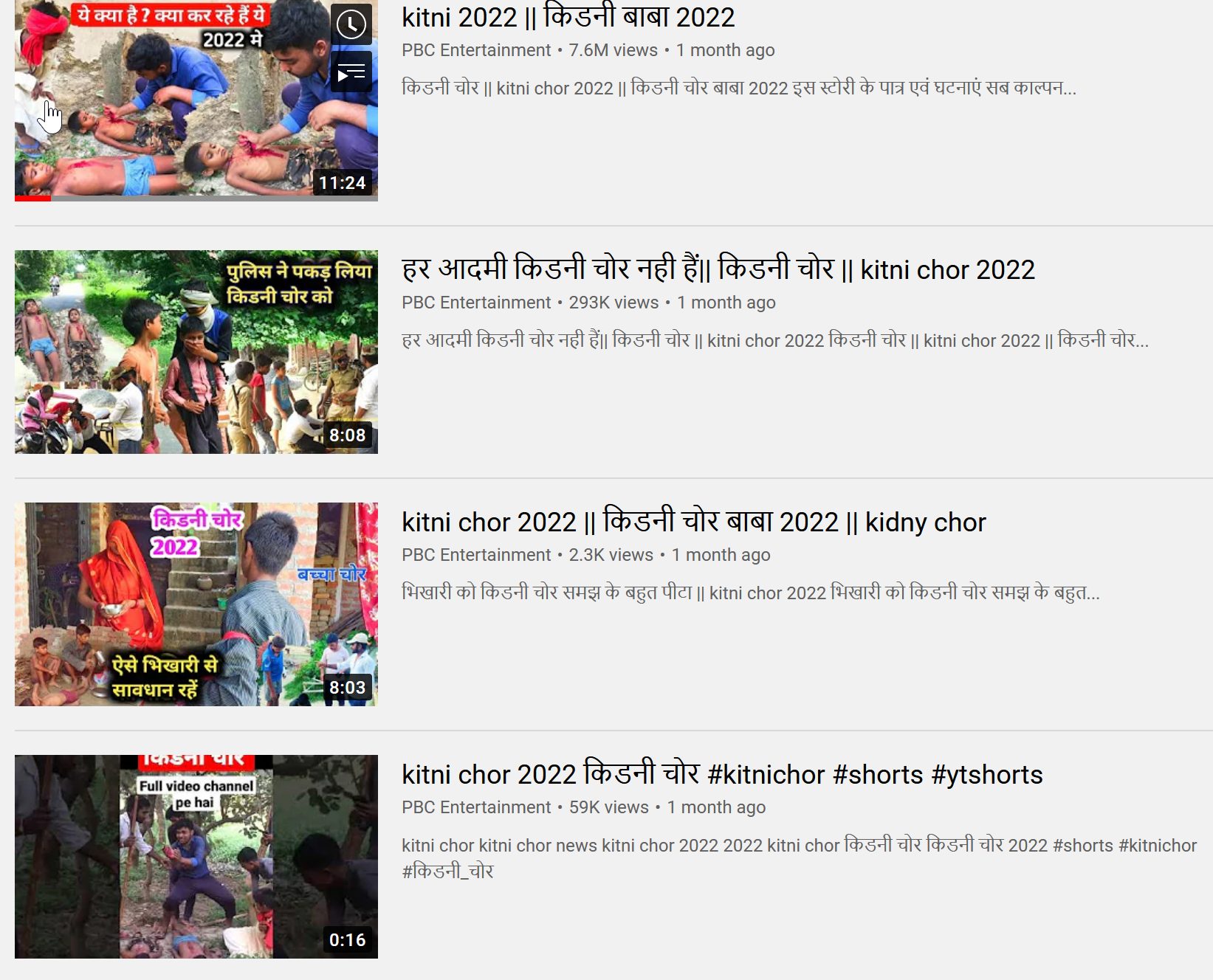 Similarly, there are videos where a hawker on a cycle is beaten up. The same channel 'Jhamaru Mahato Comedy' has a couple of videos on kidney racketeering and child abduction. The FIs are visually disturbing and should be taken down immediately. Below is a screenshot. The viewership of these videos is often in millions.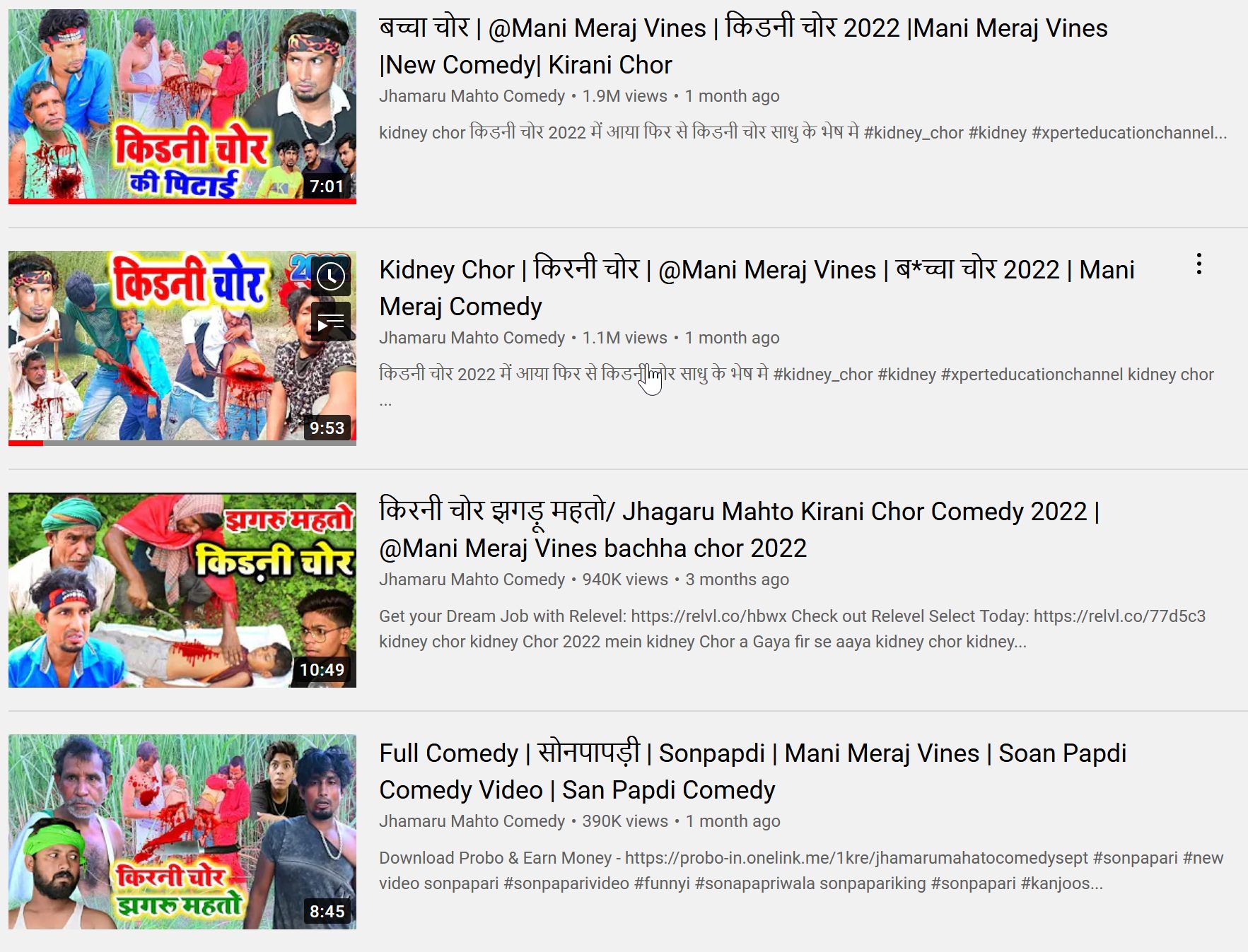 Here are a couple of videos with highly disturbing visuals.
Both the above channels, 'Bhadohi ka Lavanda' and 'SD Vines' have a couple of videos with disturbing feature images. Here are the screenshots:
This slideshow requires JavaScript.
The channel 'Comedian Guru' also has several gory videos. One of them carries a disturbing image of man apparently taking organs out of a child. Channel UP STAR Channel and 'Desi Lover', too, use repugnant imagery in several videos on kidney racketeering and child kidnapping.
Channel Jhamaru Mahato Comedy has several disturbing content. One of the videos :
The channel 'Bhagirath Aashiq' passes of as a comedy channel with violent imagery of child kidnapping. It also shows a video normalizing extra-judicial action by police.
Channel 'Comedy Plus with Neetuarya', with 3.36 million subscribers, is a repeat offender. The channel has highly disturbing imagery across several videos on child kidnapping. Here is one of the videos:
There is also a video wherein people are seen demanding Aadhar card from people profiled as suspicious. This also raises the issue of privacy over making identification documents public to defend oneself against a mob.
Channel 'RS Funny' carries images of mutilated children over several videos to show instances of child kidnapping.
Summary of the problem at hand
The fact that so many channels – as listed above – repetitively create violent content that has proven potential to prompt public reaction and law and order problems shows the inadequacies of YouTube's monitoring policies. These videos trigger anger and other emotional responses in the public. They normalize mob violence, extra-judicial action by the police, weapons in the hands of vigilantes, and encourage public scrutiny or surveillance on each other. The fact that some of these videos come with advertisements shows that both the platform and the content creator are financially benefiting from such content which have potential risk for causing 'egregious harm'.
There is no transparency on YouTube's process of defining what it refers to as 'authoritative information' or how Indian language experts moderate content that violate community guidelines. The emphasis on 'context' as being important to legitimize videos for advertiser-friendly content is not necessarily useful in this context. Majority of the viewers' comments on the videos do not recommend or suggest flagging the gory content. There is a market for sensationalism and these channels seem to be taking advantage of that. The volume of viewership of some of these videos is staggering, as can be seen in the scroll shot below:
Donate to Alt News!
Independent journalism that speaks truth to power and is free of corporate and political control is possible only when people start contributing towards the same. Please consider donating towards this endeavour to fight fake news and misinformation.