A set of videos and images is circulating on WhatsApp with child-lifting rumours. Over the past three years, Alt News has debunked multiple false social media rumours related to child kidnapping. (1 and 2)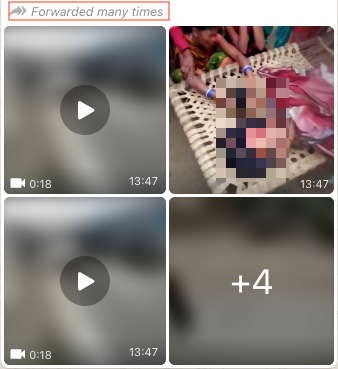 Video 1: Man sliting minor relative's throat shared with images of a beheaded child
This slideshow requires JavaScript.
The video pertains to an incident from Rajasthan reported by Dainik Bhaskar on January 9. The incident took place Karad, a village Rajasthan's Sikar district, on January 8. Accused Kailashchand Raigar (21) murdered his 10-year-old cousin. SP Sikar Kunwar Rashtradeep told Dainik Bhaskar that Raigar murdered the child to take revenge on his uncle, the child's father. The incident was also reported by Times Now.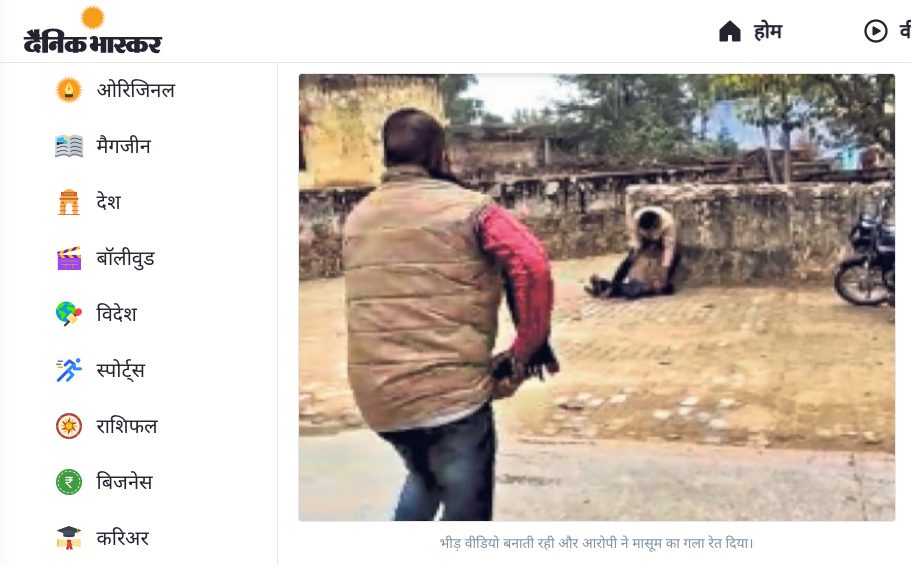 Alt News spoke with SP Sikar Kunwar Rashtradeep who confirmed the above-mentioned details and added, "The images of the beheaded child are not related to this incident. The accused was arrested on the same day. There haven't been any recent child-kidnapping incidents."
This report will be updated if and when we find details about the images of the beheaded child. But to reiterate, they are NOT related to the video of the man murdering his minor relative.
Video 2: Gorakhpur police's press address shared with audio-morphing
A 90-second video of a police officer addressing the press has been dubbed with voice over. The narrator warns of 'child-kidnappers on the prowl'. He asks people to be aware of gangs of 500 people involved in illegal organ trading. This warning has been ascribed to SP (city) Gorakhpur, Kaustab.
The narrator can be heard saying in Hindi, "Do not open doors for any garbage collectors, sadhus, hawkers and beggars. Just make noise and send them away. Do not utter the words "no one is at home right now, come later" even by mistake. Unleash your pet dog if you have one. Do not open the main gate. Take care of yourself and your children. Stay alert and stay safe. Today, there have been reports that 500 people, disguised as beggars, have come from Bargadwa. They take hostage, anyone, on their way and sell their hearts and kidneys. Around 6-7 people have been caught and they have admitted that 500 people are on a prowl. Forward this message to all your friends and family members. Please stay safe. Gangs of 15-20 people are prowling. They have women and children accompanying them. They also have weapons. They come at midnight when the cries of children are heard. Please do not open your doors and share to maximum groups. This message should be viral in 2-3 days. Your safety is in your hands. Beware. Issued in the public interest, Gorakhpur police. This is said by SP (city) Dr Kaustab while talking to Gorakhpur newspapers."
There is no truth in the viral video. The voiceover does not match the news ticker that says – "SP (city) Dr Kaustab terms the messages viral on social media 'fake.' The messages are not true. If you spot someone suspicious, inform the police and do not take the law into your own hands." (Translated from Hindi)
The viral video was uploaded by Gorakhpur News on August 25, 2019. In the first part of this video, the anchor gives a brief of Gorakhpur police's statement. He tells viewers that SP Kaustab has termed the messages viral on social media 'fake'. In the second part of the broadcast, the anchor reads out the false message viral on social media. This portion has been clipped and circulated online.
From 1:49 minutes onward, the SP can be heard debunking the rumours. He says that messages warning about child-kidnapping gangs are false and no such cases have been reported from Gorakhpur. He adds that messages ascribed to Gorakhpur police are being circulated on social media but the police has not issued any warnings. This video was debunked by Alt News in 2019 in a more detailed report.
On January 18, Sant Kabir Nagar police, UP tweeted a video addressing the rumours.
पुलिस अधीक्षक @santkabirnagpol @kaustubhgmc द्वारा बच्चा चोरी की भ्रामक, झूठी व फेक वीडियो वायरल होने के संबंध में दी गयी बाईट। @Uppolice @digbasti @AdgGkr @DistrictSant @SatyamevL @bastipolice @sspgorakhpur @siddharthnagpol pic.twitter.com/0996G86Vjn

— SantKabirNagarPolice (@santkabirnagpol) January 18, 2021
Video 3: Compilation of images with background narration alleging child-kidnapping
This 18-second slideshow video includes seven images. The Hindi voiceover in the video alleges, "Protect your child and take care of them. Send this to all your groups. Share this photo till the point this dog is arrested. People who don't share this video aren't their mother's children. No matter how many groups you have, one or two…"
We found that six out of seven images (all except the fourth image) have been debunked by Alt News in 2019 (1,2,3) when they were shared with similar false rumours of child-kidnapping.
Image 1: This photograph shows a crowd gathered around a car. In a report published in August 2019, Alt News found that the incident took place in Kurukshetra, Haryana after a family travelling with their children was mistaken for being child-lifters by locals in Ladwa. According to a Dainik Jagran report, the family hails from Hissar district and was returning from Haridwar after funeral rites of a relative.
Alt News had spoken with Ladwa police to confirm the details of the incident. SI Omprakash said, "We had verified the details of the couple and found that these were their own children who were sitting in the trunk of the car. They had gone to Haridwar for last rites of their father who died six months ago." The officer said that the children themselves wanted to sit in the trunk.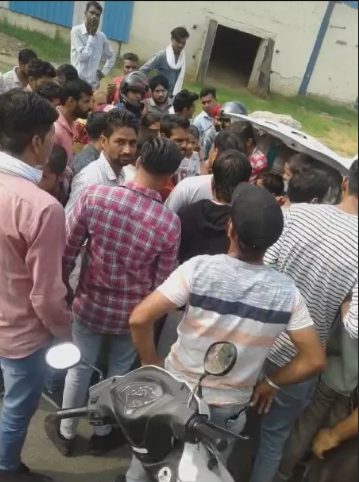 Image 2: This a screenshot of a Facebook post that reads in Hindi, "Beware! Take care of your children. Police apprehended three kidney thieves kidnapping children at Gwalior Transport Nagar."
Alt News had debunked this image too in 2019. According to a Dainik Bhaskar report, two people mistaken to be child-kidnappers were attacked by a mob in Gwalior, Madhya Pradesh. The incident was also reported by Nai Dunia.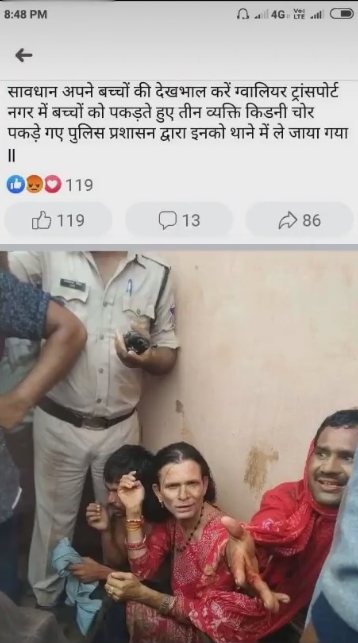 Image 3: The Hindi text shared with the image below reads, "Brothers! 25 child kidnappers have been arrested in the Jaora city of Madhya Pradesh's Ratlam district. Send this to all your contacts and [WhatsApp] groups so that everyone stays informed and no one gets their child kidnapped."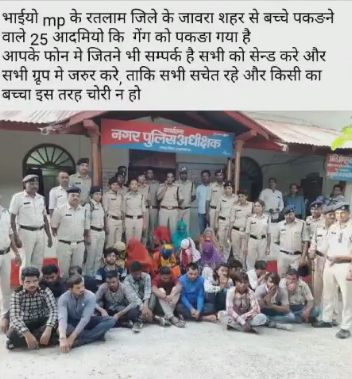 The hoarding on the police station reads in Hindi, "City Superintendent of Police Jaora District Ratlam".
Alt News had reached out to Ratlam SP's office in 2019 to verify the image. He directed us to the Ratlam police's cyber cell. We were sent a screenshot of a 2019 report by Patrika that carried the viral image. The headline stated nine young women along with 15 young men involved in a sex racket were nabbed by the police.
Image 4: This image shows several knives placed on a table. We found that this image is related to an illegal arms racket that was operated from a hotel on the Ahmedabad-Rajkot highway. The incident was reported by The Times of India in 2016. More than 250 lethal weapons including swords and knives were seized from India Palace Hotel.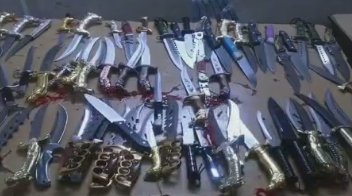 Alt News was unable to locate details about the photo of a Sadhu in black clothes. However, that image too has been circulating on social media with child-kidnapping rumours for the past few years. It is not recent.
Therefore, multiple previously debunked images and videos falsely linked to child-kidnapping are again being forwarded on WhatsApp.
Donate to Alt News!
Independent journalism that speaks truth to power and is free of corporate and political control is possible only when people start contributing towards the same. Please consider donating towards this endeavour to fight fake news and misinformation.