Several people have shared juxtaposed images of 3D CT scans of the lungs and claimed that the image on the right shows the lungs of a COVID positive patient who is vaccinated, while the one on the left is of a COVID infected person who is yet to be vaccinated.
Registrar and Head International Inoculation Centre at New Delhi Municipal Council Dr Sumit K Dubey tweeted the viral image and wrote, "Encourage everyone to get the vaccination done". His tweet gained 2,000 retweets as of this writing. BJP supporter @RenukaJain6 also made the claim.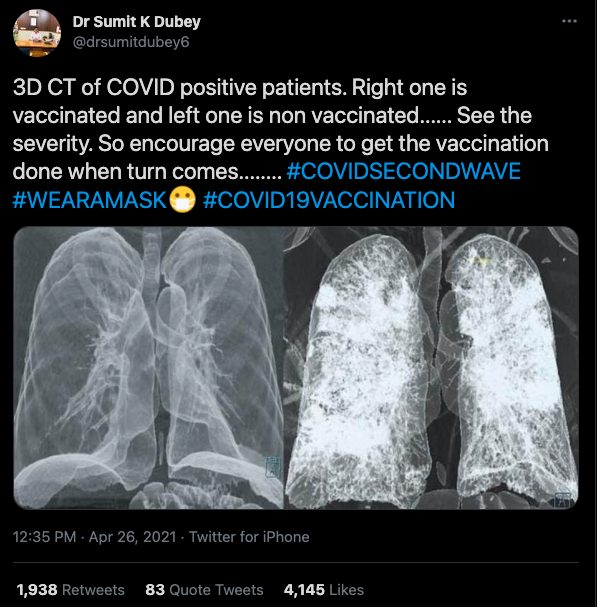 BJP Andhra state general secretary S Vishnu Vardhan Reddy tweeted as well.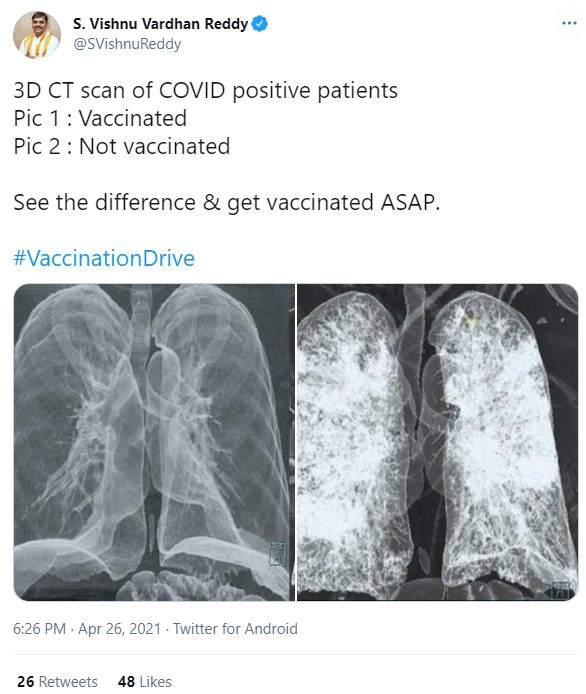 Several Facebook pages and users shared the post, including 'Sri Babu Singh Jai Singh Ayurvedic Medical College & Hospital'.
This slideshow requires JavaScript.
There are multiple iterations of this claim. A video is also circulated on social media where a man points to a similar x-ray. CEO of Pakistan-based Positive Media Communications Omar R Quraishi also tweeted the video.
Lungs of those infected with Covid

One was vaccinated and didn't need hospitalisation

The other was not vaccinated and died pic.twitter.com/BWQMt5jYjw

— omar r quraishi (@omar_quraishi) April 30, 2021
Twitter user Shazia Shafi promoted the claim using a different set of scans. This tweet was retweeted by Radio Mirchi RJ Mehek.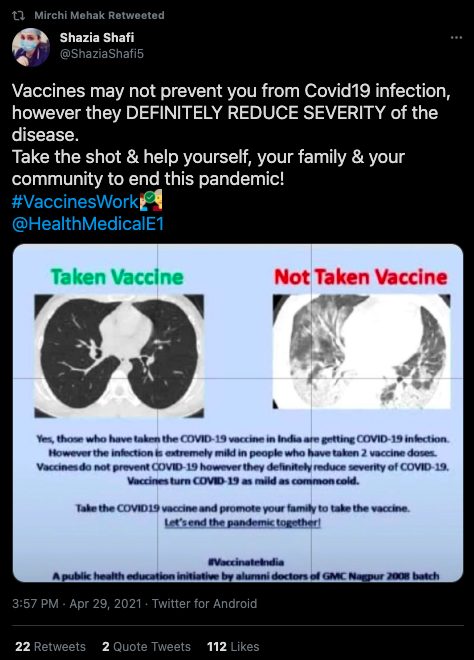 Alt News has received multiple verification requests on its WhatsApp helpline (76000 11160) and mobile application. Download our mobile application to send such forwards for verification. (Android, iOS)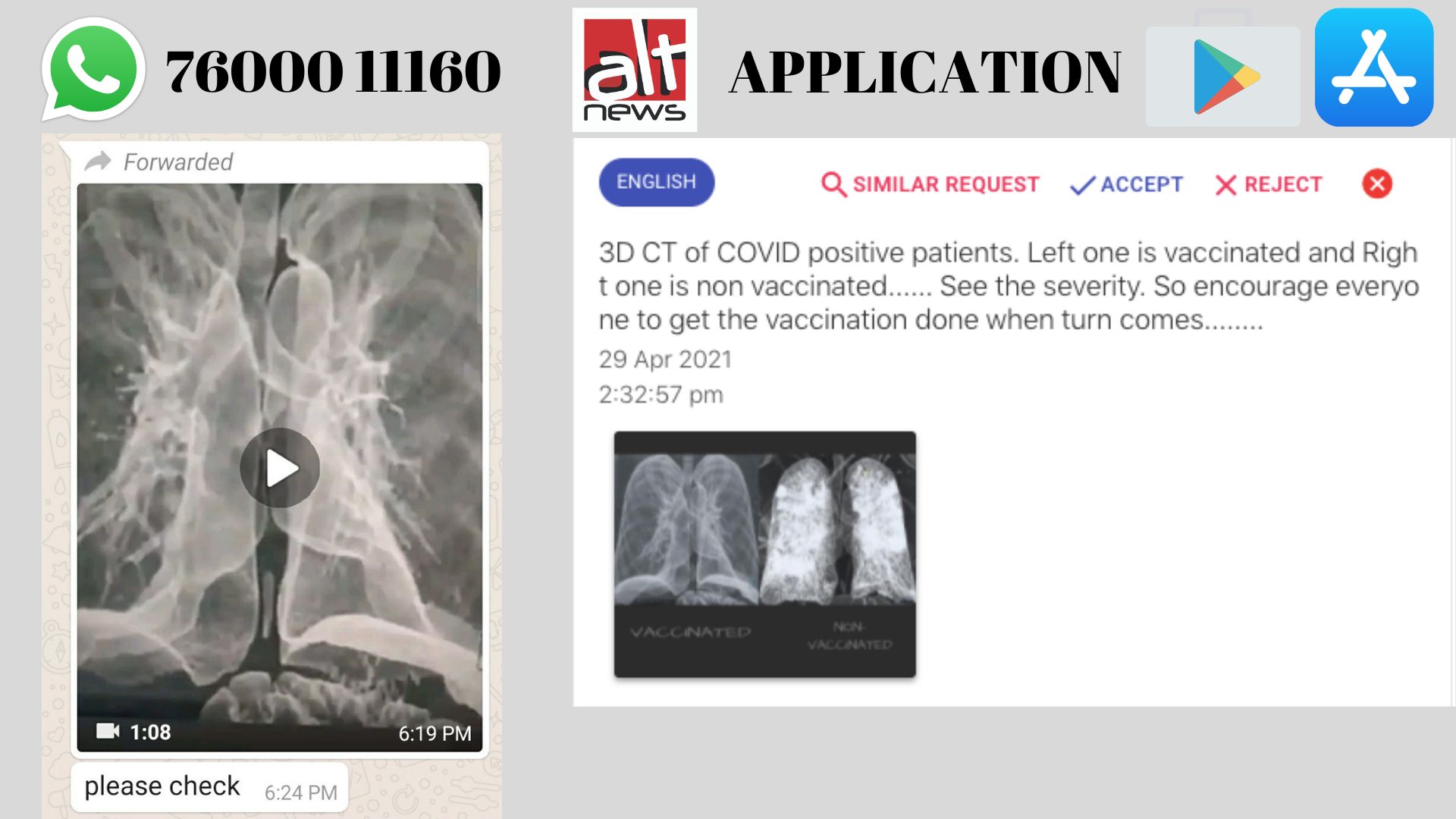 FACT-CHECK
The juxtaposed image shows a CT scan of the lungs. However, only one of them shows the image of a COVID-19 positive patient. The lungs on left are healthy while the ones on right are of a COVID-19 patient.
This image was published in 2020 by Canadian news outlet Richmond News. The article's headline reads, "New research aims to use CT scans to better diagnose COVID-19".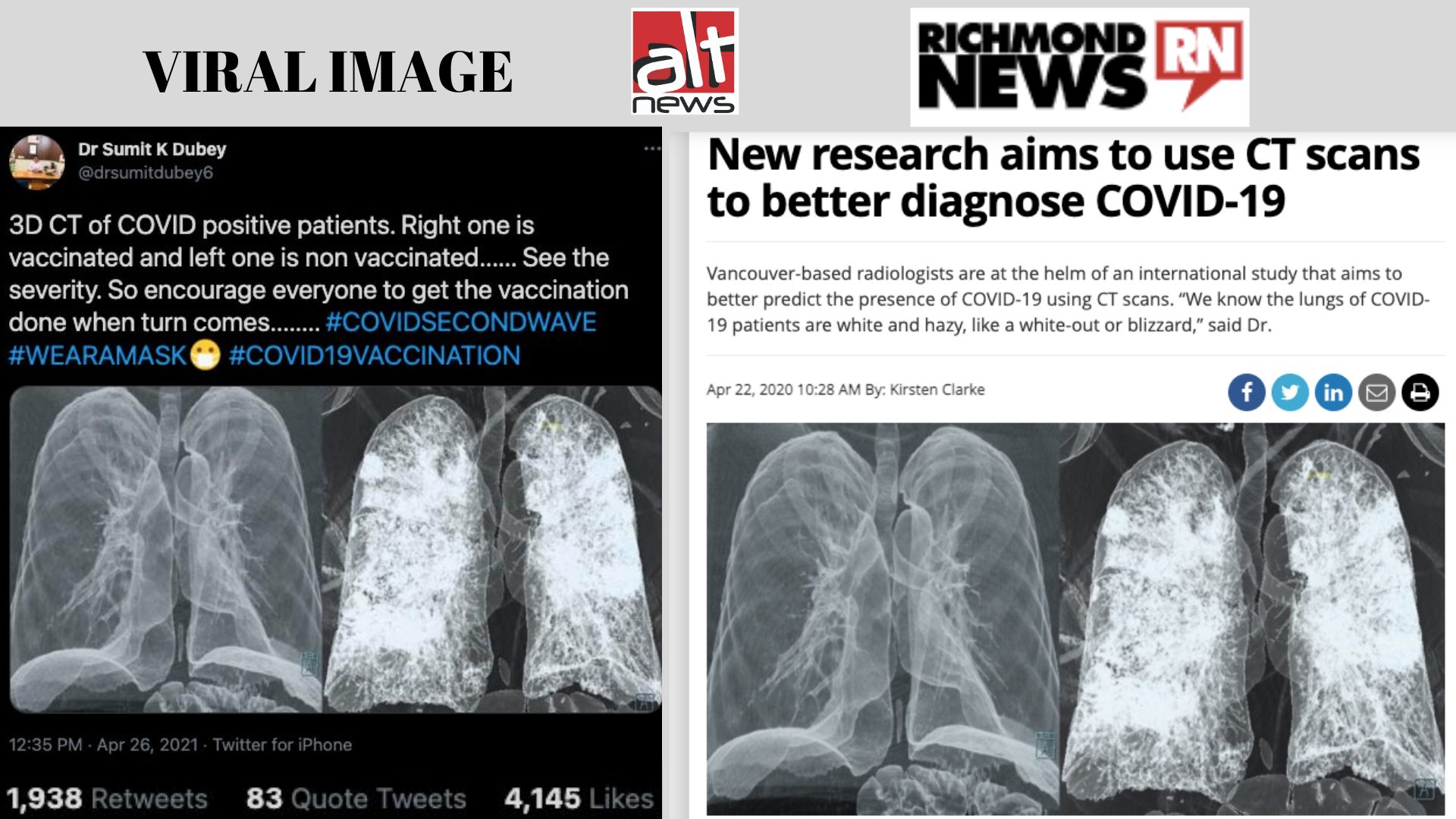 As per the report researchers and radiologists at Vancouver General Hospital (VGH), the University of British Columbia (UBC) and the Vancouver Coastal Health Research Institute (VCHRI) are at the helm of an international study that aims to better predict the presence of COVID-19 using CT scans.
Director, Emergency and Trauma Radiology, at VGH Dr Savvas Nicolaou, told Richmond News that the lungs of COVID-19 patients are white and hazy. "Currently, we can't predict disease severity and its clinical impact in different patient populations. We're confident this new tool will help us do that," he said.
In February, Dr Vin Gupta, professor at the University of Washington's Institute for Health Metrics and Evaluation, tweeted the viral image and said lungs on left are normal while the one on right needs life support. He had shared this image to communicate that people should get vaccinated. For further details read CNBC report.
Since many have asked today, all approved covid vaccinations are VERY effective in preventing normal lungs (on the L) from looking like ones that need life support (on the R)

Please pass it on: the brand doesn't matter, as all will prevent severe illness from occurring. pic.twitter.com/kWT6qvXNac

— Dr. Vin Gupta (@VinGuptaMD) February 22, 2021
The image in question was also used UBC and VCHRI.
This slideshow requires JavaScript.
Founding editor of Alt News Science Dr Sumaiya Shaikh has opined, "COVID-19 vaccine will save people from symptoms and prevent mortality. While the claim promoted through the CT scans is false, it is indeed true that taking the vaccine will prevent your lungs' health to deteriorate as shown in the picture."
The viral image, therefore, isn't a comparison of the lungs of two COVID-19 patients — one vaccinated and the other yet to receive the jab. The image compares a healthy pair of lungs with the lungs of a COVID-19 patient.
Donate to Alt News!
Independent journalism that speaks truth to power and is free of corporate and political control is possible only when people start contributing towards the same. Please consider donating towards this endeavour to fight fake news and misinformation.