Several social media users have shared an image that shows two columns — 'Cepa/variante' (Spanish for strain/variant) and 'lanzamiento' (Spanish for launching). The first column lists 22 Greek alphabets starting from the fourth alphabet 'Delta' while the other column lists the date (month/year) from June 2021 onwards. On the right side, we can see the logos of Johns Hopkins University, the World Economic Forum and the World Health Organisation. As per this image, the Omicron variant of SARS-CoV-2 was due in May 2022. Netizens across the world have circulated this image and insinuated that the pandemic is a pre-planned conspiracy. (Facebook and Twitter)
This slideshow requires JavaScript.
Conservative Christian Melissa Tate had shared this image in July. It gained over 1,500 retweets.
Looks like all they have all the variants planned out for the next 2 yrs SMH pic.twitter.com/YYxzCNi42f

— Melissa Tate (@TheRightMelissa) July 29, 2021
Recently, a fictional movie poster titled 'The Omicron Variant' was created by morphing actual posters from the movies 'Phase IV' and 'Omicron'. The morphed posters were believed to be true. Some Twitter users shared the viral image in question.
Wierd I seen this well over a year ago. Nu and omicron on the list…. when sigma,phi,omega,epsilon,lambda,chi ? Maybe fake but it came true….ahead of schedule too lol pic.twitter.com/9ZOkflPgeE

— 👑Lord Brass👑 (@brass_27) December 3, 2021
Alt News has received several requests to fact-check this claim on our WhatsApp helpline number (+91 76000 11160). The image has been shared on WhatsApp with the text, "Everything is pre-planned. The only mistake is that this variant comes six months before, actually it's planned in may 2022 [sic]".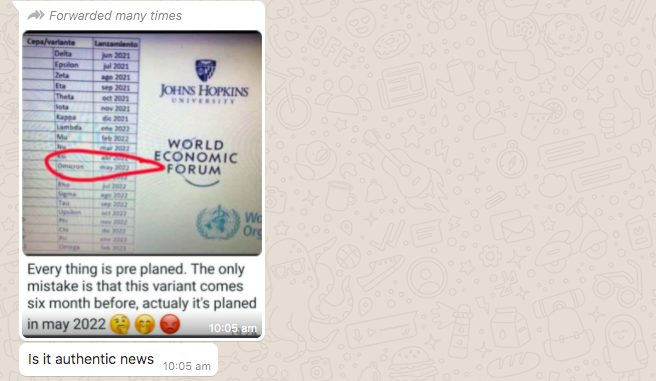 False claim
In May, WHO assigned Greek alphabets for key variants of SARS-CoV-2 for ease of communication.
A few weeks later, the viral image started circulating online. This graphic lists all Greek alphabets from 'Delta' to 'Omega' under the variants column. Each 'variant' is assigned a month starting from June 2021 to February 2023.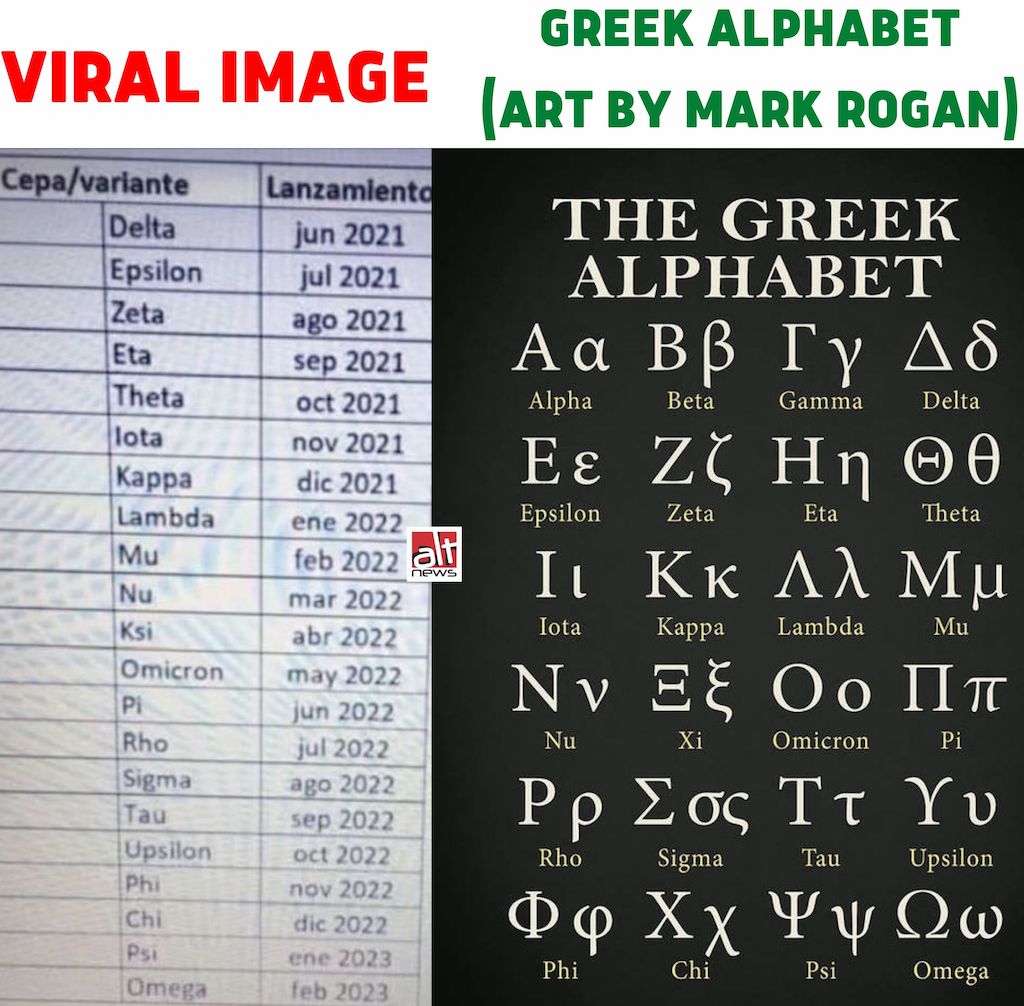 As per the graphic, the Delta variant was due to launch in June 2021. However, the Delta variant was first identified in India in October 2020. As per WHO, Delta was designated as a variant of concern in April 2021 and as of today, there are five variants of concern — Alpha, Beta, Gamma, Delta and Omicron.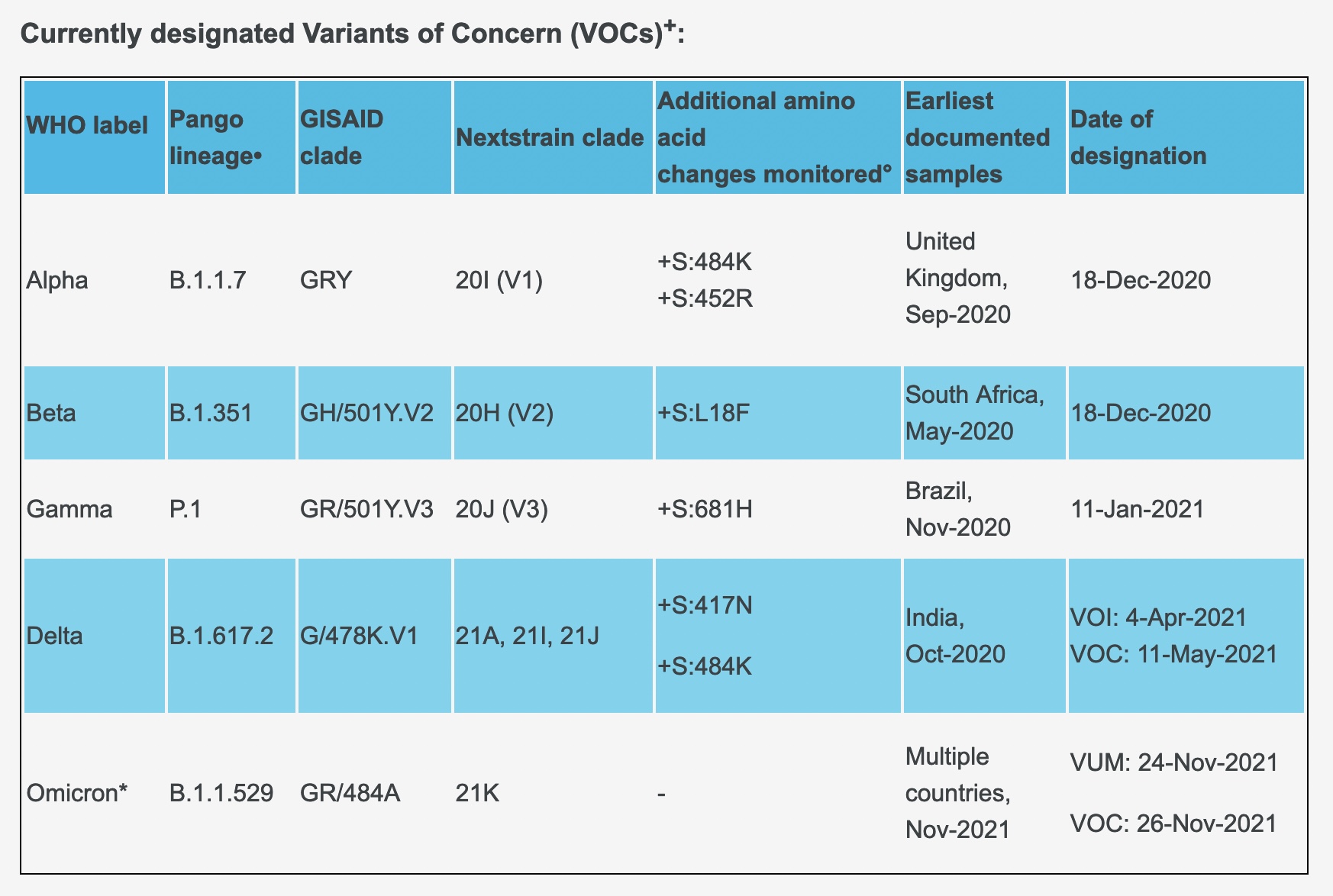 In order to understand the mutation better, Alt News spoke with Gyaneshwer Chaubey, a Banaras Hindu University professor at Cytogenetics Lab, Department of Zoology. He said, "SARS-CoV-2 replicates after entering into the human body. However, the mutation is a random process. Therefore, theoretically, there are many variants. However, only a few are identified as a variant of concern. The idea that someone can predict the arrival of next variant along with time is impossible."
Alt News Science editor Sumaiya Shaikh also explained, "Variants are formed out of mutations that occur randomly due to replication of the virus. The higher the number of times the virus replicates in a body, the greater the chances of mutations. But these are random events. Sometimes the virus creates a better version of itself and then that becomes the dominant version. Like the Delta variant. But there is no way to predict what variants will be produced or what mutations will occur. This chart is unscientific because it is predicting the future of random events which may create a mutation beneficial to the virus. No one can predict that. Our cells also divide and sometimes during that replication, we create a random mutation, similar to a spelling mistake, which survives the replication process and increases its numbers. That's how tumours are created. Sometimes such tumours can be highly carcinogenic (cancerous) and replicated elsewhere because the mutation is fast replicating and malignant. Some of these can be also induced by the environmental impact."
The claim was earlier debunked by Reuters. WEF, the WHO and the Bill and Melinda Gates Foundation — all confirmed this document is unrelated to their organisations. John Hopkins University did not immediately respond to Reuters for comment. Peter Vanham, Head of Communications at the Chairman's Office of the World Economic Forum, told Reuters via email, "This is a fake document and has nothing to do with the World Economic Forum."
To sum it up, the viral image was misattributed to the WHO, WEF, and Johns Hopkins University. It is a work of fiction that has merely listed all Greek alphabets along with months from June 2021 to February 2023. It falsely alleged the "released dates" of COVID-19 variants.
Donate to Alt News!
Independent journalism that speaks truth to power and is free of corporate and political control is possible only when people start contributing towards the same. Please consider donating towards this endeavour to fight fake news and misinformation.