Heavy casualties suffered by the security forces in the month of April 2017 have once again raised doubts about the promised impact of demonetization on controlling the Maoist insurgency. When demonetization of Rs. 500 and Rs. 1000 notes was announced on November 8th, 2016, Prime Minister, Narendra Modi called it a historic step to eradicate corruption, black money, terrorism and counterfeit currency. BJP in its video explained how demonetization was deadlier than a surgical strike on terrorism.
इसे कहते है एक तीर से 3 निशान लगाना → Corruption, Terrorism and Counterfeit notes. #JaiHind. pic.twitter.com/2LGZw7Xwap

— BJP (@BJP4India) November 11, 2016
Barely two weeks after the demonetization, Minister of Law & Justice and Information Technology, Ravi Shankar Prasad, claimed that it had broken the backbone of terrorists and naxals.

In the face of growing national and international criticism of the costs v/s the benefits of the massive demonetization exercise, the government was very keen to project demonetisation as a historic success. With the help of social media influencers, the hashtag #IndiaDefeatsBlackMoney was widely trended. "No more funding to terrorists, naxalites and underworld. A great step towards eliminating all such practices" tweeted scores of handles in a coordinated effort.
In his address to the nation on New Year's Eve, PM Modi claimed that the government's demonetisation drive had effectively neutralised terrorism and Naxalism since both these relied heavily on black money.
Naxal violence has continued unabated after demonetisation
Five months on, naxal violence has continued unabated after demonetization. The deadly Maoist attack in Sukma killed 26 Central Reserve Paramilitary Force (CRPF) jawans
A timeline of naxal violence shows that:
Source: South Asia terrorism Portal (SATP). SATP data available till April 23rd so Sukma incident added manually
Security forces fatalities double in six months post demonetization as compared to previous 12 months
April 2017 has been the deadliest month for security forces since May 2011. The fatalities of security forces due to naxal violence has shown a sharp increase in the last three months and with 26 deaths in Sukma, the fatalities peak in the month of April. In the full year 2016, 66 security personnel were killed by naxal violence. In the first four months of 2017 alone, there have already been 58 deaths. Where is the sharp drop as claimed by the Prime Minister? There seems to be no evidence of a broken back either. On the other hand, in the last three months, naxalites have inflicted heavy casualties on the security forces.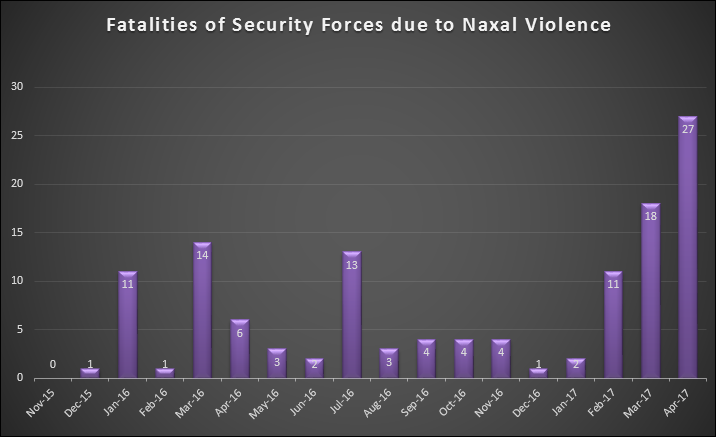 For the period Nov 15- Oct 16, the average number of security forces killed every month was five. This doubles to ten from Nov 16 to April 17 due to the spike seen in the last three months.
No fall in total fatalities due Naxal violence
Total fatalities due to naxal violence also does not show a declining trend. On the contrary, the average no. of deaths does to naxal violence for the six month period since demonetization (Nov 2016 to April 2017) is 35 which is the same as that for the preceding 12 month period of Nov 2015 – Oct 2016. The total fatalities refers to civilians, security force personnel and Maoists.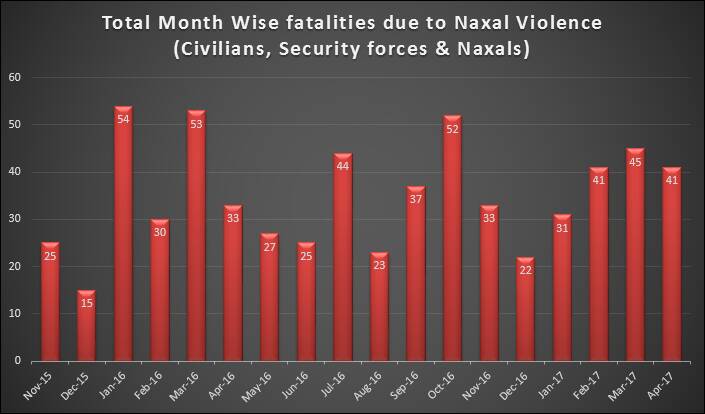 Naxal violence has not been neutralized overnight as claimed by the false narrative built around demonetisation. Contrary to tall claims, demonetization has not brought about any reduction in fatalities due to naxal violence. Last three months have been deadly for the security forces.
After the Sukma attack, PM Modi has tweeted that "Attack on @CRPFIndia personnel in Chhattisgarh is cowardly and deplorable. We are monitoring the situation closely". Home Minister Rajnath Singh has said "We will review the strategy and if necessary we will revisit it." It will certainly take more than demonetization to control the loss of human lives on both sides. Claims of dramatic impact of demonetization on Naxalism should now be put to rest.
Donate to Alt News!
Independent journalism that speaks truth to power and is free of corporate and political control is possible only when people start contributing towards the same. Please consider donating towards this endeavour to fight fake news and misinformation.