Move over photo-shop brigade, real pictures of unsuspecting women picked from the internet are being misused to discredit political opponents. To be photographed with politicians opposed to BJP has turned into a risky proposition for women. Unknown to them, right-wing social media warriors are sharing their pictures online along with lewd jokes and suggestive remarks.
One such Twitter user Jay @YesiamSaffron (now changed to @Saffron_Rocks) who is "blessed and honored" to be followed by Prime Minister Modi on Twitter recently tweeted pictures of women with AAP leaders with remarks suggestive of sexual exploitation to facilitate their "ration card".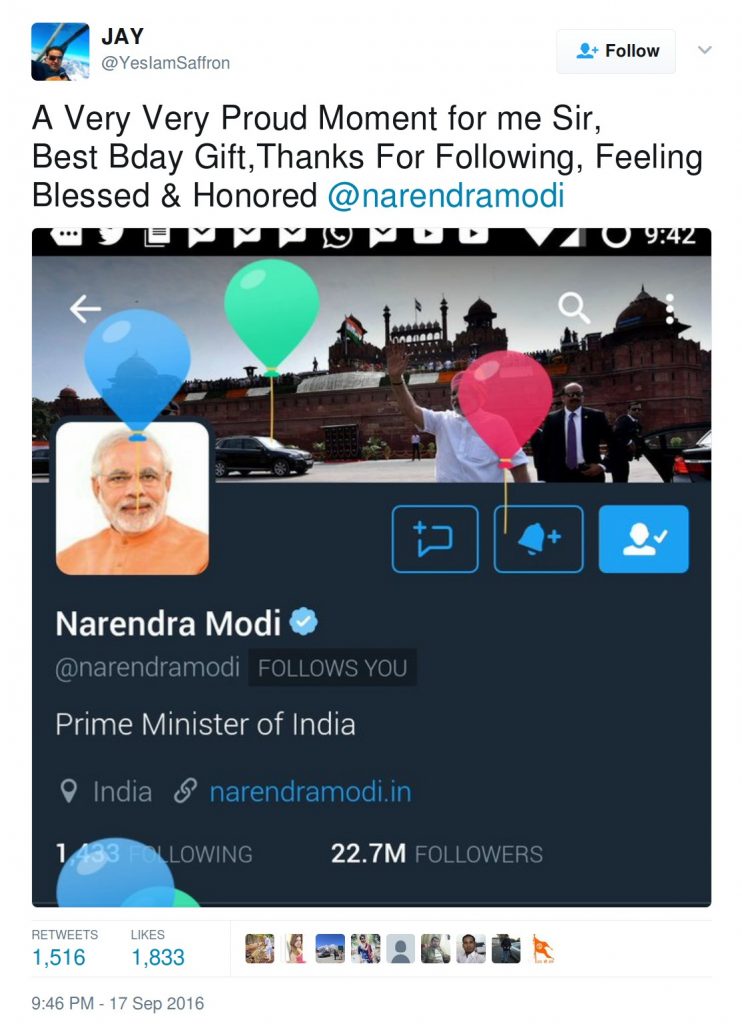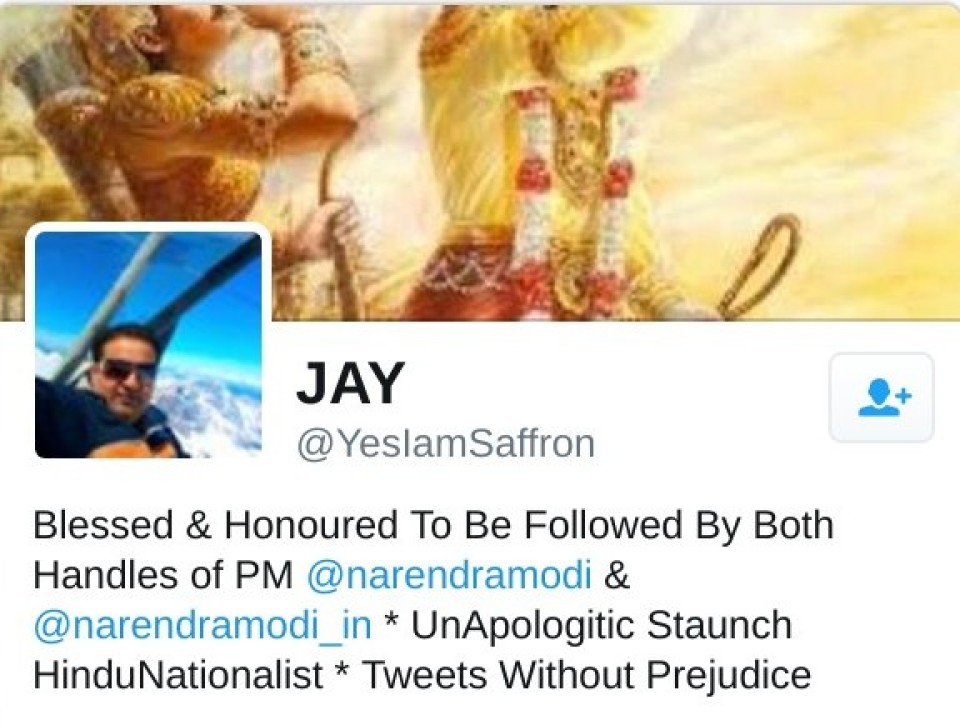 The ration card reference traces its origins to the case of Sandeep Kumar, the AAP MLA who was sacked from the party last year over a sex tape. The women in the tape had alleged that he exploited them over the promise to get their ration cards made. While AAP has cut off its links with Sandeep Kumar, as per newspaper reports, he was last seen campaigning for a BJP candidate in Narela.
Case 1
The lady in the middle picture here is of Manisha Gupta who had quit Axis Bank to join AAP in 2014. Though she quit the bank three years ago, BJP supporters have been trying to use her to link AAP with the Enforcement Directorate (ED) chargesheet against Axis Bank in the money laundering case of demonetized notes. This social media warrior has taken this one step further to make sexual innuendos with a caption, "Hansi to phansi, phansi to baat bani…" Get ration card made in three steps says the attached picture.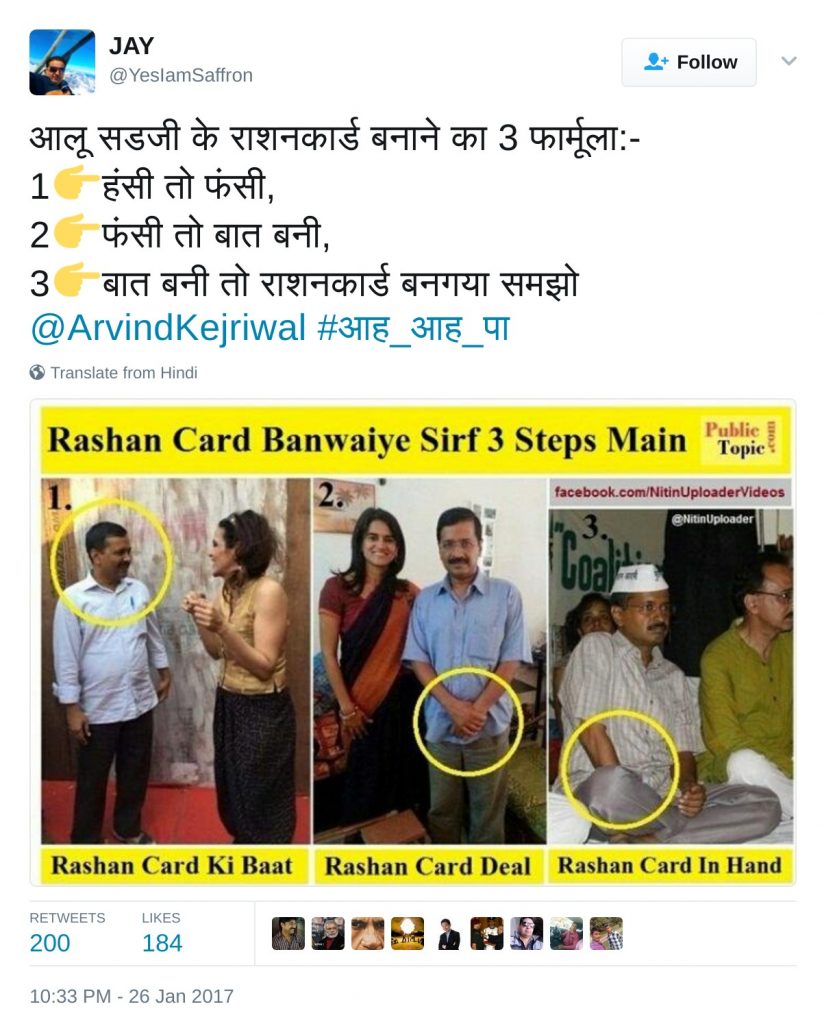 Case 2
"This is Kejriwal's MP Bhagwant Mann doing something with a party worker. Can you guess what he is doing" reads the caption. The tweet goes on to make yet another ration card insinuation. In reality, this is a picture is of Bhagwant Mann with his wife, Inderjeet Kaur which has been picked from the Internet.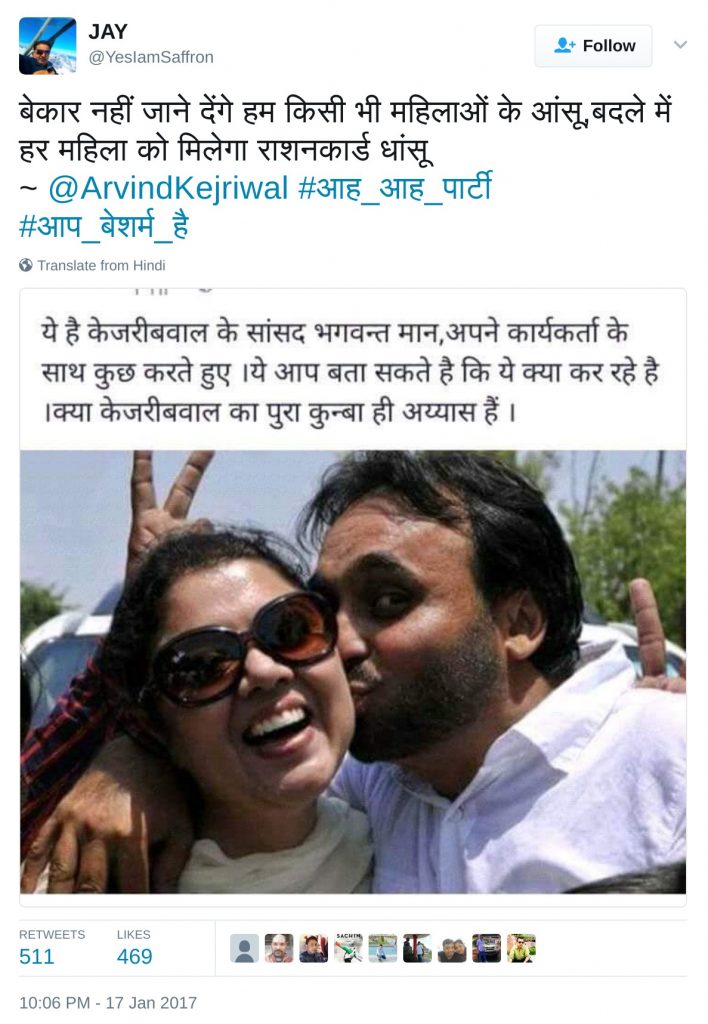 Case 3
When actor Preeti Jhangiani tweeted her picture with Arvind Kejriwal at the Sindhi Film festival in 2016, little did she know that BJP supporters will use the picture to link her with Kejriwal via a crude joke saying "ration card ban-ne deejiye".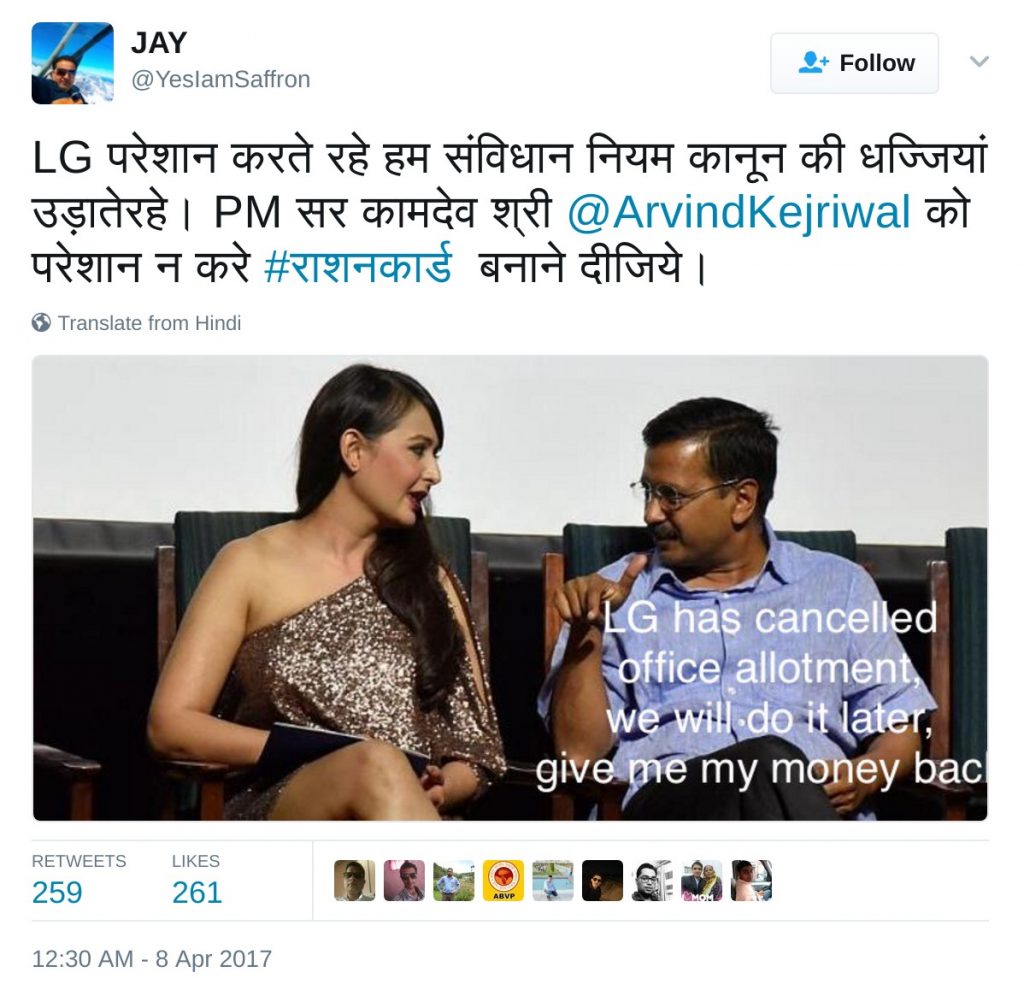 This was the first official film festival exclusively for Sindhi films organized by the Sindhi Academy of Delhi government. This photograph has been picked from Getty Images where it is available along with several other photographs of the event.
Case 4
Being photographed with a politician even in a public place is a reason for your picture to be shared widely on social media and become a butt of jokes. This is a picture of a crowd, a few women can be seen with Kejriwal and several others including policemen in the background. It is probably a picture from a rally. Once again it has been shared by the same handle with yet another "ration card" suggestion. Is it even funny anymore?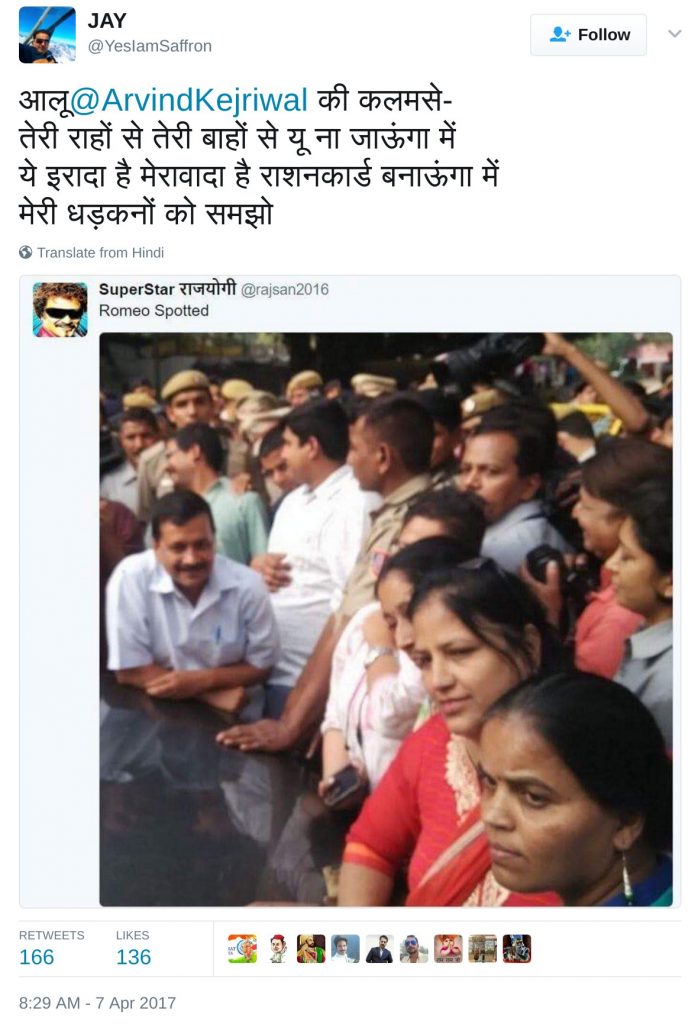 Case 5
And there's this photoshopped picture of Arvind Kejriwal's wife Sunita Kejriwal and Swati Maliwal who is the Chairperson of Delhi Commission for Women with Arvind Kejriwal, again with a crude Ration Card joke. If this is not pukeworthy, what is?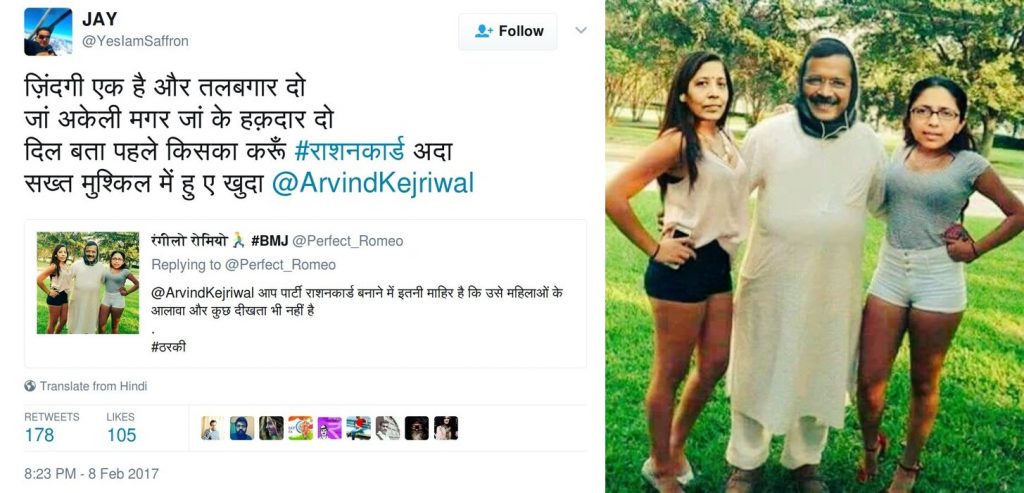 The obsession with "ration card" doesn't end there. The photographs and crude jokes continue.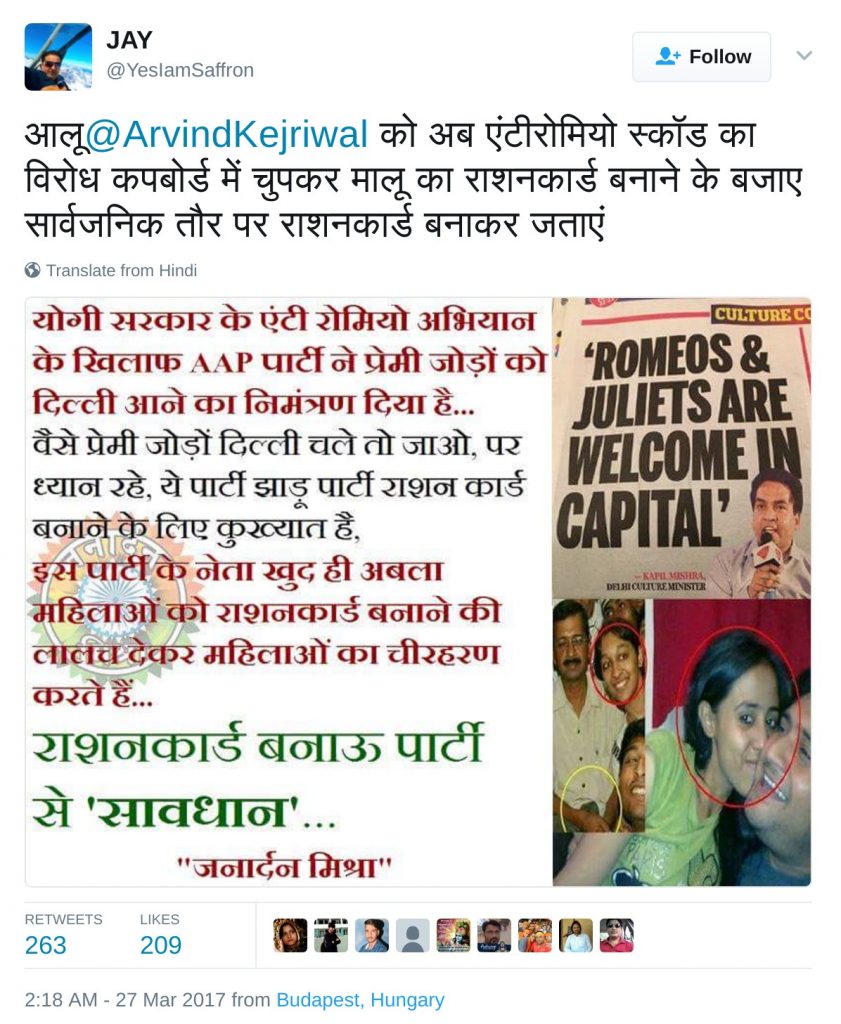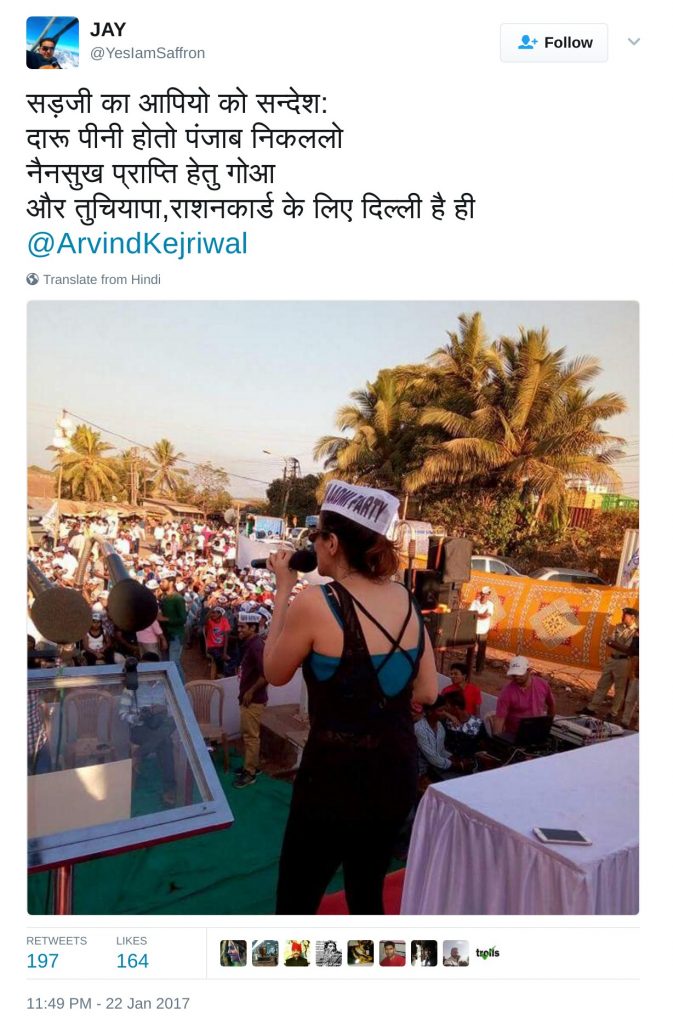 The Twitter space is full of smear campaigns between political parties. Misogyny and sexist innuendoes are commonplace. Yet it is shocking when you come across a handle making lewd jokes on pictures of women with political opponents and in the same breath boasting of being followed by the Prime Minister of the country. This brings us back to the question that has been asked many times before: Why does PM Modi follow such handles? "Beti bachao, beti padao", "bahut hua naari par vaar, abki baar Modi Sarkar", all these seem to be hollow slogans if Mr. Modi himself doesn't take care about who he follows on twitter.
Out of his 30 million followers, PM Modi has carefully selected less than 1800 people to follow back. Do these people feel encouraged in their behaviour because the PM follows them? Probably, yes. Do their tweets appear on his TL? Yes. Does he feel disturbed to see such material on his TL? Don't know. Should he send a strong message to the select few he follows about offensive tweets? Yes. Will he do it? Don't know.
Donate to Alt News!
Independent journalism that speaks truth to power and is free of corporate and political control is possible only when people start contributing towards the same. Please consider donating towards this endeavour to fight fake news and misinformation.