Sudarshan TV tweeted a video claiming that three temples were vandalised in Dwarka, Delhi. "Another temple was gripped by hate," read its tweet. (Archive Link)
"नफ़रत की उन्मादी आंधी की चपेट में आया दिल्ली का एक और मन्दिर.."

द्वारका के ककरौला गाँव मे पवित्र नवरात्रि की रात को 3 मंदिरों की मूर्तियों को किया गया खंडित.

क्षेत्र में तनाव और धार्मिक समुदाय बेहद आक्रोशित.

दोज़ख बनती दिल्ली.@DCPDwarka @DelhiPolice @CPDelhi @HMOIndia pic.twitter.com/TpYwoqrSjK

— Sudarshan News (@SudarshanNewsTV) April 13, 2021
The channel uploaded a second video where the reporter is showing the state of the temples and asking locals what went down. (Archive Link)
Sudarshan News editor-in-chief Suresh Chavhanke tweeted the same ground report and blamed 'jihadis' for the vandalism. (Archive Link)
जिहादियों ने जहाँ पर मूर्तियों को तोड़ा, उसी मंदिर से ग्राउंड रिपोर्ट। pic.twitter.com/0e0gNoErfc

— Suresh Chavhanke "Sudarshan News" (@SureshChavhanke) April 13, 2021
BJP Delhi social media head Naveen Kumar made the identical claim. (Archive Link)
दिल्ली में द्वारका के पास #ककरोला गाँव मे जिहादियों द्वारा नवरात्रो से ठीक एक दिन पहले हनुमान मंदिर में देवी देवताओं की मुर्तिया तोड़ दी गयी। गंगा जमुनी तहजीब वाले अब कहाँ है जो भाई-चारा की बात करते हैं, या हिन्दू उनके लिए सिर्फ़ चारा है?@DelhiPolice आरोपियो को जल्द गिरफ्तार करे। pic.twitter.com/htzp6437QU

— Naveen Kumar (@naveenjindalbjp) April 13, 2021
The incident drew protests by Vishva Hindu Parishad members in the West Delhi area. VHP national spokesperson Vinod Bansal had tweeted a protest video.
मंदिरों में देवी-देवताओं की मूर्ति विध्वंस से आक्रोशित हिन्दू समाज पश्चिमी दिल्ली में सड़कों पर उतर आया है। देखना यह है कि यहां की सरकार हिन्दू रक्षार्थ कब अपनी तन्द्रा से जागेगी..!! pic.twitter.com/FkFDTItSFO

— विनोद बंसल (@vinod_bansal) April 13, 2021
Sudarshan news correspondent Nimit Tyagi, Twitter user @AchAnkurArya, and BJP member Sandeep Thakur further amplified the claim.
This slideshow requires JavaScript.
No communal angle 
DCP/Dwarka, Delhi replied to Sudarshan News that accused Mahesh was arrested from the same locality and the incident does not have a communal angle. "He was aggrieved on God due to inadequate rainfall," said the police. 
Miscreant Mahesh@ Bhut (45yr), a resident of same locality, has been arrested in our prompt action. Says he was aggrieved on God due to inadequate rainfall. There is no communal angle in this unfortunate incident.@DelhiPolice

— DCP/Dwarka, Delhi (@DCPDwarka) April 13, 2021
We found several news articles on this incident. According to The Indian Express, "The accused, Mahesh (50) of Bharat Vihar JJ colony, is a cobbler, police said. The matter was reported by a priest on Tuesday morning who first spotted the damaged Hanuman idols at three adjacent spots in Kakrola, a senior police officer said."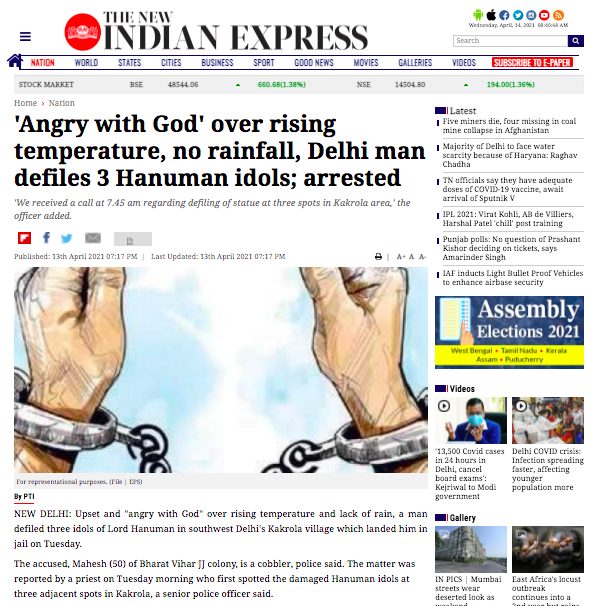 This wasn't the first time Sudarshan News communalised an incident. The channel recently claimed that Muslims entered a Hindu place of worship in Maharashtra's Malanggad and disrupted aarti. Muslims had entered the Hahi Malang Dargah, which is regarded as a temple by a section of the Hindu community. Earlier this month, Sudarshan News had also communalised a clash between Muslim groups in Uttarakhand's Jaspur Dargah. A compilation on the channel's sectarian disinformation can be read here.
Donate to Alt News!
Independent journalism that speaks truth to power and is free of corporate and political control is possible only when people start contributing towards the same. Please consider donating towards this endeavour to fight fake news and misinformation.