Last year, railway minister Piyush Goyal had congratulated Suresh Chavhanke on the 14th anniversary of his media venture Sudarshan News. "I hope your channel continues to inform truth to the people," wrote Goyal.
समाचार जगत में अपना विशेष स्थान बनाने वाले @SudarshanNewsTV के 14 वर्ष पूर्ण होने पर @SureshChavhanke जी को मेरी हार्दिक शुभकामनाएं।

मुझे विश्वास है कि आपका चैनल समाचारों के द्वारा समाज को सच से अवगत कराता रहेगा।

— Piyush Goyal (@PiyushGoyal) August 12, 2019
A few months hence, Chavhanke ran a broadcast where he claimed that AIMIM chief Asaduddin Owaisi 'danced' after the murder of Hindu Samaj leader Kamlesh Tiwari. Chavhanke played a video of Owaisi uploaded by ANI, where the leader can be seen imitating manoeuvring a kite (his party's symbol). This was shot on October 17, a day before Tiwari was killed in Lucknow on October 18.
चोरों और आतंकियो की मौत का मातम मनाने वाला ओवैसी #कमलेश_तिवारी के बलिदान के बाद झूम कर नाचा

ऐसे लगा कि जैसे इसका कोई मिशन सफ़ल हुआ हो.@myogiadityanath @AmitShah और @narendramodi जी, इसका बाहर रहना न जाने और कितने #KamleshTiwari
की हत्या की वजह बनेगा@aimim_national #BindasBol pic.twitter.com/bggFOvUHWU

— Suresh Chavhanke "Sudarshan News" (@SureshChavhanke) October 20, 2019
The programming head of Sudarshan News, Rajesh Rana, explained to Alt News that the misreport was due to a 'confusion'. "ANI had uploaded the video on October 18, therefore, we interpreted that the clip was shot the same day," he informed. It is noteworthy that though ANI had uploaded the video on October 18, its tweet clearly mentioned that the event was held the previous day.
Incidentally, Suresh Chavhanke tweeted 'evidence' of Owaisi 'celebrating' Tiwari's murder soon after the channel's conversation with Alt News. However, the video shared in his clarification was not the same clip used by Sudarshan News in its October 20 broadcast.
ओवैसी के डांस का सबूत #कमलेश_तिवारी_हत्याकांड के जश्न में, कटकटगेट, प. विधानसभा, संभाजीनगर (औरंगाबाद) महाराष्ट्र में 19 अक्टूबर 4 pm.

ओवैसी भक्त कहेंगे कि ये डाँस नही पतंग उड़ाने का स्टाइल है, पर इस्लाम में पतंग उड़ाना ग़ैर इस्लामिक है, तो औवैसी ने कैसे किया होगा #ArrestOwaisi pic.twitter.com/7VbLWvoMr6

— Suresh Chavhanke "Sudarshan News" (@SureshChavhanke) October 22, 2019
Apart from blatant disinformation, Chavhanke's nearly one-hour long report had a persistent defamatory tone. He suggested that the AIMIM leader should be locked behind bars. Those familiar with Chavhanke and his channel are not oblivious to their repeated targeting of the Muslim community.
On the occasion of the 2019 World Environment Day, Chavhanke had organised a 'public parliament' in Delhi's Jantar Mantar to demand a population control law in the country to deter further growth of Muslims. The rally, held with the support BJP MP Giriraj Singh, echoed anti-Muslim rhetoric from every corner.
This report will focus on the numerous cases of misinformation, which are often communal in nature, broadcast by Sudarshan News and propagated by its CMD and editor-in-chief, Suresh Chanvhanke, himself.
Sudarshan News
1. Disinformation about decree by mosque against UP police
In July 2018, Sudarshan News had published a report which claimed that a decree against UP police was passed by a mosque in Uttar Pradesh.
शुरू हो गया वो सब कुछ जिसका डर था . #up की एक #मस्जिद से आया फरमान – "टुकड़े टुकड़े में काटना है @Uppolice वालों को"@baghpatpolice @dgpup @myogiadityanath @narendramodi@adgzonemeerut @HMOIndia #UPCM https://t.co/B2YBnlCpZ2

— Suresh Chavhanke STV (@SureshChavhanke) July 21, 2018
The news turned out to be false and was debunked by Alt News. There was no decree issued by a mosque, but a man named Anees verbally threatened the police because he was dissatisfied with their investigation into his son's death. Sudarshan News's reportage was grossly misleading and the truth was also pointed out by Baghpat police. However, Chavhanke defiantly stood by his outlet's factually incorrect report.
2. Old video morphed with slogans calling to kill RSS workers
Sudarshan News played a video during a July 1, 2019 broadcast where sword-wielding people could be heard chanting slogans calling to kill RSS workers.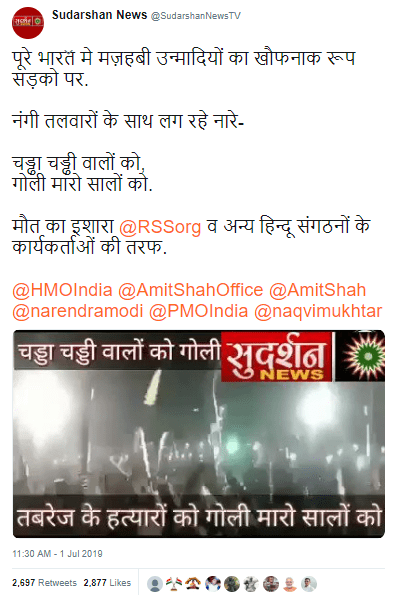 This video was morphed, found Alt News. Anti-RSS chants were added to the original video of a Muharram procession from Dehri, Bihar.
3. Differently-abled man portrayed as 'Rohingya criminal'
In September 2017, Sudarshan News posted an image of a differently-abled man claiming that he was a 'Rohingya criminal' dragged by the police.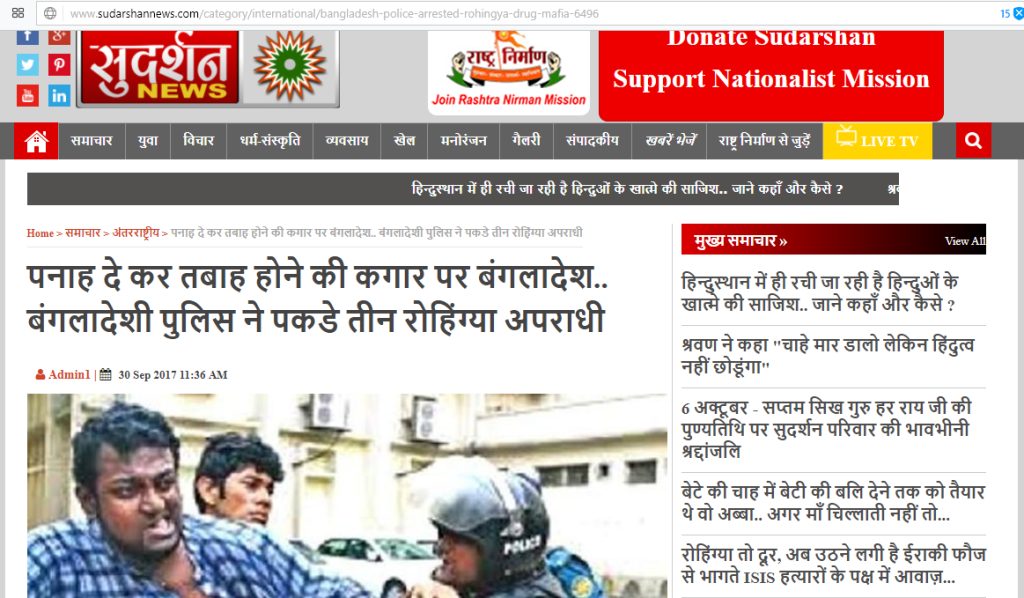 Suresh Chavhanke tweeted the article which is still available on his timeline.
पनाह दे कर तबाह होने की कगार पर बंगलादेश.. बंगलादेशी पुलिस ने पकडे तीन रोहिंग्या अपराधी https://t.co/AmmRTWVsL7

— Suresh Chavhanke STV (@SureshChavhanke) September 30, 2017
SM Hoaxslayer had reported last year that the differently-abled man in the photo was actually an activist and a member of Bangladesh's Gonojagoron Mancha. The photo is from the organisation's protests which took place in 2014.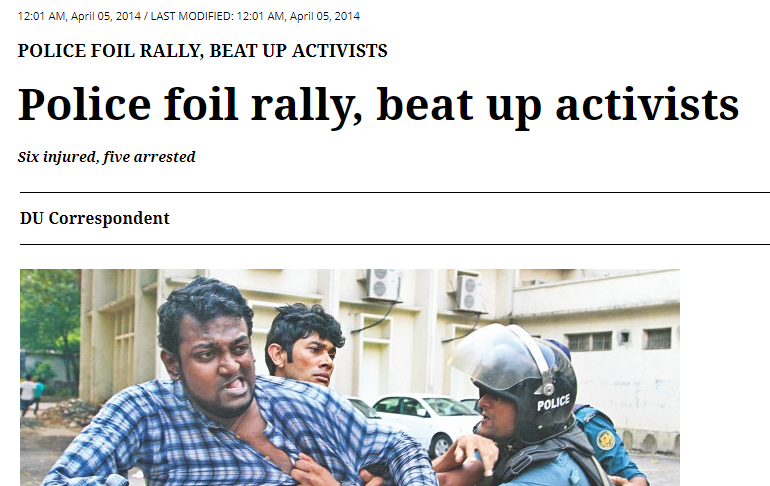 4. Reference to Bawana locals of Delhi as 'Rohingyas'
The Delhi Minorities Commission (DMC) issued a notice to Sudarshan TV in May 2018 for airing a mischievous report that allegedly referred to some locals of north Delhi's Bawana region as 'Rohingyas' and 'Bangladeshis'.
The DMC also ordered the channel to broadcast an apology and submit an undertaking stating that no such reports will be telecast in future.
5. Linked Tablighi Ijtema with mob violence in Bulandshahr; police denied
On December 3, 2018, a cop was killed after a mob protesting alleged illegal cow slaughter clashed with the police in Siana tehsil of Bulandshahr district in Uttar Pradesh. "In the unrest following the Bulandshahr Ijtema, children are stuck in schools and crying, people are in the forest, they have shut the doors of their homes- residents in live conversation with Sudarshan News," tweeted Chavhanke, suggesting that the Ijtema was somehow linked with the violence in which the cop was killed.
#बुलंदशहर_इज्तेमा के बवाल के बाद कई स्कूलों में बच्चे फँसे है, रो रहे है, लोग जंगल में है, घरों के दरवाज़े बंद कर के लोग सहमे हूए है- सुदर्शन से लाईव बातचीत में स्थानीय लोग। #बुलंदशहर_में_बवाल @SudarshanNewsTV पर लाईव

— Suresh Chavhanke STV (@SureshChavhanke) December 3, 2018
Bulandshahr police clarified via Twitter that the violence which shook the town was not related to the Ijtema gathering. Replying to Chavhanke's tweet, the police made an appeal to not spread misinformation.
कृपया भ्रामक खबर न फैलाएं। इस घटना का इज्तिमा कार्यक्रम से कोई संबंध नही है। इज्तिमा सकुशल सम्पन्न समाप्त हुआ है। उपरोक्त घटना इज्तिमा स्थल से 45-50 किमी थाना स्याना क्षेत्र मे घटित हुई है जिसमे कुछ उपद्रवियो द्वारा घटना कारित की गयी है।इस संबंध मे वैधानिक कार्यवाही की जा रही है https://t.co/TwouiJoqhu

— Bulandshahr Police (@bulandshahrpol) December 3, 2018
Alt News had debunked this claim in an earlier article.
6. Hyderabad vet's rape-murder communalised
A 26-year-old veterinary doctor went missing on November 27, 2019, near Hyderabad. A day later, her charred body was found at the underpass of a National Highway in Chatanpally village. The victim was gang-raped and subsequently murdered and burnt by four. The accused, Mohammed Pasha, Naveen, Keshavulu and Shiva, were identified by the police after scanning CCTV footage installed near a toll plaza where the victim had parked her two-wheeler.
"हैवान मोहम्मद पाशा ने दोस्तों के साथ प्लान बनाकर किया था डॉ. ***** का बलात्कार, फिर ह्त्या कर जला दिया था लाश को (Devil Mohammed Pasha raped ***** after making a plan with his friends, then burnt her after the murder.)" – read the headline of a report by Sudarshan News which selectively highlighted only the Muslim perpetrator's name.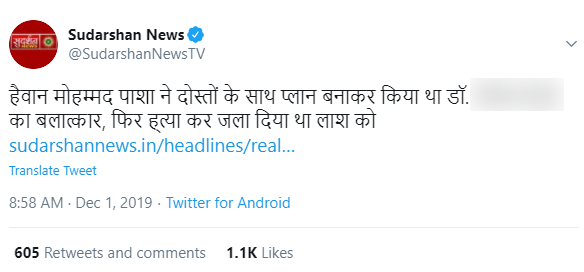 7. Police action on temple priest flouting lockdown in MP falsely communalised
In April 2020, photographs of a policeman thrashing a Hindu priest were widely shared on social media. Sudarshan News claimed that the priest was alone when he was beaten by Rewa SP Abid Khan.
मध्यप्रदेश रीवा के मन्दिर में अकेले पूजा कर रहे पुजारी को बेरहमी से मारा.

पैरों से फेंक दिया गया जल और बूटों से कुचला पूजा स्थल.

चीखता रहा पुजारी- "मां के नवरात्रि का अंतिम दिन है., दीपक जलाने आया हूँ साहब"#आबिद_खान हैं रीवा पुलिस के SP..@ChouhanShivraj @CMMadhyaPradesh pic.twitter.com/umTFoFddDT

— Sudarshan News (@SudarshanNewsTV) April 2, 2020
8. Fake quote attributed to Shah Rukh Khan
Sudarshan News in a May 18, 2014 broadcast, claimed that Bollywood actor Shah Rukh Khan said that he will leave the country if PM Modi comes to power.
सुदर्शन न्यूज़ के प्रधान संपादक सुरेश चव्हाणके का शाहरुख खान पर वार..
देखिए आज रात 8 बजे बिंदास बोल में 'मोदी… http://t.co/MlV5ynH693

— Sudarshan News (@SudarshanNewsTV) May 18, 2014
Khan never made the purported statement but a morphed tweet was attributed to him. Alt News had debunked this here.
Good time to tell all fools who r talking of a tweet that I didn't tweet, u suck as much as the grammar of that fake tweet & I'm being kind.

— Shah Rukh Khan (@iamsrk) May 18, 2014
9. Reported former PM Vajpayee's death before the official announcement
On August 16, 2018, it was reported that former PM Atal Bihari Vajpayee's health was in a critical condition. Many media outlets jumped the gun to publish 'breaking news' and broadcast Vajpayee's death before an official announcement was made. AIIMS put out a press release stating that the former PM took his last breath at 5:05 PM. However, Sudarshan News had already declared him dead at 3 PM.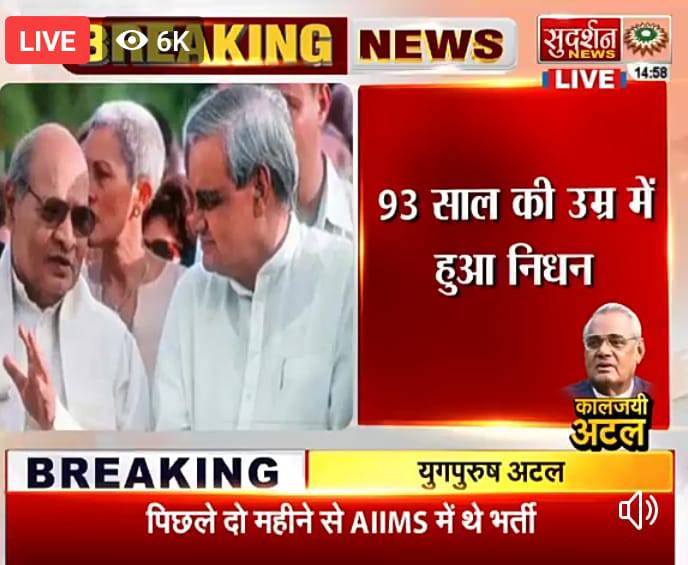 10. Claimed fake Ram Rahim in jail, real one abroad
In a comical Facebook Live last year, Suresh Chavhanke claimed that Gurmeet Ram Rahim Singh was not lodged in jail after his rape conviction, but was living abroad since three months before the pronouncement of his sentence.
सबसे बडा खुलासा !
नकली गुरमीत जेल में! असली विदेश में !! #DuplicateGurmit शाम 7 बजे से गुरमीत के साथ १५० एपिसोड कर चुके एक बडी हस्ति के साथ
सुदर्शन न्यूज पर। Facebook Live

Posted by Sudarshan News on Friday, 1 September 2017
During the length of the 13-minute Live, he made absurd claims like the person who was arrested was not Ram Rahim but his duplicate. He added that a DNA test of the man imprisoned should be conducted to prove his identity.
This Facebook Live was aired from the official page of Sudarshan News on September 1, 2017, the same day a Hindustan Times article reported that an inmate lodged adjacent to Ram Rahim's cell said that he heard the self-styled Godman scream at night and not consume any food out of fear.
SUDARSHAN NEWS'S STATEMENT
Alt News contacted Sudarshan News for comments on the frequent disinformation shared by the channel. Rana informed that the organisation cites 'social media' as a source whenever a piece of information is picked up from networking platforms. When asked if such content is verified before broadcast, the program head said that the channel informs viewers about viral content without claiming it's true, or false.
The cases of misinformation listed earlier in this report contradict Rana's statement as the channel has pushed unauthenticated social media posts as true. However, a major cause of concern is a news outlet's acceptance of the fact that it publishes viral content without verification thus not only giving credence to false claims but also encouraging them.
Rana blamed 'unsubstantiated' social media posts and claimed that Sudarshan News has often provided clarification for misleading content. However, he was unable to recall specific cases.
Our request for a conversation with Suresh Chavhanke went unfulfilled.
Disinformation personally shared by Suresh Chavhanke
1. Claimed Nehru said he is 'Hindu by accident'
On November 27, 2018, Chavhanke tweeted that India's first prime minister Jawaharlal Nehru called himself a 'Hindu by accident'. At the time of writing this article, Chavhanke's tweet received over 2,300 likes and 900 retweets.
हम सारे #हिंदू वादियों का यह यश है। जिस #नेहरू ने खुद को एक्सिडेंटली #Hindu कहा था। आज उसी #Secular #नेहरू_गांधी घराने का वंशज @RahulGandhi खुद को ज़बरदस्ती #हिंदु साबित करने के लिए न जाने कितने जतन कर रहा है। #BindasBol ! @SudarshanNewsTV #जयश्रीराम #गोत्र #गोत्र_दत्तात्रेय

— Suresh Chavhanke STV (@SureshChavhanke) November 27, 2018
This identical claim has been debunked by Alt News multiple times in the past (1, 2). Nehru did not call himself a 'Hindu by accident' but he was described as 'English by education, Muslim by culture and Hindu by an accident of birth' by Hindu Mahasabha leader B R Nanda in his book 'The Nehrus: Motilal and Jawaharlal'.
2. Posted a video claiming Muslim boy tore the Indian flag
In a video viral on social media, a teenage boy was seen tearing the national flag while saying, "Main pakka Musalman hoon". Alt News found that the boy actually belonged to the Hindu community and was posing as a Muslim to stir up a controversy. Among the ones who circulated the unauthenticated video was Suresh Chavhanke. He tweeted a longer version where the boy was abused, made to apologise and forced to say "Pakka Hindu hoon". The tweet received nearly 2,000 retweets.
पक्का मुसलमान हूँ इसलिए तिरंगा फाड़ के फेंकने वाला "स्वामी अग्निवेश" संस्कार होते ही #भारत_माता_की_जय बोल कर नारे देने लगा। लातों के भूत बातों से नहीं मानते। अब कोई कहेगा कि ये तो #Lynching है पर कोई यह भी बताए कि संविधान इस को कैसे रोक सकता है? क़ानून तो इनको रोकने में विफल है ! pic.twitter.com/MvVgV3UcSL

— Suresh Chavhanke STV (@SureshChavhanke) August 21, 2018
3. Images of Godhra riots used for hatemongering against Rohingyas
In September 2017, Chavhanke tweeted – "When Rohingya Muslims were being investigated in Jaipur, a crowd of 25,000 surrounded a police station…" His tweet ended with a #DeportRohingya appeal. Chavhanke later deleted the tweet after multiple users pointed out that the images were from Gujarat.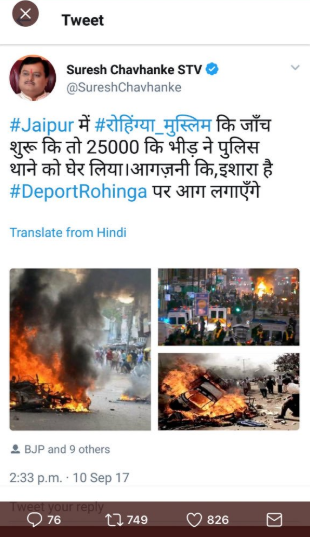 The image on the left is of 2014 Vadodara violence and the image on the bottom right is of 2002 Gujarat riots. The top right image is of the 2011 riots in London.
4. False claim of Naga Sadhu thrashed by 'anti-Hindus'
Earlier in September 2018, Chavhanke appealed to prime minister Modi to take action against 'anti-Hindus' who thrashed a Naga Sadhu.
प्रधानमंत्री @narendramodi जी इस नागा साधु पर जानवर की तरह डंडे चलाने वाले इस हिन्दू द्रोही को किसी भी क़ीमत पर, कुछ भी करके, तुरंत खोजा जाए और कठोर से कठोर कारवाई की जाए. #कृष्णजन्माष्टमी पर इससे बड़ा पुण्य का काम कोई नहीं होगा. #KrishnaJanmashtami तभी #HappyJanamashtami कहने https://t.co/pciZWg8BQM

— Suresh Chavhanke STV (@SureshChavhanke) September 3, 2018
A similar claim was viral on social media and had been debunked by Alt News. The official twitter handle of Dehradun police had put out a statement clarifying – "The man is an imposter against whom a complaint has been filed for molesting a woman while being intoxicated." The man wasn't a Naga Sadhu but was begging for alms when he was beaten up by a Hindu family for allegedly molesting a woman of the house.
सोशल मीडिया पर एक व्यक्ति जिसे नागा साधु बताते हुए कुछ लोगों द्वारा पीटने का एक वीडियो वाइरल किया जा रहा है।
उक्त संबंध में ज्ञात हो कि उक्त व्यक्ति एक बहुरूपिया है, जिसके विरुद्ध नशे की हालत में छेड़छाड़ की एक घटना में संलिप्त होने की शिकायत पर वैधानिक कार्यवाही की गयी है। pic.twitter.com/GB9uoDlsMs

— SSP Dehradun (@DehradunSsp) August 30, 2018
5. Claimed that Pakistani Islamic scholar Tariq Jamil was invited to Bulandshahr Ijtema
Tweeting a video of Jamil, where he can be heard terming Sikh Maharaja Ranjit Singh a "dacoit", Chavhanke claimed that the Pakistani Islamic scholar was invited to the Ijtema held Bulandshahr, Uttar Pradesh.
पंजाब के शेर राजा रणजीत सिंह जी को डाकू और कंबख्त कहने वाला पाकिस्तानी मौलवी तारिक @TariqJamilOFCL को #बुलंदशहर_इज्तेमा में क्यो बुलाया गया है? सिध्दू @sherryontopp ने हौसला बढ़ाया है? @Uppolice @myogiadityanath @RSSorg @rajnathsingh pic.twitter.com/9w3cH99d3e

— Suresh Chavhanke STV (@SureshChavhanke) December 3, 2018
Earlier in this article, Alt News had reported how Sudarshan News linked the Bulandsharhr violence to Tablighi Ijtema which took place in the city from December 1 to 3 last year. Tariq could not have been present in UP during this time because he was live-streaming a video from Pakistan on December 2.
I'm live streaming on @YouTube. Come watch: https://t.co/PQp1V0Ye5I

— Tariq Jamil (@TariqJamilOFCL) December 2, 2018
6. Falsely claimed Muslim community in Paris torched railway station
On February 28, 2020, in reference to the Delhi riots, Suresh Chavhanke wrote, "After burning India's capital, the terrorist community has burnt the French capital as well. #IslamicJihad Now tell did the riots happen because of @KapilMishra_IND's speech. There is only one solution #EconomicBoycott."
अब बोलो @KapilMishra_IND ने फ़्रांस में भी भाषण दिया था इस लिए वहाँ दंगा भड़का! एक ही उपाय #आर्थिक_बहिष्कार https://t.co/pl0qD7WPjl

— Suresh Chavhanke "Sudarshan News" (@SureshChavhanke) February 29, 2020
According to media reports, a railway station in Paris, Gare de Lyon, was set ablaze by protesters opposing a concert by Fally Ipupa from the Democratic Republic of Congo. Our detailed fact-check can be read here.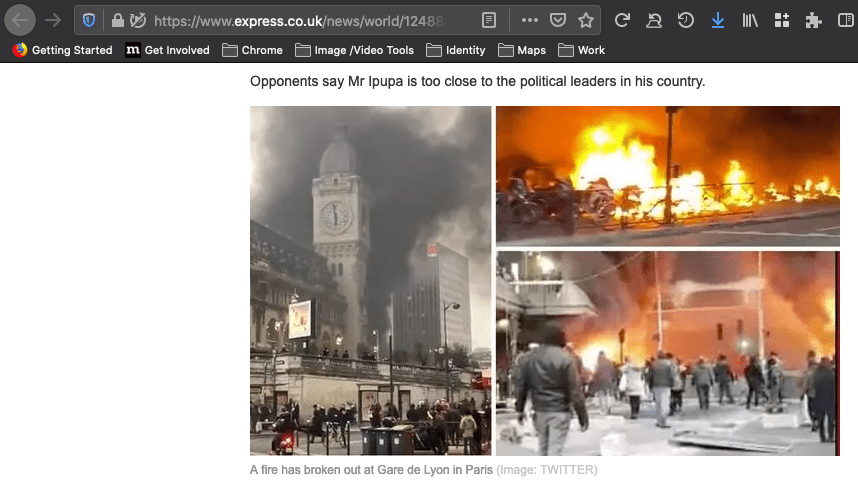 7. Shared at least 5-year-old image as Telangana govt's free gift during Ramzan
On May 11, 2020, Chavhanke tweeted a photo of a pink-coloured sack that had 'Eid Mubarak Ramzan Gift Government of Telangana' imprinted on it. "The Telangana government is offering free, special kits to Muslims for Ramzan On Hindu festivals Ramnavami, Hanuman Jayanti, Ugadi, it was forbidden to even step out of homes," he tweeted in reference to lockdown during the coronavirus pandemic.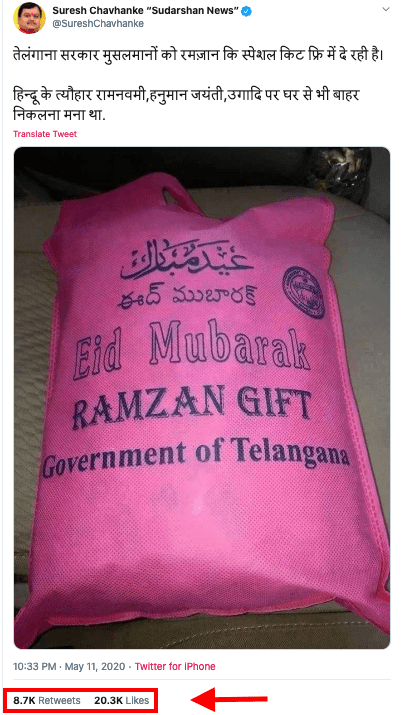 Chavhanke had tweeted at least a 5-year-old image. Moreover, in view of the pandemic, the Telangana government had decided to not offer Ramzan gifts in 2020.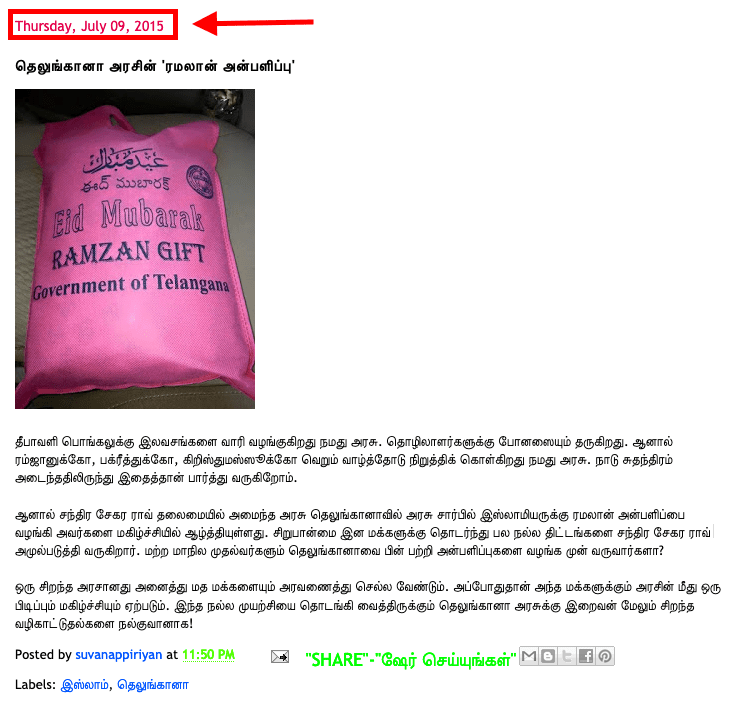 8. Video from Bijnor viral with false allegation that elderly Muslim vendor sprinkled urine on fruits
A video of an elderly Muslim fruit-seller was shared by Suresh Chavhanke with the claim that he was caught sprinkling his urine on the produce. This video was massively viral as COVID cases in the country rose. He later took down his tweet.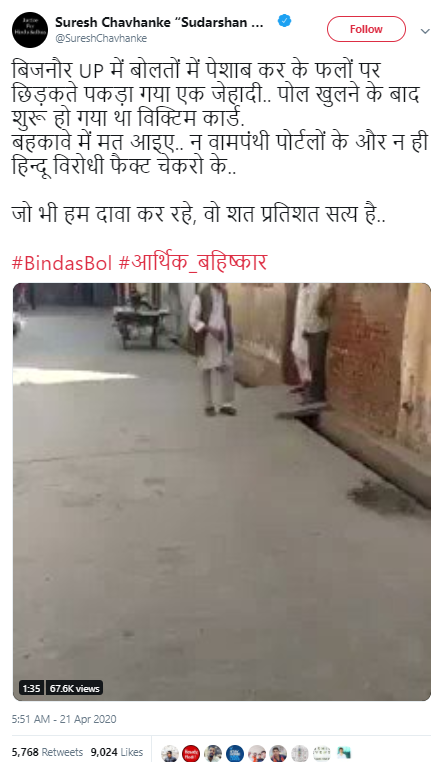 The police informed that the video was being shared with false claims. The elderly man had taken water from a bottle on his cart to wash hands after urination. He later used the same bottle to sprinkle water on the fruits. Our detailed fact-check on the incident can be read here.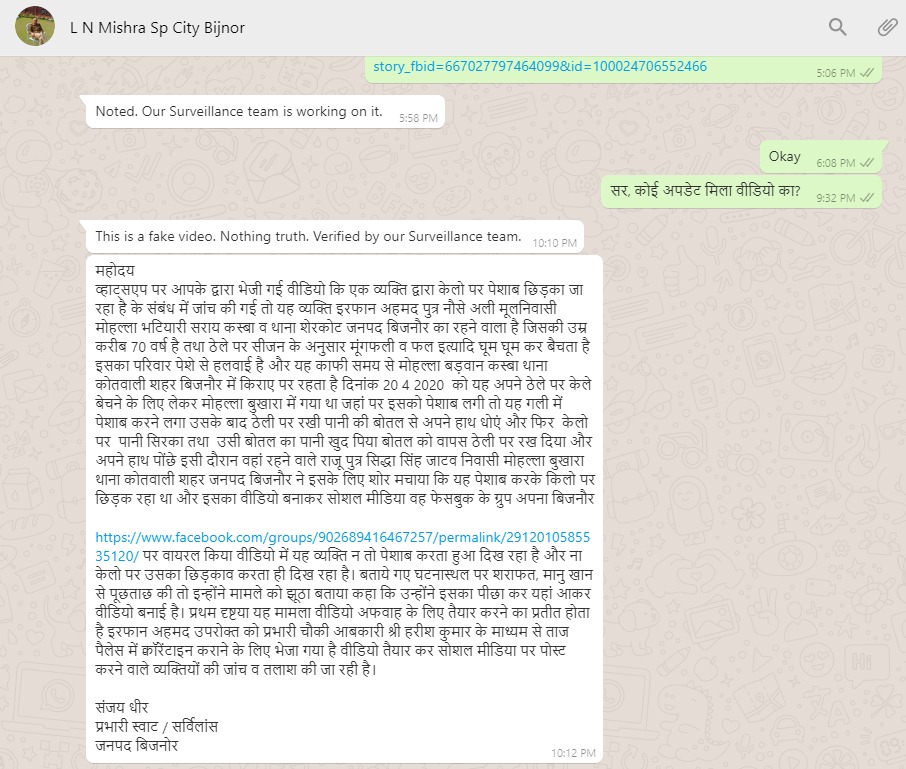 9. Palghar lynching falsely communalised on social media
A video of three men lynched by an armed mob near Gadchinchale village which comes under the Kasa Police jurisdiction in Maharashtra's Palghar district was tweeted by Suresh Chavhanke with the claim that the mob can be heard saying, "Maar Shoaib Maar".
गृहमंत्री जी, मुझे वीडियो में #Shoaib सुनाई दे रहा. @nawabmalikncp के पास गिरवी रखे कान लाकर सुनें और अपने मुँह पर लगे ताले की चाबी सोनिया मैडम से लाकर बताएं कि आपने क्या सुना? वरना मान ले कि आप लाचार हैं क्योंकि आपके सेक्यूलर हाथ मौ. @PawarSpeaks के पैरों के नीचे दबे हैं #पालघर https://t.co/lNbrFshvKh

— Suresh Chavhanke "Sudarshan News" (@SureshChavhanke) April 20, 2020
After listening to several videos of the same incident taken from different angles, Alt News found that the men were saying, "Bass oye bass (Stop hey stop)".
Did you here at 10 sec what I hear? #JusticeForHinduSadhus pic.twitter.com/6Q2HcKfrzQ

— Hasmukh Parmar (@Parmar_Hasmukh_) April 19, 2020
Apart from circulating blatant disinformation, Sudarshan News's content has also come in the crosshairs of the government and local police for allegedly igniting hate along communal/religious lines.
Booked by UP police for promoting enmity between religious groups
In April 2017, Sudarshan News and Suresh Chavhanke were booked by the Uttar Pradesh police on charges of allegedly hurting religious sentiments and promoting enmity between religious groups.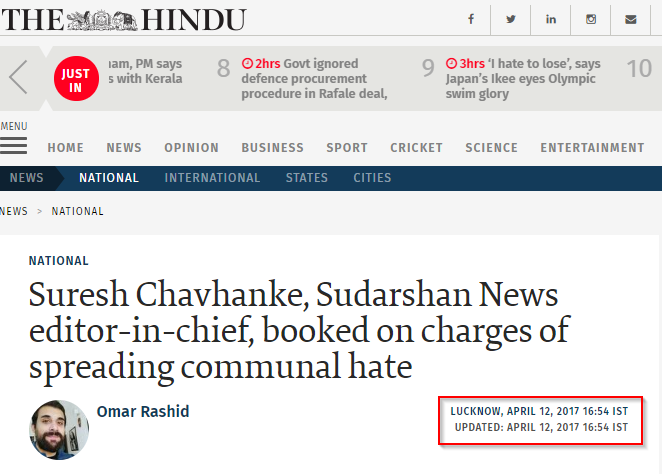 The police took action after citizens from different communities complained that the channel aired programs that promoted communal disharmony. After review, the police concluded that in several clips, Chavhanke allegedly made statements spreading "Hindu-Muslim hostility," reported The Hindu.
According to a report by Hindustan Times, Chavhanke was arrested on April 14 and granted bail the next day. Earlier, the Centre had assured the Rajya Sabha of action against the media outlet.
Show-cause notice for allegedly instigating violence during Muzaffarnagar riots
In 2013, the Ministry of Information and Broadcasting sent a show-cause notice to Sudarshan News after complaints were filed that the channel was instigating violence during the Muzzafarnagar riots.
According to Business Standard, a senior official in the ministry said at the time, "We are monitoring the content aired by Sudarshan TV and we believe the channel is in violation of policies, as some of the content is believed to have instigated the violence. We have given them a show cause notice as we believe they should be given a chance to give their view. So far, we have only received complaints about Sudarshan TV and none of the other broadcasters."
Chavhanke said in a response that they "have a clean history record and were only appealing to their viewers to remain calm."
BJP Chattisgarh member files FIR against Sudarshan News for instigating hate
Newslaundry had reported last year that Sudarshan News added communal colour to a land dispute matter in Chhattisgarh. "Dirty show of Jihadis in Chhattisgarh, threaten Hindu women with rape," was the focus of the broadcast.
छत्तीसगढ़ में जिहादियों का नंगा नाच हिंदू महिलाओं को रेप की धमकी देखिये बिंदास सप्ताह विशेषांक में https://t.co/jsJ27gCRBi

— Suresh Chavhanke "Sudarshan News" (@SureshChavhanke) July 7, 2019
Following the channel's report, Newslaundry reported that "on July 11, a resident named Sanjay Singh filed an FIR against Sudarshan's bureau chief Yogesh Mishra, Vijaya Gupta, her daughter Karishma Gupta, and Omesh Visen, a Bajrang Dal leader and close friend of the Gupta family. Singh, a member of the BJP state executive committee, registered the FIR at Purani Basti Police Station under Section 153A of the Indian Penal Code."
The channel's editor-in-chief stood by the reportage.
Political patronage despite propagating misinformation
Suresh Chavhanke's Twitter cover photo is with prime minister Narendra Modi, where both men are smiling at each other whilst greeting with namastes. Despite being a frequent purveyor of fake news, Chavhanke enjoys the company of influential personalities.

In August 2018, he tweeted images of a lunch gathering with vice president Venkaiah Naidu and compared him with former VP Hamid Ansari – "पिछले उपराष्ट्रपति #HamidAnsariऔर वेंकैया जी में ज़मीन आसमान का अंतर दिखाई दिया " Venkaiah ji is poles apart from former Vice President Hamid Ansari- translated).
उपराष्ट्रपति श्री वेंकैया नायडू जी ने आज संपादकों और वरिष्ठ पत्रकारों को भोजन पर बुलाया था। हमेशा की तरह घुल मिलकर उपराष्ट्रपति भवन के महत्वपूर्ण हिस्से को दिखाया।ख़ुद सबको हॉल के द्वार तक छोड़ने आए।पिछले उपराष्ट्रपति #HamidAnsari और वेंकैया जी में ज़मीन आसमान का अंतर दिखाई दिया pic.twitter.com/rPxmfmbtYx

— Suresh Chavhanke STV (@SureshChavhanke) August 14, 2018
Chavhanke seems to enjoy a cordial relationship with BJP MP Giriraj Singh who congratulated him on the 14th anniversary of Sudarshan News.
सुदर्शन न्यूज़ के 14 साल पूरे होने पर @SureshChavhanke को बहुत-बहुत बधाई।
प्रभु राष्ट्रहित के लिए आपको सदैव शक्ति देतें रहें ।#14yrsOfSudarshanNews

— Shandilya Giriraj Singh (@girirajsinghbjp) August 11, 2019
The Sudarshan News editor was also invited to prime minister Modi's swearing-in ceremony.
At Rashtrapati Bhawan in Sweering in ceremony with many friends, now @SureshChavhanke ji with me pic.twitter.com/Sc5wkKPI7H

— Subhash Chandra (@subhashchandra) May 30, 2019
Other prominent BJP leaders who share a friendly association with Chavhanke, often tweeting praises, are union ministers Ravi Shankar Prasad and Dharmendra Pradhan, MPs Vinay Sahasrabuddhe, Niranjan Jyoti, Hariom Pandey, Amar Singh and MLA T Raja Singh, among others.
Most articles published by Sudarshan News begin with an emotional pandering to its readers and most shows aired by the channel are replete with sensationalism. Despite being called out multiple times for pushing a sectarian narrative, the channel continues to polarise opinions, broadcast dangerous misinformation and enjoy political patronage. Any false report circulated by a media outlet with a substantial following might have serious consequences. Only on social media (Facebook and Twitter), Sudarshan News and Suresh Chavhanke have a combined following of over 13 lakh – their ability to shape public opinion is not one to be taken lightly.
[This article was updated on August 27, 2020.]
Donate to Alt News!
Independent journalism that speaks truth to power and is free of corporate and political control is possible only when people start contributing towards the same. Please consider donating towards this endeavour to fight fake news and misinformation.