Atal Bihari Vajpayee was admitted at AIIMS, Delhi for the past nine weeks and passed away at 5:05 PM on August 16, 2018. The 93-year-old former Prime Minister had suffered a stroke in 2009 that weakened his cognitive abilities. Subsequently, he also developed dementia.
Vajpayee's condition worsened in the last 36 hours and he was put on life support. However, before any official announcement of his demise was made, national media outlets, in an attempt to break news, declared the former Prime Minister dead.
1. Times Now
Times Now published an article titled "Former Prime Minister Atal Bihari Vajpayee passes away at 93" at 2:39 PM and later altered the report to "Atal Bihari Vajpayee health LIVE updates: Confusion over Home Minister Rajnath Singh's statement on Vajpayee".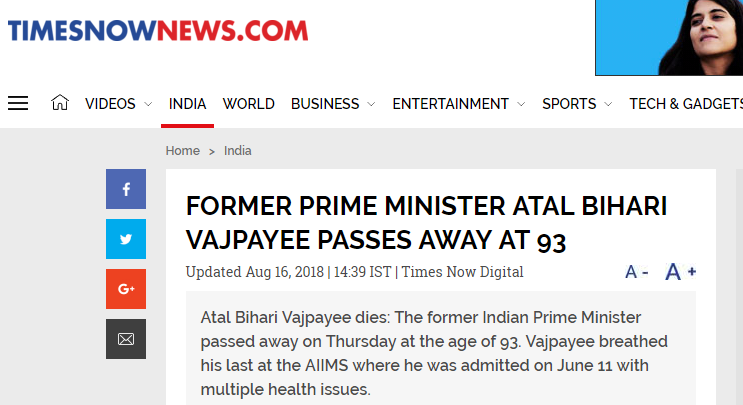 Times Now published another article on "Vajpayee's health" at around 4 PM without providing any clarification for its earlier slight. Furthermore, the article's strapline ironically mentioned that "a number of media organisations misquoted Rajnath Singh while he was speaking in the context of Chhattisgarh Governor Balramji Dass Tandon." But the media outlet missed adding that it made the error as well.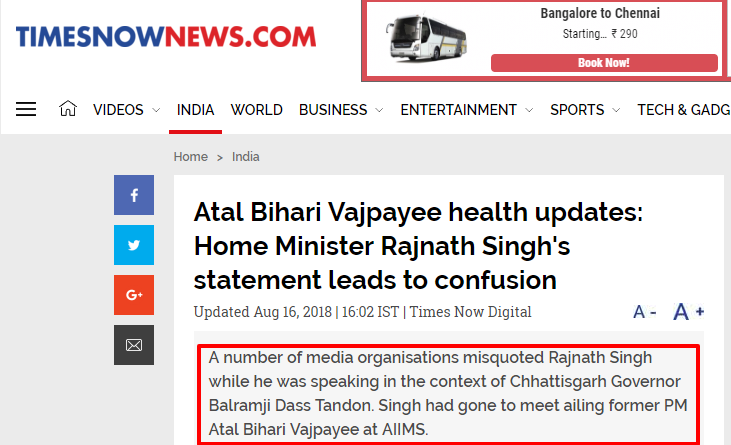 2. ABP News
The Twitter handle of ABP Majha also prematurely tweeted that Vajpayee had passed away and later deleted its tweet without any clarification or apology.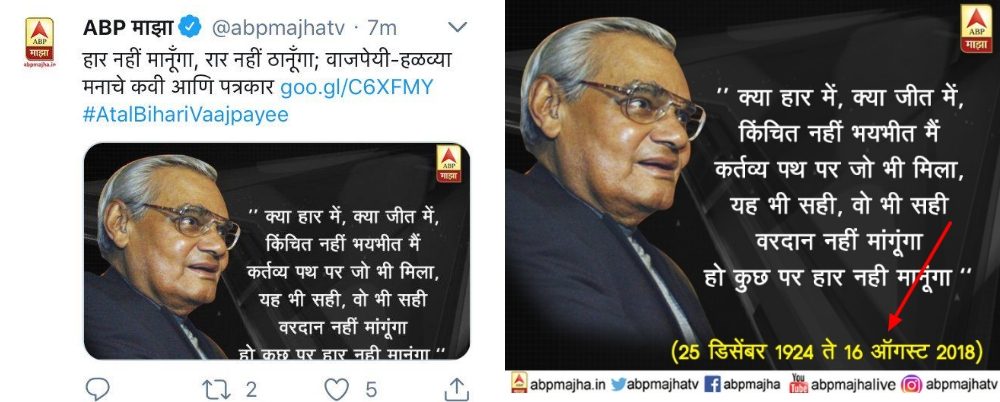 ABP News Hindi too took down a tweet posted at around 12:53 PM where they wrote – "amidst reports of Atal Bihari Vajpayee's death, a mortuary van reaches the premises of AIIMS."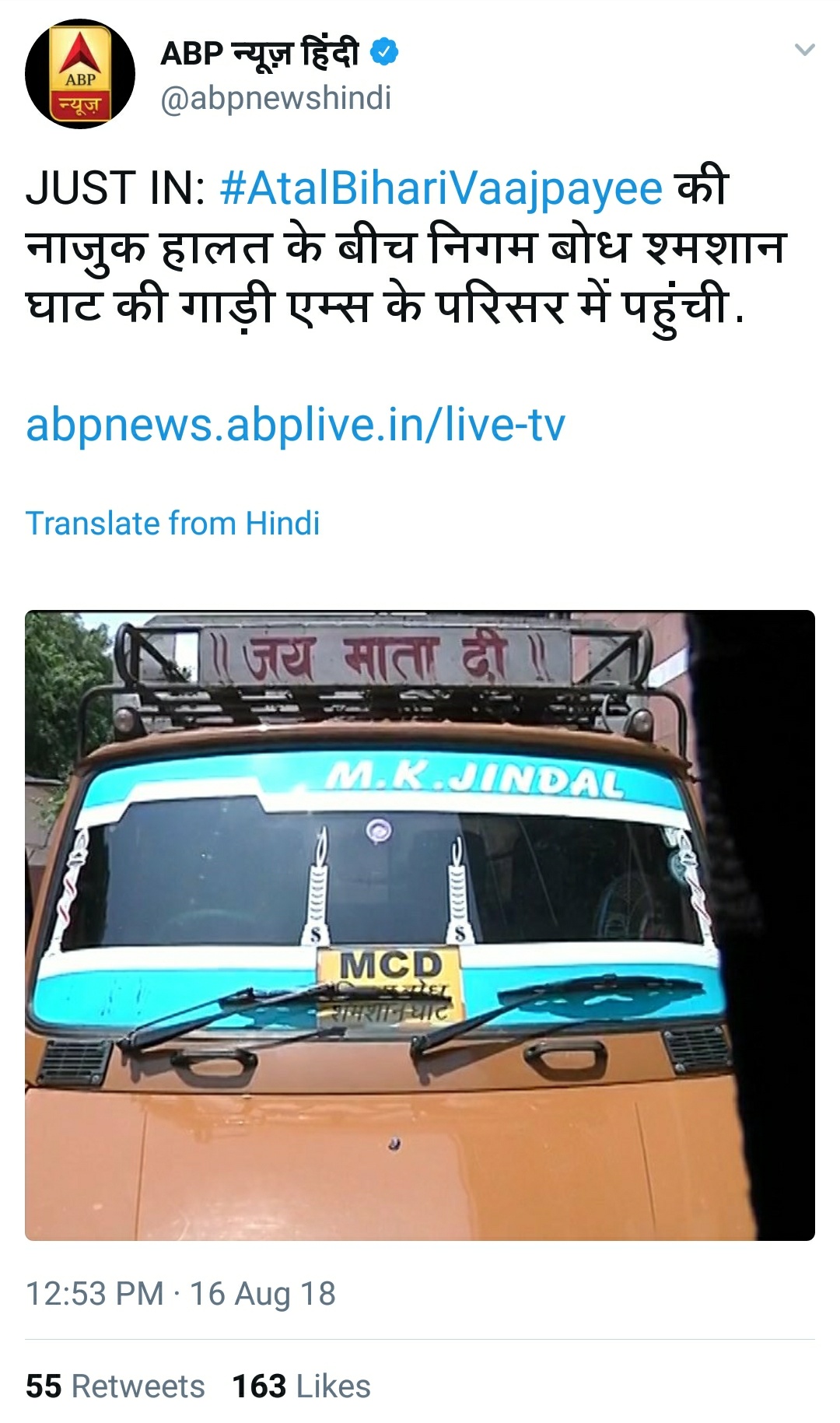 3. The Statesman
The Statesman reported that Vajpayee was no more at 2:40 PM but later changed the title of their report to "Atal Bihari Vajpayee death rumours on social media." The English daily, however, clarified in the article that their earlier "report had inadvertently said Vajpayee had passed away."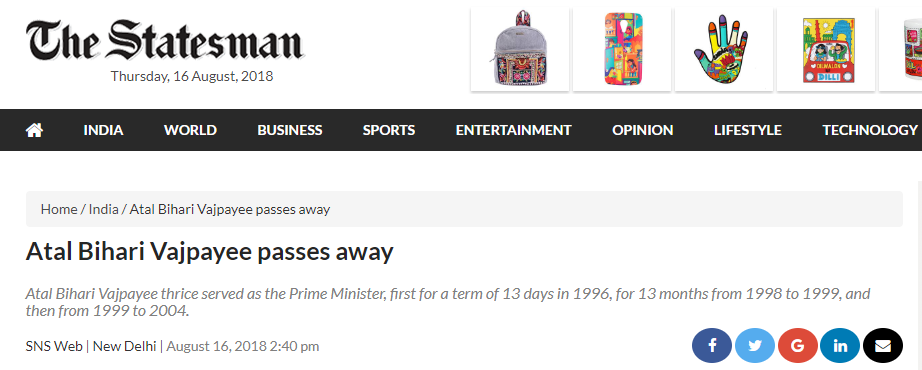 4. Huffington Post
HuffPost India carried out an article at 1:40 PM declaring the former PM dead without the official announcement finding a space in their reportage.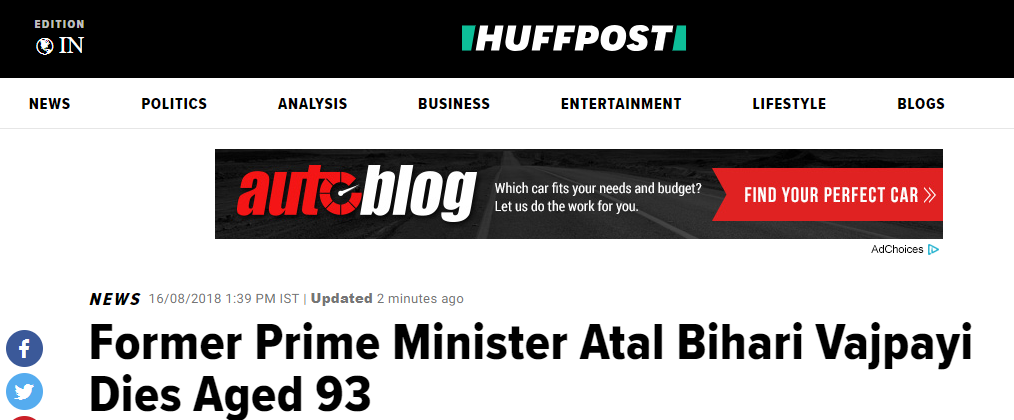 5. India TV
India TV said on live telecast that Atal Bihari Vajpayee passed away and claimed to have gotten the information from DD News.

After AIIMS press release was published, India TV said in the same live broadcast that the former PM passed away at 5:05 PM.
7. Sudarshan News
At around 3 PM, Sudarshan News broke the news of Vajpayee's death – two hours before AIIM's press release.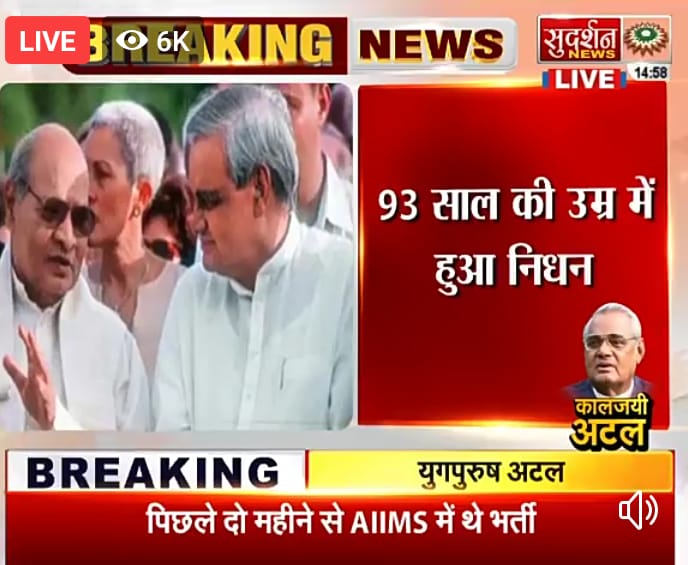 Ironically, at around 5:30 PM they published another article declaring the death of the former PM.
8. India News
As posted by a Twitter user, India News too prematurely reported the demise of Atal Bihari Vajpayee at 2:40 PM.
#indianews channel should be ashamed of spreading rumour , they should apologise for this blunder #AtalBihariBajpayee @AltNews @swamv39 @dhruv_rathee @ashu3page @sakshijoshii pic.twitter.com/oVJmzS2yPh

— Keshaw 0506 (@Keshaw0506) August 16, 2018
Tripura Governor deletes tweets about Vajpayee's death
Tripura Governor Tathagata Roy tweeted at 11:23 AM that the former PM has "passed away."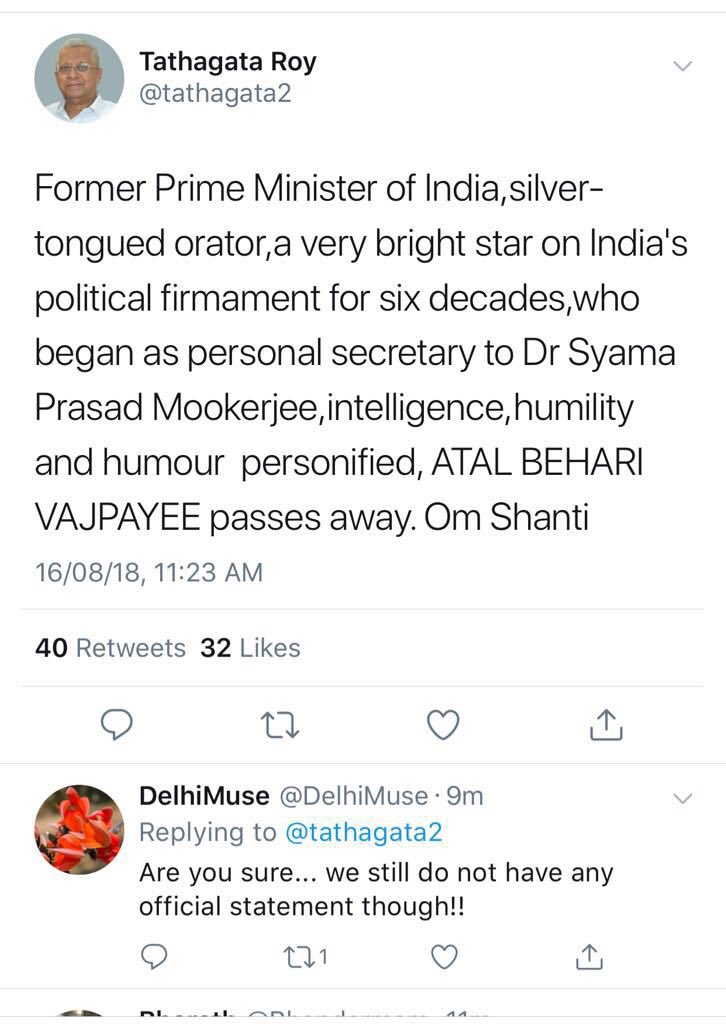 Realising his faux pas, Roy later deleted his tweet and apologised for the same. He wrote that his tweet was based on the information he received from an "all-India TV channel."
I am sorry I tweeted something upon being told by an all-India TV channel. I had taken it to be authentic. There has so far been no official announcement. I have deleted my tweet. Sorry again

— Tathagata Roy (@tathagata2) August 16, 2018
Himachal Pradesh education minister, Suresh Bhardwaj, gave a speech where he also declared that the former PM was dead. The video of his speech was uploaded by social media users.
शर्म करो ।। पूर्व PM अटल बिहारी वाजपेयी के निधन के औपचारिक ऐलान से पहले ही हिमाचल सरकार के शिक्षा मंत्री ने उन्हें मृत घोषित कर दिया… देखें वीडियो—#AtalBihariVaajpayee

Posted by Rajender Verma on Thursday, 16 August 2018
Circulating such news without verifying facts can sometimes lead to chaos. Hours before the demise of former CM of Tamil Nadu Jayalalitha, social media was brimming with rumours declaring her dead. The Twitter hashtag #RIPJayalalithaa began trending, causing frenzied citizens to attack Chennai's Apollo hospital. Any slights of posting misinformation on a public portal should always be rectified with a clarification so as keep citizens rightly informed.
Donate to Alt News!
Independent journalism that speaks truth to power and is free of corporate and political control is possible only when people start contributing towards the same. Please consider donating towards this endeavour to fight fake news and misinformation.