An infographic is being shared across social media platforms, which has a picture of 'Oreo' biscuits along with a few lines written in English and Urdu. The text says 'Oreo' biscuits are 'haram' as they are made from fat and pork milk as confirmed officially by the company. This viral graphic also carries information about a company called 'Zamjam Realtors' suggesting that they are the source of the information.
The full English text reads, "SHARE IT FOR THE SAKE OF GOD. OPEN YOUR EYES TO THE MOON AND BACK. THE COMPANY THAT OFFICIALLY ANNOUNCED THAT OREO BISCUIT IS FORBIDDEN FOR MUSLIMS BECAUSE IT IS MADE FROM FAT AND PORK MILK. SHARE IT SO THAT YOUR FRIENDS CAN BE AWARE TOO."
Alt News has received multiple requests on its WhatsApp helpline (+91 7600011160) to verify the authenticity of this information.
This slideshow requires JavaScript.
The claim has also been circulating widely on Facebook with some variations in the graphic.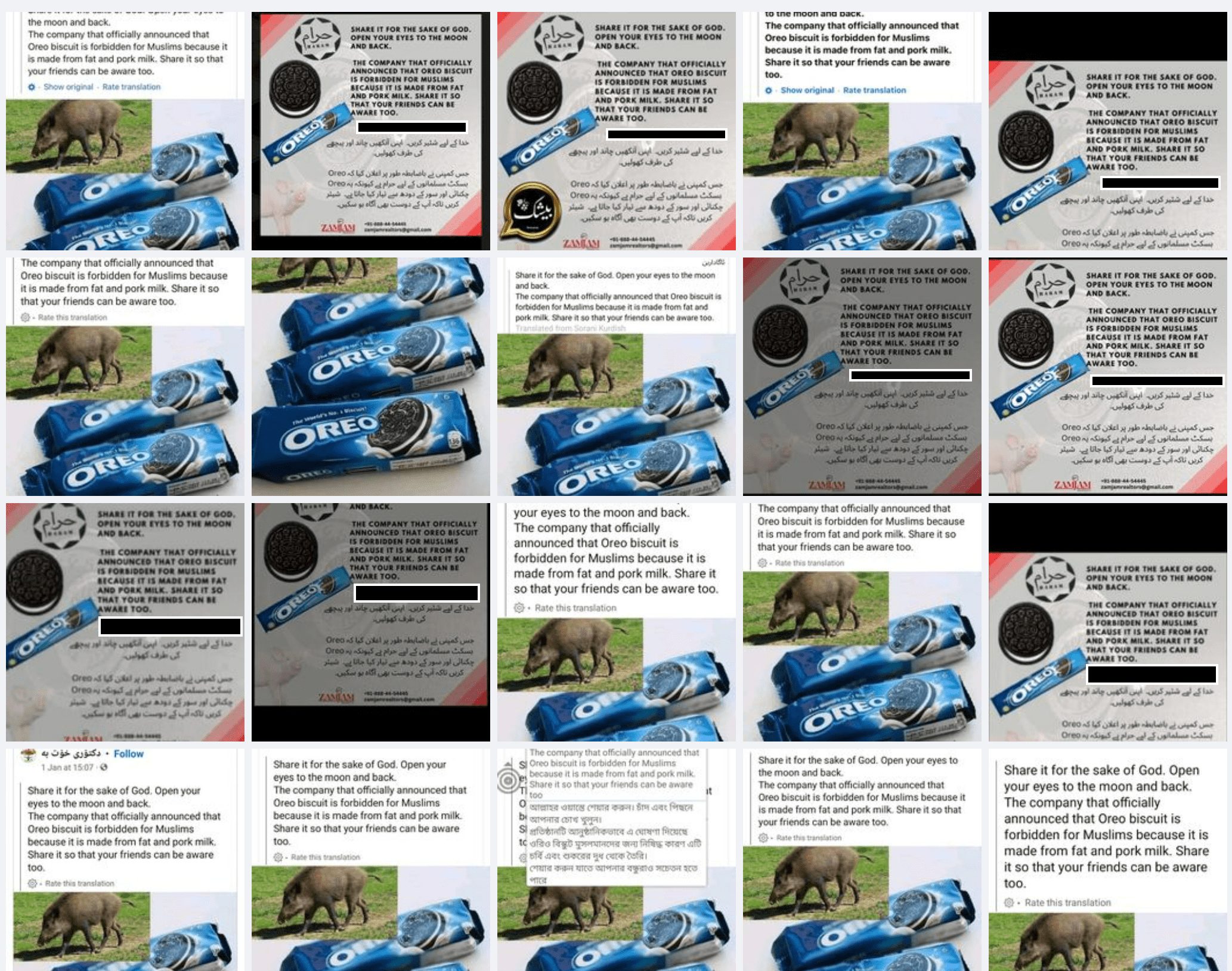 Fact Check
We began by calling the number of the company available on the viral graphic. While no one picked up the call, we immediately got a response via SMS saying that the company was not aware of the viral posts and that someone had used their number, email and logo to spread the information on social media.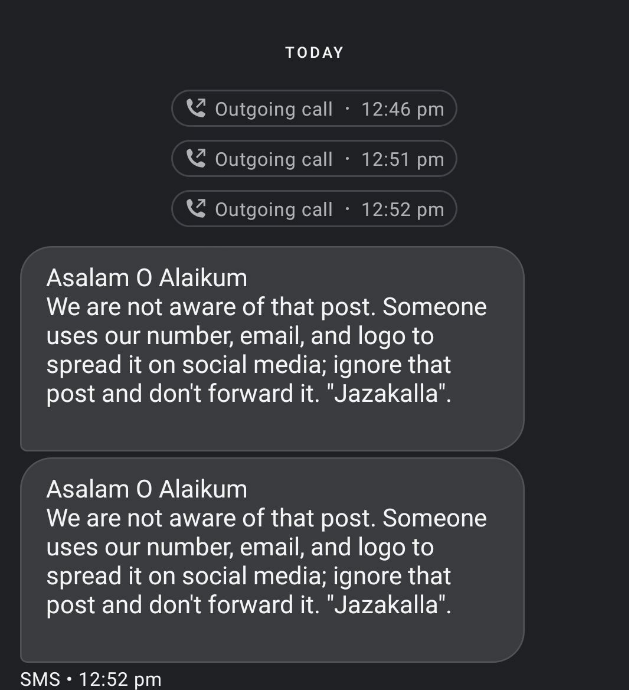 We then proceeded to check the FAQ page on Oreo UK's website. As per the company, "Oreo biscuits produced in Europe are not Halal certified but their composition or production process does not make them unsuitable for Muslim diet." It also provides lists of five Oreo products that do not comply with Islamic dietary restrictions. These are 'Oreo Strawberry Cheesecake', 'Oreo Choc'o Brownie', 'Oreo Enrobed Milk & White', 'Oreo Cadbury Coated' and 'Oreo Crunchy Bites' Dipped.

A tweet from the official Twitter handle of 'Oreo' from 2019 also confirms that 'Oreo' biscuits are not halal-certified in North America and Canada.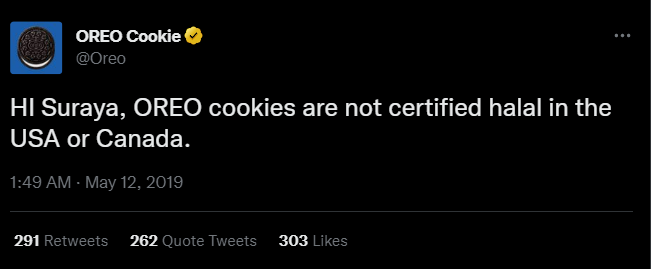 What does it mean?
Previously, in a conversation with Alt News, Wasim Akhtar Shaikh, the Halal coordinator and Shariah auditor at Jamiat Ulama Halal Foundation (JUHF), which provides Halal certification to Indian brands, told us, "Halal is an Arabic word that means 'permissible'. It might refer to a lot of things, and not just what you are permitted to eat. It can mean something you can wear or something you can drink, things you are allowed to say, etc. The opposite of Halal is 'Haram', which means unlawful or prohibited."
BBC defines Halal food as food that adheres to Islamic dietary standards. So, despite 'Oreo' biscuits not being halal-certified in certain regions, the company confirms that the production process does not make them unsuitable for the Muslim diet, except for the five products that they have named.
Alt News reached out to an industry expert with a few queries to understand the issue further. A food technologist who has worked with major confectioners told us that bakery items like biscuits were baked at 240-300°C, so there's no chance of alcohol staying in that process. Additionally, if a biscuit-like 'Oreo' contains 'pork milk' or 'pork fat', it would not carry the green circle on the packet indicating that the food item is vegetarian. He added that biscuits contained emulsifiers, which could be extracted from plant or animal sources, but if 'Oreo' contained an animal-based emulsifier, it would simply not carry the green symbol.
Responding to a query from Alt News, a spokesperson of Mondelez, which owns the 'Oreo' brand said, "All products manufactured by Mondelez India Foods Pvt Ltd in India are of vegetarian origin. The green dot on the wrapper confirms that."
Donate to Alt News!
Independent journalism that speaks truth to power and is free of corporate and political control is possible only when people start contributing towards the same. Please consider donating towards this endeavour to fight fake news and misinformation.