"Fake Aadhaar available…Ib [Inbox] for deal," reads one of the posts on a Facebook group "Help for Friends – Advertising Deals" or as its over 7,000 members call it "HFF".

HFF is a secret group and does not come up on Facebook search results. You need an invitation to join it.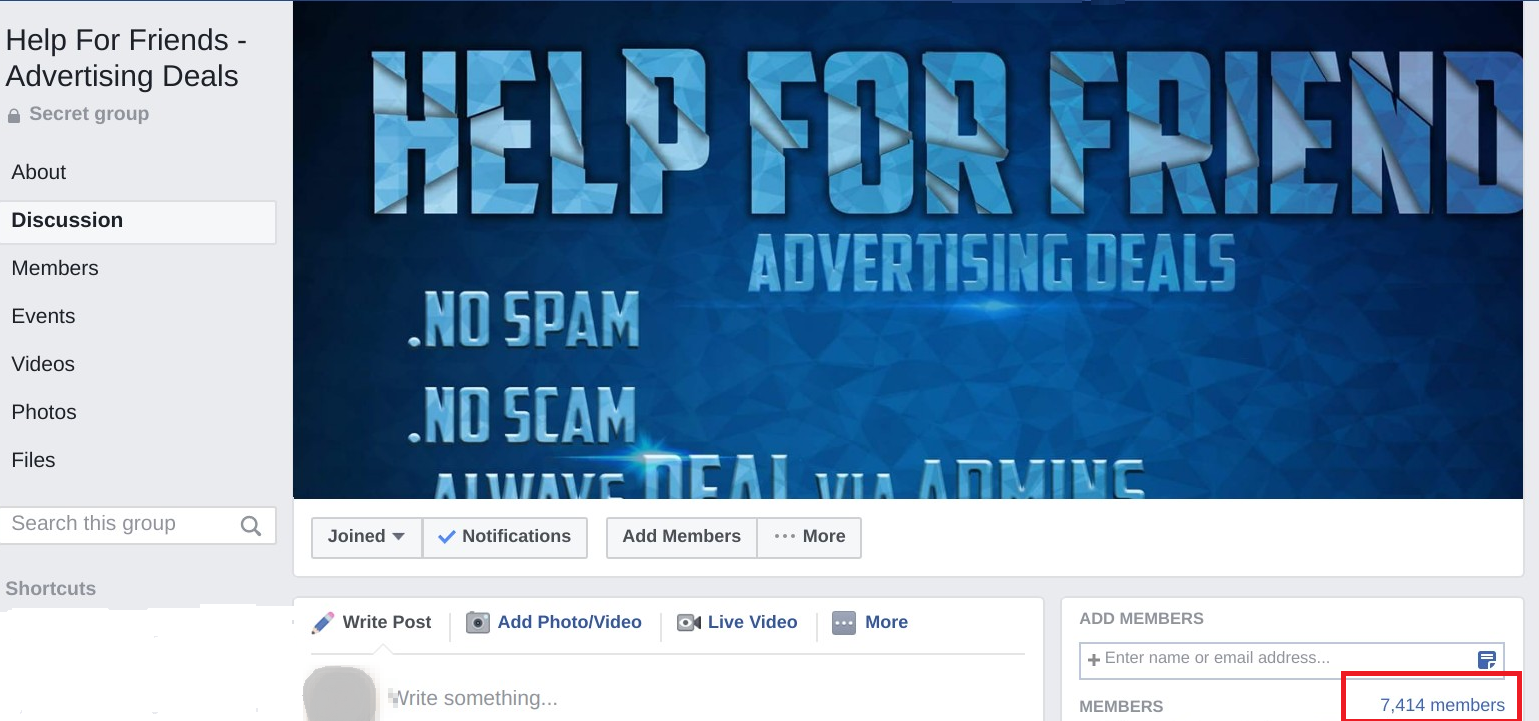 The group is a close-knit circuit of individuals buying and selling all sorts of things. However, amidst deals violating Facebook's terms and conditions, we stumbled upon an issue even more grave – people offering to manufacture Aadhaar cards.
In the screenshot below, one of the members can be seen asking others to "inbox" him if they want Aadhaar cards. He claims that the ID proof will be "1001% working". He also makes a post offering "fake Aadhaar cards for Facebook verification".

Another member claims that he has at his disposal "many" PDF files of Aadhaar cards. He wishes to know at what price he will be able to sell them. One of the members advertises his stock of 100 Aadhaar cards as "loot loot loot", selling them for Rs 150 each.

There are also offerings of PAN cards in the group.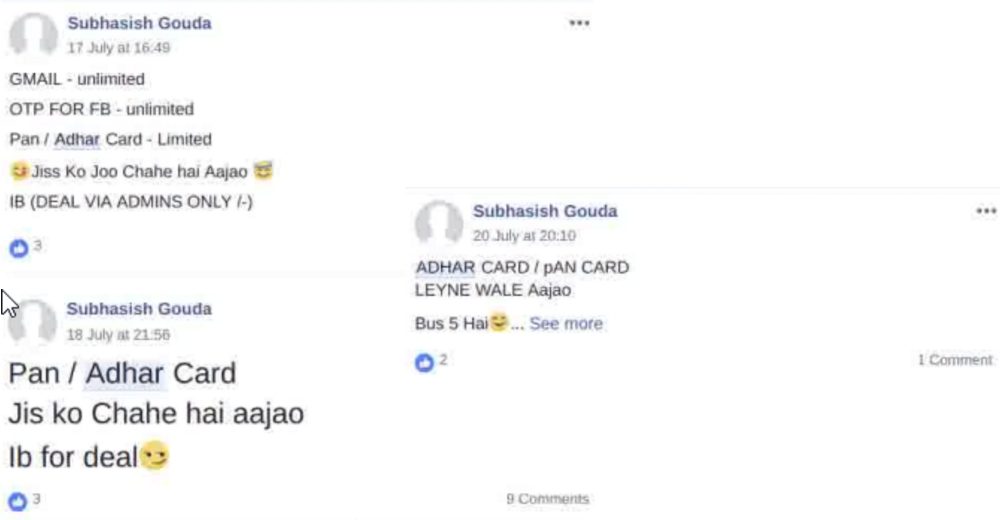 The collage below captures several others offering fake Aadhaar cards.
However, this bargain is not one-sided as supply is only created by demand. In the screenshot below, members can be seen willing to purchase fake Aadhaar cards as long as they "look real".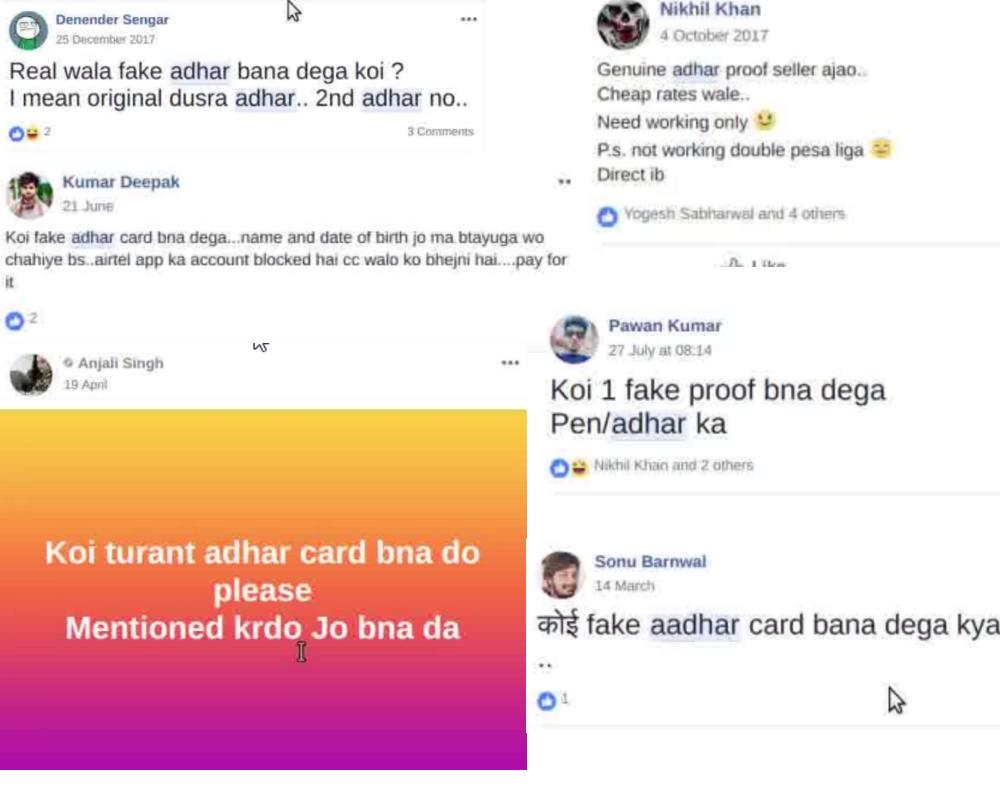 One of the members also asked for Aadhaar data, which he claimed was "available a few days back." He wrote, "I am willing to pay good money to anyone who has it."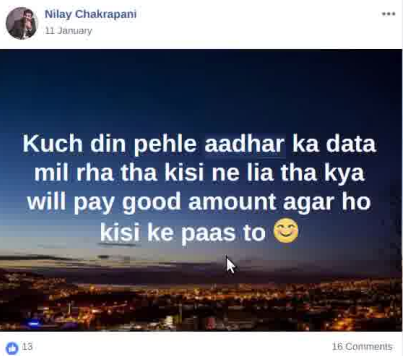 There was another Aadhaar related demand that came to our notice – editing. In the screenshot below, one of the members is looking for someone who can edit his date of birth in his Aadhaar card. "Bas real lagna chahiye," he writes.
We discovered a substantial demand for Aadhaar related editing work for various purposes.
Recently, Alt News published another story about a closed Facebook group that goes by the name "Sharing is Caring – Advertising Deals". Our detailed report disclosed the inner workings of its 18,000 odd members who regularly buy/sell Facebook pages, Instagram accounts and more.
Help for Friends is more close-knit than Sharing is Caring (SIC) but has a lot of the same members as SIC. Just like in SIC, deals on Facebook pages dedicated to politics, army, girls, actresses and cricket and more are made on HFF too.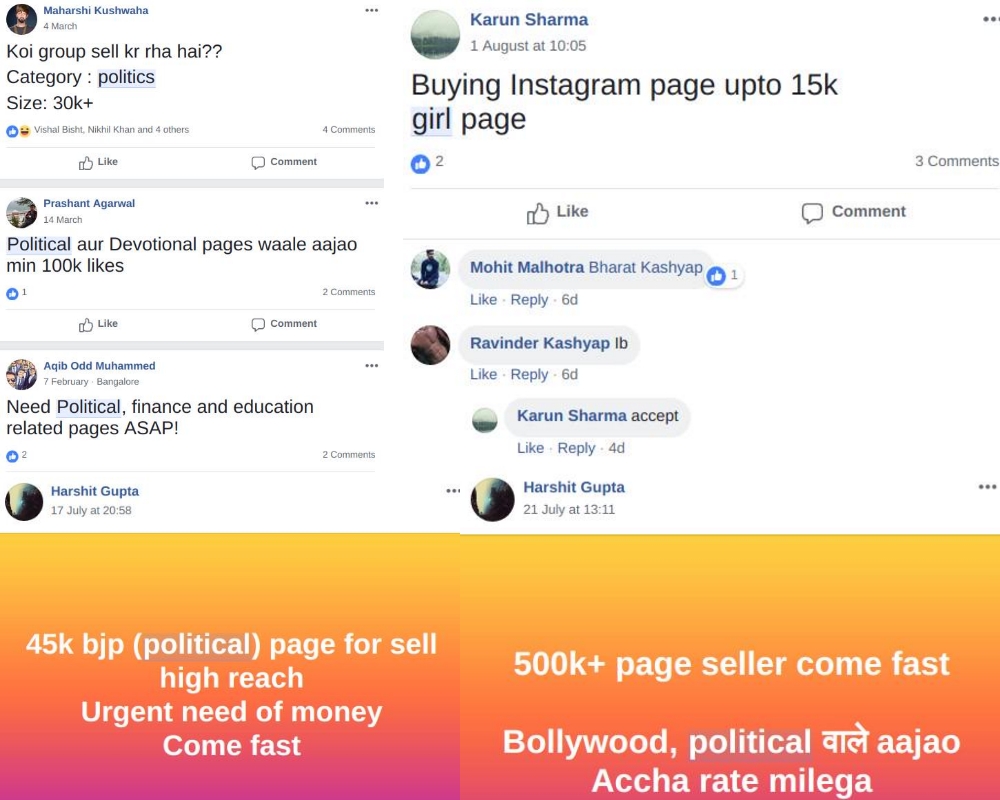 Fake Aadhaar card deals on Sharing is Caring
Deals on Fake Aadhar cards are not limited to HFF. We stumbled upon deals related to Aadhaar in the 'Sharing is Caring' group as well. The screenshots below are from SIC. If you look closely, some of these names appear in the screenshots of HFF posted earlier in the article.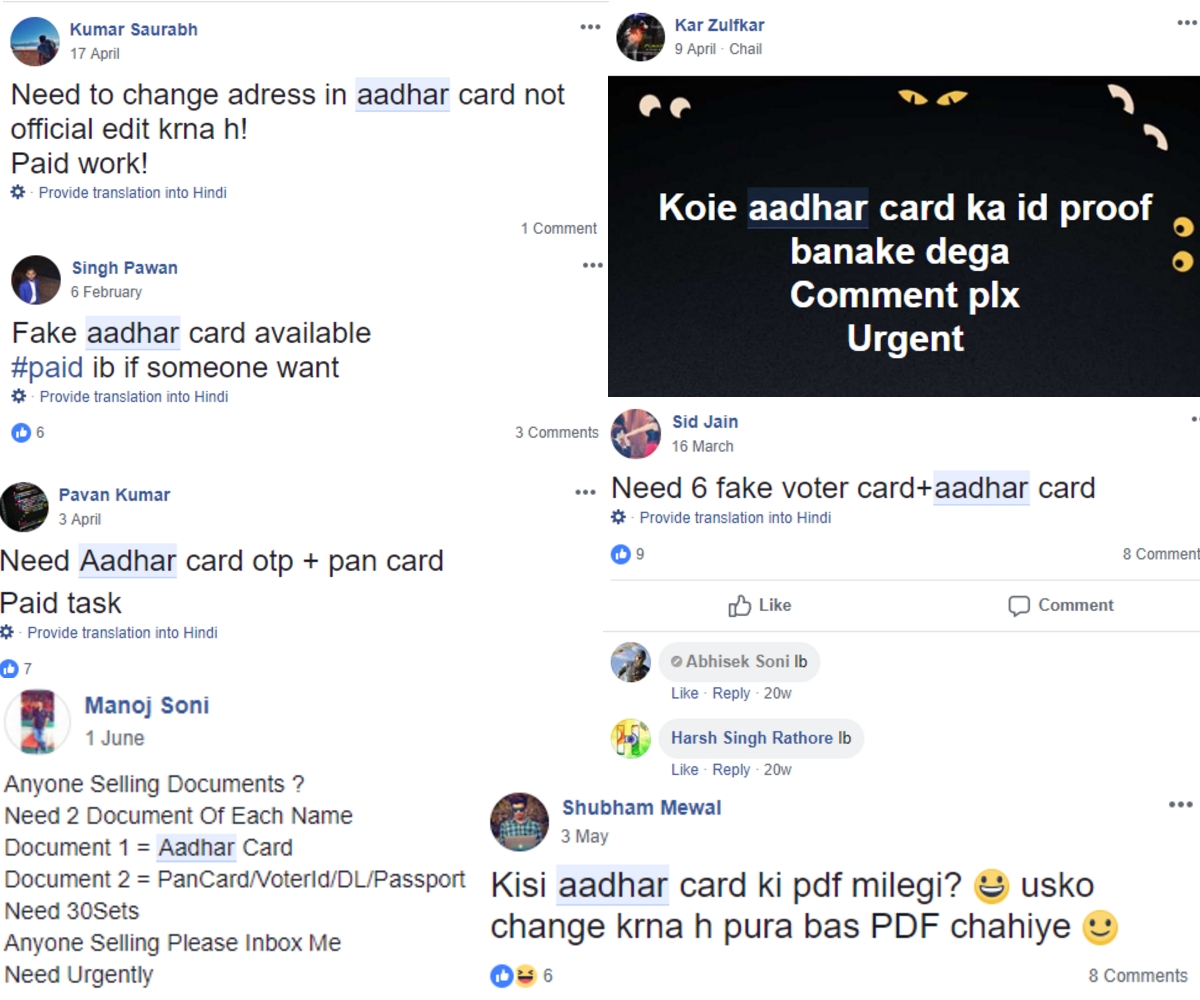 However, post Alt New's story, admins of Sharing is Caring seem to have become more vigilant about what sells in the group. One of them posted "new rules as per the need of time", which now penalise (temporarily ban) members making deals on Aadhaar cards or any government ID proof and fake government offer websites, among others.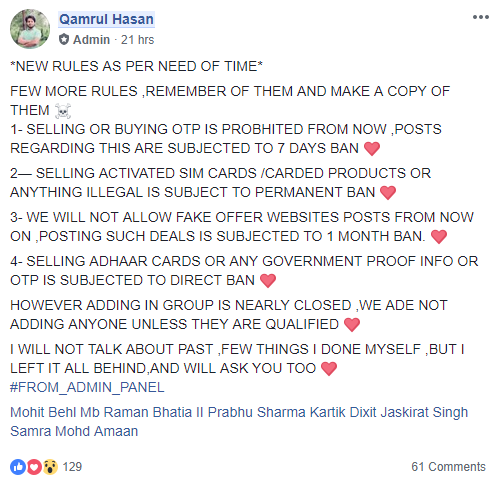 There is a reason why groups like SIC and HFF keep their status as closed or secret as the members are well aware that their dealings are often illegal. As this issue comes to light, it becomes pertinent that necessary actions are taken against these groups.
Donate to Alt News!
Independent journalism that speaks truth to power and is free of corporate and political control is possible only when people start contributing towards the same. Please consider donating towards this endeavour to fight fake news and misinformation.