"सावधान इंदौर में 15 से 20 लोगों की अलग अलग रोहिग्या मुस्लिमो की टोली आई है उनके साथ बच्चे और महिलाएं हैं और उनके पास हथियार भी है और 2 बजे आधी रात को और किसी भी वक्त आते हैं और बच्चे की रोने की आवाज आती है कृपया दरवाजा ना खोले प्लीज इसको आप सारे ग्रुप में शेयर करें। – इंदौर पुलिस C.S.P. Send to all group plz" (Beware! Several gangs of 15-20 Rohingya Muslims have come to Indore, accompanied by women and children. They carry weapons and come around 2 AM at night or any other time at night when the wailing of children can be heard. Kindly do not open the door and share this in all groups – Indore Police, C.S.P. Send to all groups please.) This is the latest rumour being circulated on Whatsapp about "gangs on a prowl attacking people at night" and for the first time it has taken a communal turn, targeting Rohingya Muslims. Alt News has not found copies of this exact rumour on Facebook or Twitter thus far, suggesting that it may not be widely circulated yet.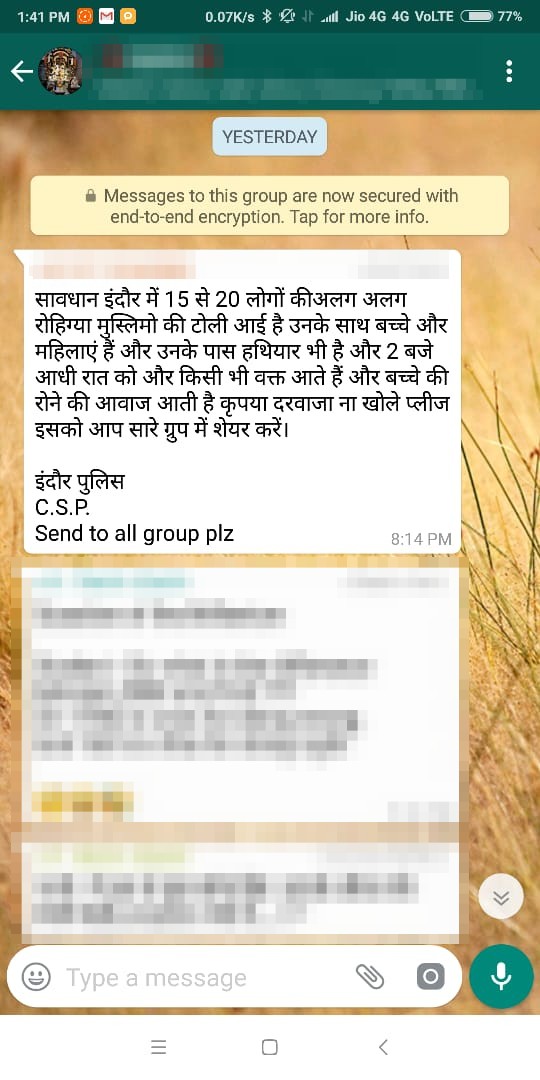 Alt News had earlier covered another version of this message that led to lynchings in Karnataka, Tamil Nadu, Bihar, Jharkhand and Odisha. The message that was circulated to propagate that "child abductors" are on a prowl is now being shared with altered images and narratives to suggest that "gangs of 15-20" people are attacking innocents at midnight.
कृपया सावधान रहें राँची,घोराठी,तिलैया,चितरतपुर, गोला,बरवाडीह और रामगढ , ओरमांझी, पतरातू, हज़ारीबाग़, बोकारो, आदि जगोहो पर …

Posted by Shubham Singh on Thursday, 31 May 2018
Fake messages on "child-abductors" and "gangs killing people for organ trade", led to the lynching of at least 20 people in the last two months. Alt News has several times in the past reported different versions of these rumours being floated across Indian states – Bihar, Jharkhand, Odisha, Maharashtra, Tamil Nadu and Ahmedabad. The latest victim of the "child-lifters" hoax was a Google techie from Hyderabad killed by a frenzied mob.
However, for the first time, fake messages are targeting a particular community.
Viral message dates back to March 2017
Alt News searched for the message with the keyword "15 से 20 लोगों की टोली" and found a Facebook post shared on March 16, 2017 at 5:13 PM. It was posted with the text similar to the "Rohingya Muslim" Whatsapp forward and only included two changes – the place where the gang is on a prowl and the state police cautioning citizens.
The post reads – "Please be alert. In Ajmer, Kishangarh, Beawar, Nasirabad and Kekri Bandwara gangs 15-20 people have come, accompanied by women and children. They carry weapons and come at any time at night when the wailing of children can be heard. Kindly do not open the door and share this in all groups. This message is by Rajasthan Police and should spread in the whole of Rajasthan in 5 to 10 days."
In March last year, this message was viral with several narratives, claiming that the "gang of 15-20 people" is active across districts in Jharkhand, Rajasthan, Delhi, Gujarat, and many other states.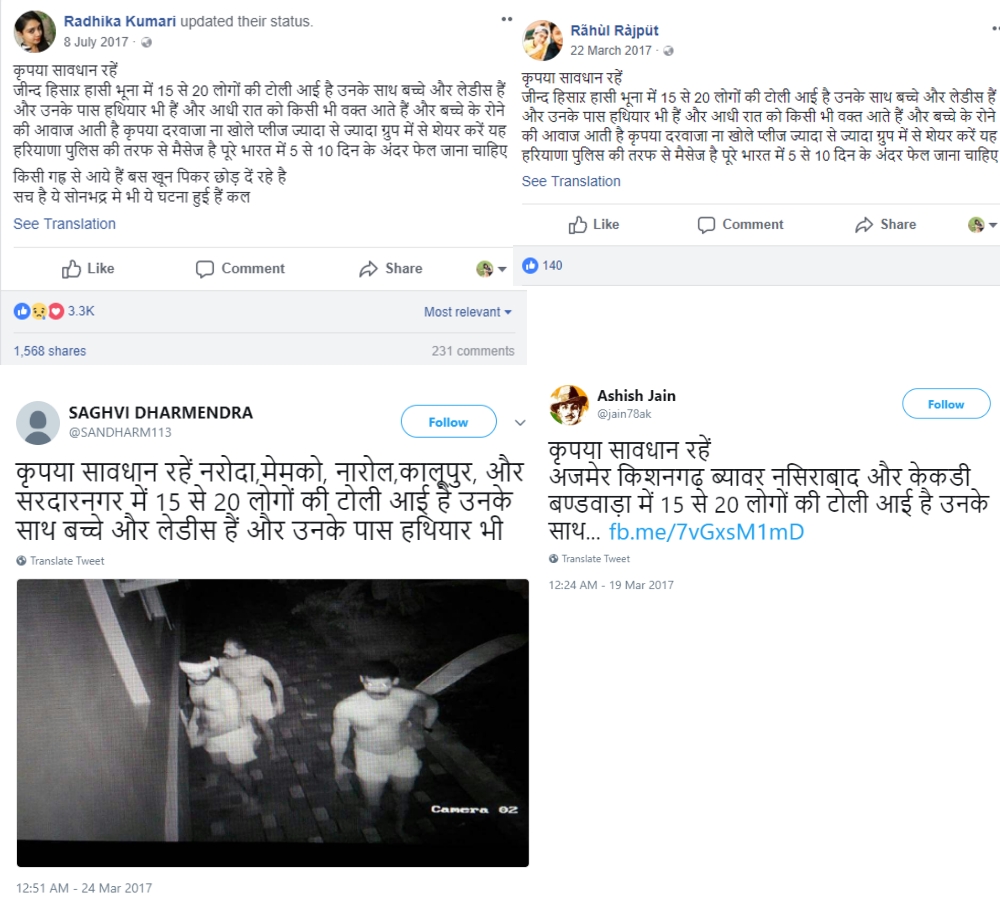 On March 16, 2017, Dainik Jagran published an article at 12:55 AM, busting another version of the fake message claiming that the gang is active in Rohtak, Haryana. The report said that people had been confronting Rohtak police because of a rumour on Whatsapp claiming that a gang is attacking those coming out at night in aid of children crying on the streets.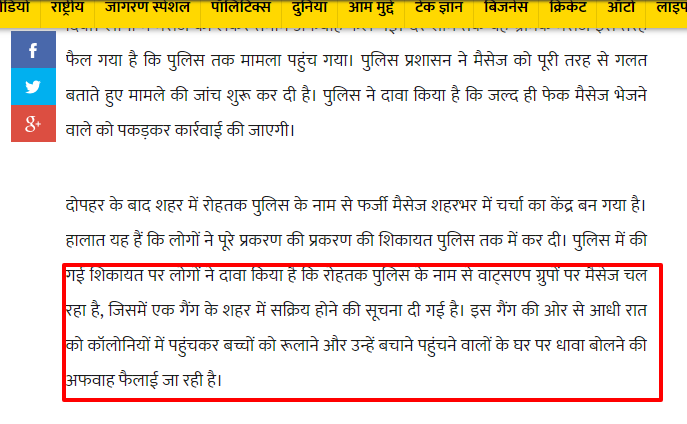 A later paragraph in the article said that the message was initially circulated in English and gives its entire translation in Hindi. The translation provided by Jagran reads the same as the messages of "active gangs" viral last year, suggesting that people might have read this article and copy-pasted the translated Hindi message across social media platforms, thereby giving birth to rumours.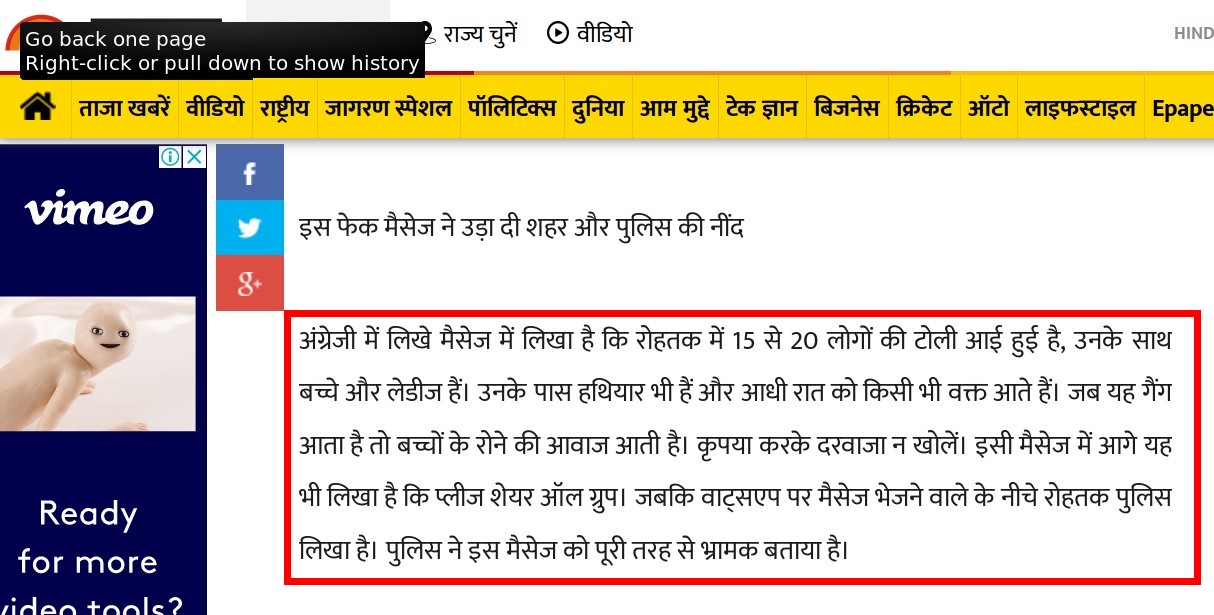 Furthermore, among those who circulated this fake message, many included CCTV images of the purported "child-lifters."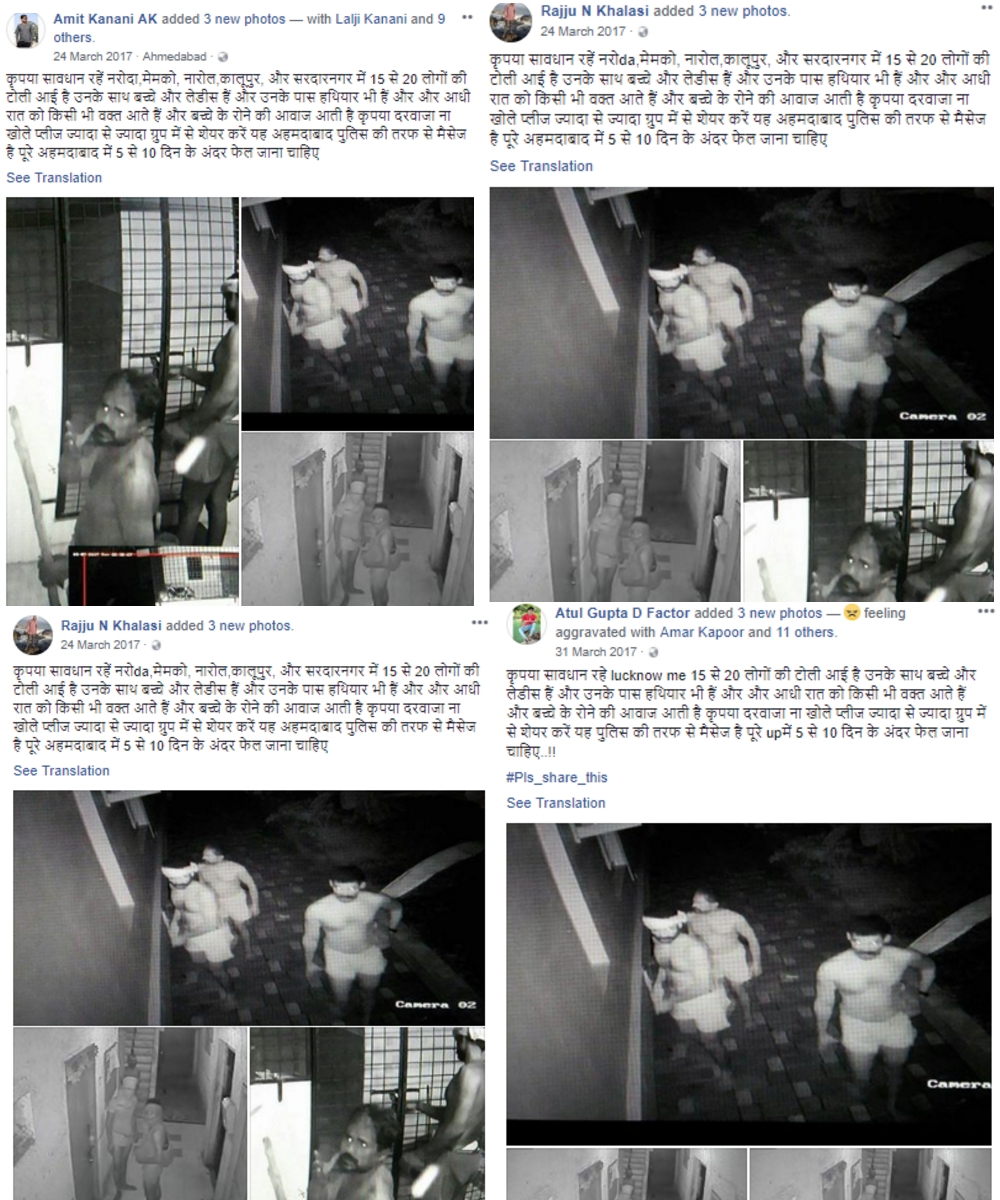 The CCTV images are in reality of burglars affiliated to alleged "chaddi baniyan" gangs which have been reported by various news outlets in the past, including Patrika, Zee News, Maharashtra Times and The Indian Express, among others.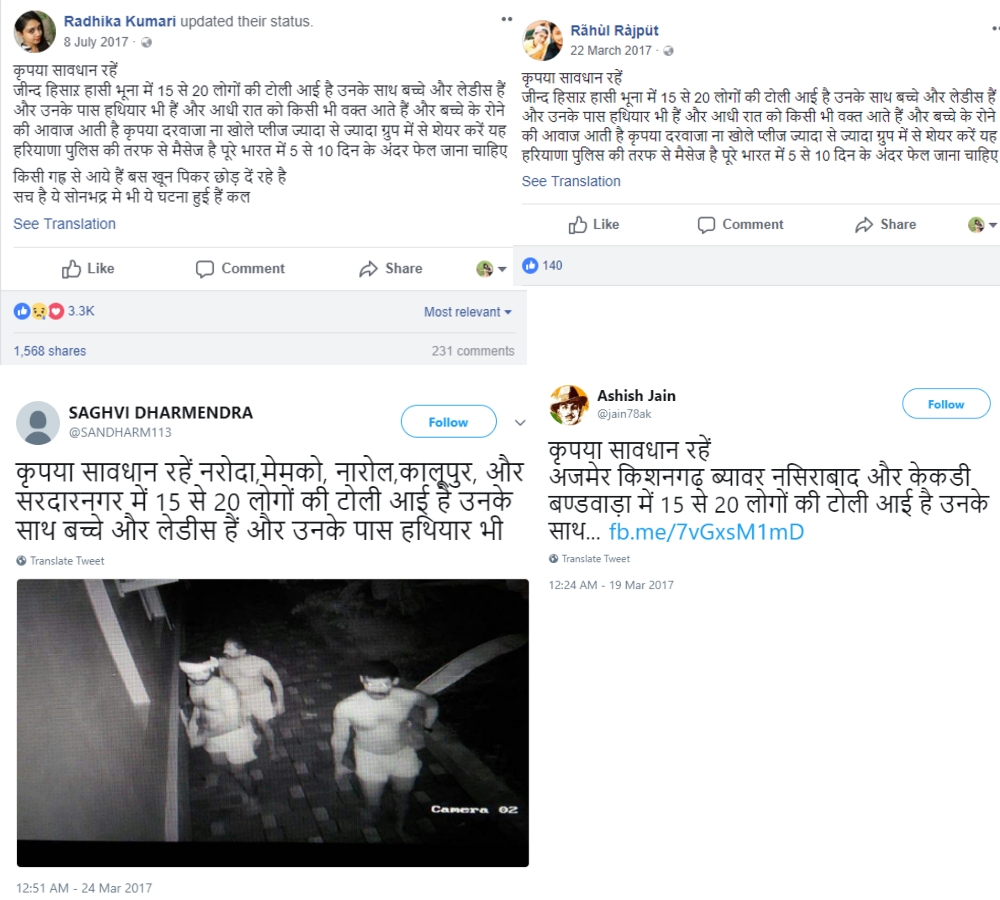 A localised pattern of rumour-mongering
On searching for the viral message in English, Alt News found that it was being shared even before March 16, 2017 (i.e., when the first message in Hindi appeared on social media). We also observed a pattern – 1)The text remained similar to the rumours circulated in Hindi; 2)The places where the gang is said to be active is changed; and 3)The names of police stations cautioning the public is altered.
We found different versions of the same rumour claiming that the gang is active across Rohtak, Punjab and Mumbai. After the message was shared in the name of Punjab police, Station House Officer (SHO) of Rajpura City police station clarified on March 16, 2017 that it is false.
That same day, a Facebook user also shared a few more versions of the viral hoax, with otherwise identical messages and just the name of the place, where the gang is supposedly on a prowl, changed – Yamuna Nagar, Bhatinda, Faridabad.
Patrika reported another English version of the message viral on social media which claimed that these "gangs" are active in Madhya Pradesh. The article says that the police are investigating the matter of "people forwarding cautionary messages in their names."
Alt News has observed that the rumour-mongering of 'gangs on a prowl' and the child-kidnapping rumours have a behaviour that is not consistent with the usual circulation of a viral hoax. We have usually observed that when a hoax goes viral, the central text blurb that is circulated along with a video, an image or as a standalone text doesn't usually change. Many of those who circulate a viral piece of misinformation add their opinion as a suffix or prefix, but the central text is usually not modified. In the specific case of these 'gang' rumours documented in this article, the changing names of places and police stations suggests that there's constant human intervention in this process as the messages keep altering based on the state/locality it is being circulated in. If the rumour is aimed at Rajasthan, it is claimed that the message is circulated by the Rajasthan police to alert citizen of attackers on a prowl. Similarly, if the rumour is aimed at Gujarat, the message suggests Gujarat police has made the announcement. Alt News had earlier observed this pattern in the "child-abduction" rumours. A video made for awareness purposes for Pakistani audience was used in India with altered narratives to fan rumours about children being lifted by kidnappers.
However, what's even more worrisome is the targeting of a particular ethnic group which not only fuels anti-Rohingya sentiments but also puts members of the Muslim community at risk. As witnessed in the past, innocents have lost lives due to irresponsible sharing of Whatsapp forwards thus, readers are advised to refrain from circulating such messages if received.