India Today has responded to reports that one of its editors' contract was terminated allegedly after she refused to delete a tweet. Angshukanta Chakravorty, Editor with DailyO was allegedly asked to put in her papers by the India Today group after she had tweeted on the need for legal action and social boycott against those news promoters who turn a blind eye in the face of violation of journalistic ethics and norms. Chakravorty says that she had tweeted in her personal capacity and had not targeted any journalist or media organisation.
Promoters turning a blind eye to hate-mongering, fake news spreading news anchors, editors, reporters and writers, or hiring them in the first place, must be tried in courts as hate speech enablers-profiteers. Must be boycotted socially by secular politicians & Industrialists.

— Angiography (@angshukanta) February 4, 2018
In its defence, Prerna Kaul Mishra, Social Media Editor, India Today told The Wire:
Angshukanta Chakravorty's services were terminated due to breach of editorial conduct. The India Today Group prides itself in being the gold standard of credible journalism. Our Code of Conduct is sacrosanct across all our mediums, including social media. Actions contrary to our editorial ethos have no place in our organization.
India Today claims to represent the gold standard of credible journalism with a code of conduct that is sacrosanct across all our mediums, including social media. In this article, Alt News has reproduced instances where this gold standard was openly flouted by senior anchors and correspondents.
1. Rumour mongering over Paresh Mesta's death
Paresh Mesta's body was found floating on a lake in Uttara Kanada district in Karnataka in January 2018. India Today reported on the story claiming that Mesta had been brutally tortured, with his 'head cut open', 'castrated' and 'boiling oil poured over face'.
However, a document from the Department of Forensic Medicine which was released by Karnataka police categorically stated that there were no signs of castration and mutilation, and that no boiling oil had been poured on his face. India Today conducted a prime time debate on a piece of information which was absolutely and maliciously false. After Alt News pointed out that the information is fake, the story was quietly pulled down by India Today.
2. Mail Today editor spreads fake news on Kasganj violence
After violence in Kasganj, U.P on Republic Day led to the killing of Chandan Gupta, reports began to spread that apart from Gupta, another youth, Rahul Upadhyay had been killed due to the violence after he succumbed to his injuries in a hospital. Among those at the forefront of spreading this information was Abhijit Majumder, managing editor of Mail Today whose tweet was retweeted more than 1,700 times.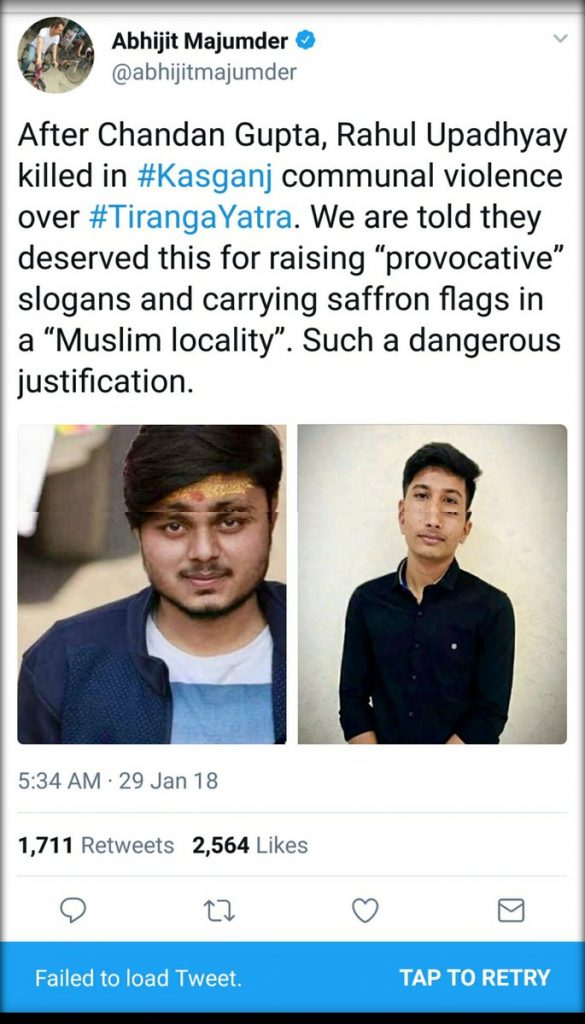 It turned out that the 'deceased' person, Rahul Upadhyay was alive. He was not even at the scene of the violence on the said day. Majumder later issued a clarification and deleted his tweet but not before indulging in a fresh dose of whataboutery.
3. Cow only animal to inhale and exhale oxygen
Sweta Singh, senior anchor with Aaj Tak said that cow is the only animal which both inhales and exhales oxygen. She also listed numerous other benefits- cow milk protects from radioactive radiation, stroking a cow's back for 15-20 minutes daily can cure blood pressure etc.
It is a universally known and acknowledged fact that aerobic creatures such as the cow inhale oxygen and exhale carbon dioxide. That such a basic scientific fact was overlooked by the channel in its reportage is shocking, at the very least.
4. 2-year old video used to report Pakistani mortar fire
'Pak stands exposed'. 'Pak army fires mortar'. 'Pak Army targets civilians. Here's the proof'. These were the titles used by India Today when it reported on January 22 that Indian civilians in Jammu & Kashmir had been targeted by Pakistani mortar fire along the Line of Control and the International Border. India Today gave much prominence to this story which was fronted by Gaurav Sawant.
Coward Pakistan targets Indian civilians: Time for another surgical strike?
Watch #IndiaFirst with @gauravcsawanthttps://t.co/6xsMnBK0QFpic.twitter.com/y8z0TX6hNb

— India Today (@IndiaToday) January 23, 2018
The video in question turned out to be two years old. It was uploaded in February 2016 and was a clip of the Pakistani army firing mortars in North Waziristan as part of its 'Zarb-e-azb' operation. Despite this, India Today broadcast the video as a 'border ground report' by its correspondent. The Alt News report can be accessed here. The video and the report have not been removed to date.
5. Dawood Ibrahim's property seized in UAE
"UAE ke baad ab Britain mein bhi zabt hogi Dawood ki sampati, Modi sarkar active" (After UAE, Britain too will seize Dawood's property. Modi Govt active), said a tweet by Aaj Tak in May 2017. According to Aaj Tak, underworld don Dawood Ibrahim's properties were raided and sealed in a crackdown by the UAE Govt in January as a result of PM Modi's effective diplomacy, and that Britain too was considering such a move due to the proactiveness of the Indian Govt.
UAE के बाद ब्रिटेन में भी जब्त होगी दाऊद की संपत्ति, मोदी सरकार एक्टिवhttps://t.co/T5IcHWU18dpic.twitter.com/3BpLaxOamP

— आज तक (@aajtak) May 4, 2017
Overzealous sections of the media had gone overboard with this report, which had no grain of truth in it. The UAE ambassador to India had clarified that no such raids had taken place. Despite this report being debunked in January itself, Aaj Tak in its tweet of May 2017 reiterated a falsehood.
6. Major who tied civilian to jeep in J&K given clean chit
India Today reported in May 2017 that Major Nitin Gogoi, who was in the news after he had used a Kashmiri citizen as a human shield during polling in J&K had been given a clean chit by the Army. According to India Today, 'sources' had informed the channel that a Court of Inquiry (CoI) conducted by the Army had concluded that Major Gogoi through his presence of mind and acumen had saved many lives.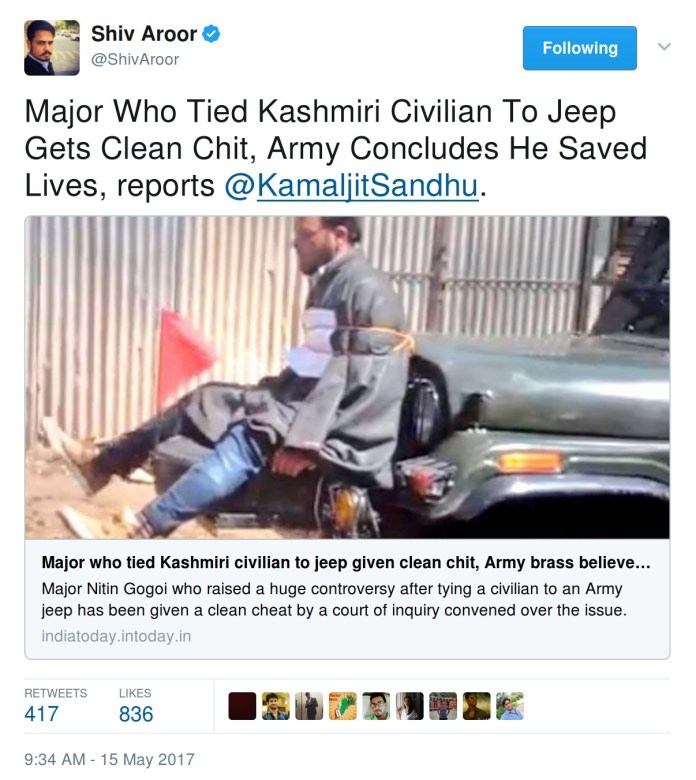 India Today's claim was refuted by none other than the Army itself, which said that the "journalist be advised to corroborate factual information from official sources when reporting on sensitive military issues and this news report may, therefore, accordingly be corrected". India Today reported the army's denial but the reporter stuck to her story. It is to be noted here that India Today had put out this report when the final inquiry was still pending.
7. Lalu Prasad acquitted in fodder scam
All hell broke loose when reports emerged that RJD chief and former Bihar CM Lalu Prasad had been acquitted by a CBI Court in the fodder scam. India Today and Aaj Tak were among the channels which reported this news in December 2017.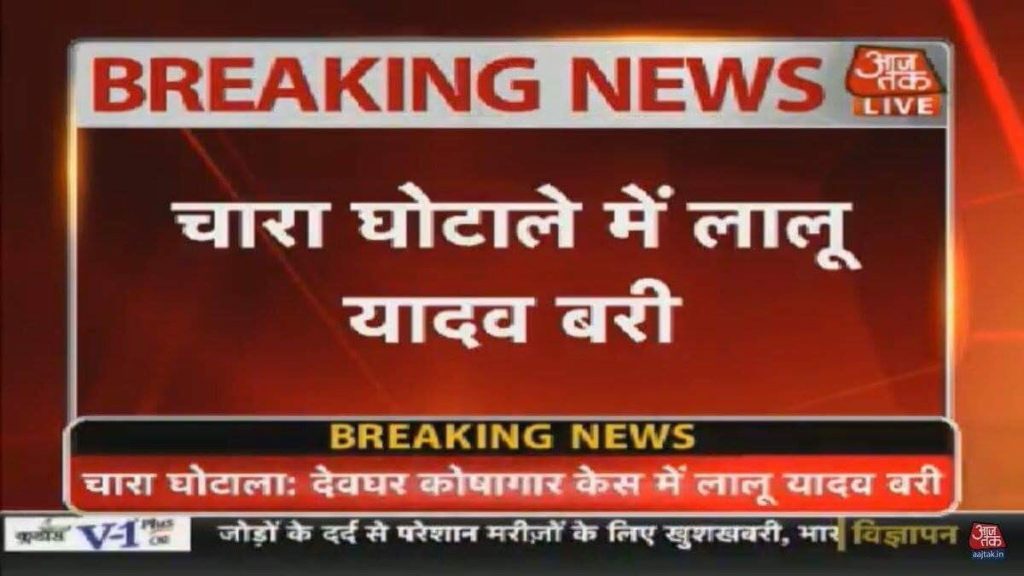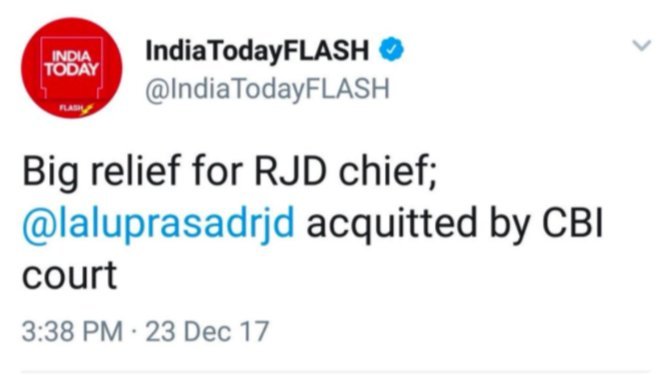 Red-faced television channels and anchors were compelled to retract when it emerged that Lalu Prasad had not been acquitted but rather convicted in the scam. In their rush to break news, India Today and Aaj Tak too got it wrong.
8. Fatwa that was declared fake by DailyO was news on Aaj Tak
In April 2017, Aaj Tak through its Facebook page posted 'news' about a 'recent' fatwa that was issued in Saudi Arabia which apparently stated that "men can eat their wives if hungry".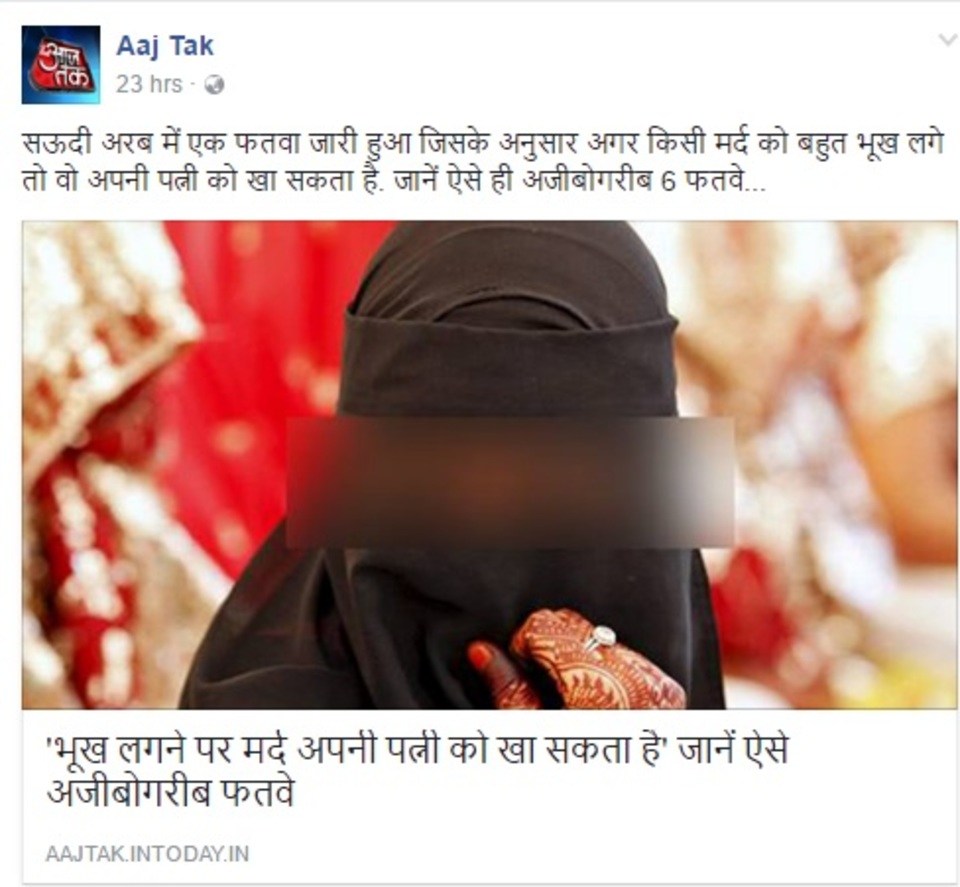 This report turned out to be fake. Ironically it was busted by none other than DailyO which also belongs to the India Today group, way back in October 2015. DailyO also stated that the 'news' first appeared in a sarcastic column written by a satirist Moroccan blogger. Despite this, Aaj Tak ran a one and a half year old rumour as news.
9. Indian Army retaliates, destroys Pakistani posts on LoC
On May 1st, as reported by several Indian media outlets, Pakistan killed and mutilated two security personnel along the Line of Control (LoC) in Poonch district of J&K. Soon after, news channels reported that Indian Army had destroyed 2 Pakistani posts and killed 7-10 Pakistani soldiers in retaliation. Aaj Tak's report claimed that two posts, 'Kirpan' and 'Pimple' had been destroyed in retaliation.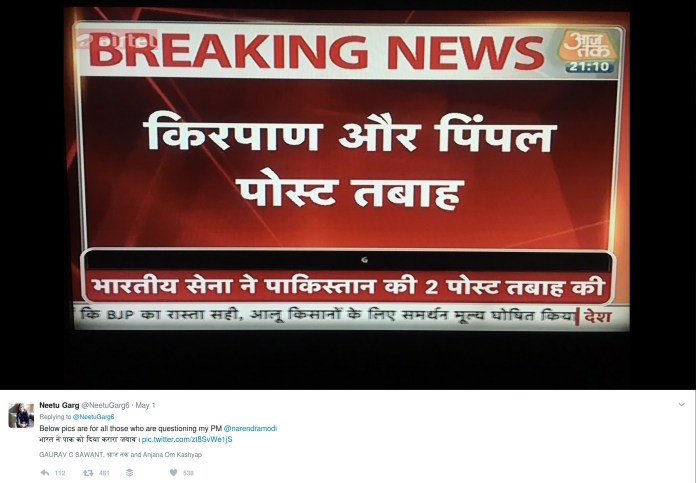 It turned out that Kirpan was actually an Indian post and the news of an immediate retaliation by the Indian army was fake. TV channels had gone overboard without seeking an official confirmation from the army. An army spokesperson had confirmed to Hindustan Times that "There was no retaliation whatsoever by us in the KG sector on Monday night. They (TV channels) go ballistic without asking us anything. We will retaliate and when we do, we will come out with an official statement." You can read more about how this chest-thumping fake news unfolded here.
10. Design of 'new' 1000 rupee notes
After unconfirmed reports quoting senior Govt officials emerged that the Govt was considering releasing new currency notes in the denomination of 1000, India Today shared a picture of a 1000 rupee currency note and asked 'Is this the new look?'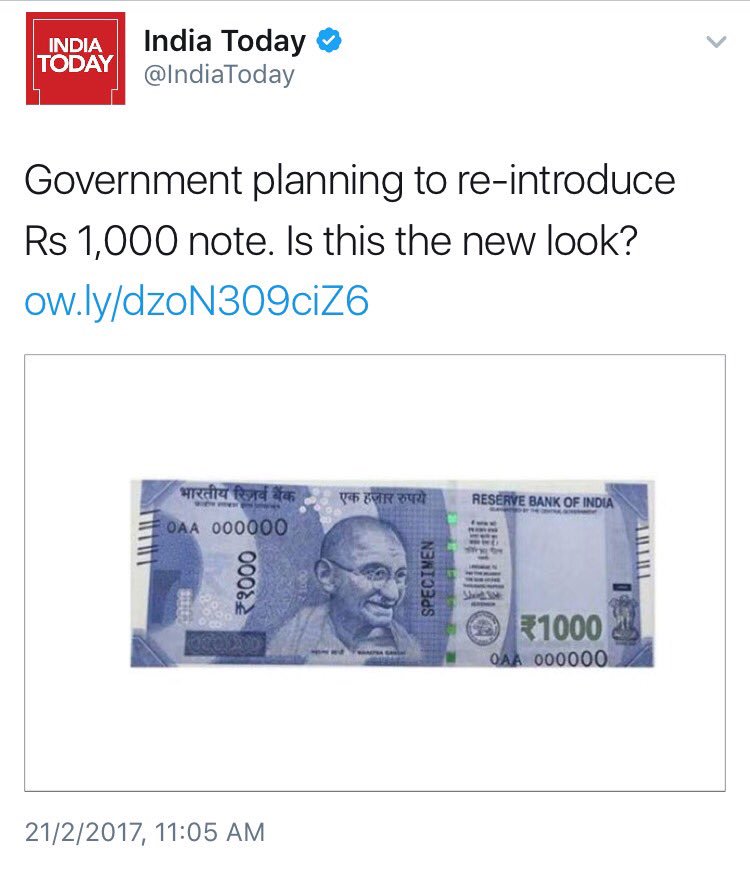 There was no substance to the report, as Das had said that the Govt was focusing on printing Rs.500 notes and there were no plans to introduce 1000 rupee notes. However, the damage had been done as the report was widely circulated and resulted in much speculation.
India Today's statement refuting Chakravorty's allegations is laced with platitudes. There are however multiple instances in the public domain which lay bare the media group's penchant for overlooking basic journalistic norms and ethics in reportage. The sacking of its editor allegedly over a tweet which raised questions of media propriety stands in stark contrast to the lenience shown by the media group towards anchors and reporters who on numerous occasions have reported news which is dubious in authenticity.
Donate to Alt News!
Independent journalism that speaks truth to power and is free of corporate and political control is possible only when people start contributing towards the same. Please consider donating towards this endeavour to fight fake news and misinformation.