On 8th of March 2019, four IIT-Delhi entrepreneurs launched a product 'Sanfe Period Pain Relief Roll-On' that claimed to help women with menstrual pain. The start-up group who launched the product consists of two textile engineering students (Archit Agarwal & Harry Sehrawat ), a faculty of economics (Dr Seema Sharma), and a professor in the department of design (Prof Srinivasan Venkataraman) at IIT-Delhi.
As reported by the Times of India on the 11th of March, the Tech student Archit Agarwal stated that 24-hour long research for almost seven months was required to finalise a composition that helped them acquire the FDA approval.
Several news outlets such as Indian Express, NDTV, Times of India, The Economic Times, India Today, DNA India, reported as per the Official IIT Delhi website release.
Claims:
As per the archived version of the Sanfe article, reportage by major news outlets as listed above, and during a phone conversation with Sanfe co-founder Archit Agarwal, it was collectively claimed that:
It has received 'FDA approval claiming no side-effects'
It has received an 'AYUSH ministry certificate of safety' instead
It is developed, medically tested in collaboration with AIIMS Delhi
Fact Check:
The claim of FDA approval
The Food and Drug Administration (FDA), USA, examines and approves a broad range of treatments for medical use including drugs and medical equipment. Although, FDA can approve drugs from international manufacturers, it is to ensure the safety of such products for Americans.
FDA approval of treatments is public information. After checking with two online databases here, (Drugs@FDA and Orange Book), it was found that Sanfe was not approved by the FDA.
A cross-check via email to the Division of Drug Information in the FDA's Center for Drug Evaluation and Research ([email protected]). The FDA CDER confirmed that 'Sanfe Period Pain Relief Roll-On' is not a U.S. FDA approved drug product (see screenshot of email response below).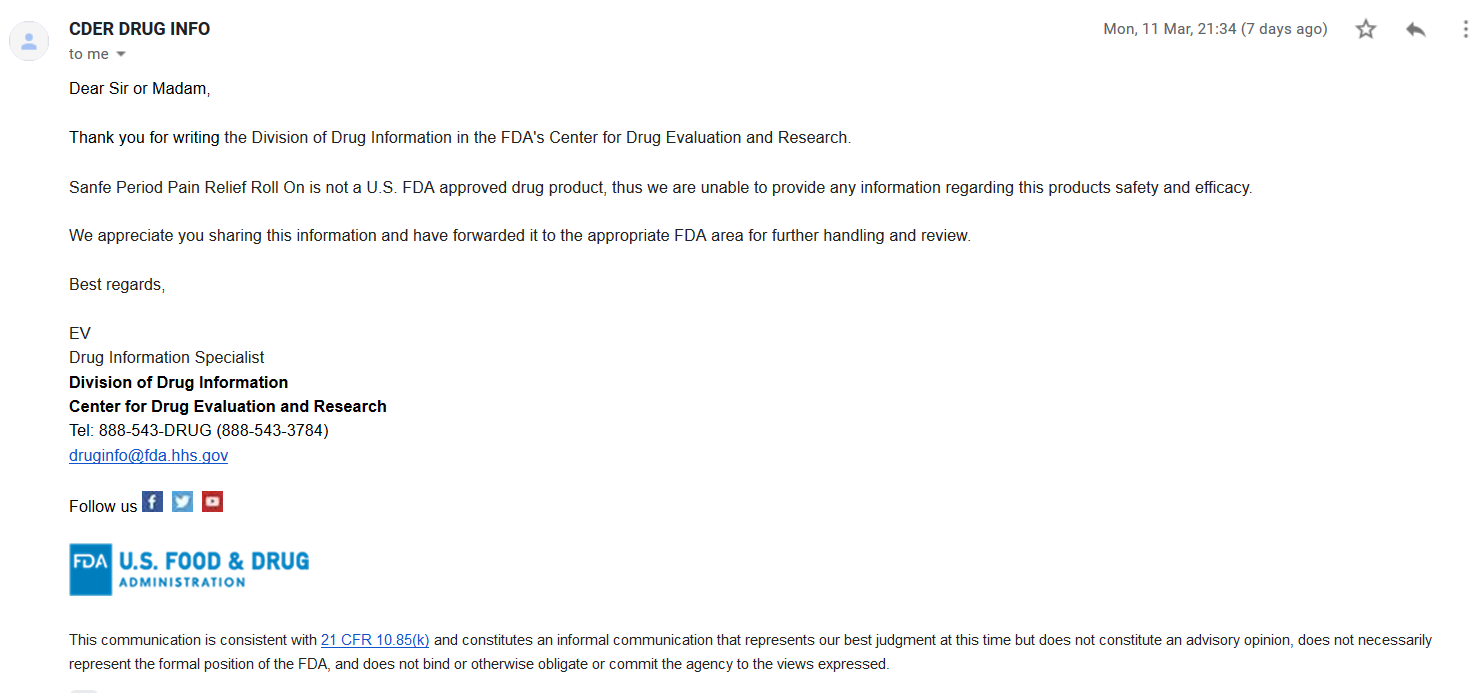 When we established our 1st phone contact with Archit Agarwal, the co-founder of Sanfe, he confirmed that Sanfe doesn't have the American FDA approval, but actually acquired the approval from FDA, Haryana.
During our 2nd phone contact, also with Archit Agarwal, he suggested they hadn't acquired any FDA approval but instead had a safety certificate from the AYUSH ministry, Haryana by the manufacturers called Space Organics, Haryana.
Upon confronting the reason behind their misleading adverts of FDA approval, he elaborated that the AYUSH certificate was 'FDA like' and hence was advertised that way.
2. The claim of AYUSH ministry safety certificate
During our 2nd phone contact with Archit Agarwal, he claimed that an AYUSH ministry certificate was acquired by the manufacturer Space Organics, Haryana, to determine the safety of the Sanfe roll-on.
Thereafter, we contacted the owner of Space Organics Mr Bhupender Nagpal. He stated that his company manufactured Ayurvedic treatments in collaboration with a sister company called Space Life Sciences, led by his son. Mr. Nagpal clarified that neither the FDA approval nor the AYUSH ministry approval exists for the 'Sanfe roll-on'.
3. The claim of clinically tested in collaboration with AIIMS Delhi
The previous version (archived here) of the Sanfe website, also claimed that it was tested in 79 people in conjunction with AIIMS, Delhi. The owner of Space Organics Mr Bhupender Nagpal who manufactured Sanfe roll-on clarified that no 'clinical' or 'medical' testing was conducted as a part of safety and toxicity tests. The reason given was that it wasn't cost-effective for a business to test a product in the market that has a lower purchase value per product in comparison to the cost of the clinical testing.
Research databases such as PUBMED also provided no studies referring to the specific Sanfe product.
Conclusions
All the claims listed above, i.e. FDA approval, AYUSH ministry safety certificate as well as clinical testing in collaboration with AIIMS, Delhi were not substantiated by the Sanfe founders.
Fact-checks from FDA and the Sanfe manufacturers called Space organics also confirmed that the treatment had no official approvals or any ongoing clinical testing.
After our phone calls to Sanfe, the information about FDA approval and clinical testing in AIIMS promptly deleted at official IIT-Delhi website but can be compared with the archived version available here.
However, major media outlets had reported that Sanfe was released after an FDA approval and none of those articles had been retracted. Archit Agarwal, the Sanfe founder also stated that the FDA claim was a 'mistake' and they have published a corrigendum in major newspapers but no such corrigendum have been published so far.
The infographics on Sanfe have also been changed to remove the 'mistakenly' added FDA approval.
These claims collectively made by members of leading government institutions such as IIT-Delhi is grossly misleading to include tags such as FDA, AYUSH and AIIMS to market the product as a private company.
Finally, major leading news outlets reproduced the press release without any cross-verification and added significantly to spreading the misleading, deceitful marketing for the Sanfe brand.
Donate to Alt News!
Independent journalism that speaks truth to power and is free of corporate and political control is possible only when people start contributing towards the same. Please consider donating towards this endeavour to fight fake news and misinformation.