A video of a man surrendering at a metro station is making the rounds on social media. Surrounding him are armed soldiers with guns. It has been claimed that army personnel thwarted a terrorist attack at a metro station in Faridabad, managing to nab a terrorist.
Tweeting the video, a user named Yamuna Shankar Pandey wrote, "Today, a huge terrorist attack at the Bata Metro station in Faridabad was foiled by our army brothers. I'm sure the arrested terrorist must be an Islamist." (Archive link)
फरीदाबाद में बाटा मेट्रो स्टेशन पर आज एक बहुत बड़े आतंकी हमले को अपने फौजी भाइयों ने नाकाम कर उस आतंकी को गिरफ्तार किया,देखना ये भी इस्लामिस्ट ही होगा स्योर है ।
जयहिन्द, #जयहिन्दकीसेना pic.twitter.com/PI8y24JQlI

— यमुनाशंकर पाण्डेय ( एलएलएम, पीएचडी )क्रिमनोलॉजी (@YSPanday1) June 25, 2022
Another user shared the video adding that a terrorist was caught on the Delhi Faridabad Metro's Violet Line. (Archive link)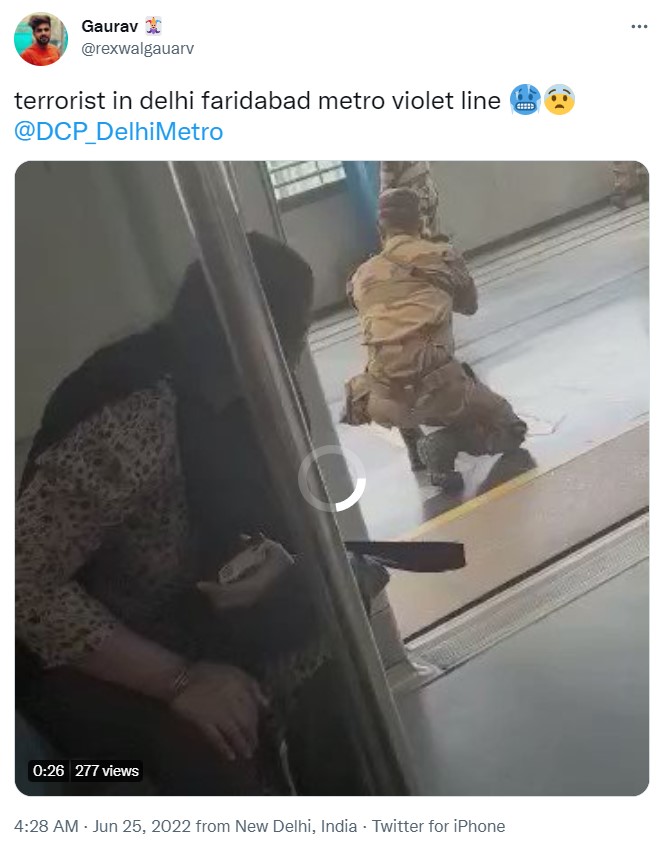 Facebook page 24 network also shared the video as a genuine incident.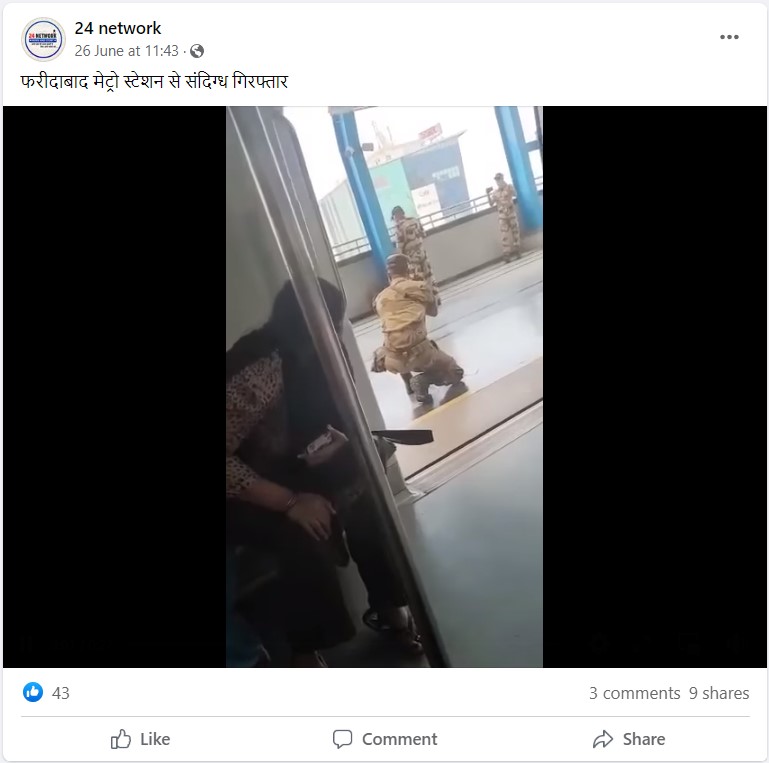 Several users amplified the claim on Facebook and Twitter.
Fact-check
We noticed that a few users commented under the viral video pointing out that this was actually a mock drill. We then performed a keyword search on Twitter using this information and came across a statement posted by the official handle of the Faridabad Police. Refuting the viral claim, the police said that this was actually a video of a CISF mock drill exercise being circulated with a misleading claim. Following the statement, users who had promoted the claim began deleting their tweets.
यह वीडियो, सीआईएसफ द्वारा की गई मॉक ड्रिल का हिस्सा है। सच्चाई जाने ,अफवाह ना फैलाएं।#नीम_हकीम खतरा-ए-जान https://t.co/FeQvqg5LI9

— People's Police – Faridabad Police (@FBDPolice) June 26, 2022
As per the viral claim, the incident occurred at Faridabad's 'Bata' Metro Station. The video also features a building in front of the station. To verify the location, we compared photos of the 'Bata Chowk' Station on Google Maps, but could not find any resemblance between these and scenes from the video.
Next, Alt News examined images of the stations preceding and following Bata Chowk on the Violet Line of the Delhi Metro on Google Maps. This led us to one image from 2017 of the NHPC Chowk Metro Station. This matched a frame taken from the viral video.
To find higher resolution images of the building in the background, we began searching for photos of the surrounding locations on Google Maps. We came across a higher-quality photo from Ekta Nagar in Faridabad, Haryana. This had been uploaded by a user four days prior to the time of writing. A side-by-side comparison with a frame from the viral video is given below.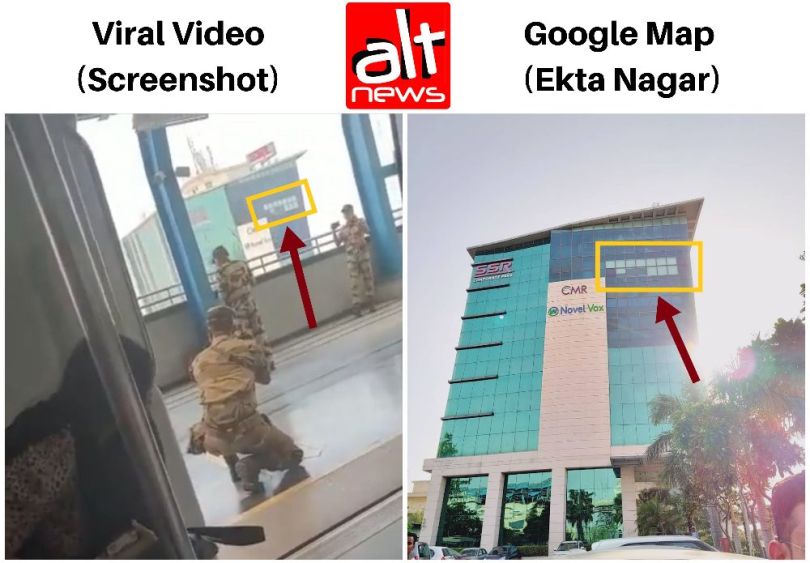 Using a keyword search on Twitter, we found a tweet posted by the fact-checking wing of the Press Information Bureau (PIB). It confirmed that the video was a mock drill conducted by the CISF and the viral claim was false.
A video is #viral on social media claiming that a terrorist has been caught at a Delhi metro station and people must avoid travelling in metro.#PIBFactCheck

▶️This claim is false.

▶️It is a video of mock-drill conducted by @CISFHQrs @OfficialDMRC pic.twitter.com/9WGgrLDjRq

— PIB Fact Check (@PIBFactCheck) June 27, 2022
To sum it up, footage of a CISF mock drill exercise was falsely circulated on social media as a terrorist being caught in Faridabad.
Donate to Alt News!
Independent journalism that speaks truth to power and is free of corporate and political control is possible only when people start contributing towards the same. Please consider donating towards this endeavour to fight fake news and misinformation.