In an April 5 broadcast, News18 India reported that Prime Minister Narendra Modi's appeal to switch off lights and ignite diyas received support from across the world. Apart from SAARC countries, Japan, Australia and several other nations, also participated in the feat – the channel asserted as 'breaking news'.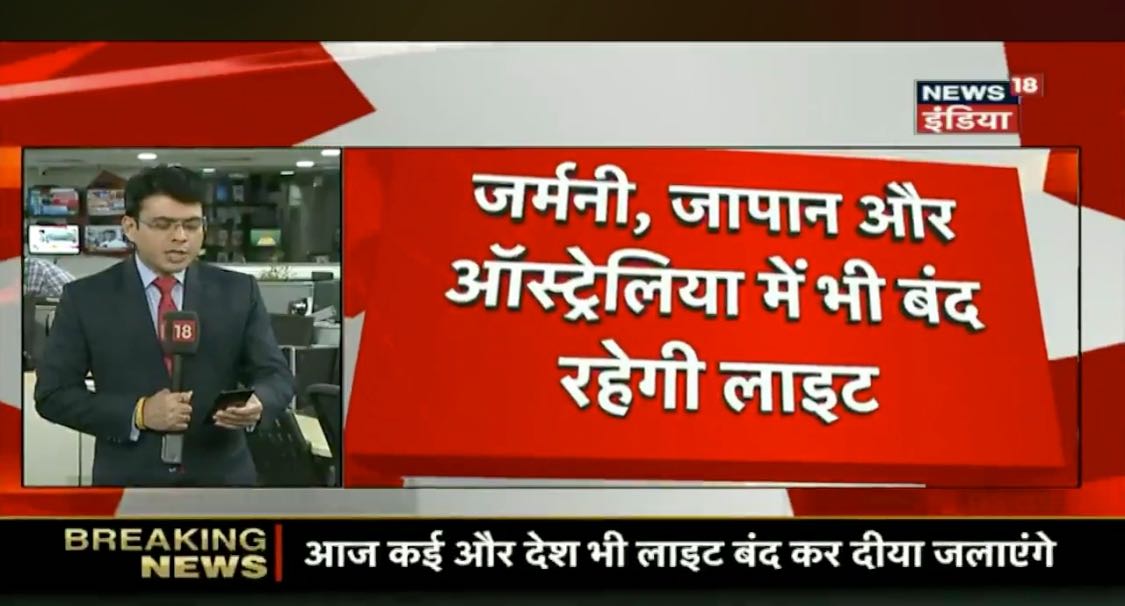 PM Modi had appealed that every citizen lights a diya, candle or a torch at 9 pm on April 5 for nine minutes to 'dispel' the darkness caused by the coronavirus pandemic. While his request was met with resounding support within the country (with many partaking in mini-Diwali celebrations), News18 India declared that the activity was a global success.
#BREAKING– PM मोदी की 9 बजे 9 मिनट के लिए लाइट बंद करने की अपील, दुनिया के कई देश आए PM के समर्थन में@PrashantChurhe pic.twitter.com/hAVtlacUTh

— News18 India (@News18India) April 5, 2020
MISREPORT
News18 India's claim that countries across the world joined India in switching off lights and lighting candles is a gross misinterpretation of the actual news. Zee Media – Zee News and WION – had reported that they had reached out to foreign missions of SAARC countries and non-South Asian regions as well, who expressed solidarity for PM Modi's appeal. A foreign mission is a diplomat who represents the interests of a country abroad.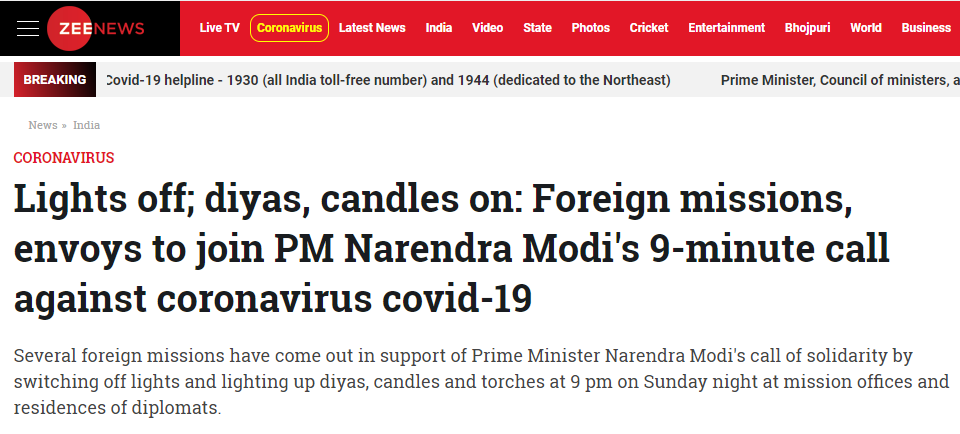 Foreign missions of namely Afghanistan, Nepal, Bhutan, Bangladesh, Maldives, Vietnam, Japan, Australia, Israel, German, Tunisia and Mexico told Zee Media that they would participate in the activity. "Several foreign missions have come out in support of Prime Minister Narendra Modi's call of solidarity by switching off lights and lighting up diyas, candles and torches at 9 pm on Sunday night at mission offices and residences of diplomats," reported Zee News.
Below is a tweet by Chinese Ambassador to India Sun Weidong.
Light a Diya to stand in solidarity with people of #India in the fight against #COVID19. Pay tribute to all medical workers. At this difficult time, #Chinese & Indian people are standing together through thick & thin. Wish India an early victory against the epidemic. #9pm9minute pic.twitter.com/2h9pp7O21d

— Sun Weidong (@China_Amb_India) April 5, 2020
Nepal's envoy Nilamber Acharya told WION, "We, Nepal and India, are all in full solidarity in this fight against COVID-19 pandemic."
Furthermore, Afghan Envoy Tahir Qadiry also confirmed his participation to Zee News: "I will be switching off lights and lighting a candle at 9 pm tonight for 9 minutes to support Prime Minister Narendra Modi's call to showcase our solidarity and our concerted efforts in a battle against the coronavirus pandemic."
News18 India's sister channel CNN News18 also misreports
CNN News18, which is the English sister channel of News18 India, also claimed that SAARC countries, barring Pakistan, and other friendly countries like Israel and Japan participated in the effort led by PM Modi. Ironically, while the broadcast was a misreport, the tweet put out by the channel rightly mentioned "many other missions".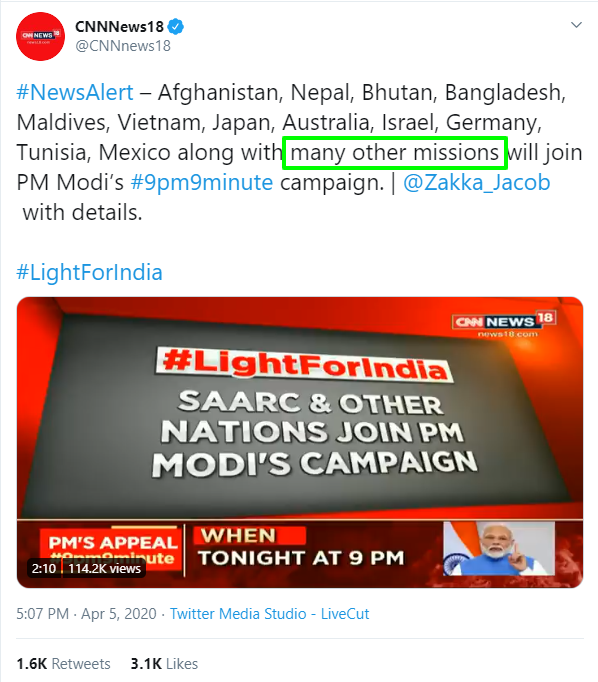 To reiterate, nations across the world did not join India in the switching off lights and igniting candles on April 5 but foreign mission took part in the activity. This means that diplomats and ambassadors of different countries to India participated at mission offices and residences as a friendly gesture to show solidarity with India.
Update: News18's clarification
During its 4 pm bulletin on April 6, New18 India carried a clarification stating that the channel erroneously referred to embassies as countries. The relevant section of the broadcast can be watched below.
[This report was updated on April 13, 2020 with News18's clarification.]
Donate to Alt News!
Independent journalism that speaks truth to power and is free of corporate and political control is possible only when people start contributing towards the same. Please consider donating towards this endeavour to fight fake news and misinformation.