On May 3, a Facebook page Wise Indian Tongue – WIT shared a post claiming that Shabana Azmi said the following words, "इस बार भी अगर नरेंद्र मोदी जीत कर प्रधानमंत्री बन गए तो मैं देश छोड़ दूंगी !!! -शबाना आजमी !! (I will leave the country if Narendra Modi wins and again become the Prime Minister!!! – Shabana Azmi!!)" The post drew over 2,000 likes and 800 shares.
Apart from Facebook groups and pages, this post was also shared by multiple individual users. The alleged statement made by Azmi was posted by one Shashank Gupta on the group DR. SAMBIT PATRA FANS CLUB on May 4.
Since May 10, the purported quote was being shared in the form of a meme with the images of Azmi and Bollywood actor Shahrukh Khan. Bharat Vikas – भारत विकास , a page that made over 2 lakh followers, was among the page that shared the post. I Support PM shared the statement with this caption – "शबाना आझमी की तरह शाहरुख भी 23 मई के बाद शायद देश छोड़ चले जाएंगे! (Like Shabana Azmi, Shahrukh Khan will also leave the country on May 23.)" This page has more than 16 lakh followers and the post was shared over 5,000 times and had more than 7,000 likes. The comments on the post make it evident that the claim was believed to be true by social media users.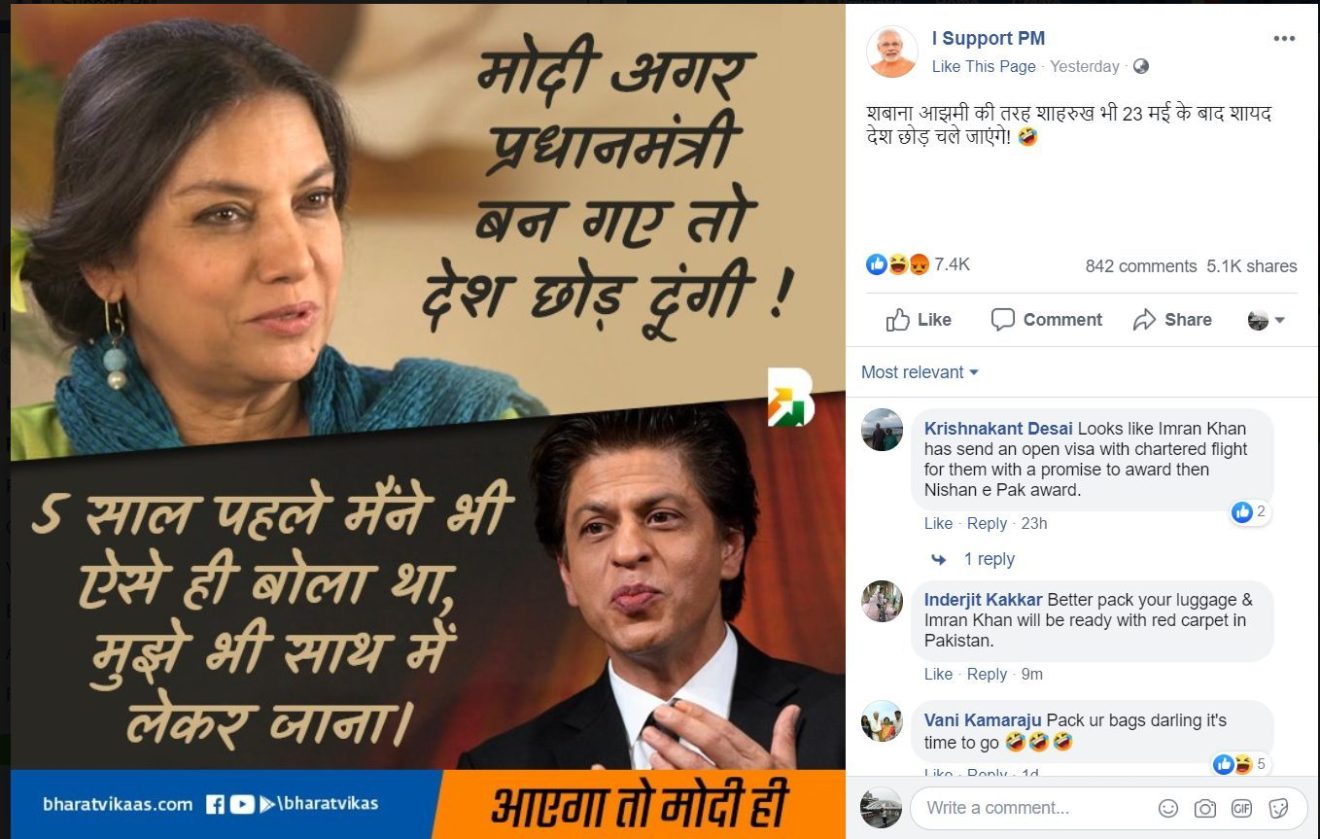 Fake quote
As claimed by I Support PM, Khan had made a statement similar to Azmi five years ago. Alt News had earlier fact-checked the quote ascribed to Khan and found that it was false and manufactured by a parody account @jamsrk. The post now stands deleted. Khan's Twitter handle is @imsrk. After the fake statement was viral, the actor took to Twitter and clarified that he never made any such statement. Khan had posted the clarification on May 19, 2014.
Good time to tell all fools who r talking of a tweet that I didn't tweet, u suck as much as the grammar of that fake tweet & I'm being kind.

— Shah Rukh Khan (@iamsrk) May 18, 2014
The same quote ascribed to Azmi could not be located on any news reports. Alt News contacted the actor who said, "This is pure fabrication. I have no intentions of leaving the country. This is where I was born and this is where I will die. I have nothing but contempt for the fake news brigade. Their desperation to try and discredit those who hold a view different from their's is both vicious and laughable. I have never made this statement attributed to me."
This wasn't an isolated incident when the actor was targetted using a fake quote. Earlier, we had found a false statement ascribed to her, according to which she'd said, "भारत अच्छा और महान देश नहीं है क्यूंकि यहाँ मुसलमान खुश नहीं है। (India is not a good or a great nation because Muslims are unhappy here.)"
THIS IS PURE LIES being circulated in my name . Santosh Bhartiya agar aapki sahi identity hai tto prove kariye ye maine kahah kaha hai. Jhoot ki buniyaad par apni dukaan chalaane wale sharm karo !!! pic.twitter.com/g6KB3o4Tcb

— Azmi Shabana (@AzmiShabana) July 13, 2018
Donate to Alt News!
Independent journalism that speaks truth to power and is free of corporate and political control is possible only when people start contributing towards the same. Please consider donating towards this endeavour to fight fake news and misinformation.To make an instant donation, click on the "Donate Now" button above. For information regarding donation via Bank Transfer/Cheque/DD, click here.