[Warning: Visuals may be distressing for some. Reader discretion is advised.]
A viral video of a person, seemingly a protester, throwing an object into the distance and then within a few seconds of that suffering a casualty which appears to be from an Improvised Explosive Device (IED) he was most likely carrying, is widely circulating on social media. It is being claimed that the injured individual seen in the video was a "stone-pelter" who was shot down by soldiers in Jammu and Kashmir.
Twitter user @pawankharb1881 shared this video with the claim in Hindi. (Archived link)
जम्मू कश्मीर का बताया जा रहा है वीडियो
(इमरान गांधी )नाम के पत्थरबाज ने फौजी साहब को पत्थर मारा, फौजी साहब ने तुरंत पत्थर का जवाब गोली से दिया.
ऐसा लगा जैसे फैसला ऑन दा स्पोर्ट
वैसे हम समर्थन मे नही है बिलकुल भी पत्थर नही मारना चाहिए किसी को भी अरे भाई जान जा सकती है 🤔 pic.twitter.com/2gdYcLAOMk

— पवन चौधरी (@pawankharb1881) August 19, 2022
Users @dsrajpurohit291, @katarhinduAK47, @rclcpa4, and @RPDULAR were among the many users who tweeted this video.
This slideshow requires JavaScript.
This video has been shared widely circulating on Facebook as well.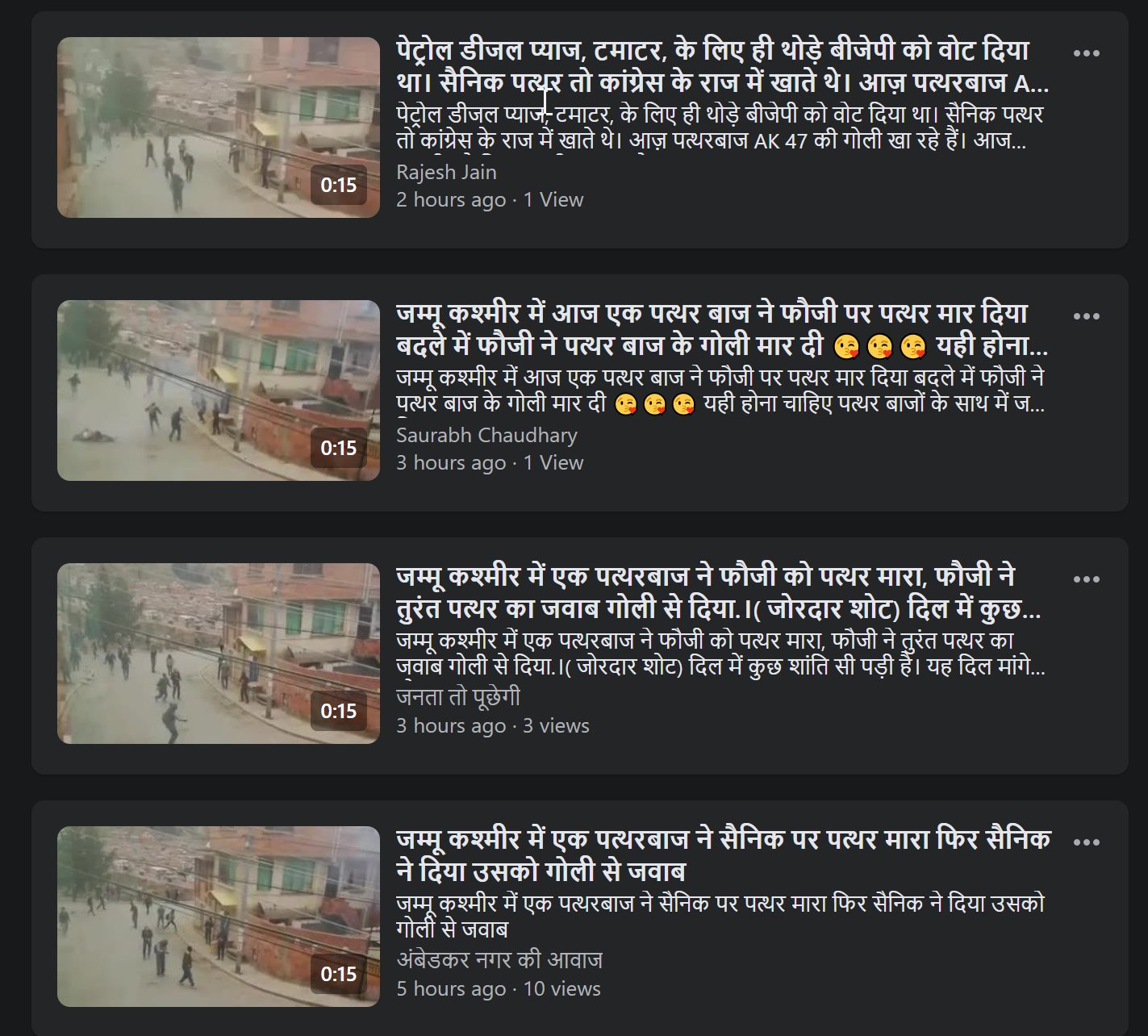 Fact-Check
Upon reverse image searching one of the stills from the video, we were led to a USA Crime report titled "Coca grower accidentally blows himself up with dynamite stick in Bolivia" which contains the viral video. The report was published on August 8, the readers can find an archived version of the report here.
According to the report, Plácido Cota, a coca farmer and brother to the leader of the Council of Women's Peasant Federations of Los Yungas, was seriously injured while handling a stick of dynamite during a confrontation with the police in Villa El Carmen. In the video, Cota is seen backing away after throwing an object and within seconds, a stick of dynamite explodes, leaving him with grave injuries. He was admitted to the operating room with a diagnosis of traumatic amputation of the left forearm and abdominal trauma.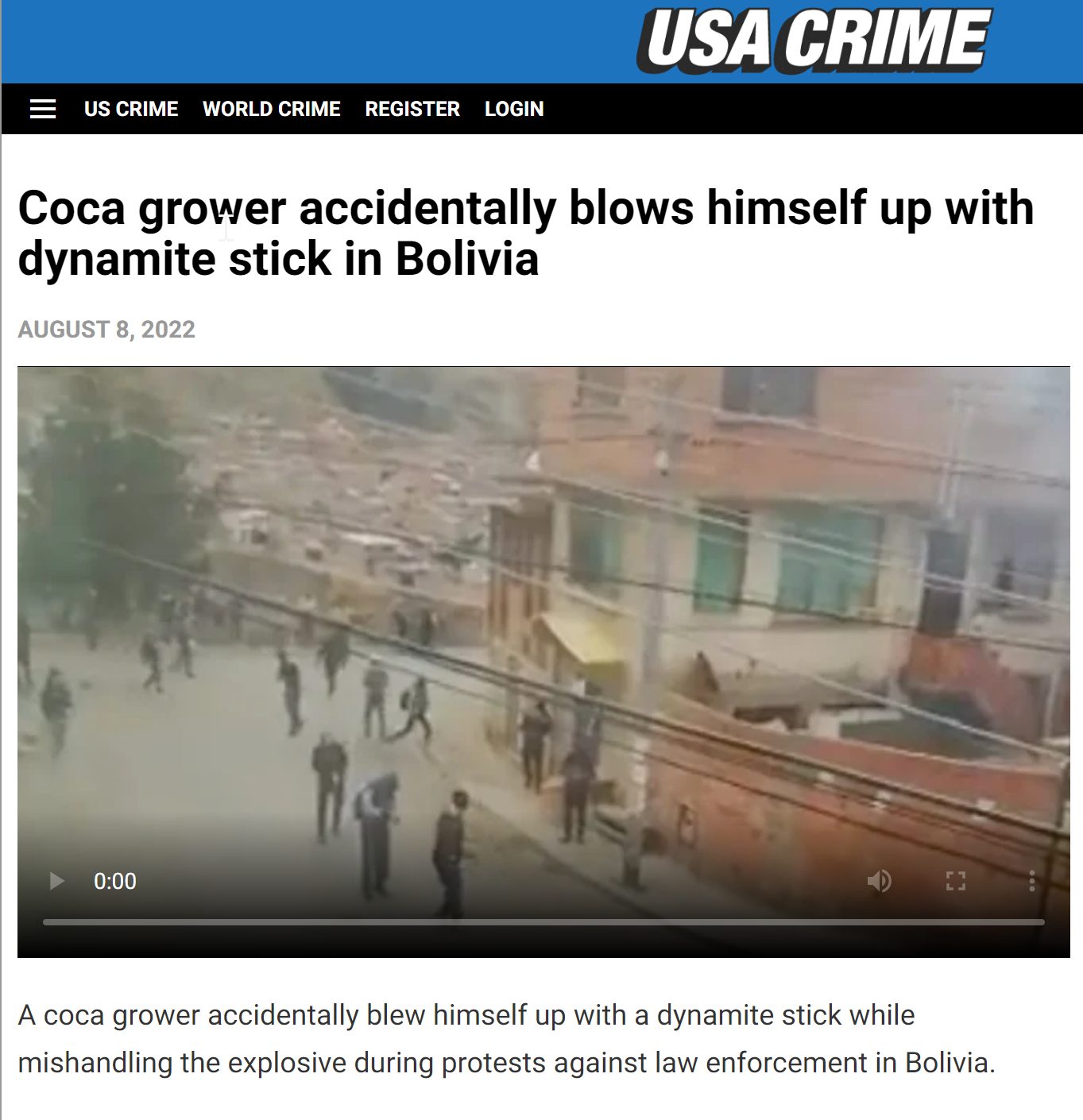 We then performed a search on YouTube using relevant keywords and found several reports by Bolivian media outlets on Plácido Cota's recovery. According to a video report from August 21, available on the YouTube channel, Noticias Bolivisión, Placido Cota has been showing improvement in his health. At the beginning of the TV news report, the viral video is played and Cota has been circled out.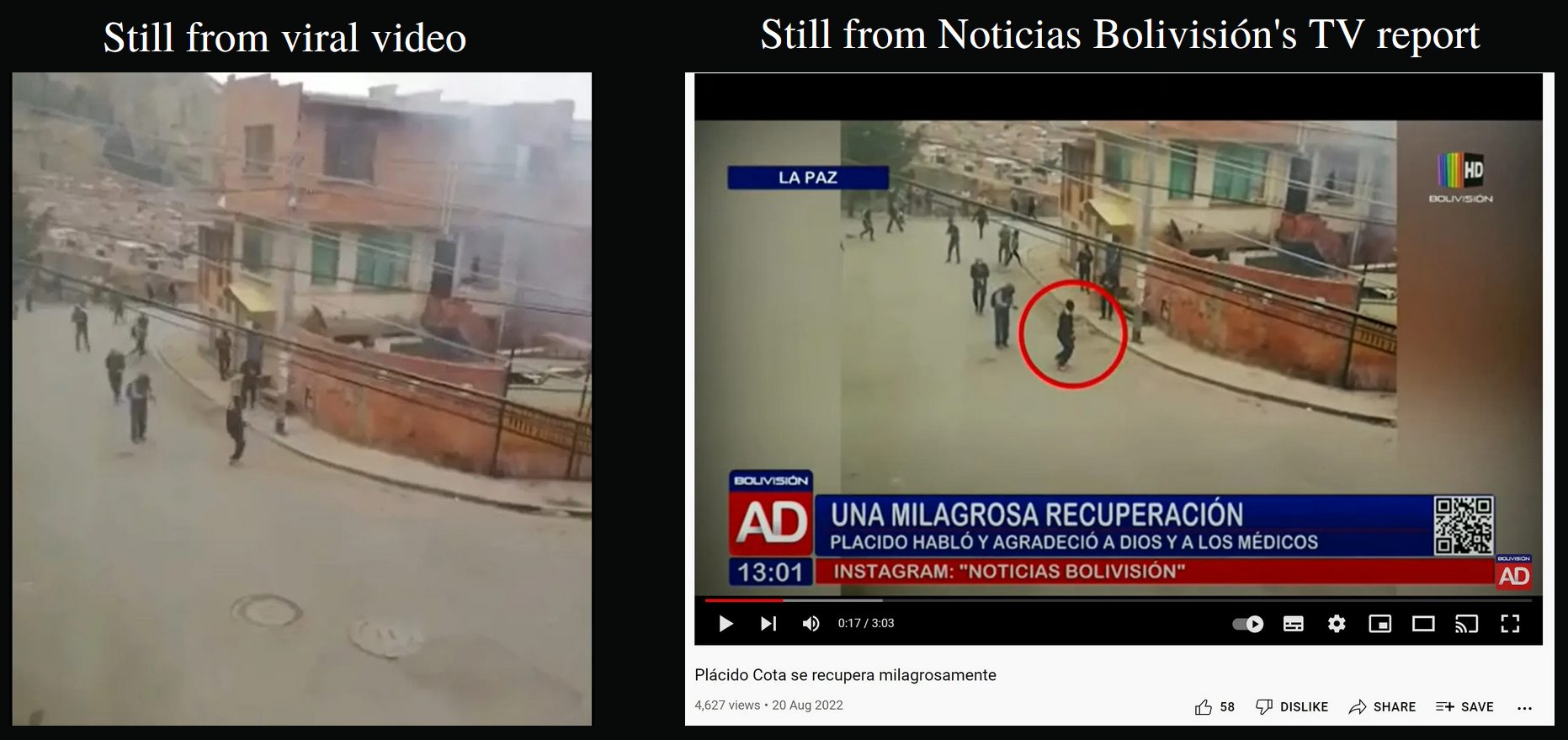 According to a report by TRT World, clashes between police and the Departmental Association of Coca Producers (ADEPCOCA) have continued in the Bolivian capital, where coca growers demand the closure of what they claim are new illegal coca markets. ADEPCOCA manages the main coca market in the capital and claims to be the only market authorised to trade coca leaves. In recent years, the organisation has been opposed to the former president and leader of the ruling MAS party Evo Morales, who heads another coca growers' union in the Chapare locality. As per a report by Spanish daily La Razón, Cota and his companions were guarding the Villa El Carmen coca market which is considered illegal by ADEPCOCA.
Hence, the video being circulated is not of a stone-pelter getting shot down by soldiers in Jammu and Kashmir, but a Bolivian coca farmer who got gravely injured in a dynamite explosion.
Donate to Alt News!
Independent journalism that speaks truth to power and is free of corporate and political control is possible only when people start contributing towards the same. Please consider donating towards this endeavour to fight fake news and misinformation.