Hamid Mir, a prominent Pakistani journalist and news anchor has shared a gruesome video of a Kashmiri being purportedly tortured in India. He tweeted, "Look at this torture in Kashmir and see who is making this torture?One can understand that why India is not ready for talks with Pakistan?Yes Pakistan will definitely ask about this torture." In the video, some people can be seen brutally thrashing a guy while holding him down. At the time of writing, Mir's tweet has been retweeted more than 9,600 times and 'liked' more than 13,000 times. Mir was taking a dig at the Indian government for cancelling dialogue with Islamabad. Ministry of External Affairs(MEA) cancelled the meeting between foreign minister Sushma Swaraj and her Pakistani counterpart Shah Mahmood Qureshi at the United Nations General Assembly in New York.
Look at this torture in Kashmir and see who is making this torture?One can understand that why India is not ready for talks with Pakistan?Yes Pakistan will definitely ask about this torture pic.twitter.com/C0nlj0MZP4

— Hamid Mir (@HamidMirPAK) September 21, 2018
Rabi Pirzada, a Pakistani singer retweeted this video. Paras Jahanzaib, a news anchor at Samaa TV had also tweeted the same video on Spetember 21, 2018.
Brutal torture by #IndianForces in #Kashmir. After watching this video Indian escape from Foreign Ministers meeting at #UNGA is justified as Indian FM @SushmaSwaraj wouldn't be able to face & answer Qs on such inhuman torture by #India. @SMQureshiPTI @ImranKhanPTI @UNHumanRights pic.twitter.com/AYdTyUcEXt

— Paras Jahanzaib (@Parasjahanzaib1) September 21, 2018
Neo TV, a Pakistani Urdu news channel broadcasted a clipping of the video claiming it is the Indian Army torturing a person during an interrogation. The anchor can be heard saying, "यह भारतीय फौजी सिर्फ पूछताछ कर रहे है | कोई केहता है ना टार्चर नहीं किया जाता |" (This Indian Army personnel are just interrogating. They say that they don't torture -translated)
A Facebook page named News From Kashmir had also posted the same video on July 5, 2018 with a similar claim. SMHoaxSlayer found a contradictory claim tweeted by Sher Mohammad Bugti, central spokesperson of Baloch Republican Party which claimed that this is a video of the Pakistani Army was torturing a Baloch student. Yet another Twitter user whose tweet was retweeted in excess of 500 times also claimed that the person being tortured is a student from Balochistan and that he's being tortured by the Pakistan army.
Please Have a glance: inhuman and degrading treatment of cruel #PakArmy physical torture of innocent #Baloch student. Plz, act trough, General Assembly resolution 39/46 of 10 December 1984. in accordance with article 27 (1) @unhcr @hrw @UN @UNHumanRights pic.twitter.com/d3bjyNAEf3

— Sher Mohammad Bugti (@SherM_BRP) July 4, 2018
However, multiple twitter handles claimed that the video being shared on social media, including the one broadcasted by NEO TV, represents training that Special Service Group (SSG) commandos undergo as part of SERE training regime and is known as torture proofing. SERE stands for Survival, Evasion, Resistance and Escape and SSG being a primary special operation force of the Pakistani army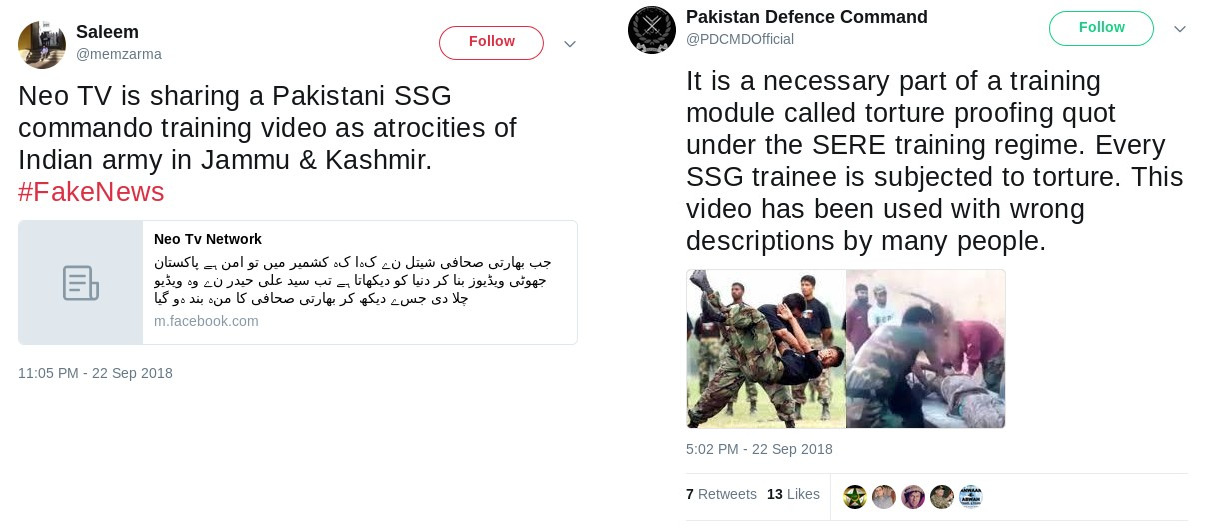 What is the truth?
On the basis of the claim in the above tweet, Alt News did a YouTube search with the keywords, "SSG training Pakistan" and found a video titled, "Survival movements of Pakistan SSG Commandos Training" which was posted in July 2017. Based on the information given inside this video, we did another YouTube search with the keywords, "Survival SSG Pakistan army". The results showed several videos where soldiers were brutally beating a person with lashes. At 6:14, in the video posted below, the screen flashes with a caption stating, "No 3: Survival Training with Punishment". The form of torture shown in this video is very similar to the video which Hamid Mir had shared on his Twitter timeline.
If one looks closely, the whip/belt and the way in which the person who has been pinned down is being flogged in both the videos are the same.

At 0:17 in the same video shared by Hamid Mir, Pakistan's national flag can be seen for a split second, but only when the exposure and brightness of the screenshot is increased. SMHoaxSlayer was the first to point it out.

Furthermore, the shoes worn by the personnel in both videos match. Navbharat Times found that the shoes worn by the personnel in the video are part of the Pakistani army dress code.

We found a corroborating image of Pakistani soldiers wearing the same shoes from Getty Images. The shade of the shoes worn by the Pakistani army is peculiar and can be seen in all the three images.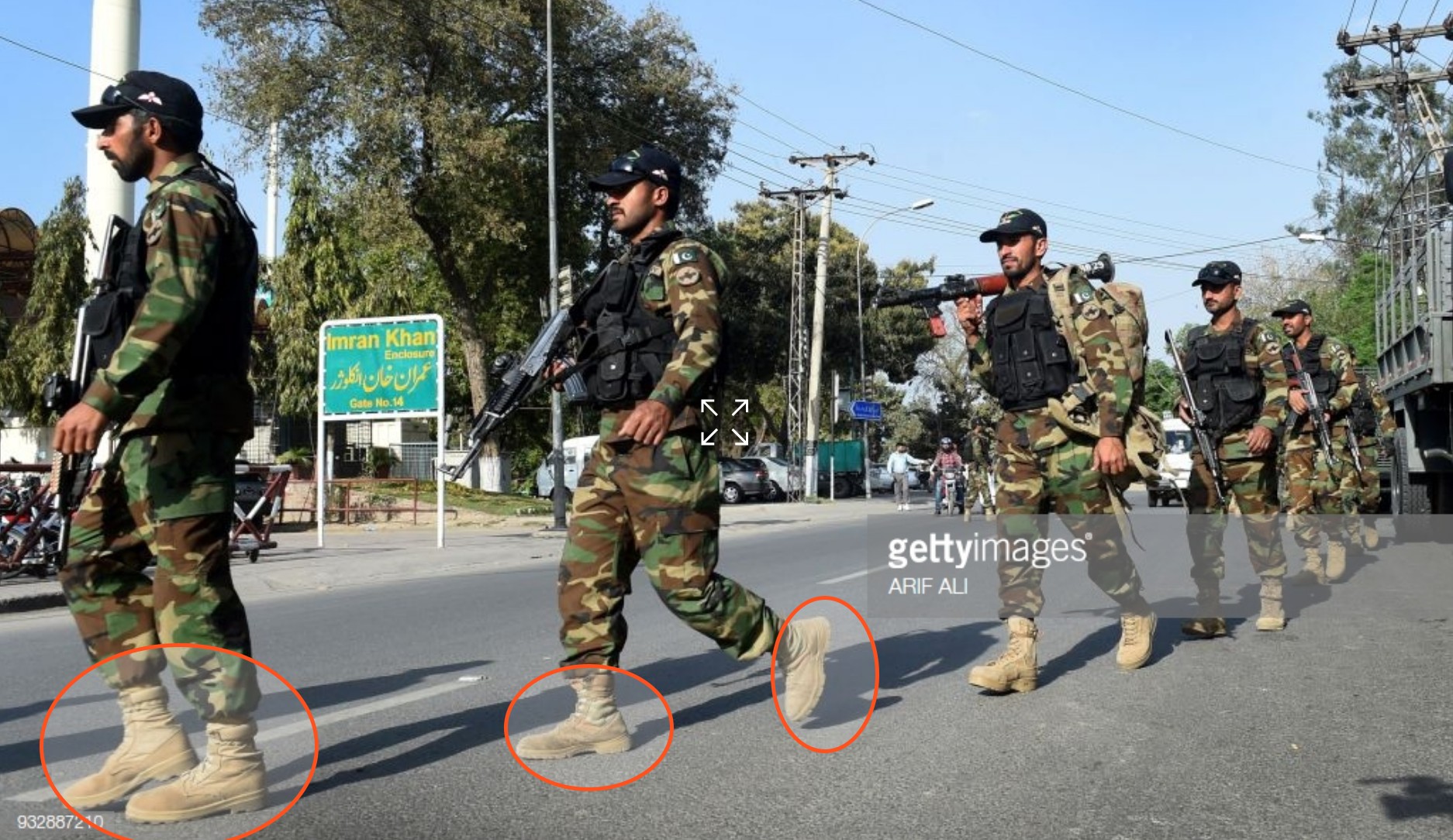 Furthermore, Alt News found a video footage of a reportage published by the Pakistani Urdu news channel called Express News. According to the reporter, he claims to be at the SSG Headquarters in Cherat of Nowshera district. He can be heard explaining how the personnel are trained to resist torture and not reveal any important information.
SMHoaxSlayer and Navbharat Times had earlier fact-checked this claim and arrived at the conclusion that it is a video of the Pakistan army torturing a Baloch or a Pashtun. While it is true that the video is from Pakistan and depicts the Pakistani army, based on scrutiny of several videos, it is more likely that this is a SERE training video undertaken by Pakistan's SSG and not a video showing Balochis being tortured.
Despite the Pakistani journalists being informed multiple times that the video is not of Indian army torturing Kashmiris, they have failed to delete their tweets or issue clarifications.
Donate to Alt News!
Independent journalism that speaks truth to power and is free of corporate and political control is possible only when people start contributing towards the same. Please consider donating towards this endeavour to fight fake news and misinformation.