IndiaScoops is a website that recently came under the scanner after it published a report which claimed that 35 lakh rupees had been spent by the PMO for Prime Minister Narendra Modi's yoga video and photoshoot on International Yoga Day on June 21. An RTI report had subsequently confirmed that this claim is false. This false report was shared by Congress leader Shashi Tharoor among others critical of PM Modi.
20 crore rupees in ads for #YogaDay, 35 lambs for @PMOIndia's fitness video! Disgraceful. This government is all about smoke & mirrors. Hype is their substitute for hope — the hopes they have destroyed.https://t.co/vmYZINkRD2

— Shashi Tharoor (@ShashiTharoor) July 2, 2018
This report was refuted by the Government which emphatically stated that it is untrue. On September 24, another article by IndiaScoops was shared by Congress social media head Divya Spandana who tweeted a link according to which 'two top technical heads at Dassault Aviation' had spoken to IndiaScoops and claimed that the that "the entire technical staff team at Dassault Aviation were unhappy with the move to drop the Indian PSU Hindustan Aeronautics Ltd(HAL) and go ahead with Reliance Defence Ltd."
Rafale Deal: Technical HODs at Dassault Aviation claim Reliance Defence was never the first choice, decision to drop HAL was taken by CEO Eric Trappier at the last minute! #ChorPMChupHai Read👉🏽https://t.co/IbK9SOQLcd

— Divya Spandana/Ramya (@divyaspandana) September 24, 2018
This article by IndiaScoops served as ammunition for the opposition. Many verified handles on Twitter had shared the link to this article in the midst of the Rafale controversy.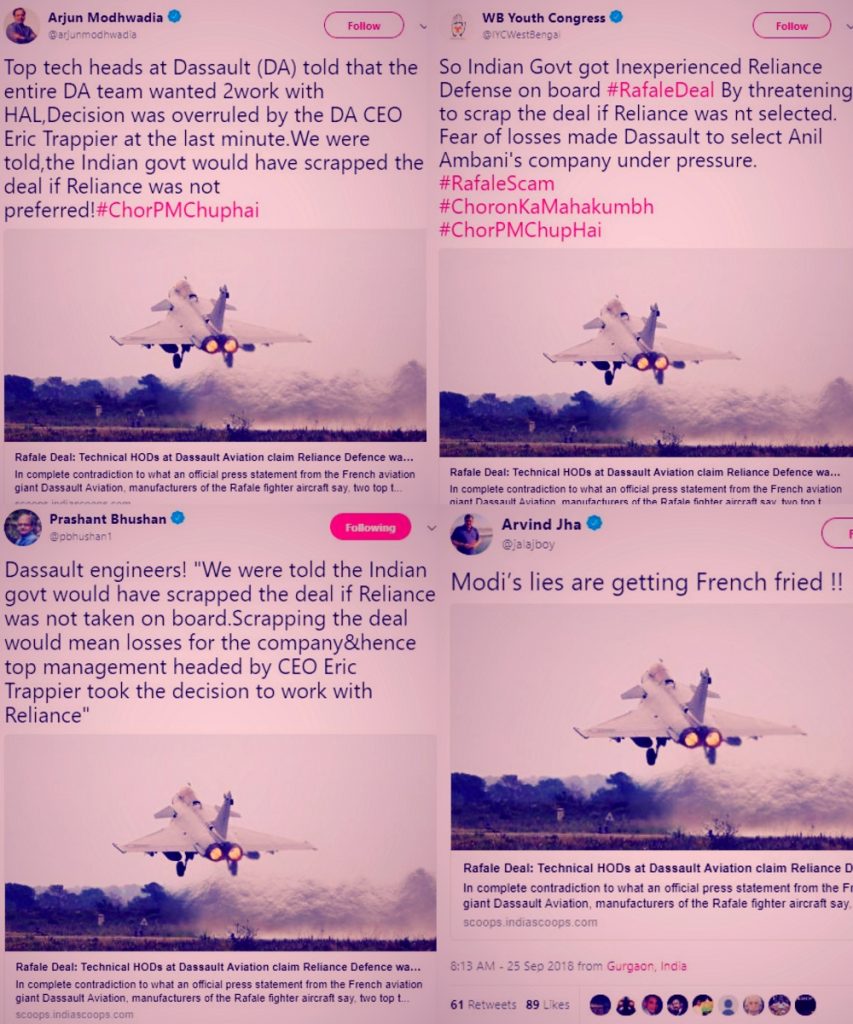 Since IndiaScoops is a website that has been caught spreading fake news earlier, Alt News decided to investigate the origin of the website and the entity behind its operation. What we found was a complex maze of dubious websites and user accounts with shadowy operations.
Alt News investigates
On Twitter, using a date filter, we found that the first tweets to the IndiaScoops website were from the Twitter account @IndiaScribesTV. These dated back to the first week of May this year. We checked this Twitter account and found that it is the account of a website named IndiaScribes.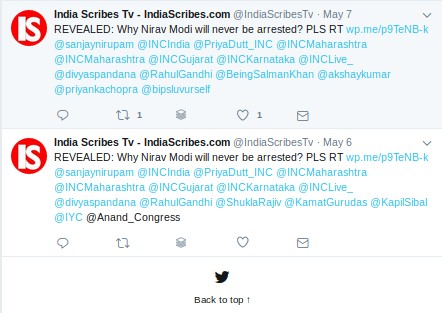 On opening the website, we found that the two websites, IndiaScoops and IndiaScribes were near-identical in their format and user interface, suggesting that the two websites are run by the same entity.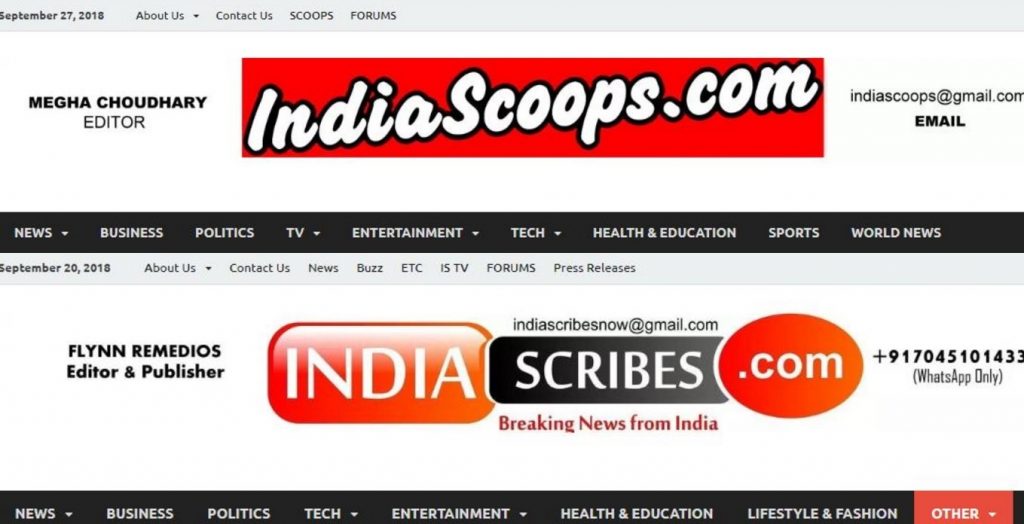 The IndiaScribes website mentions one Flynn Remedios as the editor and publisher. The website is not fully functional. Clicking on the 'About Us' section results in a '404-file not found' error.
Alt News found that the Facebook page of IndiaScoops started off as a fan page of model and actor Arshi Khan. It was later renamed multiple times. This has been earlier revealed by OpIndia.com. At the time of writing, the page had been deleted.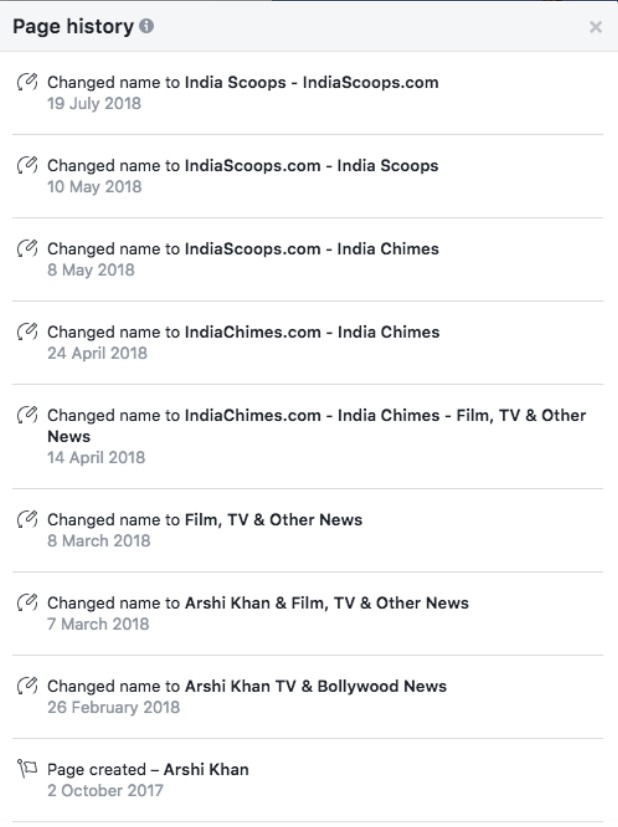 We also looked at all those who were sharing links to IndiaScoops articles on various social media platforms, and came across a group on Facebook called Mumbaiwalla. We found that here too, a majority of the posts were by a Facebook user, Flynn Remedios.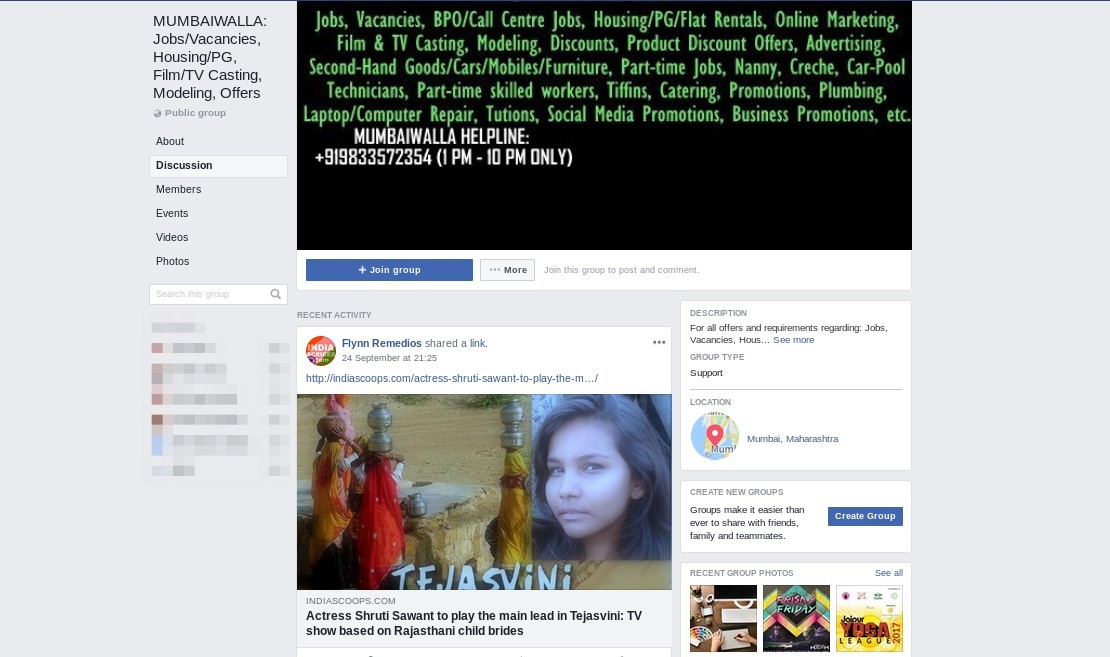 We also came across a domain name themumbaiwalla.com on DomainBigData and found that it is registered in the name of Flynn Remedios. Additionally, the phone number mentioned on the Mumbaiwalla Facebook page too is registered in the name of Flynn Remedios according to Truecaller.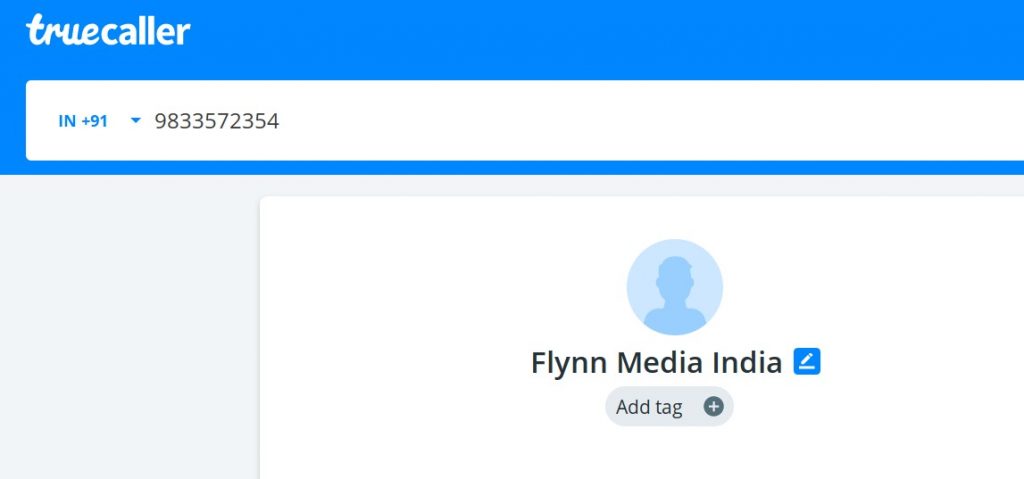 Furthermore, we also found that the same phone number has been shared by another Twitter account called IndyaNewz.
Charity Match for Nepal Relief Fund. Contact: +919833572354. Inviting all Cricket & Football teams and clubs in… http://t.co/gZn6u2MKTa

— Indya Newz (@IndyaNewz) April 28, 2015
Moreover, we discovered that one of the earliest tweets on the IndiaScribes account pointed to the IndyaNewz website. This website is no longer operational. We searched the details of this website on domainbigdata.com which is a repository of historical information for different domain names. Here, we found that IndyaNewz is also registered in the name of Flynn Remedios.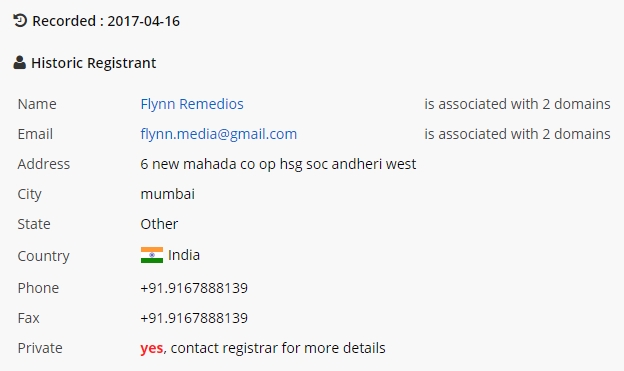 This helped establish the fact that Flynn Remedios is the person who is running the IndiaScoops website.
Who is Flynn Remedios
According to this profile on Facebook, Remedios is a journalist, editor, social media guru and managing editor/publisher of IndiaScribes. We searched for Flynn Remedios on Twitter and came across an account where he again describes himself as the editor of IndiaScribes. We found that this account is not active: the last tweet is of January 10, 2018.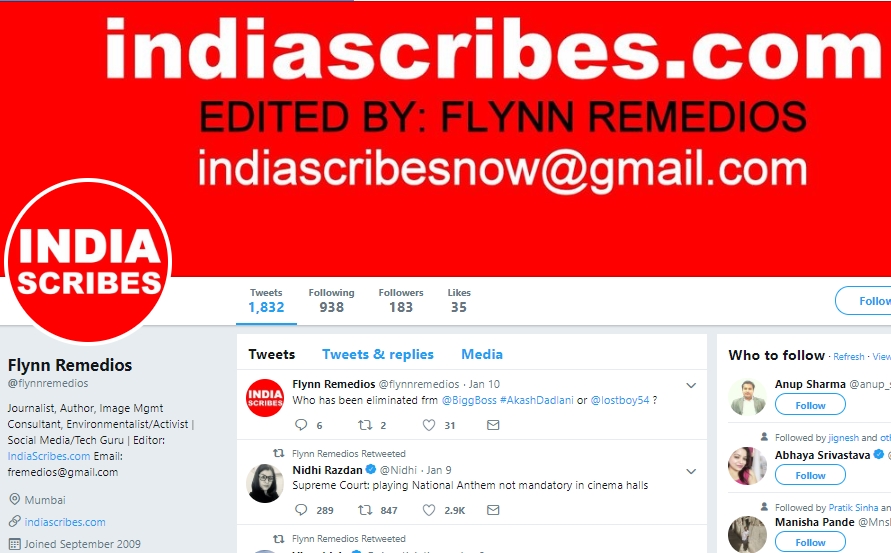 We then searched for Flynn Remedios on the professional networking site LinkedIn and found that there were four profiles by the name.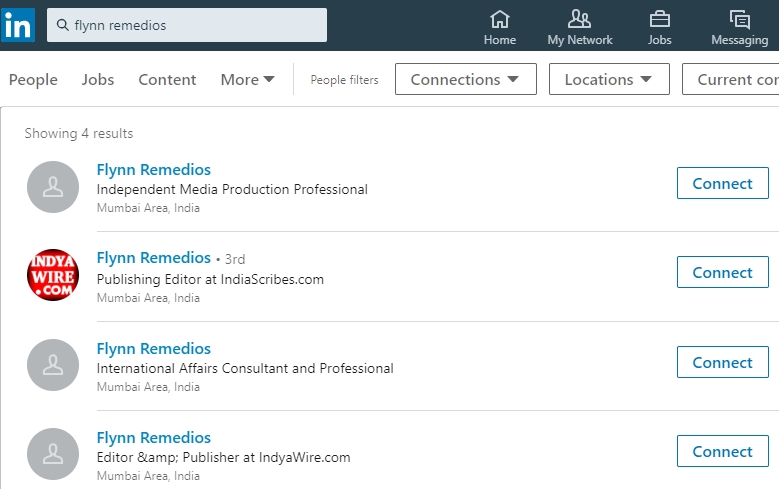 On Facebook too, we found many profiles in the name of Flynn Remedios. Each of these profiles described him as the editor of either IndiaNewsNet or IndiaScribes.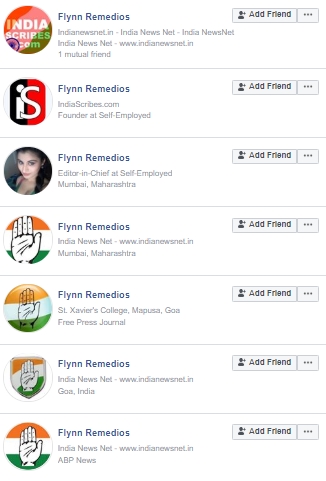 Intriguingly, we did not come across a single photograph of this person. The only photographs we found on his name were of female models and actors.
A tangled web of dubious portals
One of his LinkedIn profiles refers to his professional history and shows that he was also managing editor of multiple websites like IndyaWire, IndiaNewsInfo and IndiaNewsNet among others. Alt News found that these websites are no longer functional.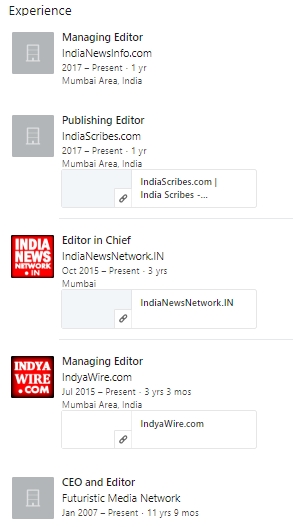 In one of his LinkedIn profiles, Remedios has been designated as the editor and CEO of Futuristic Media Network. This took us to a Blogger profile by the name of Futuristic Media Network. Here, we found a plethora of links to blogs which mostly deal with Bollywood gossip. Many of these blogs date back to 2007 and 2008. Intriguingly, we found articles from The Economic Times dating back to 1997 which were authored by Flynn Remedios. However, there is not a single verifiable social media account of this person that we came across.

This blog list took us to yet another website, Newz66, which is again operated by Flynn Remedios. This website too is no longer operational. The archived version can be accessed here. It mentions Remedios as the editor and publisher of Newz66.
Our research led us to conclude that all these questionable websites which have similar templates are being operated by a single entity, Flynn Remedios. These websites are full of sensational content. The titles of the articles published on these websites are click-bait in nature, there are no references to the claims made in the reports.
Sensationalism and fake news
All the websites operated by Flynn Remedios are replete with articles on Bollywood actors and models, apart from a few reports on politics. Many of the stories are make-believe; for example, on the IndiaScoops website, we found numerous 'news reports' on Flynn Remedios himself which make rather bizarre claims.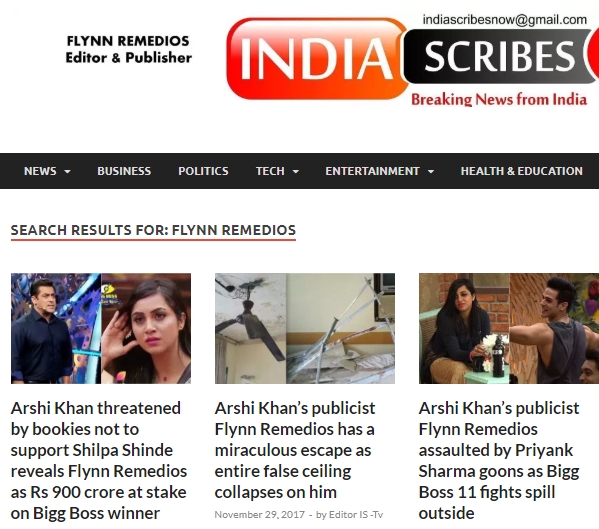 Alt News spoke to actor Arshi Khan who confirmed that Remedios is not her publicist. "I am not associated with him in any way. He is a controversial person who keeps making false claims about me. He is neither my manager nor my PR agent." On being asked as to why there are links to IndiaScribes on her Twitter account, she stated that she did not have a Twitter account when she first appeared on Bigg Boss, and that the account in her name was created and operated by Remedios without her knowledge. She later managed to retrieve her Twitter account from him.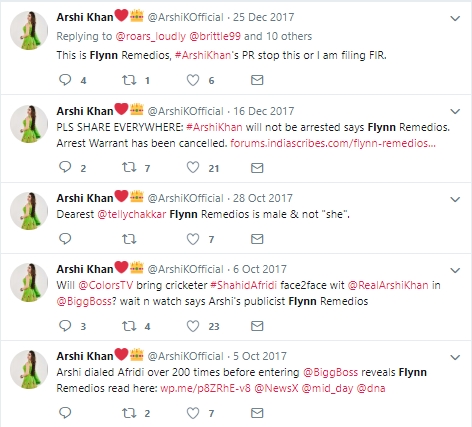 This is hardly surprising, as Remedios had earlier claimed to be the agent of actor Rakhi Sawant, which was rubbished by the actor in 2011, "This Flynn guy had been calling me, posing as a journalist first and extracting information about my work, in the garb of taking my interviews. Later, when I learnt that he was incorrectly claiming to be my publicist, I stopped speaking to him and taking his calls. He has never been my publicist, but keeps issuing fake statements on my behalf".
Remedios was also in the news in 2010 when Ritu Sachdeva, a Kannada model and actor had accused him of duping her of Rs.4 lakh with the promise that he would guarantee her a break on Bigg Boss. A police complaint had been filed against him.
Alt News also found that Flynn Remedios tries to contact young female models/actors on Facebook, and the common theme of these comments is that he is going to publish an article/interview of that person, and asks them to personally message him.
Alt News found that the extent of this dubious operation by Flynn Remedios which spans across several questionable websites, is staggering. Apart from Bollywood gossip, a new area of operation appears to be fake news around politics and policy. Considering the opacity with which the PMO operates and the secrecy around defence agreements, it is ludicrous and plain inconceivable that an obscure website like IndiaScoops would manage to access sensitive details concerning the money spent on either the Yoga video or the Rafale deal. It has been observed that public figures active on social media have repeatedly shared content from such obscure websites owing to confirmation bias, thus providing traction to these fraudulent websites.
Donate to Alt News!
Independent journalism that speaks truth to power and is free of corporate and political control is possible only when people start contributing towards the same. Please consider donating towards this endeavour to fight fake news and misinformation.