In a recent exposé by The Cobrapost, a senior Vice-President of Paytm is seen acknowledging on camera that the firm was asked to share details of its customers with the Prime Minister's Office during the Kashmir unrest. The company, under fire for alleged breach of user privacy and trust, claimed that there is "no truth in the sensational headlines of a video doing the rounds". They further stated that "users' data is 100% secure and has never been shared with anyone except law enforcement agencies on request".
Alarmed by the exposé, many Paytm users asked for their accounts to be deleted. Can your Paytm account be deleted as per your wish? Sachin Tandon, a Twitter user (@cugwmui) claimed that he got the following response from Paytm via email when he requested deletion of his account. According to the screenshot he posted, Paytm has allegedly stated that his account cannot be deleted, but only be blocked.
Just a reminder that once you have opened a @Paytm account , you CANNOT delete it. Your private data is now a saleable commodity for them.#MediaOnSale #Paytm pic.twitter.com/bFNzcF84uD

— Sachin Tandon (@cugwmui) May 25, 2018
As a reaction to this tweet, Raheel Khursheed who leads news partnerships at Twitter called it a "gross violation of privacy" and "super dodgy ethics", to which Paytm was quick to respond, calling the tweet by Sachin Tandon a "malicious tweet with false email". In its clarification, Paytm said that a user's account can be deleted upon the request of the customer and through confirmation.
Hi Raheel, This is a trick and malicious tweet with false email. We obviously will prefer everyone to use Paytm but on consumer request and confirmation, account can be deleted. Thanks!

— Paytm Care (@Paytmcare) May 26, 2018
In response to Paytm's allegation that the email was false, Tandon posted another screenshot as evidence to establish his claim that the originator of the email was indeed Paytm.
Want more proof @vijayshekhar and @Paytmcare ? Gmail has confirmed your encryption! pic.twitter.com/hVMVbDlypl

— Sachin Tandon (@cugwmui) May 26, 2018
Who's bluffing – Paytm or the Twitter user?
Alt News asked Sachin Tandon to send video evidence of the email that had purportedly been sent by Paytm in order to substantiate the claim. He sent us a video of his computer screen showing the email that he allegedly received from Paytm. The video can be seen below.
The email put forth in the public domain by Tandon mentions that a Paytm account cannot be deleted but can only be blocked. Paytm has called it a 'false email', but what is the truth? If one were to go by what Paytm itself has stated on numerous occasions earlier, a user account can only be blocked and NOT deleted. This was confirmed by the company in a tweet dated March 20, 2018 in response to a user query.
HI, Your Paytm account cannot be deleted, however, if you can provide me with more details regarding the reason why would you like to block your account. We can then try to provide you with a resolution to the query you are facing.Thanks!

— Paytm Care (@Paytmcare) March 20, 2018
A simple search on Twitter reveals that Paytm has on numerous occasions in its response to customers stated that their accounts cannot be deleted but can only be blocked upon request.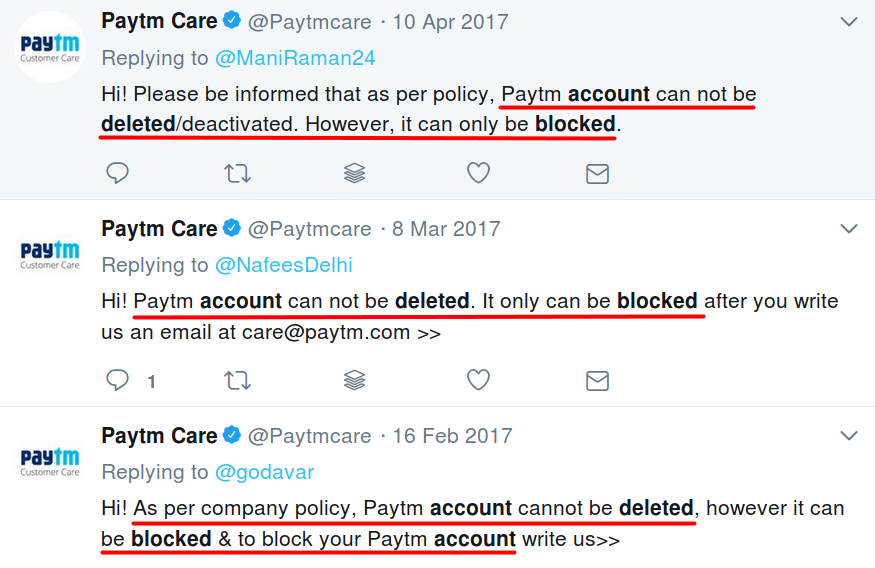 Moreover, the text of the email that was purportedly sent by Paytm to Tandon matches exactly with the text of the response that was given by Paytm to a user which was posted on Reddit last year.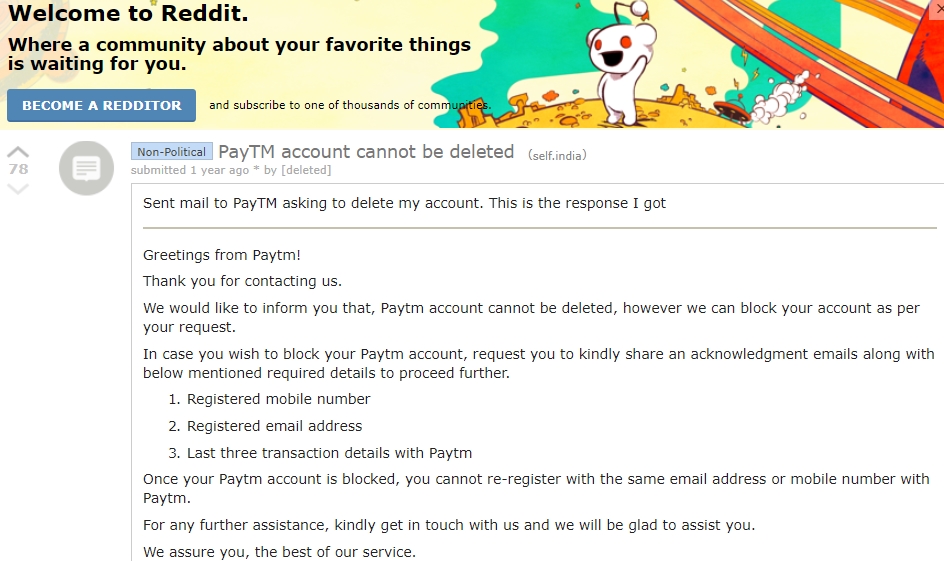 Meanwhile, a tweet by a user @Memeghnad has posted a screenshot in which his request for deleting the Paytm account is confirmed by the company.
Done and dusted.
Bye bye @Paytm.

(Side-note: That's a rather complex process to close an account. Got a call from an executive to make this happen. Oh well.) pic.twitter.com/VL3IRKwgTs

— Meghnad (@Memeghnad) May 28, 2018
This however does not absolve Paytm of trying to smear a customer by calling his claim malicious and false. It is clear that Paytm on numerous occasions has told their customers that their accounts cannot be deleted and can only be blocked. Instead of addressing the lack of transparency in their communication vis-a-vis the account deletion process, Paytm tried to pass off its own email to a customer as fake.
Donate to Alt News!
Independent journalism that speaks truth to power and is free of corporate and political control is possible only when people start contributing towards the same. Please consider donating towards this endeavour to fight fake news and misinformation.