Indian wrestlers including some Olympic medalists have been protesting since April 23, 2023, in Delhi demanding the arrest of BJP MP and Wrestling Federation of India chief Brij Bhushan Sharan Singh in multiple cases of alleged sexual harassment including one under the POCSO Act.
On May 28, 2023, even as Prime Minister Narendra Modi inaugurated the new Parliament building in Delhi, the protesting wrestlers, including Vinesh Phogat, Sakshi Malik and Bajrang Punia, were about to hold a Mahila Maha Panchayat. As they tried to march towards the new Parliament building from their site of protest at Jantar Mantar, they were stopped by the police and detained at various police stations across Delhi.
An image, apparently of Sakshi Malik, clicked during the protest, showing her to be pinned to the ground with the boot of a police official on her face, is circulating on social media. The image was shared by AAP MLA from Sultanpur Mukesh Ahlawat, who compared India with the Taliban and questioned the state of affairs in the country. (Archive)
क्या ये देश के लिए महिला रेसलिंग में पहला ओलंपिक मेडल दिलाने वाली @SakshiMalik है?
अगर यह तस्वीर आज की है तो समझ नहीं आ रहा कि यह हिंदुस्तान है या तालिबान?
देश का जमींर जिंदा है या मर गया या फिर बिक गया??#WrestlerProtest pic.twitter.com/Nh7WRR5tq3

— MLA Mukesh Ahlawat (@mukeshahlawatap) May 28, 2023
Another verified user named Kirti Pathak AAP (@kirtispathak), who is described as the state vice-president of AAP in Rajasthan in her Twitter bio, shared the same image asking if it was of Sakshi Malik.
क्या ये देश के लिए महिला रेसलिंग में पहला ओलंपिक मेडल दिलाने वाली @SakshiMalik है?
अगर यह तस्वीर आज की है तो समझ नहीं आ रहा कि देश का जमींर जिंदा है या मर गया ??#WrestlerProtest pic.twitter.com/zcEbu8srZU

— Kirti Pathak AAP (@kirtispathak) May 29, 2023
Ziya Us Salam (@ziyaussalam), whose Twitter bio describes him as a 'journalist-author', shared the same image with the caption: "If this image of a woman wrestler who has won medals for India does not stir you, nothing will of this fascist regime." He later deleted the tweet.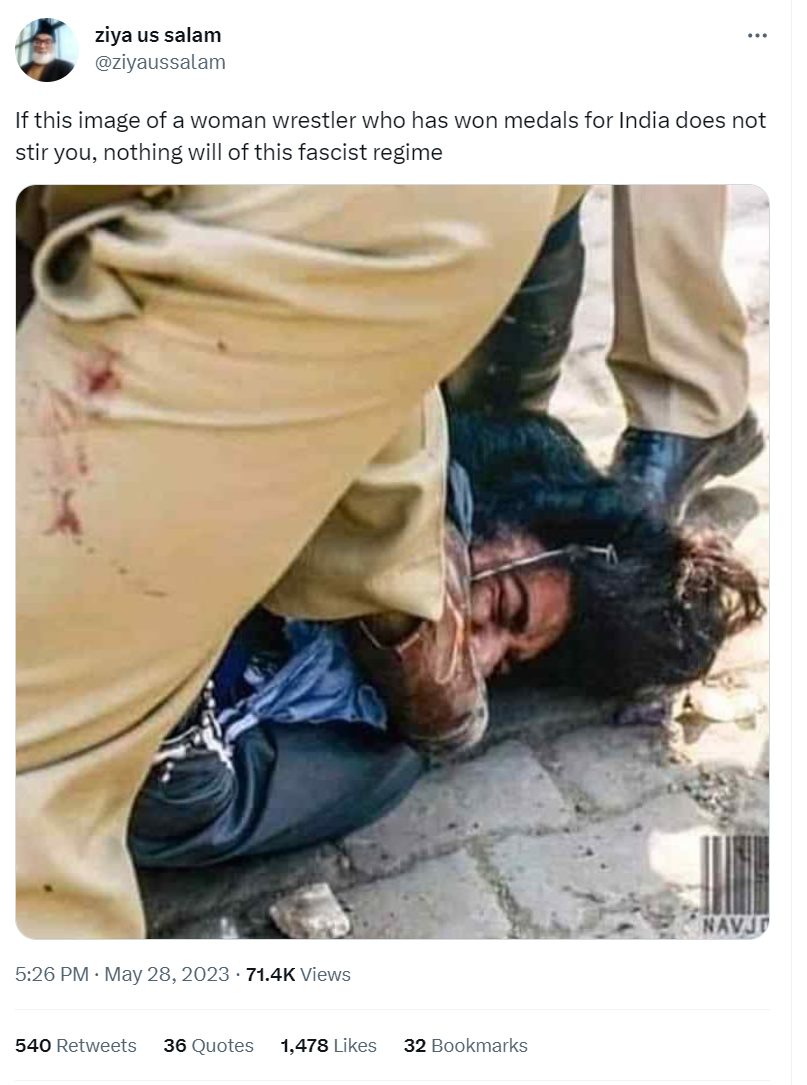 Fact Check
First, we noticed that wrestler Sakshi Malik was wearing a light blue t-shirt during the protest and the subsequent scuffle on May 28. This can be seen in a video that she posted on Twitter. (Archive)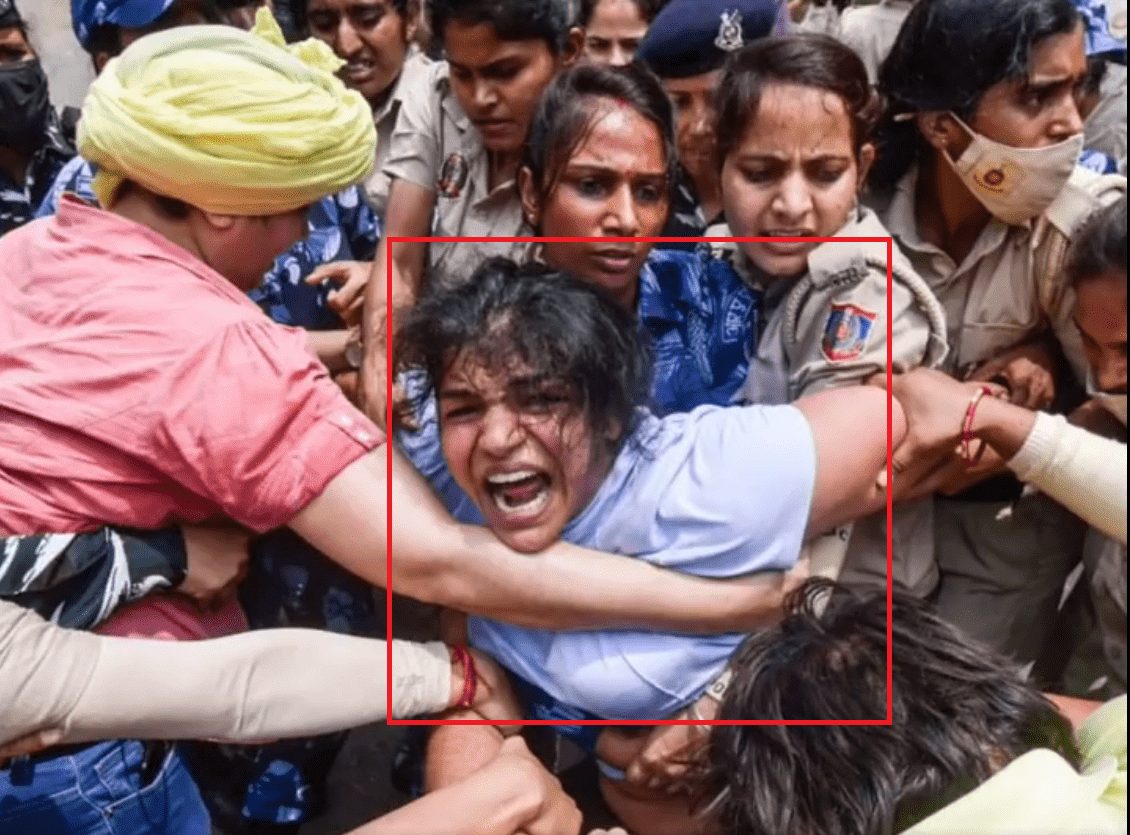 next, we did a reverse image search of the viral image and found an article in The Asian Age dated January 30, 2021, where the same picture was used in a report on the farmers' protest. The image is captioned 'Police pin down a farmer, who allegedly attacked Police SHO (Alipur) Pradeep Paliwal, during clashes between people claiming to be local villagers and farmers at the Singhu border in New Delhi on Friday. (Photo: PTI)'.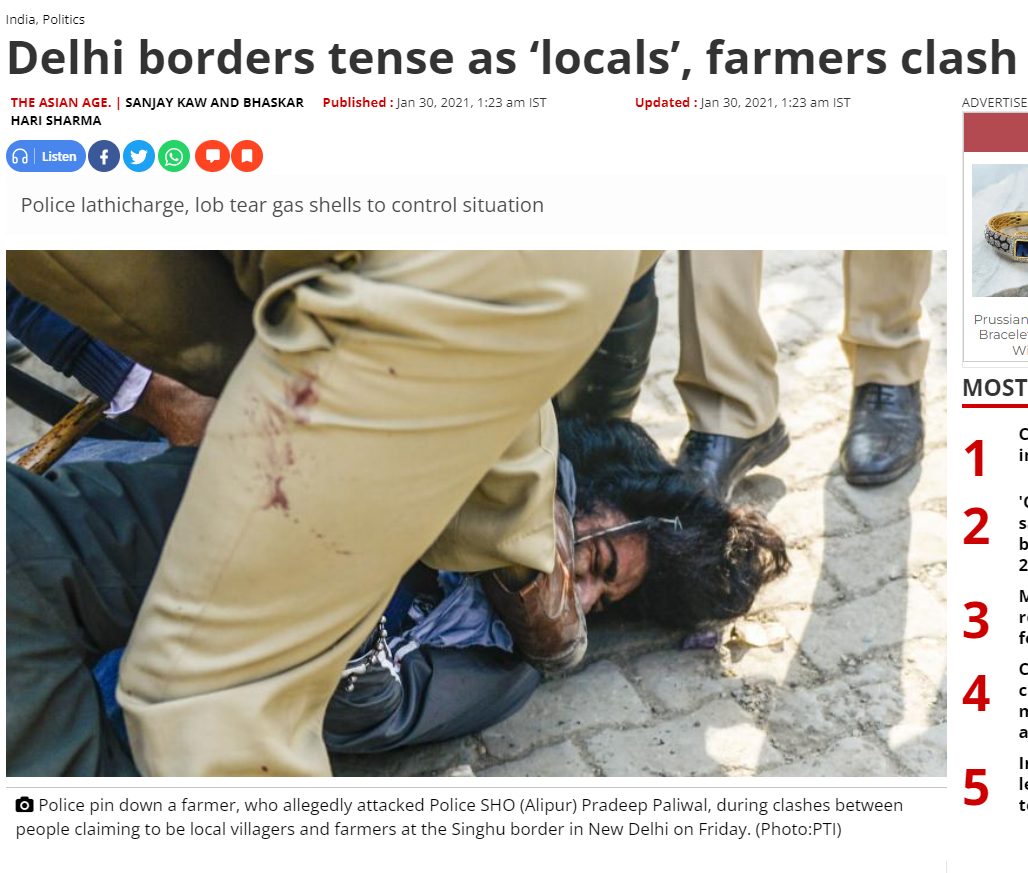 A Newslaundry article dated January 29, 2021, too, used the same picture and identified the person seen in the image as a 22-year-old Ranjit Singh, farmer from Kajampur village of Nawanshahr district in Punjab.
A further keyword search led us to an article in The Times of India dated February 1, 2021, which also used the same photograph and wrote how Ranjit Singh was accused by the Delhi Police of attacking a station house officer (SHO) with his sword and injuring him. He was arrested by Delhi Police under various sections, including attempt to murder. According to his brother Jaspreet Singh, Ranjit had gone with members of Kirti Kisan Union to the Singhu border protest.
When we looked for further information, we found an IANS article published by News18 dated January 30, 2021, which contained a zoomed out photograph of the same moment. It was attributed to PTI. The image is captioned: "New Delhi: Police pin down a farmer, who allegedly attacked Police SHO (Alipur) Pradeep Paliwal, during clashes between people claiming to be local villagers and farmers at the Singhu Border in New Delhi, Friday, Jan. 29, 2021. (PTI Photo)".
Times Now published an article on January 30, 2021, where we found the following photograph captioned 'Singhu border violence | Photo Credit: ANI' The article also said: "The man who attacked SHO (Alipur) Pradeep Paliwal has been identified as Ranjeet Singh, 22, a resident of Punjab's Kazampur village."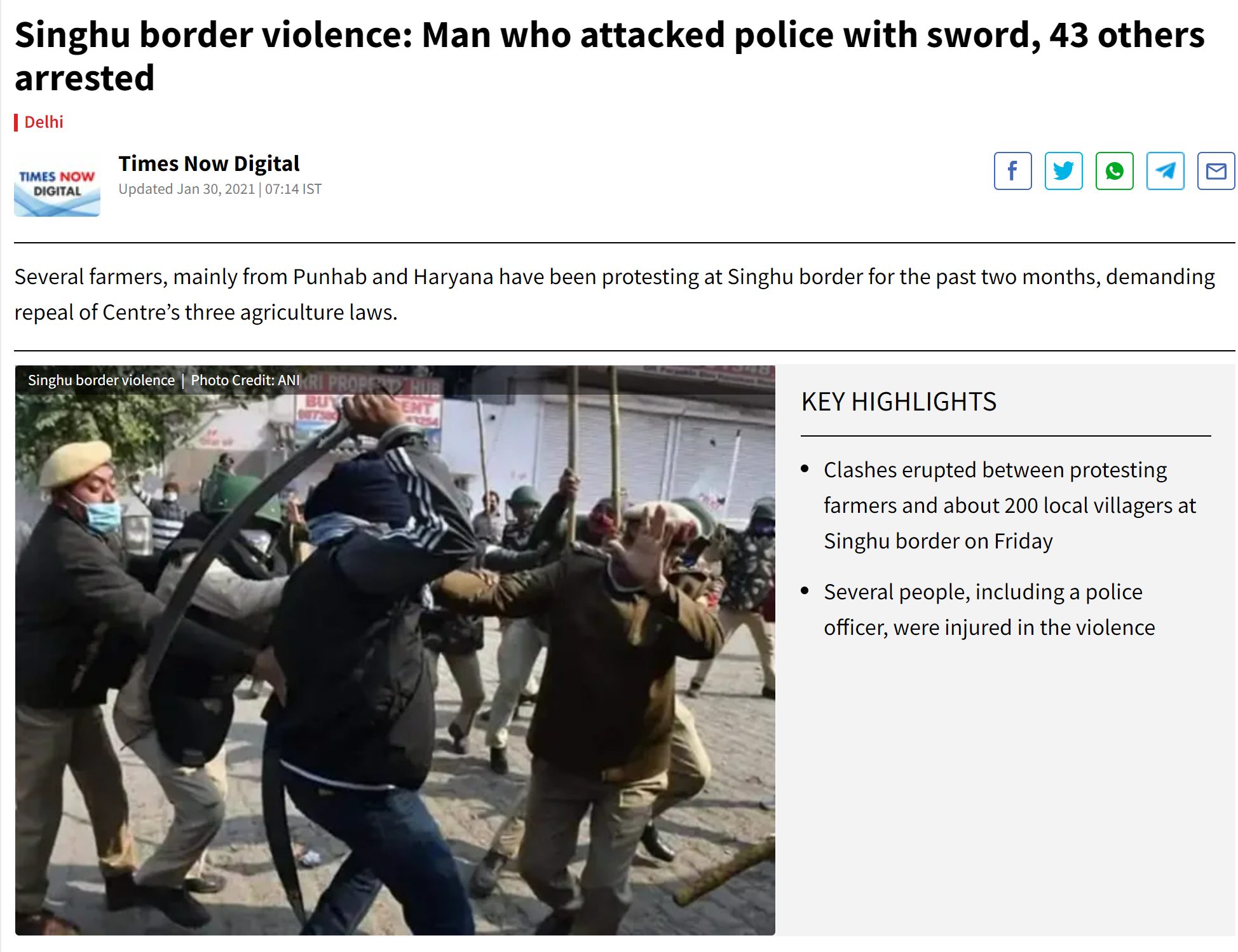 The Newslaundry report also explained the tussle between the protesting farmer Ranjit Singh and the police personnel. It stated: "All of this was shot on camera by journalists and bystanders. It is in one such video that Ranjit was present. Before he entered the frame, members of the mob could be seen pelting stones and shouting at farmers across the barricades. A policeman in riot gear walked among them but not really stopping them. At one point, one of them attempted to yank his lathi but he gently pulled it back. This individual then managed to yank another lathi from a farmer and started to aim it at a farmer across the barricade. It was at this point, Ranjit, with a sword tucked in his belt, emerged from the barricaded area. He did not attack or point his sword at anyone. He then walked back into the barricaded area. In response, Delhi police personnel pushed Ranjit and he responded by pushing them back. In a flash, multiple policemen started raining blows on him with lathis. Ranjit pulled out his sword and raised it but was overpowered by the police who pinned him down and beat him."
We also came across an interview of Ranjit Singh taken by BBC News Punjabi published on March 18, 2021, after his release on March 17. This video contains footage from the incident. These can be seen at the 0:19-minute, 0:32-minute and 1:01-minute mark.
To sum up, we can conclude that the person pinned to the ground under a boot in the viral image is not Olympic medalist Sakshi Malik, but Ranjit Singh, a farmer from Punjab. The photo was shot by the PTI on January 29, 2021 near Singhu border.
Shreyatama Datta is an intern at Alt News.
Donate to Alt News!
Independent journalism that speaks truth to power and is free of corporate and political control is possible only when people start contributing towards the same. Please consider donating towards this endeavour to fight fake news and misinformation.