Trigger Warning: Violence
A video of a man beating up a woman is being widely shared on social media. In the video, the man first slaps the woman and later kicks and punches her in the face and body. At the end of the footage, she is seen in an unconscious state. It is claimed that the incident is a case of 'Love Jihad' and the assailant is from the Muslim community.
Twitter user ANGRY BIRD 💎(@angryladki) tweeted the video with the hashtag '#lovejihad' and suggested the perpetrator was a Muslim. She used the phrase 'Abdullah Puncturewallah' in a distorted spelling in Hindi, which is a derogatory term often used by the Right Wing to refer to Muslims. (Archived link)
एक और पापा की परी अब्दुल्ला पं चर वाले की चपेट में । सभी लड़कियां एक बात समझ लें, प्यार के चक्कर में माता पिता को धोखा ना दें । 🥺😰😣😭😢🙏🏻। जिन पापा की परियों को अब्दुल से प्यार करना हो वो देख ले की मुंह पर इतने जोर की लात खा सकती है या नहीं।#loveजिहाद pic.twitter.com/TpkiofsbA4

— ANGRY BIRD 💎 (@angryladki) May 26, 2023
Twitter user Ranjana Singh shared the clip and described the boy as a Muslim. The tweet was viewed more than 11,000 times and garnered 425 retweets before it was deleted. (Archived link)
This video is also being shared on Twitter and Facebook with a similar claim.
Fact Check
Alt News found some media reports dated December 2022 while investigating the clip. According to an Aaj Tak report, this incident is from Rewa in Madhya Pradesh. As per the article, a video of a 19-year-old girl from the Mauganj area being brutally thrashed by her lover Pankaj Tripathi had gone viral. The report also mentions that police arrested 24-year-old Tripathi. In addition, Bharat Saket, the boy who filmed the clip, was also taken into custody.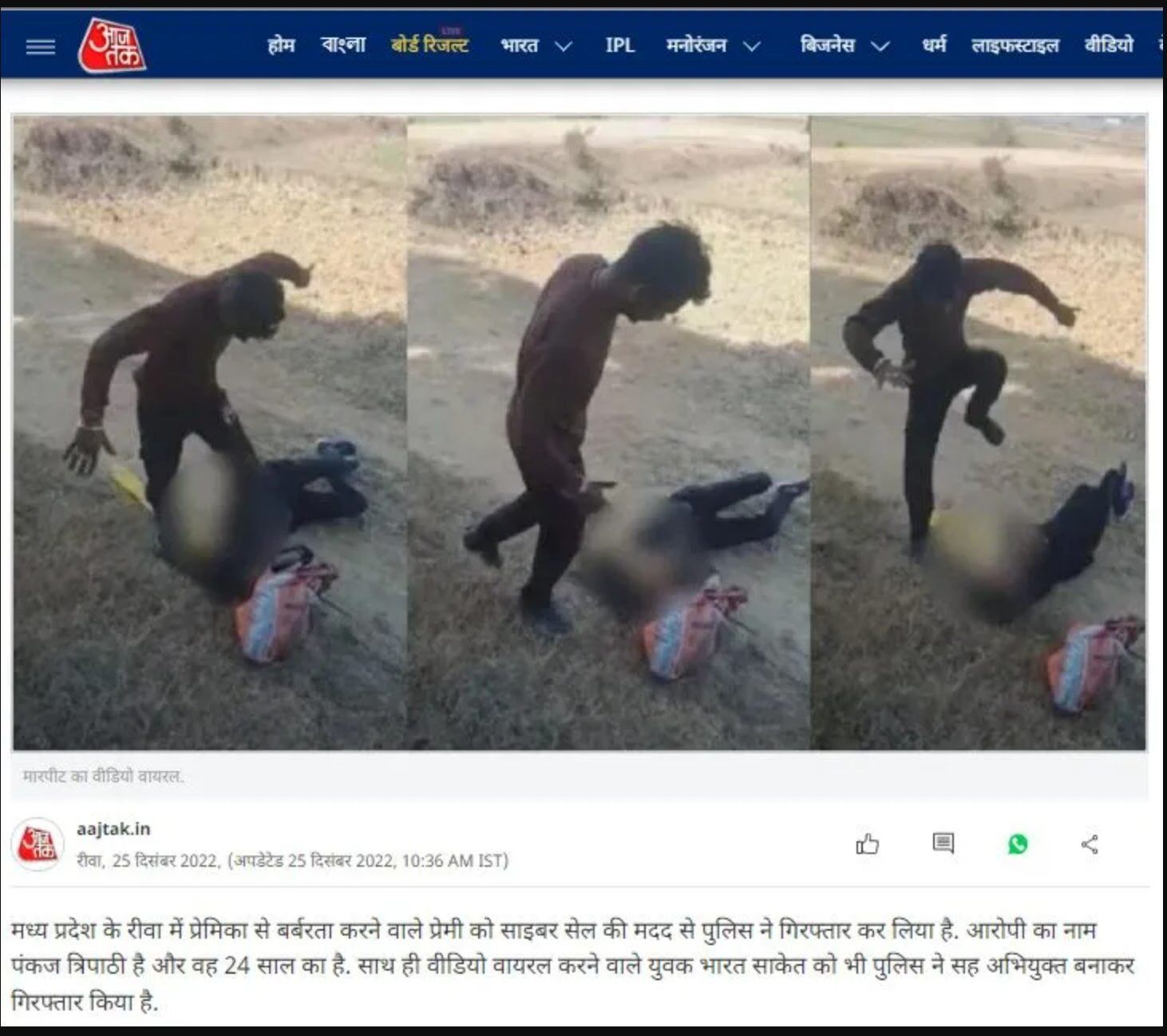 An NDTV India report quoted additional superintendent of police Anil Sonkar as saying, "The young man and the woman were in contact for a long time. The young man was insisting on marrying the girl but the girl's relatives were not agreeing, and hence she also refused to marry him. This angered the youth and he beat up his girlfriend."
In several other media reports (link 1, link 2, link 3) the accused has been identified as Pankaj Tripathi. However, these reports claimed that the woman was insisting on marrying Pankaj.
Madhya Pradesh chief minister Shivraj Singh Chouhan's office tweeted that "Criminal Pankaj Tripathi was arrested and his home was razed with a bulldozer. Driver Pankaj's driving license has also been cancelled."
रीवा जिले के मऊगंज क्षेत्र में युवती के साथ हुई बर्बरता की घटना में अपराधी पंकज त्रिपाठी को गिरफ्तार कर उसके घर पर बुलडोजर चलाया गया। ड्राइवर पंकज का लाइसेंस भी कैंसल कर दिया गया है।

मध्यप्रदेश की धरती पर महिलाओं पर अत्याचार करने वाला कोई बख्शा नहीं जायेगा। pic.twitter.com/Z4gHr2lWsk

— Office of Shivraj (@OfficeofSSC) December 25, 2022
To sum it up, a man named Pankaj Tripathi brutally beat up his 19-year-old girlfriend in Rewa, Madhya Pradesh. Users shared a video of this incident falsely claiming that he was a Muslim, along with giving this incident a false communal angle.
Donate to Alt News!
Independent journalism that speaks truth to power and is free of corporate and political control is possible only when people start contributing towards the same. Please consider donating towards this endeavour to fight fake news and misinformation.