JMI scholar Safoora Zargar, who is three months pregnant, was imprisoned by the Delhi police under the draconian Unlawful Activities (Prevention) Act. Her pregnancy, instead of attracting sympathies, has given rise to a vulgar hate campaign on social media. This isn't new. Women, especially those vocal in their views, regularly face online sexual harassment.
Several members of a Facebook group are sharing a still from a porn video claiming that the woman in the video is Zargar. These individuals are inviting other users to send them friend requests on Facebook if they wish to access the video. Multiple men have obliged and also shared their phone numbers to get a hold of the clip. Many of them have commented "send me bro" and "I want the video". The comments reek of desperation.
It is noteworthy that all of the above comments were made on posts shared on Facebook group 'We Support Narendra Modi'. The group has 30 lakh followers. It is a propaganda tool with most of its posts oscillating between praises for the BJP and PM Modi, criticism of the opposition and misinformation.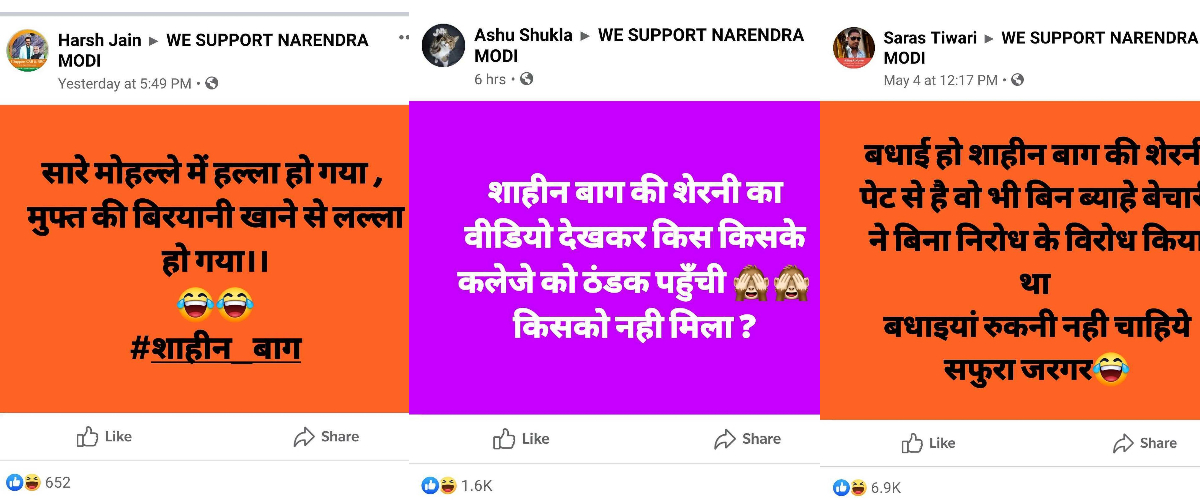 A screenshot of the video was shared on another pro-Modi group. Below is a post by one Raghav Rajpoot who shared it on a group named 'I Support Indian ARMY'. The URL of the group reads 'The Real Hero Narendra Modi'.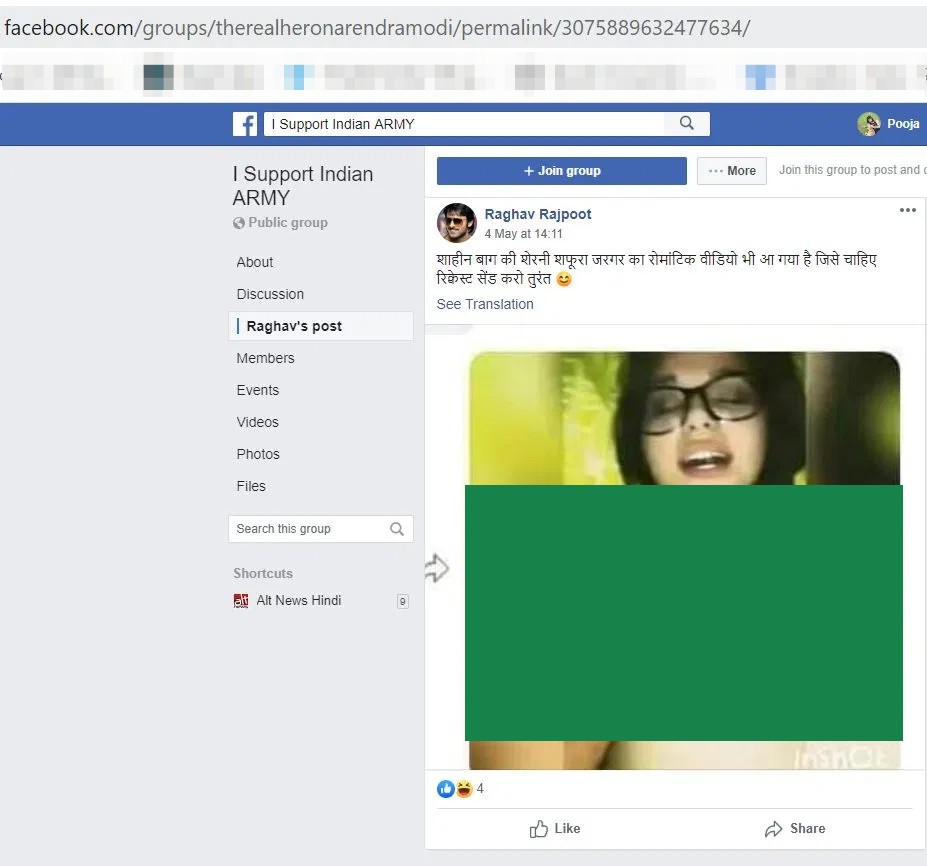 The video is being widely forwarded on WhatsApp. Alt News has received fact-check requests on its official mobile application as well.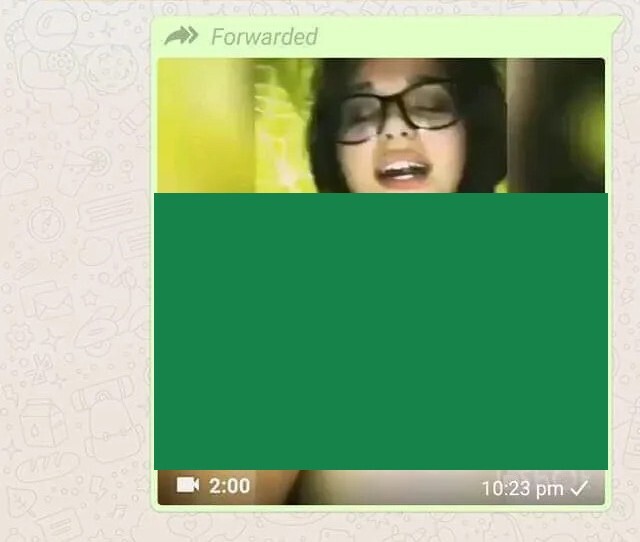 Video of PornHub model Selena Banks
A reverse-image search on Yandex revealed that the video has been lifted from pornography website PornHub. The woman in the clip is Selena Banks.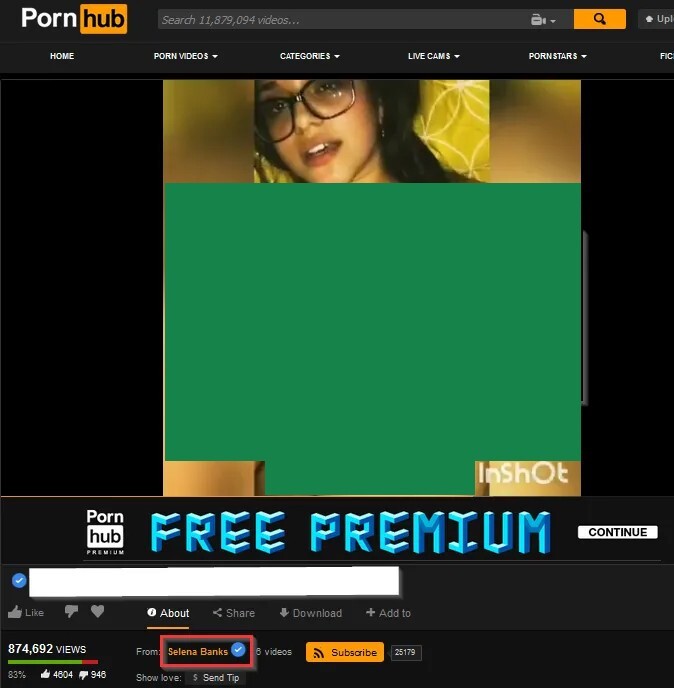 Pornhub has a model partner program as part of which a person can upload their private videos and get a revenue share from the platform. The models get a verified tick account. Banks has one such account on the platform with over 25,000 subscribers.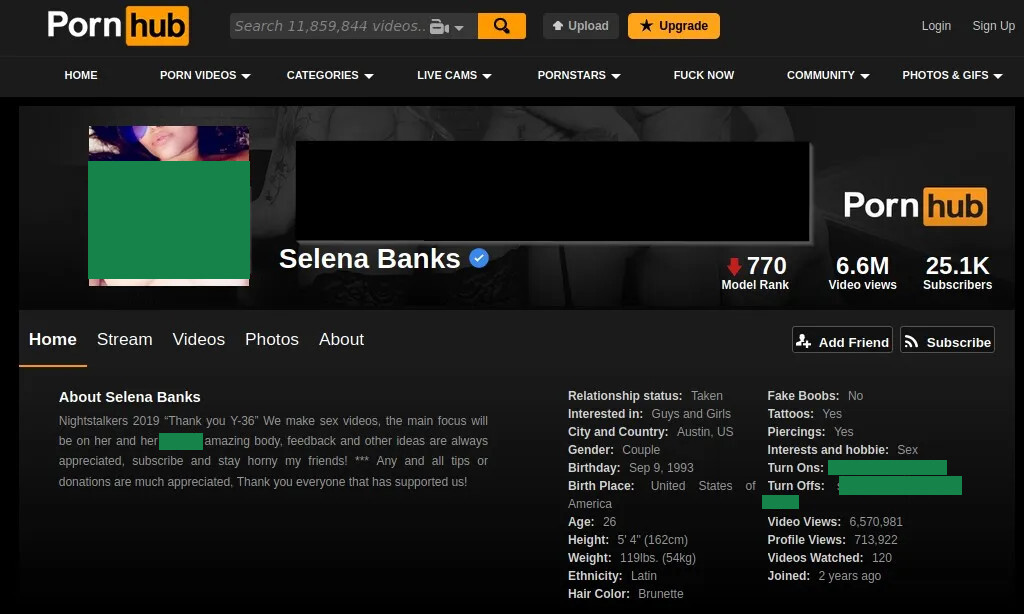 A pornographic video is therefore falsely circulating in the name of Safoora Zargar. This is the second such video debunked by Alt News. We had also penned a fact-check report on false claims suggesting that Zargar, who is three months pregnant, is unmarried. It is extremely alarming that the activist is being targetted with such profanity in the open. Social media platforms like Facebook and Twitter, which should flag explicit content and vile language, seem to have done little to prevent the barrage of vulgarity. Zargar, being a woman and a person who hails from the Muslim community, is an easy target for men who do not echo her political views. The issue is concerning and deserves attention both from social media platforms and law enforcement agencies. This isn't criticising someone or disagreeing with their views but sexual harassment in the cyber world.
Donate to Alt News!
Independent journalism that speaks truth to power and is free of corporate and political control is possible only when people start contributing towards the same. Please consider donating towards this endeavour to fight fake news and misinformation.