Since September 3, several Twitter and Facebook users have posted multiple videos where members of right-wing fringe groups Sanskriti Bachao Manch and Bajrang Dal are moral policing children. They can be seen harassing minors on camera for celebrating birthdays at a hookah lounge in Bhopal. Saffron-clad men ambush the children claiming they are involved in a 'love Jihad' racket. Alt News is not attaching the videos or any links where the clips have been shared to protect the identity of the minors.
News24 tweeted a video where the faces of the children have not been blurred. The video gained over 7,000 views as of this writing.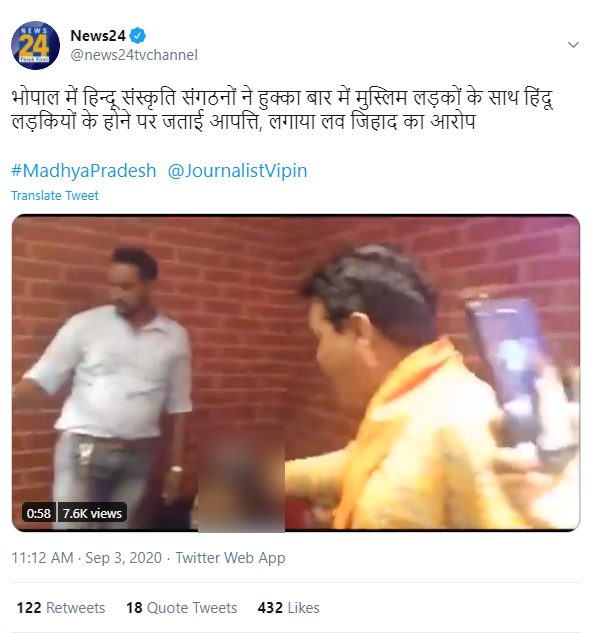 Facebook page Bharat24News also uploaded the viral videos writing that 'Sanskriti Rakshak' group has alleged 'love Jihad'.

Facebook user Romi Sahu Lycans II posted viral clips and wrote that alcohol was found on the premises.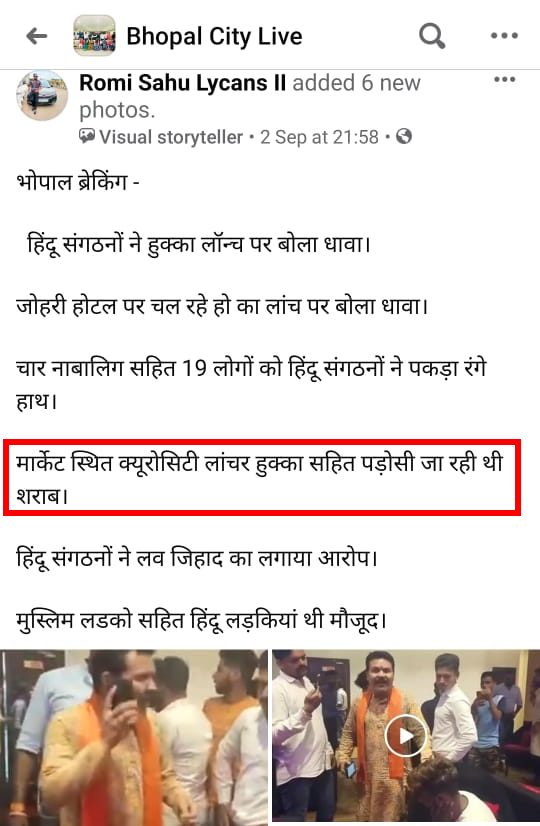 The viral videos were also shared on YouTube by the user Hindu Prince Chaudhary with a 'love Jihad' claim.
Fact-check
A keyword search took Alt News to multiple media reports. The Times of India and The Hindu reported that members of right-wing outfits agonized children at a birthday party in a Bhopal hotel. As per both reports, minors were handed over to the NGO Childline and a special juvenile police unit for counselling.
"Parents of four minor girls on Thursday complained to the Bhopal police that members of two right-wing outfits had misbehaved with them at a hotel and circulated videos of their abusing the girls causing them mental agony," Childline was quoted in The Hindu. The report added that adults were also present at the party and a mother of two informed that her husband asked the children to not return home for bringing "disgrace" to the family after the videos went viral.
The individual seen grabbing a Muslim man by his hair in the clips has been identified as Chandrashekhar Tiwari of the Sanskriti Bachao Manch in the report.
A Hindi report by Asianet stated that notorious elements gave the birthday celebration a 'love jihad' spin because children from both Hindu and Muslim communities were part of the gathering. As per this report, nine minors were at the hotel. Speaking with local reporters, Alt News learned several children managed to flee after ring-wing groups started a ruckus.
We also spoke with a Superintendent of Police (SP) in Bhopal who said, "As per our investigation, there was a birthday party organised at a restaurant. Minors and teens from both religions were present. Neither were alcohol bottles found in their possession nor was anyone at the party inebriated. As of now, we are investigating if the hookah had tobacco or not."
Archana Sahay, director of Childline, told Alt News that she counselled nine minors. "There are multiple issues in this case, beginning with children gathering for a party in the middle of a pandemic and then the question of serving hookah to minors. However, the biggest issue is the fact that the privacy of minors was breached by adults under the guise of moral policing."
As per Sahay, two birthday parties were happening at the restaurant and a majority of girls were from the minority community. Sahay also said that they did not find that the hookahs to be infused with alcohol. "None of the children were drunk. In fact, all signs indicate that alcohol bottles were planted by the fringe groups because the restaurant doesn't have a liquor license," she added.
Kripa Shankar Choubey, a member of Bhopal's Child Welfare Committee (CWC), said, "CWC's primary role is to rehabilitate children and ensure their safety. If parents come forward to file FIR, CWC will help to get it registered."
"Some parents have submitted a statement to the thana in-charge TT Nagar police station instructing them to take action against the fringe groups," said Sahay adding, "I've seen many such cases in the past. It's unlikely that there will be any meaningful outcome." Alt News has access to a complaint letter submitted by a parent to the police.
Right-wing groups Sanskriti Bachao Manch and Bajrang Dal falsely gave the celebration of two birthdays at a restaurant in Bhopal a false communal shade. The members of the groups not only harassed children but also recorded their videos that found a way to social media. The clips are now being amplified with the bogus 'love Jihad' claim.
Donate to Alt News!
Independent journalism that speaks truth to power and is free of corporate and political control is possible only when people start contributing towards the same. Please consider donating towards this endeavour to fight fake news and misinformation.