"पकड़े गए जिंदा कश्मीरी आतंकी ने पूछताछ के दौरान कहा कि आरएसएस हमें हथियार और पैसा मुहैया कराती है और हिन्दुओं को मारने के लिए कहती है ताकि हिन्दुओं के दिमाग में मुसलमानों के लिए नफरत भरी जा सके।" (Kashmiri terrorists captured alive said during interrogation that RSS supplied weapons and money to them and asked them to kill Hindus so that Hindus develop a hatred toward Muslims). This message, accompanied with an image, was circulated by the Facebook page 'We Support Prakash Raj' on July 13. The page has a following of over 3 lakh people and the post was shared a few thousand times. However, it has now been deleted. The image showed a bearded man held by two jawans.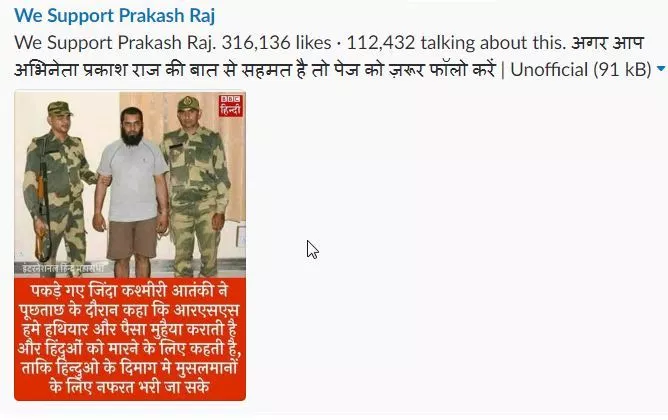 A Facebook page named 'Bahujan Samachar' also shared the image on July 12, with the caption – "Is this news true? Many BJP workers have been caught providing confidential information about the country to terrorist organisations. (translated)" To give the image an appearance of genuineness, it has a fake BBC logo on the upper right corner.
The same photograph has also been circulated with an entirely contrasting narrative, putting the blame on Congress. With the claim – "Kashmiri terrorists captured alive said during interrogation that the Congress government supplied weapons and money to them and asked them to kill Hindus so that India becomes a Muslim state. (translated)" – the image was shared on the Facebook group 'I Am Support Rahul Gandhi Ji…Congress'.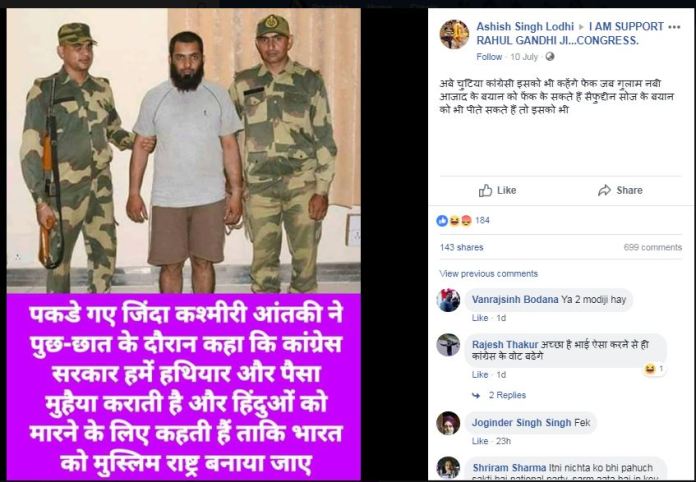 The photograph is also shared with the aforementioned claim on Twitter as well.
#कांग्रेसी_आतंकवादीयो की #मुस्लिम_कट्टरपंथी से गुप्ता #मीटिंग कर रहा मुल्ला @RahulGandhi #हिन्दूओ_के_खिलाफ बड़ी साजिश हो सकती है #जागो_हिन्दू_भाईयो_जागो pic.twitter.com/fVbq4Tsbpq

— 🚩गुर्जर🌱राष्ट्रवादी🚩 (@gurjer570) July 11, 2018
What is the truth?
As the photograph had text on it, a reverse image search on Google did not display the original picture. However, cropping out the text prior to the search accomplished the needful. Alt News' investigation of the photograph can be viewed in the video posted below.
We found the original image on a report dated September 25, 2016, by news outlet Patrika. According to the report, "BSF jawans caught Lashkar-e-taiba terrorist, Abdul Qayoom, when he was crossing the Indian border through Jammu and Kashmir's Akhnoor. Qayoom told BSF jawans that he is a resident of Sialkot, Pakistan and was being trained in Pakistan's Mukride, Sheikhupura zilla. During interrogation, Qayoom revealed that he is collecting funds for Lashkar." Along with Jammu's local news website News State, several prominent media channels, India TV, NewsX, India Today, News18 and The Quint, also ran the story. None of these reports mentioned that RSS or Congress supplied weapons and money to terrorists. Hence, both the claims stand unsubstantiated.
We have noticed in the past as well that images are often placed out of context with alternate narratives. Earlier, an image was widely shared as that of both Congress and BJP leaders in Karnataka. Posting an old image with fake narratives by supporters of both parties adversely affects only social media users who might be influenced by the misinformation. It is pertinent that provocative information, circulated without a credible source, is not blindly believed.
Donate to Alt News!
Independent journalism that speaks truth to power and is free of corporate and political control is possible only when people start contributing towards the same. Please consider donating towards this endeavour to fight fake news and misinformation.