The brutal murder of Shraddha Walker has been widely covered across news media over the last week. Aftab Amin Poonawalla, the accused and Walker's live-in partner, was arrested on November 12. He reportedly killed Walker after a fight on May 18. As per the police, the accused, who hailed from Vasai, Maharashtra, tried to dispose of the corpse by chopping it into small pieces. Poonawalla used a refrigerator to store the mutilated corpse and dumped the pieces in different parts of the city. In addition to the shocking details of the murder, the couple's lifestyle was scrutinized — particularly the fact that their relationship was interfaith. Poonawalla's religious identity has been used to target interfaith relationships between a Muslim man and a Hindu woman.
On November 18, Suresh Chavhanke, editor-in-chief of the pro-BJP propaganda channel Sudarshan News, tweeted an invitation card for a wedding reception of an interfaith couple.
He wrote, "In the town of killer Aftab, Vasai a wedding/nikah between "Imran and Divya" is going to happen. Invitation is public. Aftab did the heart-rending crime of chopping Shraddha into 35 pieces and he is from the same village. how is this happening after this crime?" [Hindi text: हत्यारे अफताब के वसई में ही अब " इमरान और दिव्या" का होने जा रहा है निकाह/ विवाह का निमंत्रण सार्वजनिक हैं। उसी ग्राम के "अफताब ने श्रध्दा" के 35 टुकड़े करने के ह्रदय विदारक अपराध के बाद भी यह कैसे होने जा रहा हैं?]
The tweet posted with the hashtags #LoveJihad_ActOfTerrorism #LoveJihad #Shraddha gained over 5,000 retweets and got over 10,000 likes. Thus, sharing an address that could have been used to trace two families. Alt News has included the screenshot of Chavhanke's tweet after hiding personal identifiers in the reception invitation.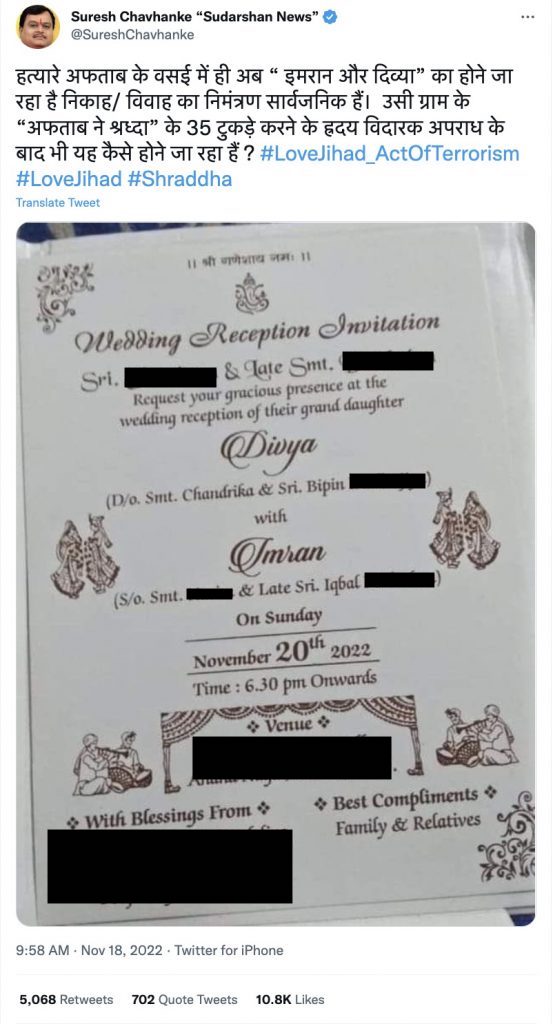 J&K's Yuva Jatt Sabha President Amandeep Singh Boparai also posted this wedding invitation online and wrote, "It is a request to Sh. Bipin to give [as dowry] a large fridge for their daughter".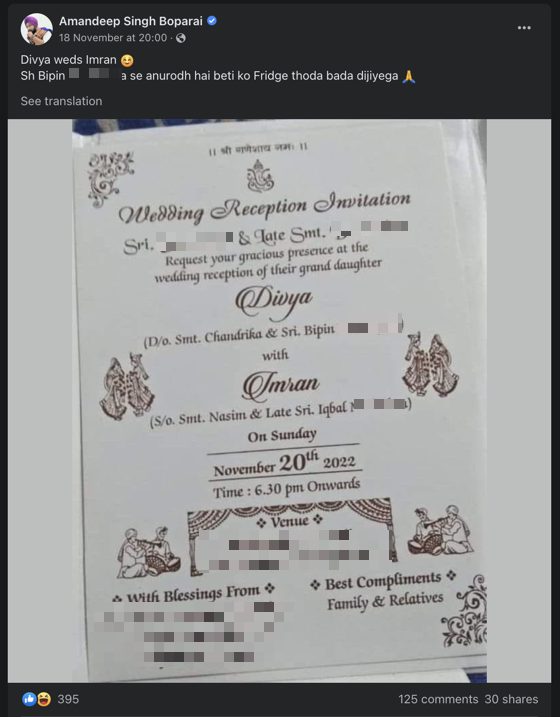 Is Chavhanke above Twitter policies?
It's been over 72 hours since Chavhanke's tweet yet Twitter has not implemented its policy. In November 2021, Twitter published a blog titled 'Expanding our private information policy to include media'. The opening paragraph stated, "Under our existing policy, publishing other people's private information, such as phone numbers, addresses, and IDs, is already not allowed on Twitter. This includes threatening to expose private information or incentivizing others to do so."
In the next paragraph, Twitter wrote, "There are growing concerns about the misuse of media and information that is not available elsewhere online as a tool to harass, intimidate, and reveal the identities of individuals. Sharing personal media, such as images or videos, can potentially violate a person's privacy and may lead to emotional or physical harm. The misuse of private media can affect everyone, but can have a disproportionate effect on women, activists, dissidents, and members of minority communities."
The first point under the violation of the new policy states, "You can't share the following types of private information or media, without the permission of the person who it belongs to home address or physical location information, including street addresses, GPS coordinates or other identifying information related to locations that are considered private."
By sharing the image of a private function, Chavhanke has — a) misused the private media (image of wedding invitation) and b) shared the address and the date of the reception ceremony.
Events after Chavhanke's tweet
On the same day, Newslaundry reported, that two families in Maharashtra's Vasai cancelled the wedding function after Suresh Chavhanke's tweet. A manager at the Vishwakarma Hall, where the function was scheduled to be held on November 20, told Newslaundry on the condition of anonymity, "They [both families] were receiving calls all day and seemed disturbed. They cancelled the function at my venue and I returned their deposit. It was because of the function invite that was leaked to the public."
Speaking to The Quint, a senior police official acquainted with the matter stated, "Both bride and groom are consenting adults and their families are supportive of their marriage. We have no issue (with the wedding reception)." The report added that the couple is already married, and the event on November 20 was their wedding reception. S Patil, another police official in Vasai, told The Quint, "We spoke with the woman and the man, they have had a court marriage."
A police officer from Manikpur police station told Hindustan Times, "The parents told us that due to a death in the family they have cancelled the reception at Vishwakarma Hall in Anand Nagar but went ahead with a low-key garland exchanging ceremony in a temple in presence of close relatives." Alt News reached out to Divya via WhatsApp and tried calling multiple times.
Alt News spoke with Vasai-based journalist Suhas Birhade. He has also been following up on the story. Birhade told Alt News, "It seems the venue was booked about two months prior to the reception. After Suresh Chavhanke's tweet, which was just two days prior to the reception, the personal ceremony became a talking point on the news and social media. Subsequently, the police authorities assured both families that adequate security for the reception. However, the family decided to cancel the reception."
Birhade added, "After being drawn into social media controversy needlessly, why would any family admit they got scared and cancel the reception? I personally believe the reception would have gone unnoticed if Chavhanke had not tweeted."
To sum it up, Suresh Chavhanke, the editor-in-chief of pro-BJP propaganda channel Sudarshan News, violated Twitter policy related to sharing private information. Yet, his tweet was not removed. Alt News has documented multiple instances where Chavhanke has communalized an issue.
Donate to Alt News!
Independent journalism that speaks truth to power and is free of corporate and political control is possible only when people start contributing towards the same. Please consider donating towards this endeavour to fight fake news and misinformation.