There has been an outpour of right-wing support for Jagrati Shukla after the suspension of her handle by Twitter for violating its rules against hateful conduct. The role played by BJP office bearers in garnering support for Shukla has, however, raised concerns about the party's real position on the 1984 anti-Sikh genocide.
BJP had publicly committed to bring the perpetrators of the riots to justice. It was, therefore, shocking that several of its office bearers tweeted in support of an individual who had infamously claimed that Sikhs deserved to be massacred.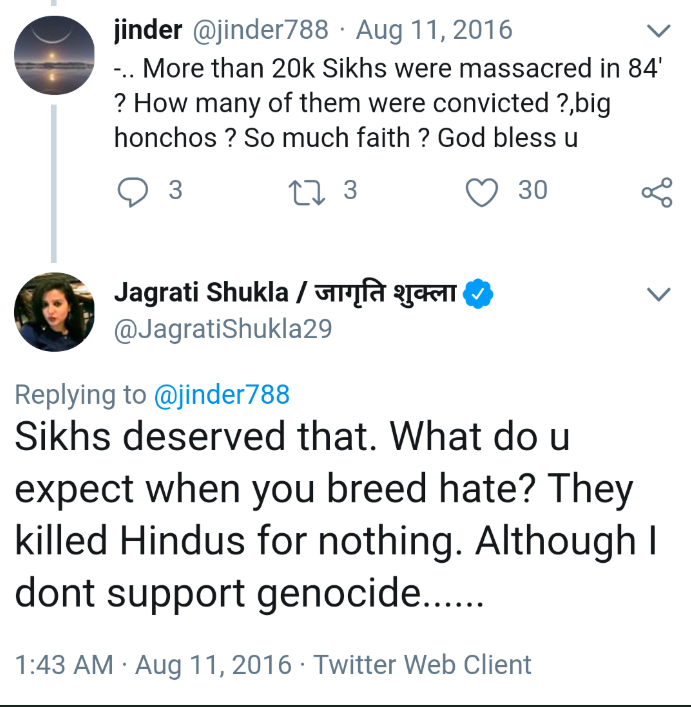 Shukla, who has posted hateful content in the past as well, had her handle suspended by Twitter for a tweet calling for the extrajudicial killing of Kashmiri protestors. Delhi BJP spokesperson Tajinder Bagga, BJP Mahila Morcha's Social media in charge Priti Gandhi, Delhi High Court Prashant Patel and National IT Head of BJP Kishan Morcha, all tweeted in support of Jagriti Shukla and helped trend the hashtag #ISupportJagratiShukla.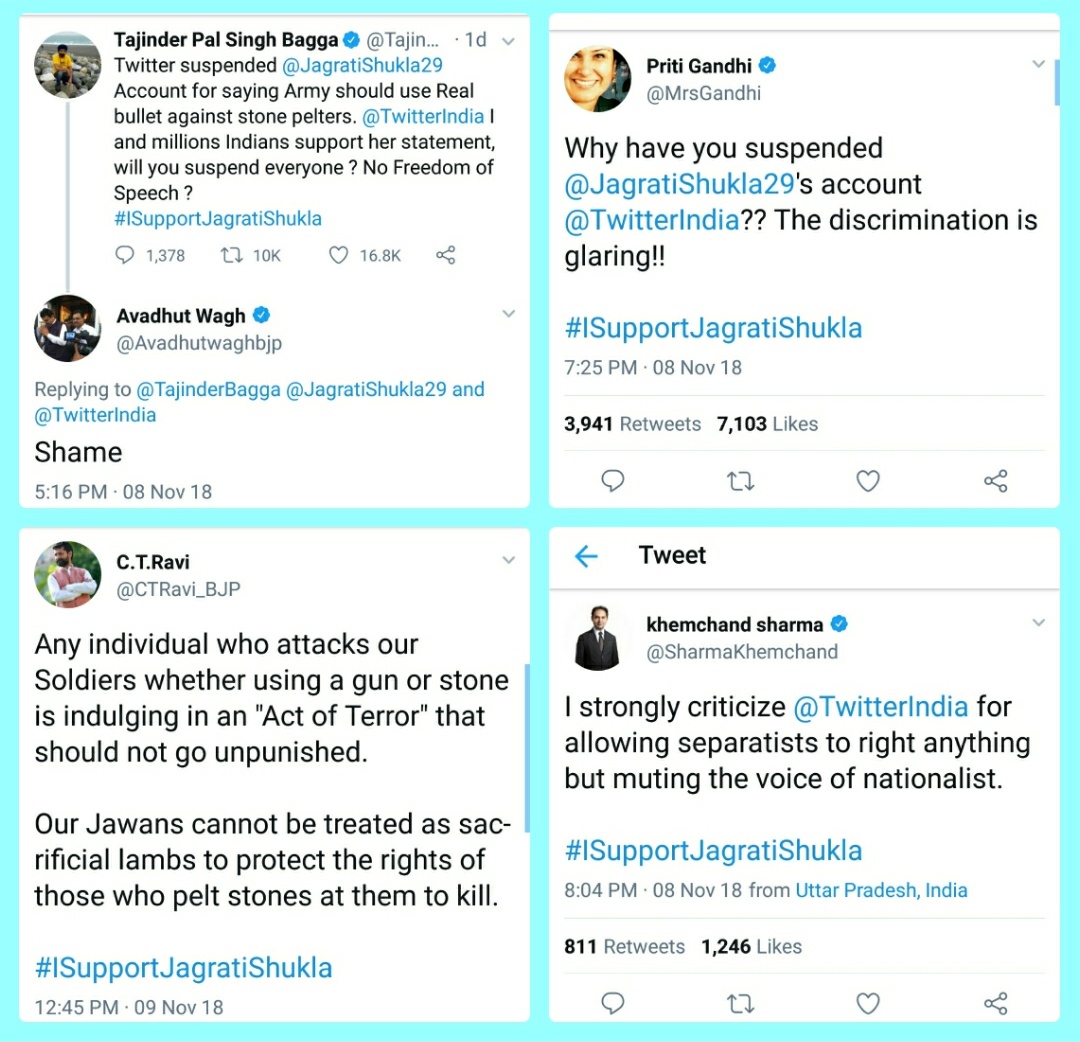 Shukla seems to have a morbid fascination for genocide, killings and murders. Other than justifying the anti-Sikh riots, she had also called for genocide in Kashmir. In a 2016 tweet, she had called for "population and pest control" by killing "'em all" in the Kashmir Valley. She later added that they could start by killing Kanhaiya Kumar.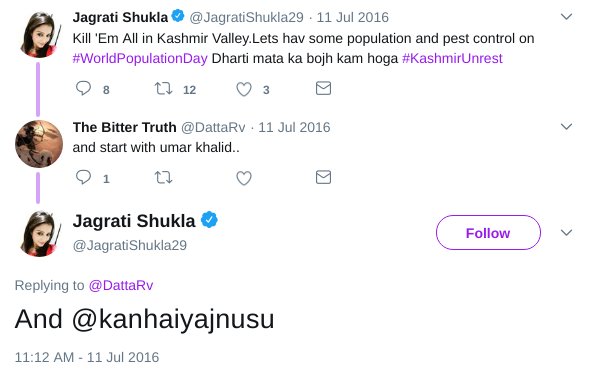 Many Twitter users followed by Prime Minister Modi tweeted with the hashtag #ISupportJagratiShukla to express outrage over the suspension of her twitter handle.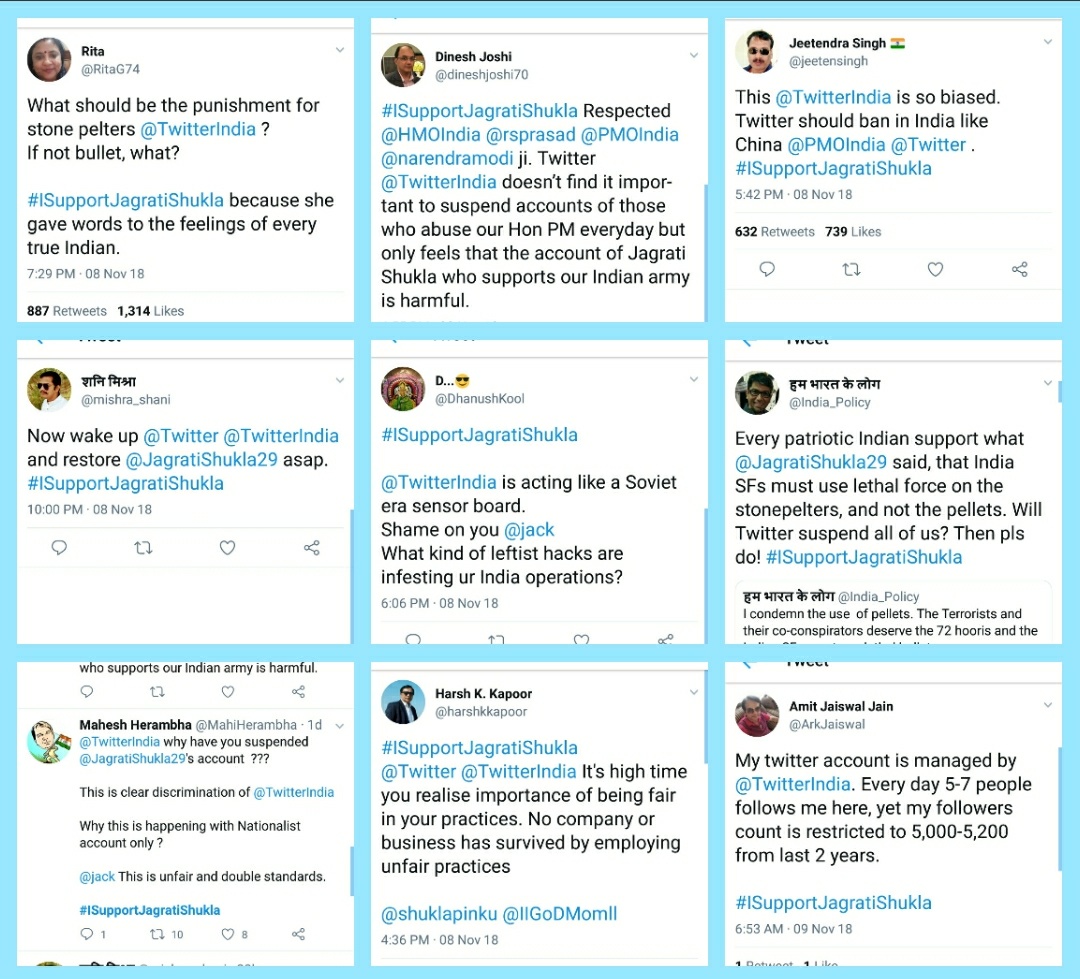 Expression of support to such an individual by a Congress office bearer would have led to a massive outrage among BJP with right leaning TV channels holding debates and calling for apology from the party president. Does BJP endorse the public support extended by its office bearers to an individual who has called for a genocide in Kashmir and justified the massacre of Sikhs in the 1984 riots?
Donate to Alt News!
Independent journalism that speaks truth to power and is free of corporate and political control is possible only when people start contributing towards the same. Please consider donating towards this endeavour to fight fake news and misinformation.