On August 13, 2017, Bollywood actor Nawazuddin Siddique tweeted a picture of his son dressed up as Krishna, expressing happiness at his son playing the role of "Natkhat nandlala" in his school. Soon after, a twitter account called Neelafor Khan with the Twitter user @neelLONEWOLF responded to this tweet stating, "Ye Islam ke khilaf hai. Khiar tumhe usse Kya? Tum to Shia ho. Shia musalman nahi hote (This is against Islam. However, how would that matter to you. You are Shia and Shias are not Muslims – translated)". This vile attack in response to an endearing tweet got featured even in mainstream media with Jansatta, Indian Express Group's Hindi media outlet, quoting Neelofar Khan's tweet in their article.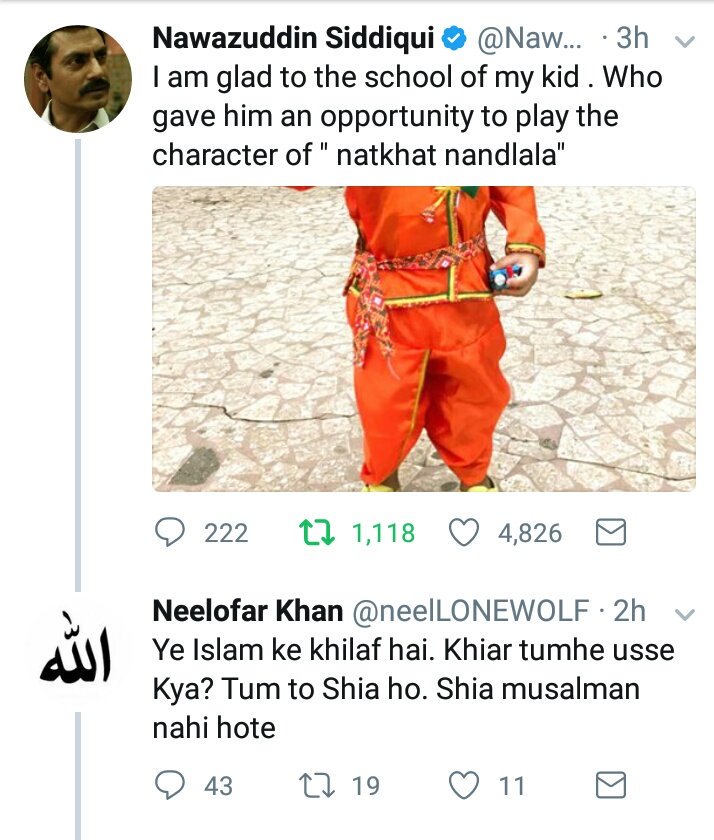 A popular right-wing Twitter account The SKIN DOCTOR (@theskindoctor13), which back then used to have the Twitter id @thecyberbully13, responded to this tweet by Neelofar Khan stating, "Aa gayi mazhab ki thekedar (Here come guardians of the religion -translated)".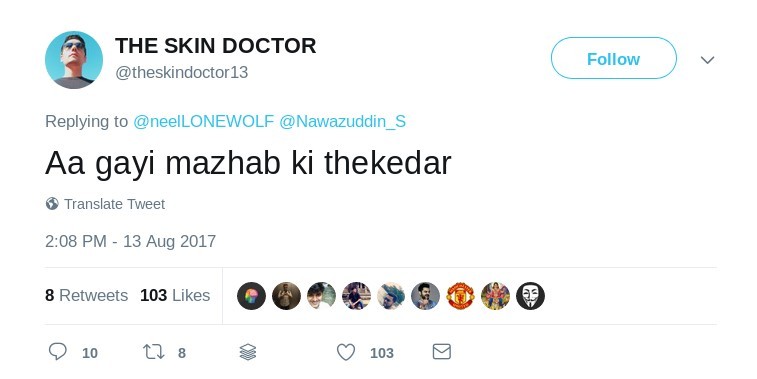 On the very same day, Neelofar Khan (@neelLONEWOLF) change the status of her Twitter account to protected status. The account continues to be in the same state even in the present.
Coward @neelLONEWOLF trolls @Nawazuddin_S for not being muslim then deletes tweet now protected his/her account. pic.twitter.com/s5X27jncPk

— amardasbhalla (@amardasbhalla) August 13, 2017
Fast forward to 2018, a screenshot of an older tweet from the same Twitter id @neelLONEWOLF was spotted, this one with a male profile picture and the name as Neelam Singh instead of Nilofar Khan. In this tweet, Neelam Singh was responding to a Shobhaa De tweet.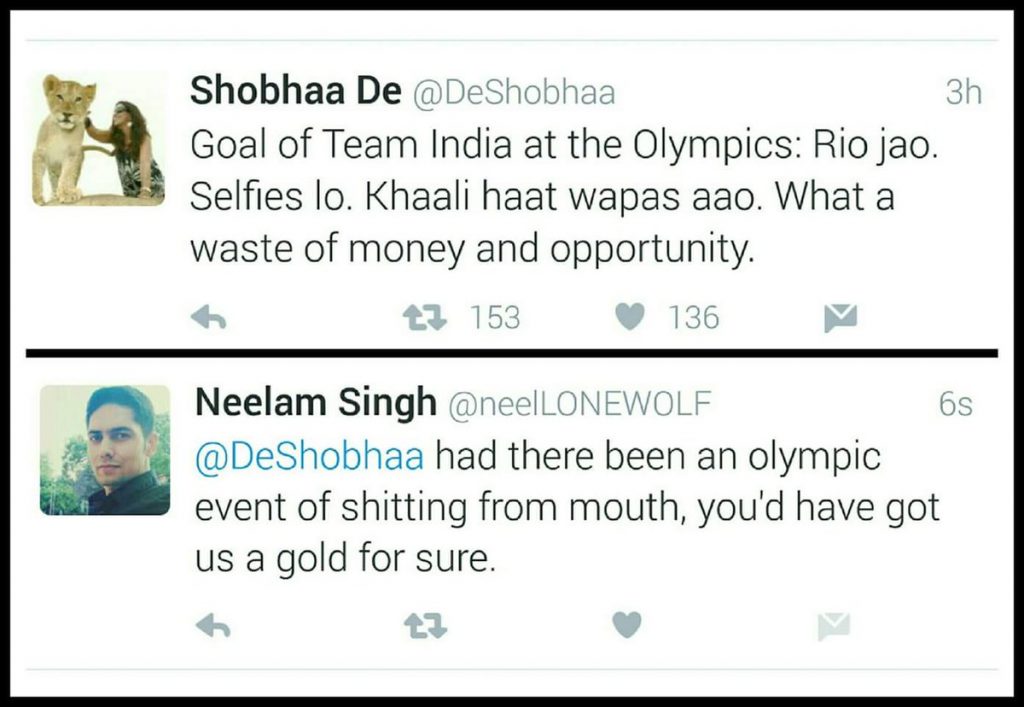 It was alleged that the picture in the old screenshot featuring Neelam Singh is that of Twitter user THE SKIN DOCTOR (@theskindoctor13) himself, which had since been renamed to Neelofar Khan and was used to troll Nawazuddin Siddiqui.
Matlab Samjhe Daya? Neelofar Khan aapa (@neelLonewolf ) he Neelam Singh bhaiya (@theskindoctor13 ) hai pic.twitter.com/fFco9pcP4R

— Zoo Bear (@zoo_bear) November 18, 2018
To this claim, Twitter user THE SKIN DOCTOR (@theskindoctor13) responded by stating that the picture was indeed his, but someone had misused it and that the account Neelam Singh urf Nilofar Khan (@neelLONEWOLF) was not his. He alleged that either the screenshot was photoshopped or it was a fake account.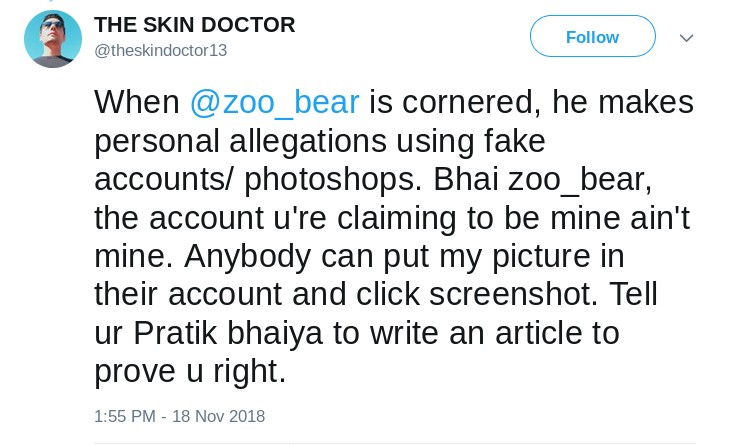 What is the truth?
The Twitter user THE SKIN DOCTOR (@theskindoctor13) used to previously have the twitter id @thecyberbully13 and has a Facebook page with the identical username, "facebook.com/thecyberbully13". While we could access this Facebook page this morning, it has now been taken down. A cached version of the Facebook page can be accessed here.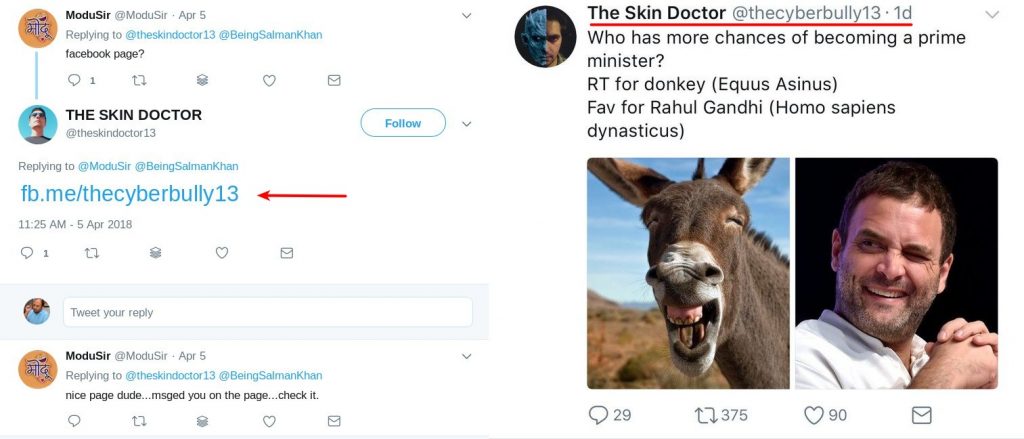 On this Facebook page run by THE SKIN DOCTOR @theskindoctor13 aka @thecyberbully13, we found that he had posted screenshots of the Twitter account which he now claims to be fake and has misused his picture (Archive link 1, Archive link 2).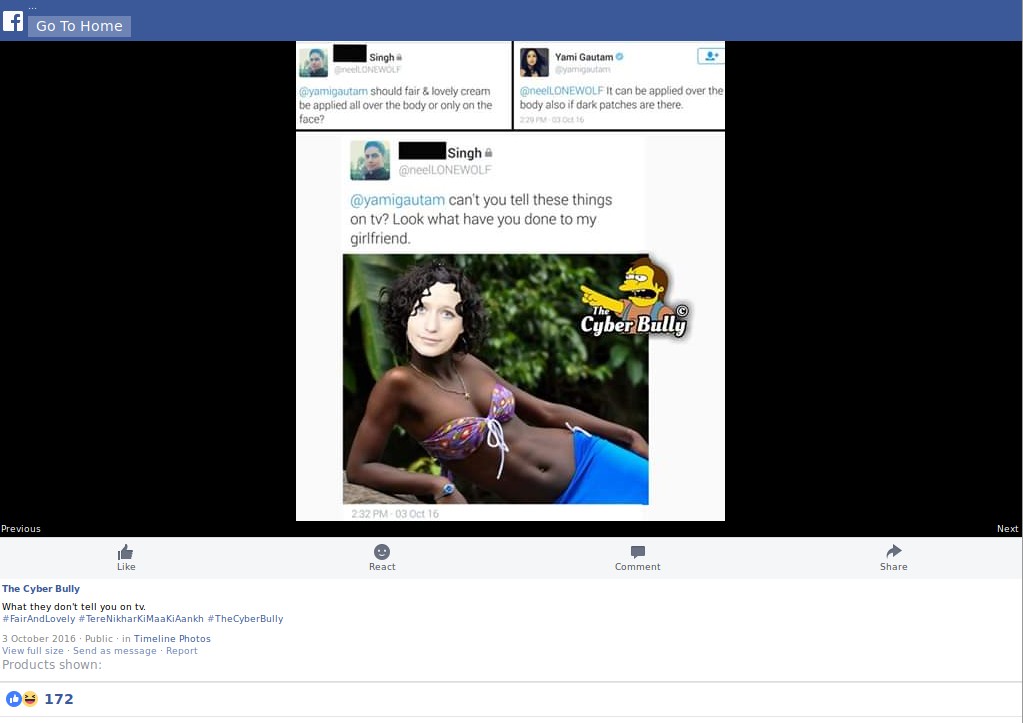 In the above image, one can see that the Twitter user that is trying to troll Actress Yami Gautam is @neelLONEWOLF and the name is Neelam Singh, the same Twitter id which changed its name to Neelofar Khan and trolled Nawazuddin Siddiqui. The image also has a watermark 'THE CYBER BULLY' that is used many times on the images posted by this page, signifying that this post has been made by the admin of the page himself, i.e. the Twitter user THE SKIN DOCTOR (@theskindoctor13). The page has many such posts, memes etc. The above Facebook post with screenshot of Neelam Singh's tweet has been circled in the screenshot below.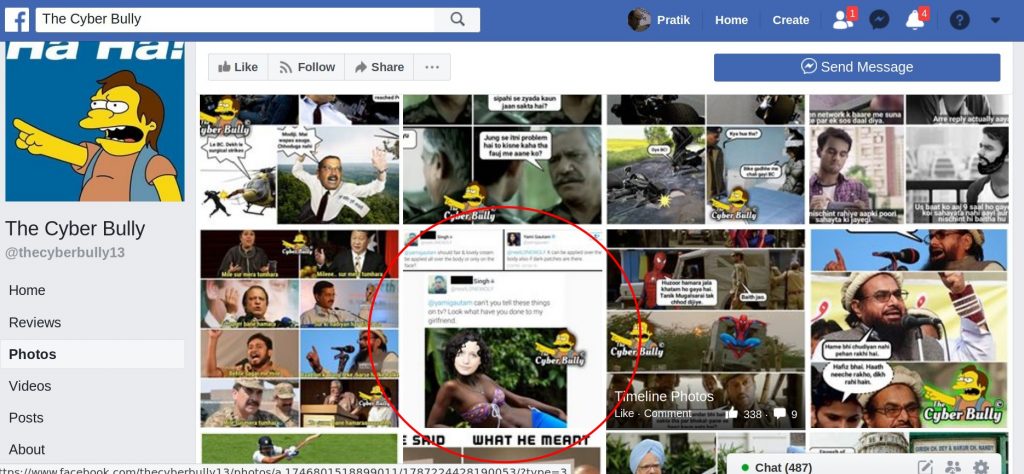 In the past, THE SKIN DOCTOR (@theskindoctor13) had also tweeted the screenshot of a post from his Facebook account which shows that his name is Neelam Singh.
The evidence available shows that THE SKIN DOCTOR (@theskindoctor13)'s real name is Neelam Singh. Moreover, his claim that someone has misused his pictures to create a fake screenshot of the Neelam Singh (@neelLONEWOLF) account falls flat as his own page has screenshots from the same account with his own pictures, the account which later trolled Nawazuddin Siddiqui as Neelofar Khan.
This account @theskindoctor13 is followed by PM Modi on Twitter and is known to target journalists and non-BJP politicians via tweets/memes, often branding them as anti-nationals or Pakistanis. Recently, this account had targeted student leader Shehla Rashid incessantly suggesting that she had embezzled funds crowdfunded for families of Kathua victims, a claim that Alt News found to be untrue.
Donate to Alt News!
Independent journalism that speaks truth to power and is free of corporate and political control is possible only when people start contributing towards the same. Please consider donating towards this endeavour to fight fake news and misinformation.