A hashtag celebrating the revival of a suspended account took Twitter by storm on November 27. '#TrueIndologyIsBack' was used to welcome a handle by the same name, permanently suspended by Twitter twice in the past. Among those delighted by his unapproved return were members and supporters of the Bharatiya Janata Party (BJP).
Please follow new account of @TheTrueIndology

— Tajinder Pal Singh Bagga (@TajinderBagga) November 27, 2020
Friends, @TheTrueIndology is back 😊💪
Plz follow 🙏 Jai Hind 🇮🇳

— Major Surendra Poonia (@MajorPoonia) November 27, 2020
TrueIndology is infamous for routinely sharing fictitious historical claims advocating Hindu supremacy over other faiths, especially Islam. He retained the pseudonym 'TrueIndology' upon his comeback for the third time but disclosed a photograph and surname. His previous account which was suspended by Twitter was @TIinExile.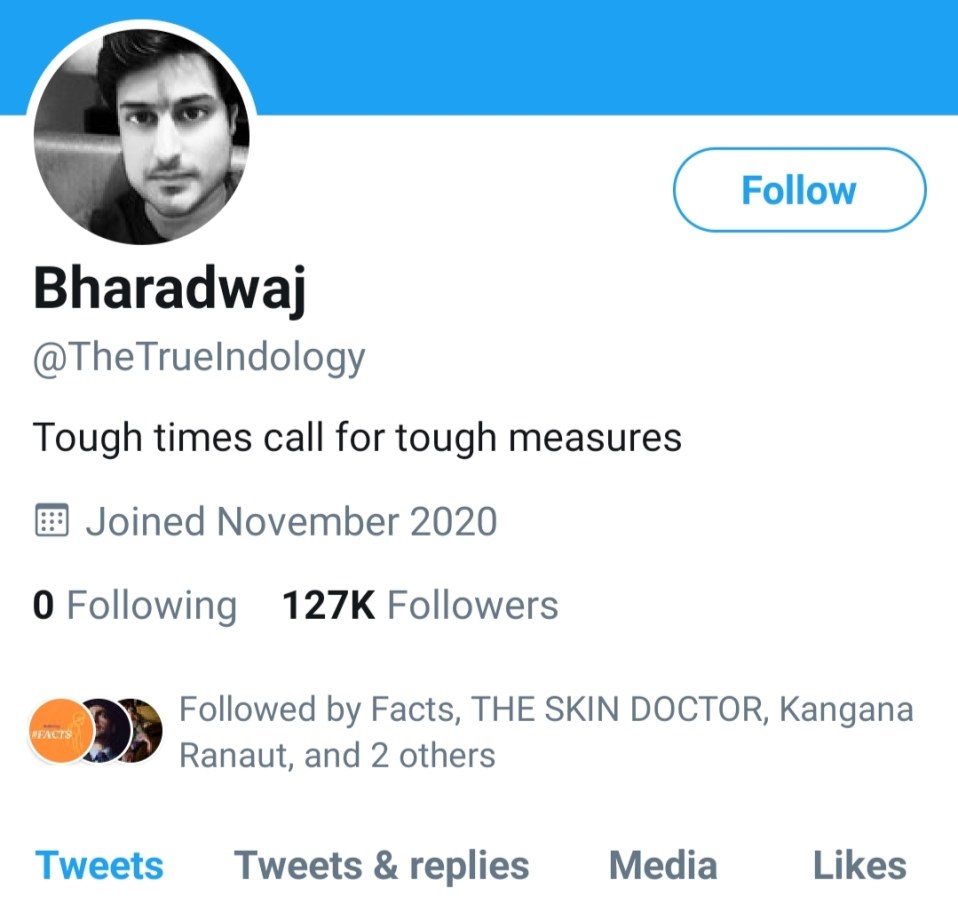 The propaganda account now goes by @BharadwajSpeaks.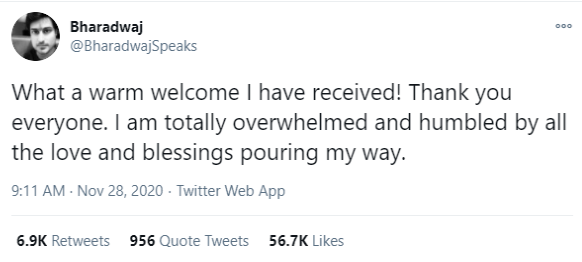 Twitter permanently suspends accounts that violate its rules in order to ensure that the platform provides a safe space for healthy discourse. Furthermore, it prohibits these users from reappearing on the platform using alternate accounts. According to its policy, accounts that promote violence, harassment, abuse, among a plethora of other red flags, are permanently removed.
"Permanently suspending an account will remove it from the global view, and the violator will not be allowed to create new accounts," says Twitter.
While it may be difficult to keep a track of all the accounts making a comeback on Twitter with changed usernames, the argument does not hold in the case of TrueIndology. For starters, #TrueIndologyIsBack was the topmost trending hashtag when the new account was made. Bharadwaj also kept the username similar to the original in the initial days.
In a matter of a few weeks, TrueIndology 3.0 has managed to gain over 1.7 lakh followers (as of this writing).

This account is one among the many suspended handles to have returned on the platform. Alt News sent Twitter multiple emails, messages and tweets informing the tech company of these handles (also listed below in the report). But none of our queries was answered. Twitter has failed to enforce its policy for suspended accounts and overlooked several handles that continue to exist and promote sectarian propaganda.
The reappearance of suspended propaganda handles on Twitter
1. Twitter had suspended @pokershash, an account that used to enjoy the support of top BJP brass.
Why have @Twitter suspended the account of @pokershash ? #BringBackPokerShash

— Kapil Mishra (@KapilMishra_IND) March 27, 2020
Below is a glimpse of the content he used to frequently share.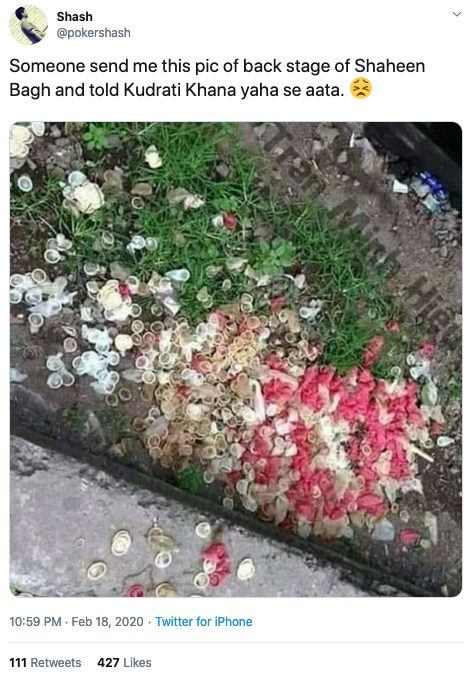 That picture of condoms dumped on a roadside was found on several Vietnamese websites from three years ago. It has nothing to do with protests against the Citizenship law at Shaheen Bagh.
Twitter suspended @pokershash for targetted harassment of AAP spokesperson Preeti Menon.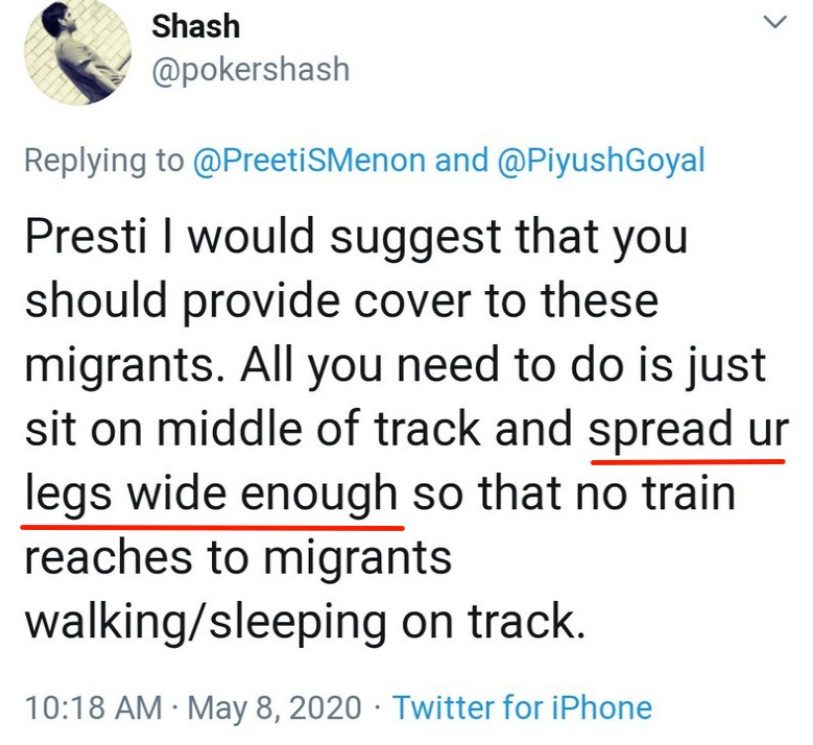 But he is now back with the handle '@BefittingFacts' already gaining 46,000 followers. On August 29, he had quote-tweeted a user talking about the weight loss journey of @pokershash and explained how he achieved his target.
Losing weight without work out is a dream. Diet control not only helped to lose weight but it also helped to survive lockdown without craving for junk food. It was all possible because of @BeMyHealth and @IHarjeetR
PS: Cropping painting of Mamata Didi is a criminal offence 😡😡😡 https://t.co/X6tkUHNlD0

— Facts (@BefittingFacts) August 29, 2020
He still operates his Instagram account under the pseudonym @pokershash where he regularly shares @BefittingFacts tweets.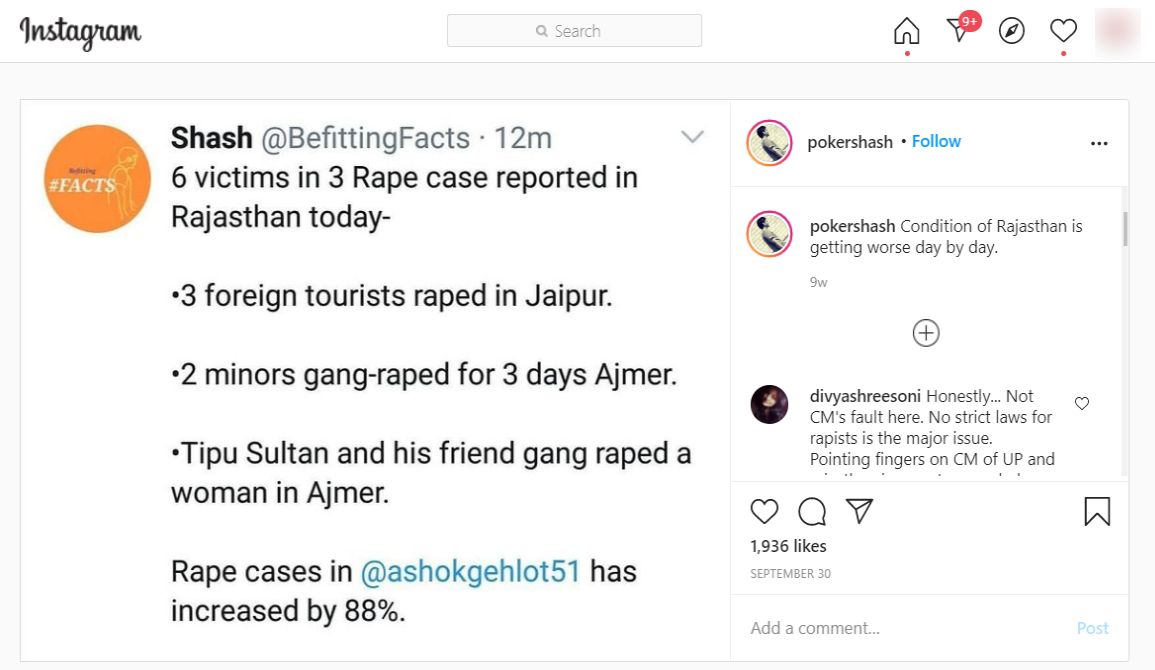 2. Twitter had also permanently suspended two accounts (@vibhor_anand and @ivibhoranand) of Delhi-based man Vibhor Anand who claims to be an advocate. He now operates with the username @OfficeofVA, of which he also made an announcement.
Last month, a sessions court in Mumbai had granted bail to Anand for "for allegedly posting defamatory tweets against State Ministers of Maharashtra and spreading fake theories about the Sushant Singh Rajput case", reported Bar and Bench. His lawyer argued that Anand was "made to believe" that Rajput and his former manager Disha Salian were murdered by watching television news, particularly Republic Bharat.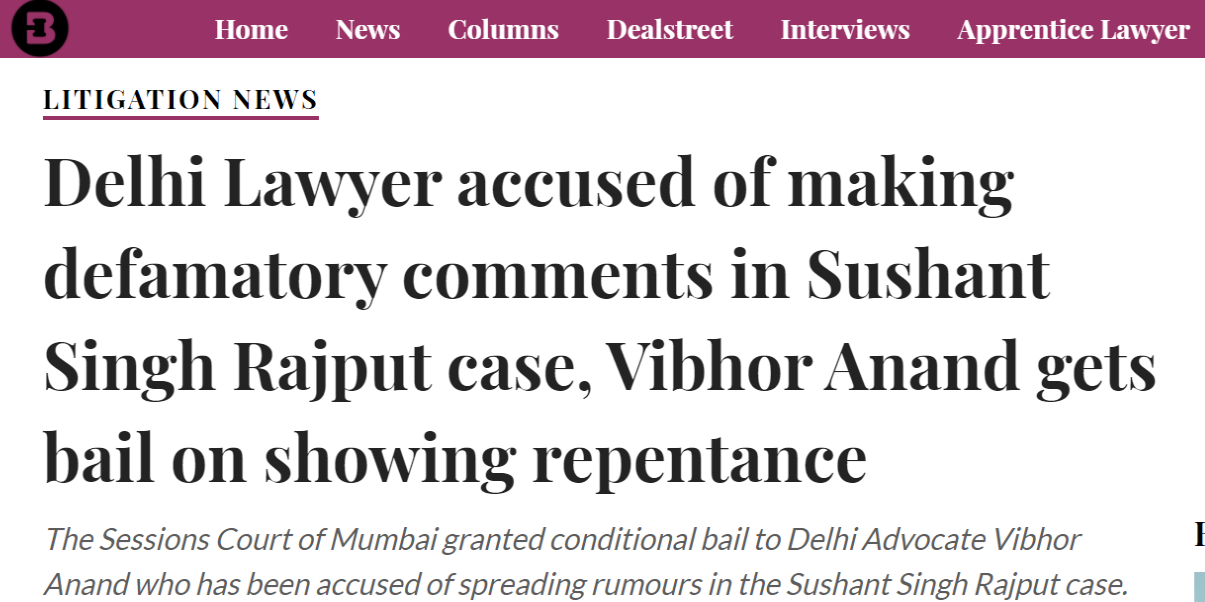 In 2018, Anand had posted a series of tweets appealing to those who felt "cheated" by activist Shehla Rashid who crowdfunded money for the Kathua rape victim. He claimed to take legal action against her for embezzlement. There isn't an update on what exactly happened with the 'legal action' but the assertion that Rashid pocketed the funds is false. Alt News's detailed report on the disinformation can be read here.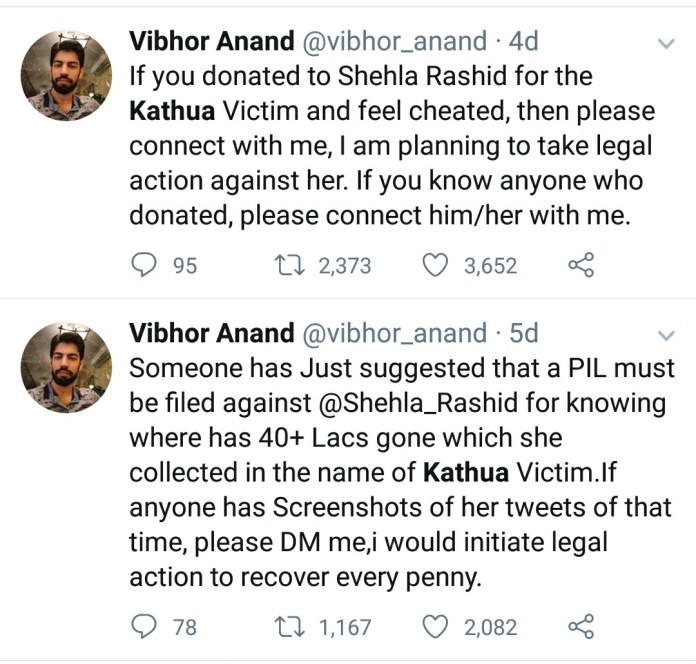 3. To anyone well-versed with the misinformation ecosystem on Twitter, @squintneon needs no introduction. The account was known for indulging in targetted harassment using the vilest language. Below is a tweet that it had posted before the suspension of its first account.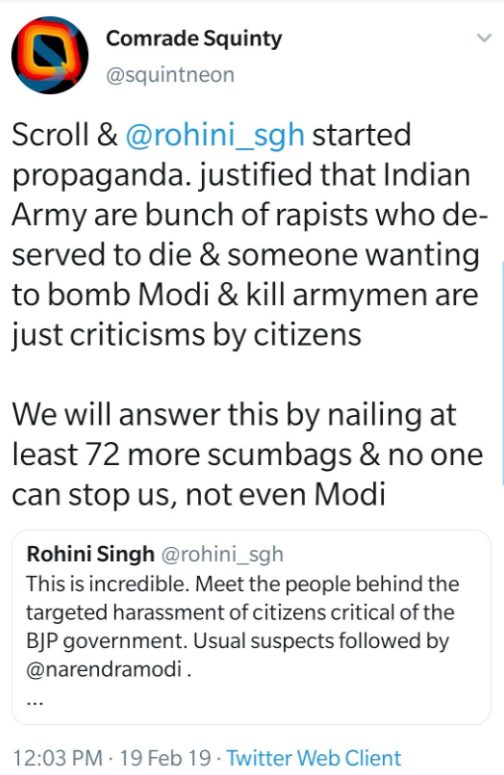 Alt News had also documented communally-motivated rumours peddled by the handle. It quote-tweeted a video in 2018 claiming that a Naga Sadhu was beaten by a Muslim mob. Alt News Fact Check found that the man was a beggar who attempted to molest a woman in a state of inebriation. She hailed from a Hindu family and her brother had beat up the beggar.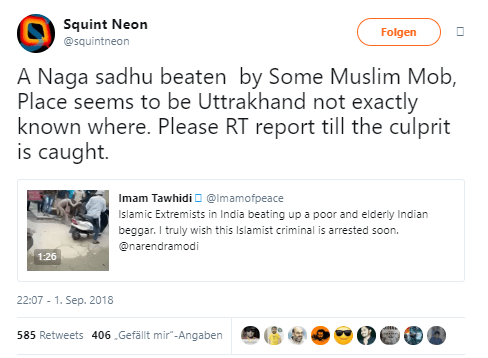 The account @squintneon returned after its suspension in 2019 as @SquintNayan which too was suspended.
But the account is now back as @TheSquind. Among its followers are BJP leaders Kapil Mishra and Tajinder Pal Singh Bagga. The account routinely shares tweets by @TheSquind on its Instagram handle Squint Neon.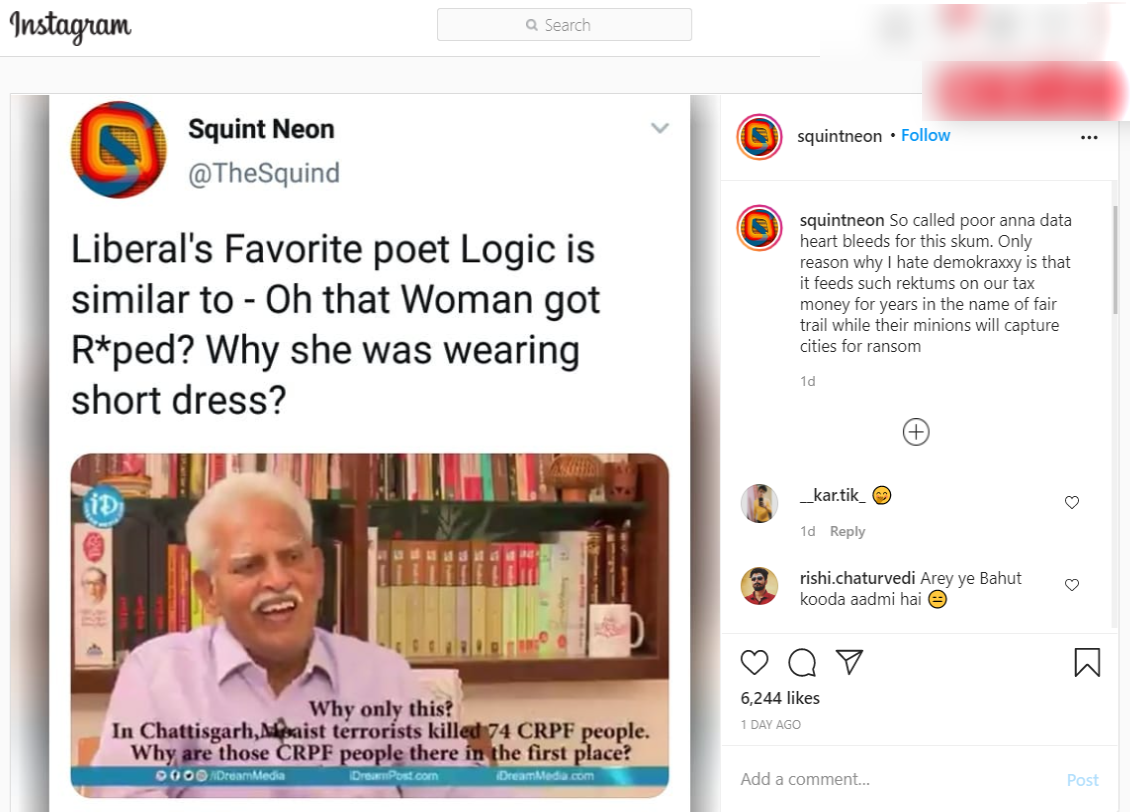 After Jamia scholar Safoora Zargar was booked by the Delhi police under the Unlawful Activities (Prevention) Act or UAPA for participating in Delhi riots, @TheSquind used a photograph of another student to take a dig at Zargar's pregnancy at the time of her arrest. Alt News Fact Check report on his tweet can be read here.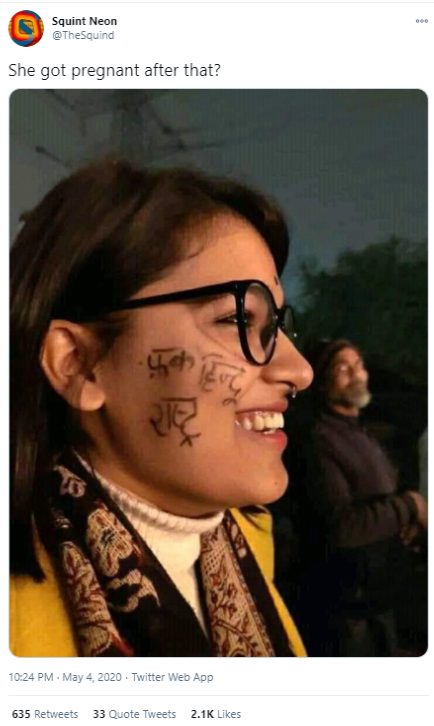 4. Another user close to the BJP who now has a third account on Twitter is Anuj Bajpai.
Bajpai used to claim that he works with the Uttar Pradesh Chief Minister's Office which was later found to be untrue.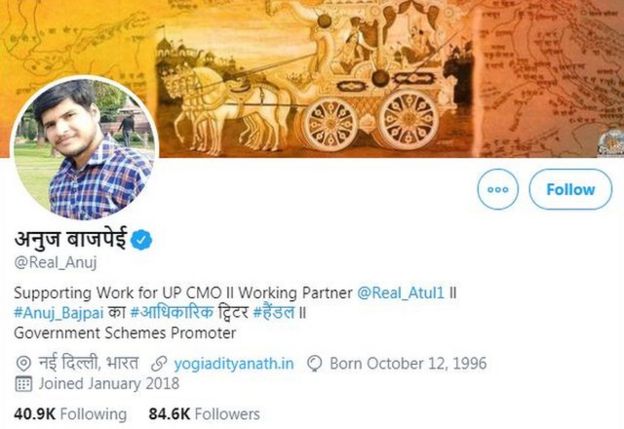 However, he certainly enjoys the support of several BJP leaders. BJP Haryana social media head Arun Yadav welcomed Bajpai to Twitter after he made his second account, @Brand_Anuj.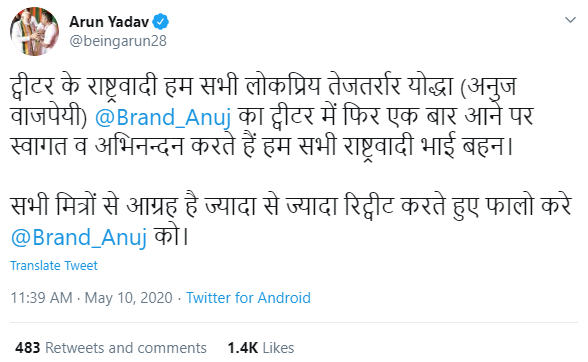 This account too was suspended in a few months but Bajpai returned with a third account @itsAnujBajpai and made a declaration of the same on Facebook. He has now changed the username to @itsBrandAnuj.

5. A Twitter user that goes by the username @GKapoor20 had recently made a tasteless comment on anti-CAA activist and Jamia scholar Safoora Zargar.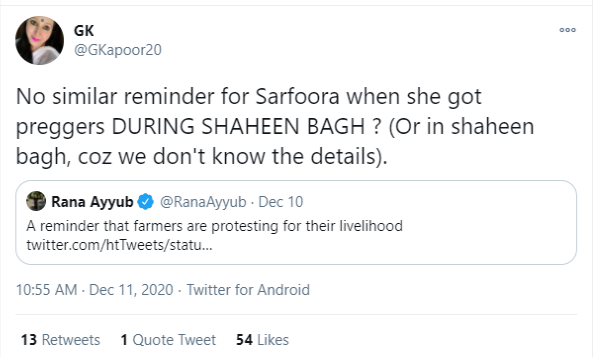 Zargar was three months pregnant when she was arrested in April. Despite being a woman, Kapoor's sensibilities did not prevent her from undermining another woman's politics using crass language.
The handle @GKapoor20 is run by a vocal supporter of PM Modi, Gita Kapoor. She was also followed by the Prime Minister. This is her second account, created after Twitter permanently suspended her earlier handle @GitaSKapoor. Alt News has published several reports identifying Kapoor as a purveyor of misinformation.
Twitter does not give an option to report new accounts of suspended users
The micro-blogging website has a 'report tweet' option where users can intimate the platform of probable violations. This option, however, does not extend to new accounts of suspended users.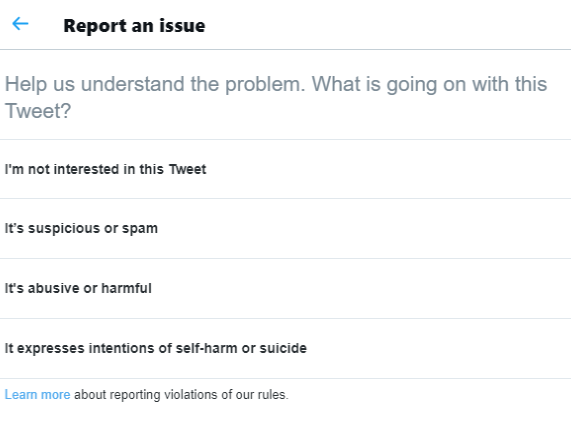 The rationale behind not allowing individuals to recreate accounts after having been suspended for violating Twitter policies of harassment, abuse et all is to enforce accountability and discourage repeat offenders. It is shocking that the platform is failing to enforce its policy for such hugely popular accounts. It is virtually impossible to miss their reappearance. Most of these handles are welcomed by prominent BJP members and leaders upon the creation of a fresh account which in turn helps them regain followers quickly. Despite continuing to engage in behaviour in violation of Twitter policies, they are allowed to thrive without the platform taking any action.
Donate to Alt News!
Independent journalism that speaks truth to power and is free of corporate and political control is possible only when people start contributing towards the same. Please consider donating towards this endeavour to fight fake news and misinformation.