"मुम्बई मे एक पाकिस्तानी लेडीज फ्रीस्टाइल कुस्तीबाज महिला रिंग मे खडे हो कर भारतीय महिला ओ को गाली देते हुये रिग मे आने के लिये चैलेन्ज करने लगी इसके चैलेन्ज को स्वीकार करते हुये RSS की दुर्गा वाहिनी की महिला संन्ध्या फडके नाम की महिला रिंग मे उतर कर आई आगे क्या हुआ इस वीडियो मे आप खुद देखे 👇" (A Pakistani female free style wrestler, in Mumbai standing in a wrestling ring, started swearing at Indian women and challenging them to enter the ring and fight. A member of Durga Vahini of RSS, Sandhya Phadke, took up the challenge and entered the ring. Watch the video to see what happened next – translated).
The above message accompanied by a video shows a freestyle wrestler throwing an open challenge to the crowd. Then, a woman in a saffron colour salwar kameez accepts the challenge and gets inside the ring. The wrestler takes the first strike and the woman in salwar kameez can be seen thrown off to a corner, but then she gets up and repeatedly pummels the wrestler, who is then rescued by a group of men.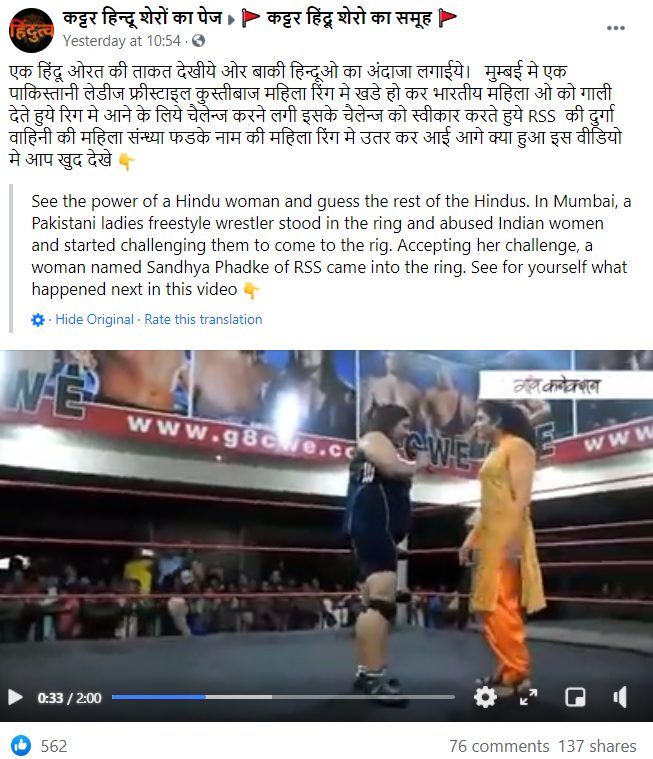 It has also been shared on Twitter.
एक हिंदू ओरत की ताकत देखीये ओर बाकी हिन्दूओ का अंदाजा लगाईये। मुम्बई मे एक पाकिस्तानी लेडीज फ्रीस्टाइल कुस्तीबाज महिला रिंग मे खडे हो कर भारतीय महिला ओ को गाली देते हुये रिग मे आने के लिये चैलेन्ज करने लगी! pic.twitter.com/hnSW1tS9QF

— सी बी पंजाबी (@cbpunjabi) July 18, 2021
It was posted by BJP Haryana leader Jawahar Yadav last year with the same claim. The video has 5.5 million views.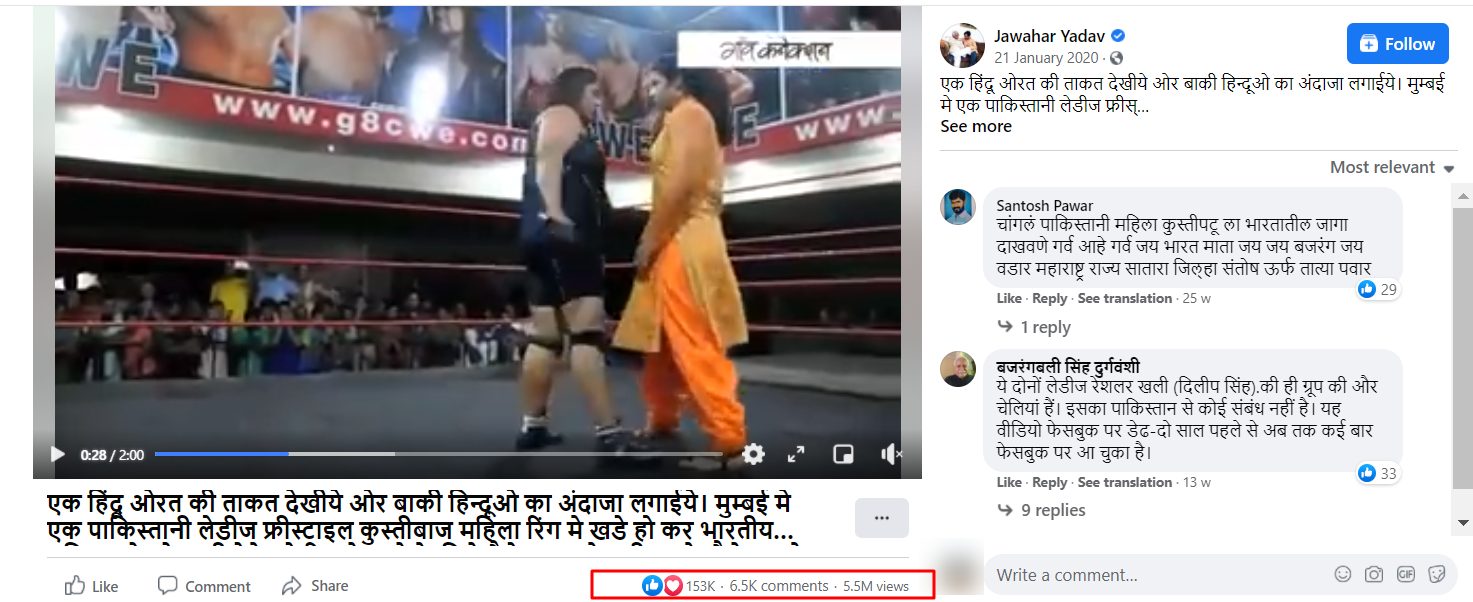 The same clip has been circulating since 2018.
मुम्बई मे एक पाकिस्तानी लेडीज फ्रीस्टाइल कुस्तीबाज महिला रिंग मे खडे हो कर भारतीय महिला ओ को गाली देते हुये रिग मे आने के लिये चैलेन्ज करने लगी इसके चैलेन्ज को स्वीकार करते हुये RSS की दुर्गा वाहिनी की महिला संन्ध्या फडके नाम की महिला रिंग मे उतर कर आई आगे क्या हुआ इस वीडियो मे आप खुद देखे 👇

Posted by Smriti Irani Fans on Wednesday, 13 June 2018
The clip was viral on Facebook. Alt News also received fact-check requests on its official mobile application.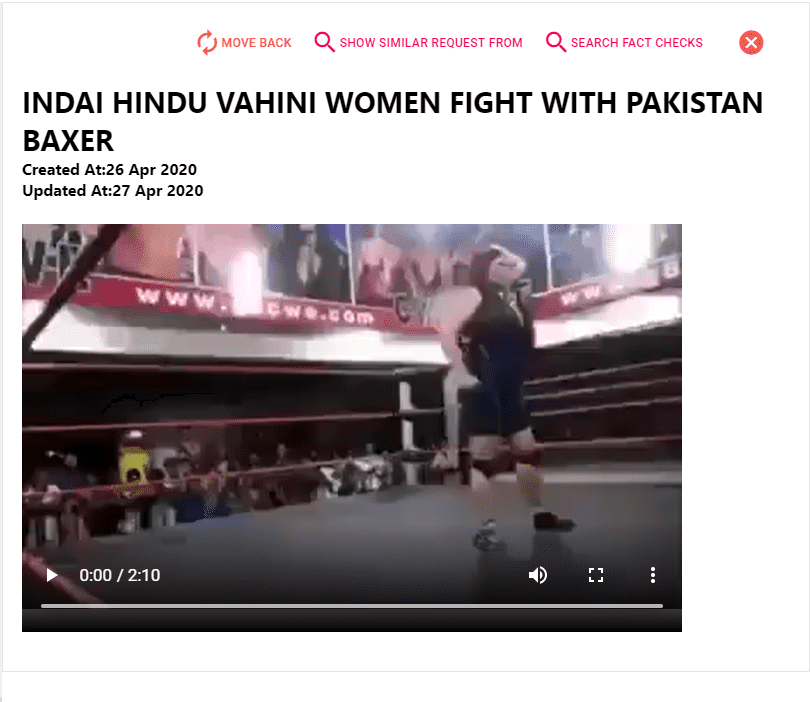 What is the truth?
Alt News had already debunked this video in 2017 when it was widely circulated on social media. It is now being shared again. The freestyle wrestler seen in the video is NOT from Pakistan. She is Indian. Her name is BB Bull Bull. She is India's first professional wrestler. The lady in the saffron salwar kameez is Kavita Devi. Devi is a Mixed Martial Arts (MMA) fighter and former powerlifter from Haryana. She had created history when she became the first female Indian wrestler to feature in the WWE.
According to a report by The News Minute, the event was organised by Continental Wrestling Entertainment in Jalandhar in 2016. The CWE is an Indian professional wrestling promotion and training academy founded and owned by Indian-American professional wrestler The Great Khali. The same video can be seen on the YouTube channel of CWE. Moreover, Durga Vahini is the women's wing of the Vishwa Hindu Parishad (VHP) and NOT the RSS as claimed in this viral post.
It has been observed that nationalism is a popular theme with fake news purveyors who seek to incite popular sentiment through the use of misleading images and/or videos. This is yet another such instance wherein a harmless video of a wrestling bout meant purely for entertainment purposes is given a false, hyper-nationalistic spin.
Donate to Alt News!
Independent journalism that speaks truth to power and is free of corporate and political control is possible only when people start contributing towards the same. Please consider donating towards this endeavour to fight fake news and misinformation.