A video shot on August 19 at a function organised by the Muslim community in Madhya Pradesh's Ujjain city has gone viral. Below is a tweet by ABP News journalist Brajesh Rajput claiming that 'Pakistan Zindabad' slogans were raised at the gathering. "DGP MP has filed a case of treason against some people. Shivraj Singh Chouhan said he will not let Taliban mentality flourish," he wrote. BJP UP leader Santosh Singh and Supreme Court advocate Gaurav Bhatia tweeted 10-second and 16-second clips of the incident. Bhatia claimed, four people were arrested in Ujjain for raising chants of "Pakistan Zindabad" and "Taliban".
उज्जैन में #मोहर्रम के जुलूस में पाकिस्तान जिंदाबाद के नारे लगे, @DGP_MP ने कुछ लोगों के ख़िलाफ़ नामज़द देशद्रोह का केस दर्ज किया, @ChouhanShivraj ने कहा तालिबानी मानसिकता पनपने नहीं देंगे. @ABPNews @pankajjha_ @SanjayBragta @AshishSinghLIVE #MP #Ujjain pic.twitter.com/x3wIEEcwRm

— Brajesh Rajput (@brajeshabpnews) August 20, 2021
While weighing in on the controversy, MP CM Shivraj Singh Chouhan told ANI, "We took strong action against the incident and the accused have been arrested. We'll not tolerate Taliban mentality." The Indian Express reported that Jiwaji Ganj police booked at least 10 youths under Indian Penal Code sections 124A (sedition) and 153B (imputation, assertion prejudicial to national integration).
Ujjain SP Satyendra Kumar Shukla told the media, "Slogans were not related to Taliban. The slogans were related to a particular country."
As per media reports, these chants were made because the authorities didn't grant permission for the gathering due to COVID. Aaj Tak aired the viral video and censored the allegedly controversial segments with a 'beep'. The channel questioned, "Ujjain: What was the need of Pakistan Zindabad during Muharram?"
उज्जैन: मुहर्रम पर पाकिस्तान ज़िंदाबाद का क्या काम था?
नारेबाज़ी में पाकिस्तान का समर्थन या देशद्रोह?#Pakistan #MadhyaPradesh #Ujjain#Khabardar | चित्रा त्रिपाठी (@chitraaum) pic.twitter.com/jwSmROHXV5

— AajTak (@aajtak) August 21, 2021
The incident was similarly reported by the following media outlets — Zee News, News18 Virals, IBC 24, Capital TV, Punjab Kesari MP, ABN Telugu, Zee MP, Live Hindustan, Times Now Navbharat, Newsroom Post, One India Hindi, The New Indian Express, Times Now, NDTV, Amar Ujala, ABP Live, Free Press Journal, TV9 Gujarati, One India Gujarati and Jansatta among others.
Popular YouTube channels Breaking Tube and Capital TV also shared the claim.
This slideshow requires JavaScript.
BJP members Vikash Preetam Sinha and Manish Shukla and BYJM member Ravi Janghela further amplified the claim.
कभी युगांडा जिंदाबाद के नारे भी लगाया करो, क्यों सारा लाड़ पाकिस्तान के लिए ही लुटाना है ! वतन से गद्दारी के लिए आसमानी किताब में भी तो कुछ रूल और उसूल होंगे ! या सारा फोकस जन्नत और हूरों पर ही है?@drnarottammisra @shalabhmani pic.twitter.com/Kk44OwHH73

— VikashPreetamSinha (@VikashPreetam) August 21, 2021
Right-wing influencers Anshul Saxena and Ankur Singh gained close to 7,000 retweets for the video cumulatively.
This slideshow requires JavaScript.
YouTuber Elvish Yadav tweeted the 10-second viral video. It was retweeted by BJP spokesperson Shalabh Mani Tripathi and gained over 50,000 views.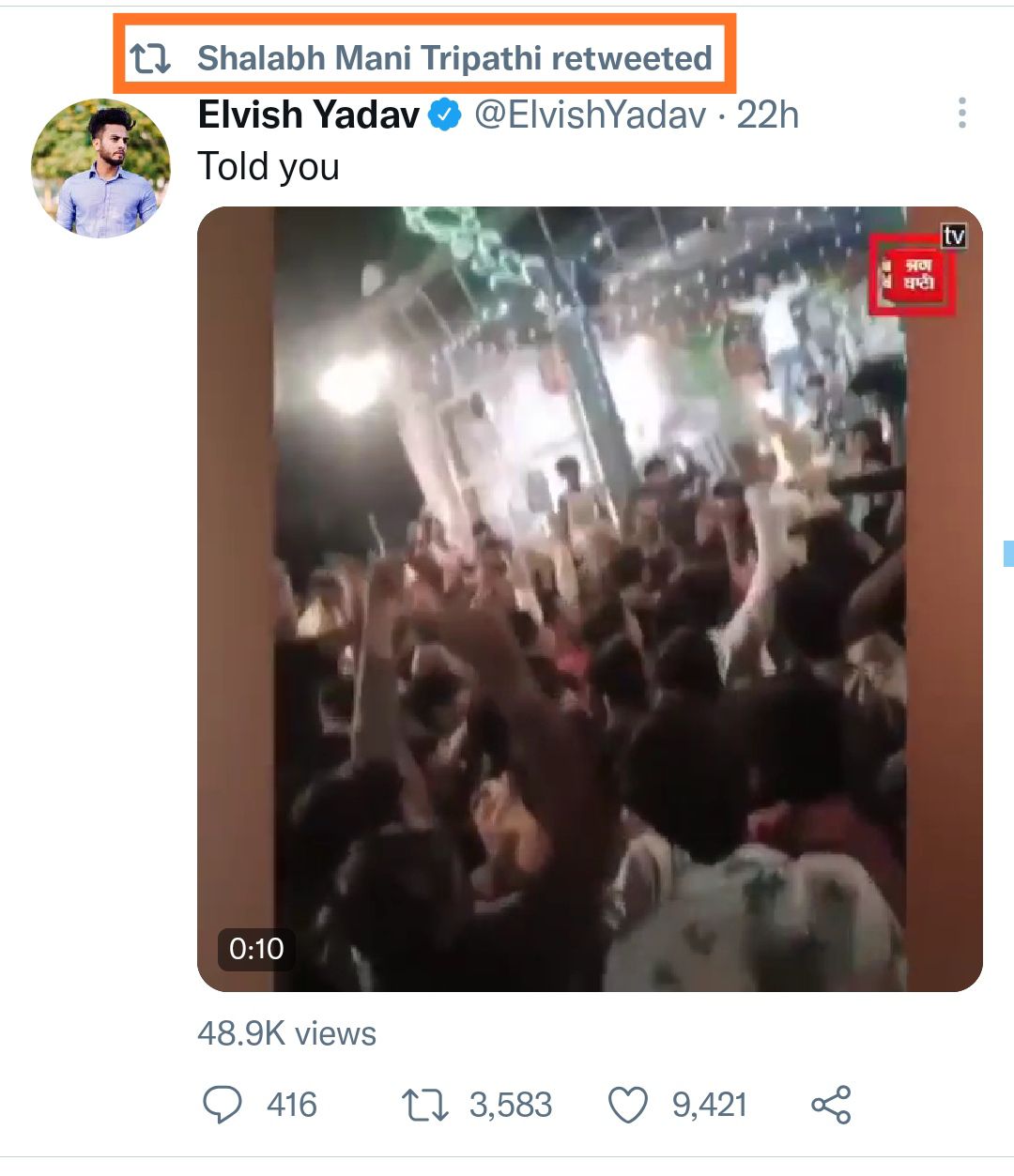 Pro-BJP propaganda media outlets OpIndia and Kreately also reported the incident in a similar manner.
FACT-CHECK
Readers should note that the 10-second and 16-second viral videos depict the same incident. The longer video just includes six seconds before the chanting begins where faint claps can be heard. Before we begin the fact-check, it must be pointed out that Alt News has analysed the viral videos and two other clips sent to us by people present at the function. Regarding the charge that 'Pakistan Zindabad' slogans were raised, Ujjain SP Satyendra Kumar Shukla told Alt News, "The videos which are the base of investigation clearly indicate what has been said." He did not share the videos in question with us.
A person reached out to Alt News via WhatsApp and shared better quality and longer videos of the duration where the chanting took place. According to this person, who wished to remain anonymous, the videos show a Taziya function that happens a day prior to Muharram. Muharram was observed on August 20 in India this year. Our source claimed that people were not chanting pro-Pakistan slogans but 'Qazi Saab Zindabad'.
Alt News has attached below one of the videos sent to us. This is the longer version of the 16-second video viral on social media. Throughout the video, the crowd screams "Ya Hussain Ya Hussain" which is a popular chant invoked during Muharram. At around 20 seconds, a bearded man makes an entry and the crowd begins to clap. From two minutes onwards, 'Qazi Saab Zindabad' is audible very clearly. Towards the end of the video, the crowd claps again when the bearded man leaves.
Below we have added the part of the above video where slogans of 'Qazi Saab Zindabad' were raised. Readers should observe that the chant ends with the sound of 'ब (b)', not 'न (n)' before 'Zindabad' is said. The two are phonetically very distinct.
Readers can also listen to the audio of the second video shared with us where 'Qazi Saab Zindabad' can be heard.
In a conversation with Alt News, Qazi Saab whose full name is Qazi Khaleeq ur Rehman stated that slogans were raised to welcome him. They were chanted in his praise and he left the venue after the sloganeering. He further said that a complete investigation should happen on this issue. Qazi Khaleeq ur Rehman can be seen in the screenshots below.
This slideshow requires JavaScript.
Another person wearing a pink turban can be spotted in the first video. She is BJP member Shabnam Ali.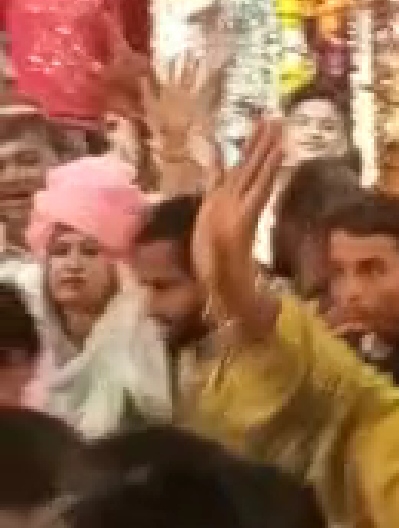 "As an eyewitness, I can state that at the time I was present at the function, no slogans related to Pakistan were raised. Qazi Saab was present there. He stayed for about 2-3 minutes. 'Qazi Saab Zindabad' slogans were raised. The police were present at the gathering and no one heard such [Pakistan Zindabad] slogans. This function which is organised in Ujjain is held for religious brotherhood. People from different religions attend the gathering. Never in the history of the event have anti-national slogans been raised. I just want to say that I hope the police carries out a proper investigation based on the videos. No particular community should suffer," Ali told Alt News.
A banner with Ali's picture can be seen at the event venue in the longer video.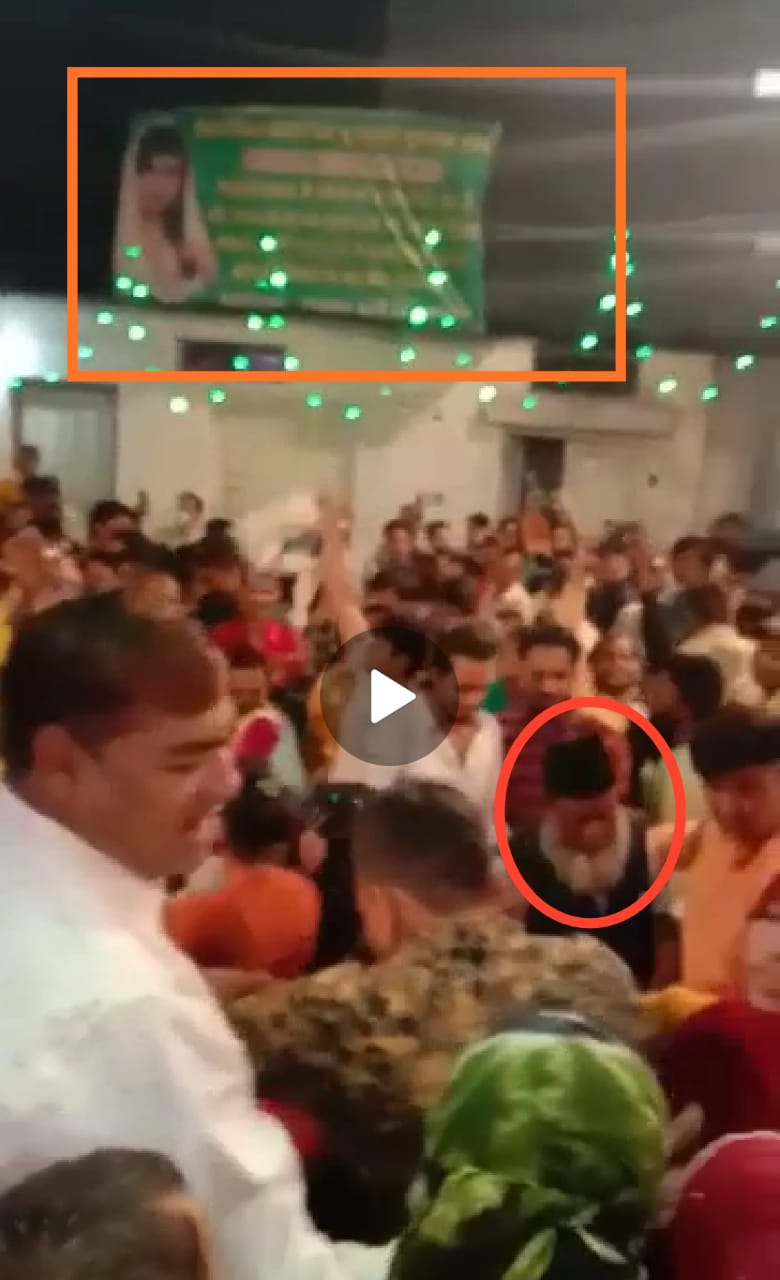 Ali shared a clear image of the banner that wishes people for Islamic New Year and says that a procession organised every year has been postponed keeping COVID in mind. It also requests people to not gather after ziyarat (visit to a holy place, tomb or shrine). Ali informed Alt News that the Taziya function was held at a venue, instead of a procession being taken out.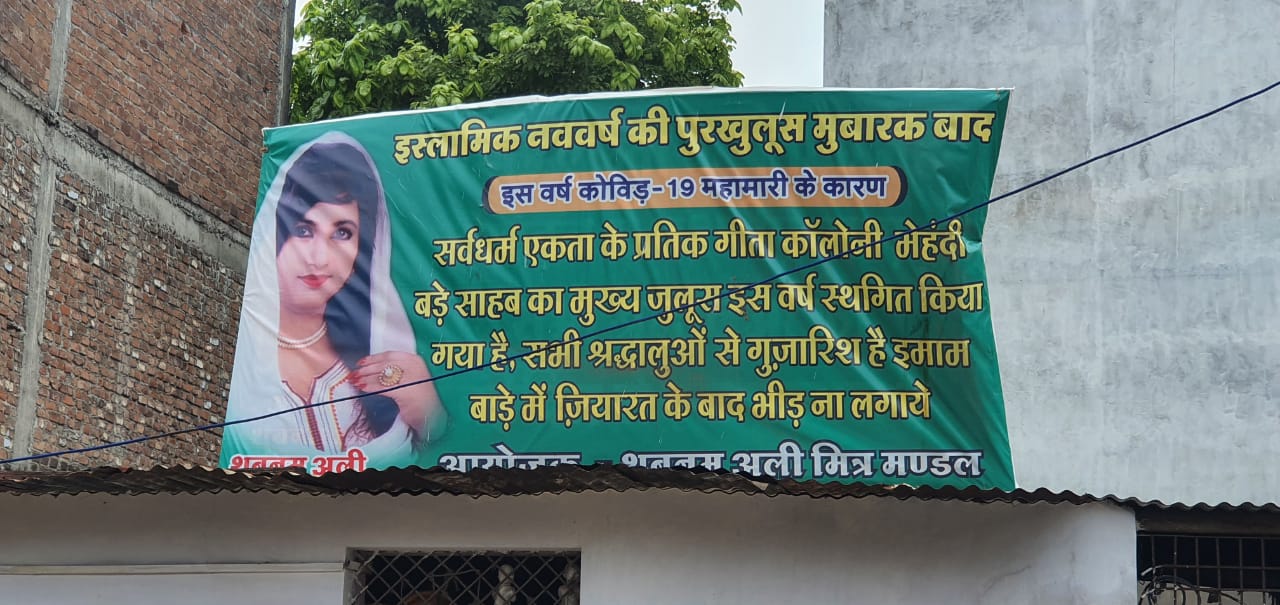 Ali shared a photograph of herself at the gathering where she is posing with MP Congress leader Maya Rajesh Trivedi.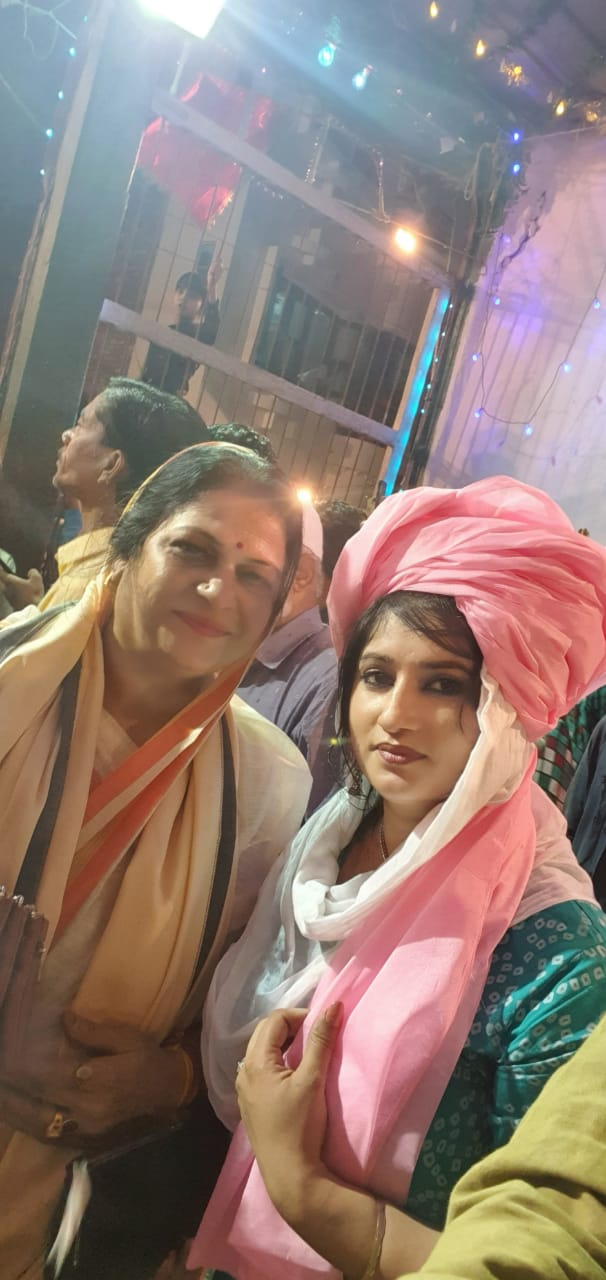 Below is a video that shows Shabnam Ali, Maya Rajesh Trivedi, her husband Pandit Rajesh Trivedi and Qazi Khaleeq ur Rehman. Pandit Rajesh Trivedi similarly told Alt News, "When I was present at the event, I heard 'Qazi Saab Zindabad' slogans being raised in between religious chants. 'Pakistan Zindabad' slogans were not raised."
To sum it up, clips from a Taziya function in Ujjain were shared with the claim that 'Pakistan Zindabad' slogans were raised at the gathering. Alt News analysed the videos of the function viral on social media along with other clips with better audio quality sent by individuals who attended the function. The slogan that can be heard in the videos is 'Qazi Saab Zindabad' and this was also corroborated by people present at the event. The police have arrested at least 10 youths since the videos surfaced online. Alt News reached out to Ujjain SP Satyendra Kumar Shukla who said that the videos in police's possession establish "what was said" but he did not share the alleged clips with us.
That 'Pakistan Zindabad' slogans were raised at a gathering organised by the Muslim community is a recurring claim. Alt News has written multiple reports on the claim made in the past. The reports can be accessed here.
Anti-Muslim, provocative slogans raised after the Taziya function
According to a report in The Free Press Journal published on August 22, "The police have so far registered a case against 23 people. Of these, 10 arrested accused were presented in court today. The court has sent three of them into 3-day remand. Jiwajiganj police station in-charge Gagan Badal said Shadab, Shanu and Abdullah have been handed over to three-day remand by the court. The rest have been sent to the Central Jail." Those arrested are Narushekh, Azhar, Zafar, Salman, Mohammad Sameer, Abdullah, Shanu, Akbar, Wahid and Shadab.
Incidentally, while BJP leader Shabnam Ali attended the function and also told Alt News that she did not hear pro-Pakistan slogans, BJP leaders led by city president Vivek Joshi met the Ujjain SP and demanded that strict action should be taken against those who raised slogans of "Pakistan and Taliban".
On August 21, Dabang Hindu Sena burnt an effigy of Pakistan at Tower Chowk and raised slogans of 'Desh Ke Gaddaro Ko Goli Maaro Sa*** Ko' and 'Jai Shri Ram' led by the outfit's national president Awadhesh Puri Maharaj. "He [Awadhesh Puri] said that if the City Qazi does not cooperate with the administration in this incident, then his will be the next effigy which we would burn," reported FPJ.
In the presence of police, Awadhesh Puri read out a complaint against "Pakistan Zindabad slogans raised during a Muharram procession in Ujjain which has impaired the reputation of Ujjain on an international level". Not only does Puri demand strict police action against the "accused" but also appeals that their houses are demolished, they are barred from receiving any government benefits and their properties are seized by the government. He also requests the Bar Association to not represent these "anti-nationals". "A case of sedition should be filed against any lawyer who represents them," he said. His narration ends with chants of 'Jai Shri Ram'.
Donate to Alt News!
Independent journalism that speaks truth to power and is free of corporate and political control is possible only when people start contributing towards the same. Please consider donating towards this endeavour to fight fake news and misinformation.