A CCTV clip is viral on social media. Hariom Rajawat, a supporter of the Vishva Hindu Parishad and Bajrang Dal, shared the video and wrote that it showed a Muslim boy who was planning to rape his Hindu friend by mixing an intoxicant in her drink. The perpetrator was caught thanks to the vigilance of the restaurant staff, he claimed. (Archive link)
Kamal Sahu, who describes himself as a supporter of the Bharatiya Janata Yuva Morcha, also posted the visuals, which garnered 35,000 views at the time of writing.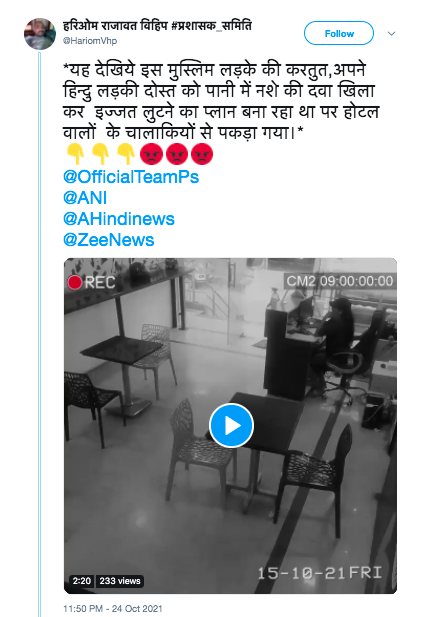 Several users promoted the clip on Facebook and Twitter with the same claim.
*यह देखिये इस मुस्लिम लड़के की करतुत,अपने हिन्दु लड़की दोस्त को पानी में नशे की दवा खिला कर इज्जत लुटने का प्लान बना रहा था पर होटल वालों के चालाकियों से पकड़ा गया।*

Posted by Govind Maheshwari on Sunday, October 24, 2021
This slideshow requires JavaScript.
We also received a request to verify the visuals on the Alt News WhatsApp helpline.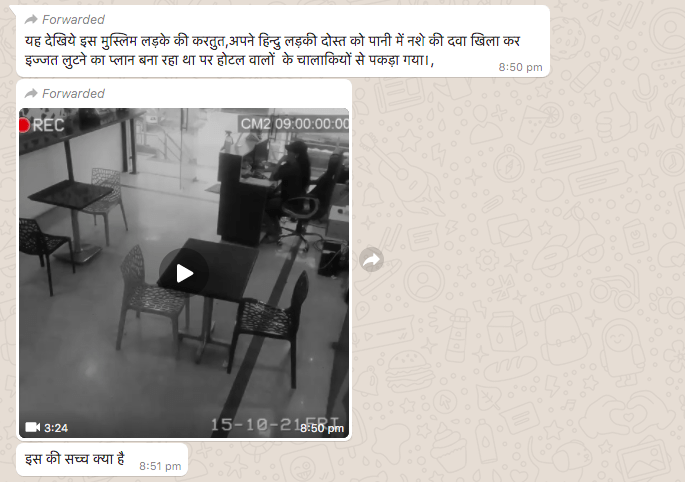 Fact-check
Alt News closely examined the full video, dated Friday, October 15. The entire incident is narrated via captions in the video. The viewer first sees two people entering a hotel and ordering drinks. The woman goes to wash her hands. Meanwhile, the man accompanying her is seen mixing something into her drink as the cashier looks on. The cashier then informs a waiter and on his behest, the latter spills the drink before the woman can consume it. Following this, the police arrive and take the man away. In the end, a message appears stating that the video was a scripted PSA created to spreading awareness.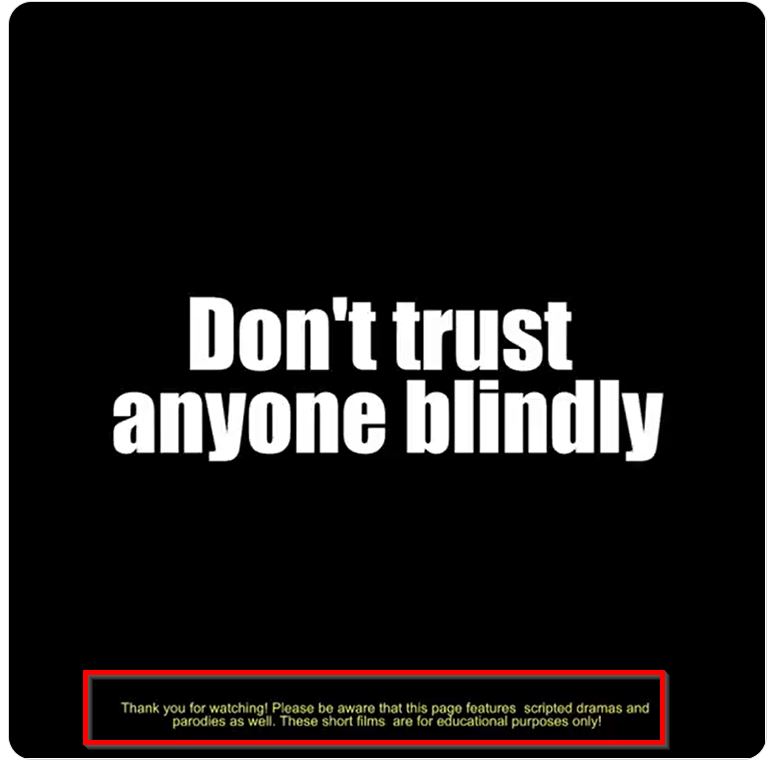 We noticed that this video was posted on October 18 on the Facebook page Hamsa Nandini, Telugu model and actor. The caption is identical to the message that appears at the end of the clip.
Many such CCTV videos have been shared on this page with the same message that they are scripted dramas that have been created for the purpose of spreading awareness. For example, in one of these videos, an ice cream seller lures a woman with ice cream and steals all her jewellery.
This slideshow requires JavaScript.
Alt News tried to contact the admin of Hamsa Nandini's page. We will update this report if they respond.
To sum it up, a video that was created with the aim of spreading awareness among the public is now being circulated with a false communal claim. Users are sharing it without reading the message that appears at the end or deliberately ignoring it.
Donate to Alt News!
Independent journalism that speaks truth to power and is free of corporate and political control is possible only when people start contributing towards the same. Please consider donating towards this endeavour to fight fake news and misinformation.