A 45-second video clip is being shared widely on social media where a group of people can be seen crouched on the street looking for something. Gujarat MLA Jignesh Mevani shared the video on X (formerly Twitter) and wrote that a diamond trader in Gujarat's Surat had discarded the stones in the streets in frustration due to the recent recession and challenging business conditions. Following this, a crowd gathered at the spot and began searching for them. (Archive)
Amid all the hype and claims of economic revolution in the country in last 9 years, a Surat based diamond trader was forced to throw away his diamonds on the streets after getting frustrated over failure to create demand for his business in the current challenging business… pic.twitter.com/EjYxKAmCne

— Jignesh Mevani (@jigneshmevani80) September 25, 2023
Taking a jibe at the Modi government, activist Mahendra Nayak tweeted the video and wrote that diamond traders were throwing away their diamonds in the streets due to the Modi government's poor policies and decision-making. (Archived link)
मोदी सरकार के गलत फैसलों और गलत नीतियों की वजह से गुजरात के सूरत शहर में पहली बार हीरा व्यापार घाटे में चला गया है!

देश विदेश में हीरे की डिमांड घट गई है! हीरा व्यापारी गुस्से में सड़कों पर अपने हीरे फेंक रहे हैं!#ModiFailsIndia pic.twitter.com/loVUidnbMZ

— Mahendra Nayak (@mahen_nayak) September 26, 2023
Several others have shared the video with a caption in Gujarati. They claimed that a businessman in Surat threw 2500-carat CVD diamonds and people gathered to collect them. (Archived link)
‼️ ખૂબ દુઃખદ ઘટના આજે સૂરત મીનીબજાર હીરા માર્કેટ કિક ટાવર રોડ ઉપર એક વેપારી યે CVd ના 2500 કેરેટ હીરા રોડ પર વેરી નાખયા છે લોકોની જપા જપી બોલી..
લગભગ 70 ટકા માઇન્સ માર્કેટ છે cvd નું વિચારો કેટલો કંટાળ્યો હશે હિરાનો માલિક..
ખોટા ખર્ચ કરશો નહિ હીરા માર્કેટમાં સમય ખૂબ ખરાબ ચાલી રહ્યો છે..🙏🙏
ફેસબુક પરથી કોપી પોસ્ટ..
#surat
#suratcity
#suratnews

Posted by Meet M Hirpara on Saturday, 23 September 2023
The video is viral both on Facebook and Twitter with a similar caption.
આજે સુરત મીનીબજાર હીરા માર્કેટ માં એક CVD હીરા ના વેપારી એ 2500 કેરેટ CVD હીરા રોડ પર વેરી નાખ્યા….

#viralvideo #videos #daimond #surat #ratnkalakar #daimondmarket #hira #minibajar

Posted by Amit Ahir on Sunday, 24 September 2023
CVD Diamond
The CVD diamond is a synthetic diamond manufactured in the lab with the help of chemical compounds similar to those that make up a real diamond. The process is less time-consuming than preparing a natural diamond for use in jewellery. CVD diamonds are cheaper than real diamonds but costlier than American diamonds. Of late, there have been reports of a decline in the prices of CVD diamonds.
Fact Check
A keyword search led us to a video report by Gujarati news outlet ABP Asmita. It states that a businessman threw diamonds in the Varachha area of Surat, and after news of this spread, locals gathered in the area and started searching for diamonds on the road. However, it later came to light that the price of these diamonds was as low as Rs 5.
On September 25, the Ahmedabad Mirror also published an article about this incident. According to the news, in the mini market of Varachha area of Surat (a popular place for diamond trading), people were seen sifting through dust from the road and searching for the lost diamonds there. Actually, the report says that a rumour was spread that a businessman had dropped a packet of diamonds on the street, and the stones were worth crores of rupees. Following this, people gathered there and started searching for the diamonds. However, when the diamonds found on the road were examined, it was revealed that these were actually American diamonds which is very cheap. These stones are often used in sarees or imitation jewellery.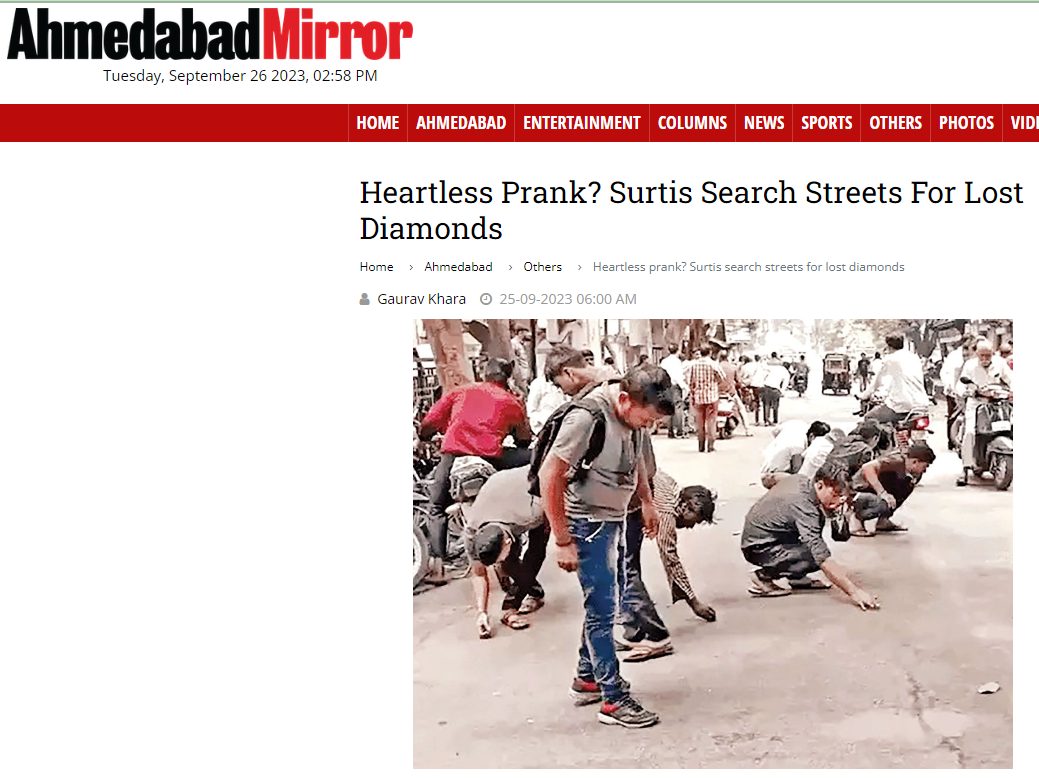 Aaj Tak, India Today and NDTV covered the incident. The outlets also reported that these diamonds were not real or synthetic (CVD), and were not of any considerable value.
Alt News also spoke to Surat's Varachha police inspector A N Gabbani. He refuted the claims on social media and reiterated that this was just a rumour.
To sum it up, a video of people looking for diamonds on the streets of Surat was shared on social media with the claim that a diamond merchant scattered his diamonds on the road in frustration due to the economic recession. It could not be confirmed whether the diamonds were thrown by someone or fell accidentally. However, it is clear that the diamonds found on the road were not real or synthetic, but American diamonds whose market price is very low.
Donate to Alt News!
Independent journalism that speaks truth to power and is free of corporate and political control is possible only when people start contributing towards the same. Please consider donating towards this endeavour to fight fake news and misinformation.