A video of a man being beaten up by a schoolgirl is viral on social media with the claim that the man, a Muslim, molested a Hindu female student and was thus publicly beaten up by her on the streets of Ahmedabad. User @itsAnjaliT tweeted the video and thanked the 'Lioness' of Ahmedabad. She remarked that Hindu sisters were 'becoming aware'. The tweet is now deleted. (Archive)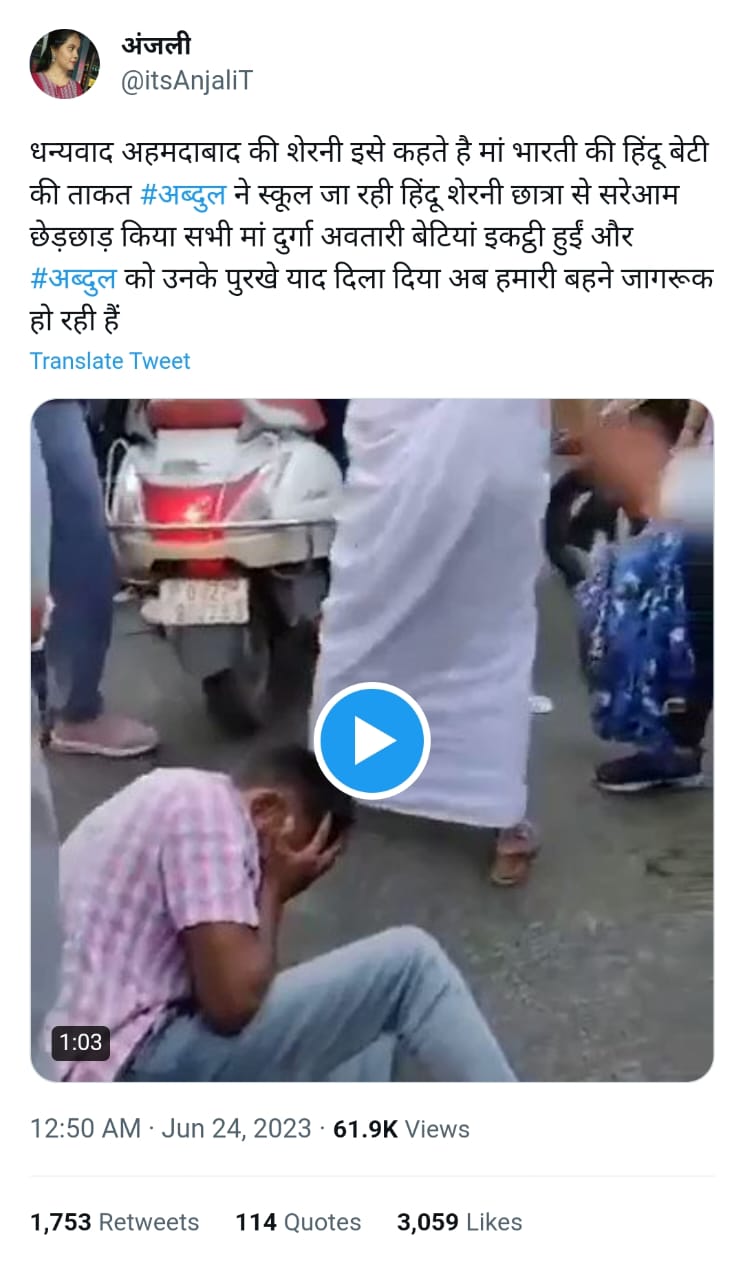 User @goankechore also tweeted the viral video and wrote "Shameless Abdul got his lesson after m0lested a young Hindu Girl at Gujarat". (Archive)
We are not the same 😠😡
We give what you deserved 😂👇🤣🤣

Shameless Abdul got his lesson after m0lested a young Hindu Girl at Gujarat #Sharmila #ModiInAmerica #digitalbreak #GOAT𓃵 श्री राम #Prigozhin #आदिपुरुष_कबीर #KanganaRanaut pic.twitter.com/bASUpmJ2hI

— गांव के छोरे (@goankechore) June 24, 2023
Several users tweeted the video with the same claim. (Archives- 1, 2, 3)
This slideshow requires JavaScript.
The video is also viral on Facebook and Instagram with the same claim.
This slideshow requires JavaScript.
Fact Check
Upon a relevant keyword search, we found a Times of India report titled, "Teen sisters confront molester in Ahmedabad, thrash him" containing a screengrab from the viral video. According to the report, on Friday morning, June 23, a 17- year-old Behrampura girl and her sister, 19, beat up the former's stalker who molested her.
The name of the accused is reportedly Vijay Sarkate. The report quoted the mother of the girls as saying, "When my younger daughter was going to school on her bicycle at 6.45am on Thursday, Vijay Sarkate forcibly held her hand and tried to give her a gift. When she refused to accept it, he put the gift in her bag and forcibly kissed and molested her. My daughter returned home and cried a lot." She also said that on Friday morning, Sarkate had come again and tried to harass the younger sister. Her elder daughter, who was waiting nearby, rushed in and the two of them began beating Sarkate. Others joined the two and beat up Sarkate. The girls' parents then called up the police control room and filed a complaint against Sarkate.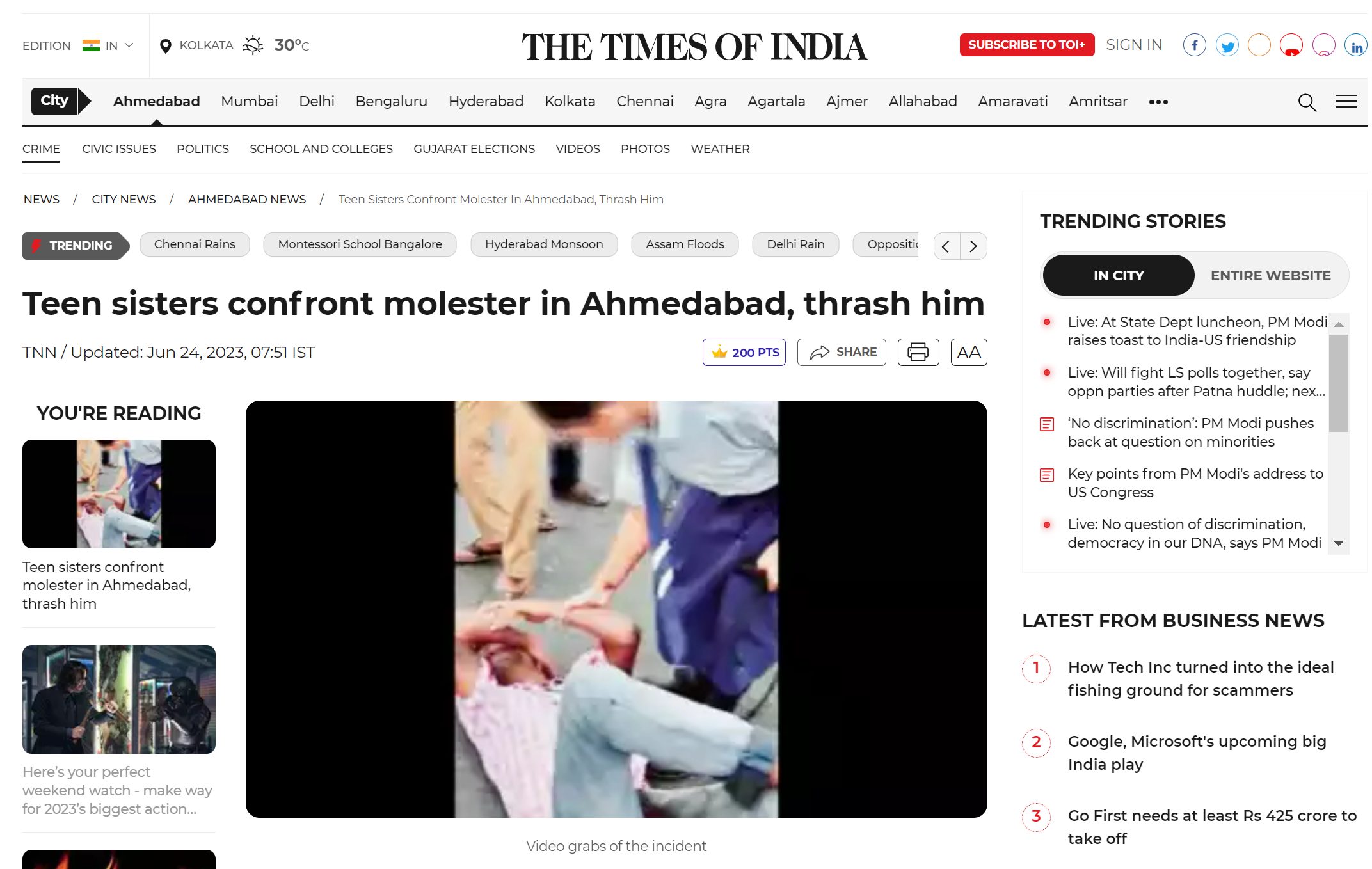 Police inspector in-charge of Kagdapith G J Ravat said they had booked Sarkate for molestation and stalking along with charges under the Protection POCSO Act. Ravat said Sarkate was 19-year old and unemployed. He is not a student at any institution either.
Another report by Free Press Journal also corroborates the same information, that the accused was named Vijay Sarkate.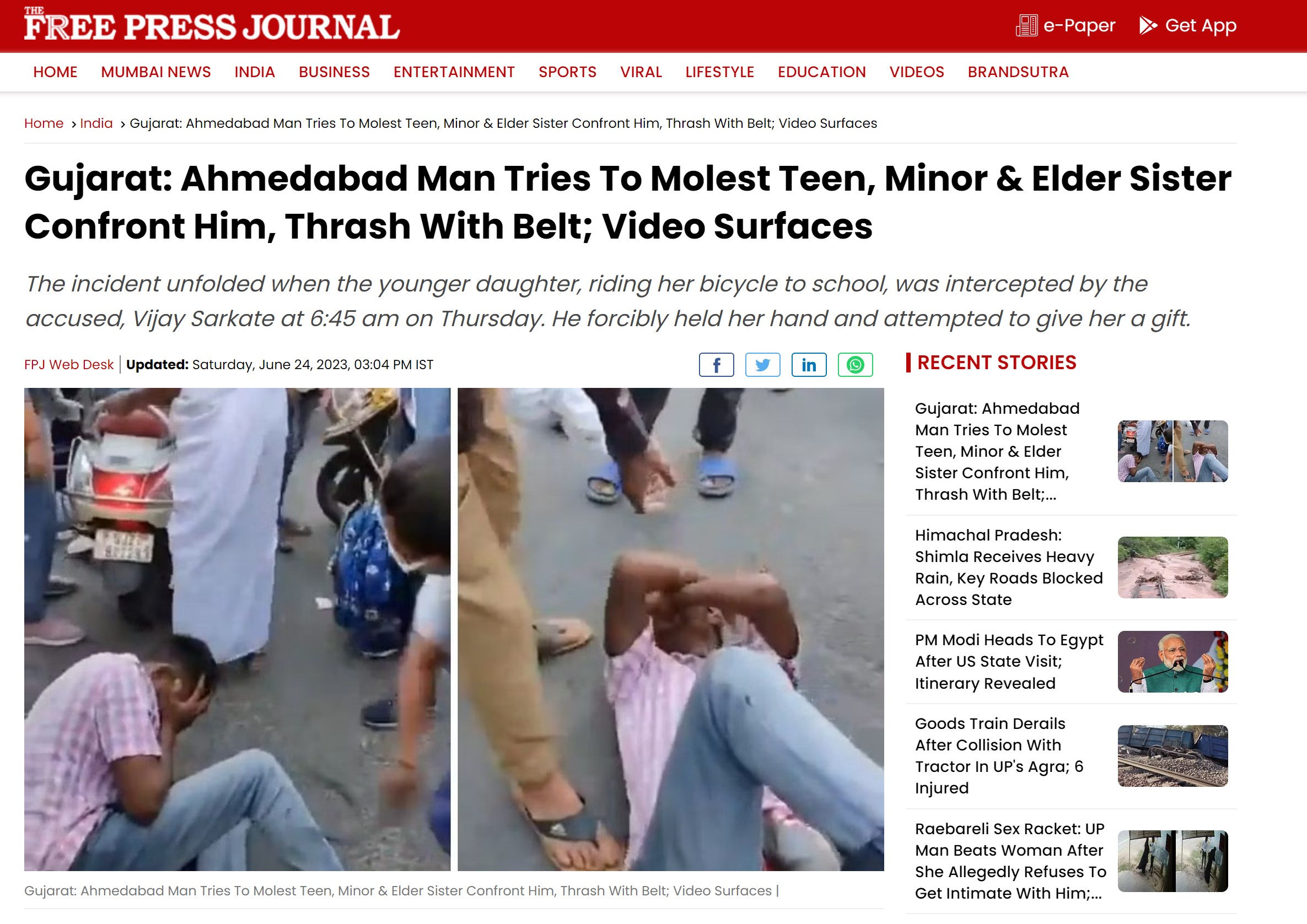 Alt News visited the Kagdapith police station and spoke to the cops regarding the incident. According to the FIR filed with Kagdapith police, the girl's mother said that a few minutes after her daughters left for their school and college, her older daughter called her up. She said the two of them had grabbed the man who had been stalking the younger girl. The girl's parents rushed to the Bhulabhai Park bus stand where their daughters and other students and passersby were beating up a man. In the FIR, the name of the accused is Vijay Natvarbhai. The surname 'Sarkate' mentioned in the news reports has been omitted.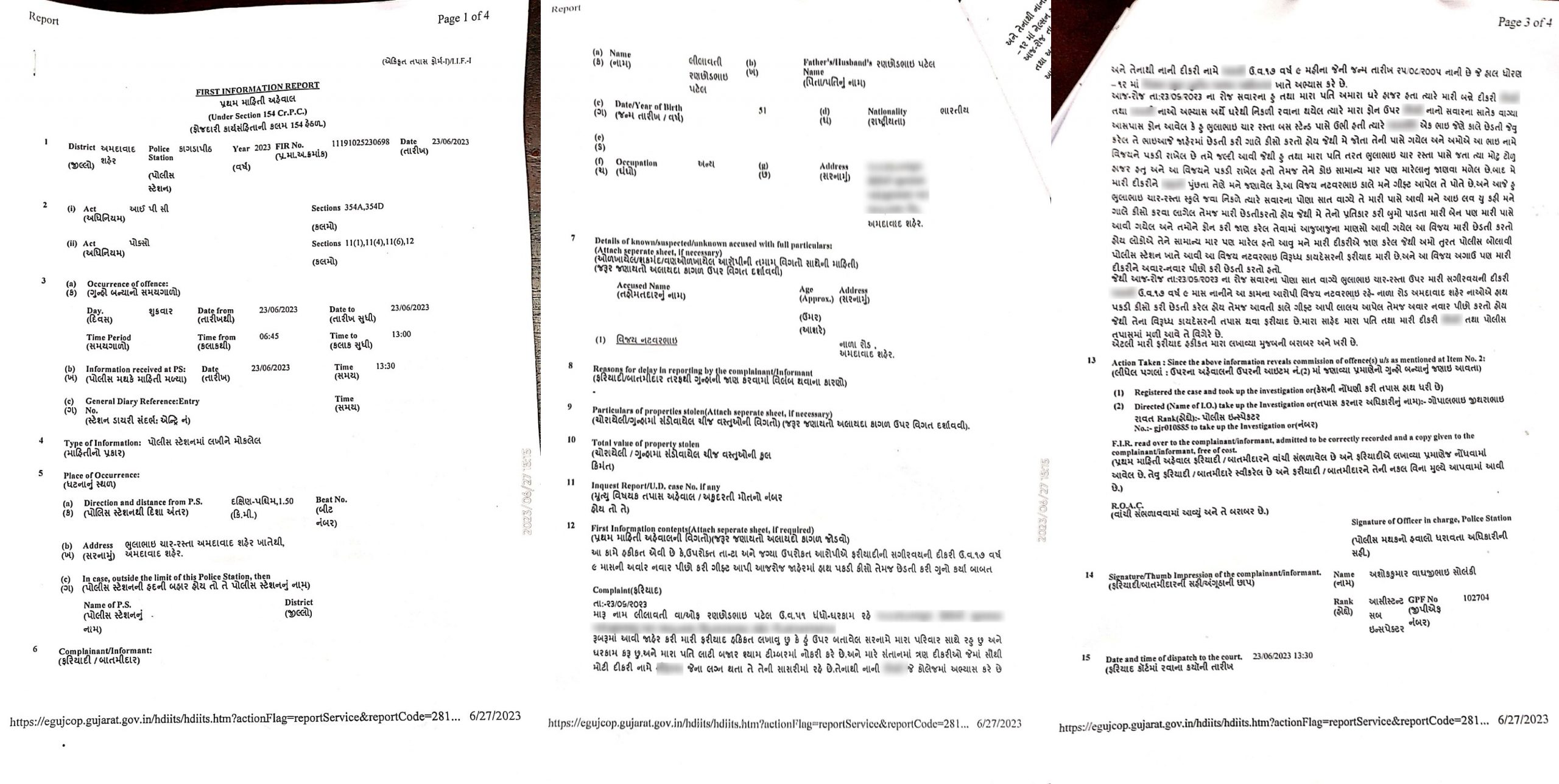 Hence, a video of a man being beaten up by some female students is viral with the claim that the man, a Muslim, was molesting the Hindu school-going girls and was thus beaten up by them. In reality, the man's name is Vijay ad he is a Hindu.
Donate to Alt News!
Independent journalism that speaks truth to power and is free of corporate and political control is possible only when people start contributing towards the same. Please consider donating towards this endeavour to fight fake news and misinformation.