Almost half a dozen graphic images of seemingly murder victims are being shared on WhatsApp along with an audio message. The message in Hindi comes as a warning and mentions that a group of 15-20 people, including women and children, have come with weapons and they are attacking families.
The audio message says, "… have accepted the news of people coming in. Hence, forward this message to all your friends and family members. Please stay safe. Gangs of 15-20 people are on the prowl. They have women and children accompanying them. They also have weapons. They come at midnight when the cries of children are heard. Please do not open your doors and share to maximum groups. This message should be viral in 2-3 days. Your safety is in your hands. Beware. (Then another audio clip overlapping)… should be caught. If someone does not forward this message, he is not the son of his mother. Forward it to every group you have on your phone, two, three, four or 25.. so that the ******* (expletive) can be caught."
Alt News received several requests on WhatsApp to check the authenticity of the message.
This slideshow requires JavaScript.
Fact Check
The audio message:
The audio message has been viral for quote some time. The first part of the message was being shared as early as in January 2021. That time it was falsely claimed that these words had been spoken by the Gorakhpur City SP as precautionary steps. Alt News had debunked the claim. So, we can confirm that the 'warning' message is at least two-and-a-half-year old.
The viral photos:
We ran a reverse image search on the images that are being forwarded and came across a news report by News VMH from June 24. The report headline in Hindi can be translated as: "6 people brutally killed with a sharp weapon in Kishni, Mainpuri". Mainpuri is a town in Uttar Pradesh. The report mentioned that all the victims were of the same family and the alleged killer was the eldest son of the family who shot himself dead after brutally killing 5 of his family members and injuring 2.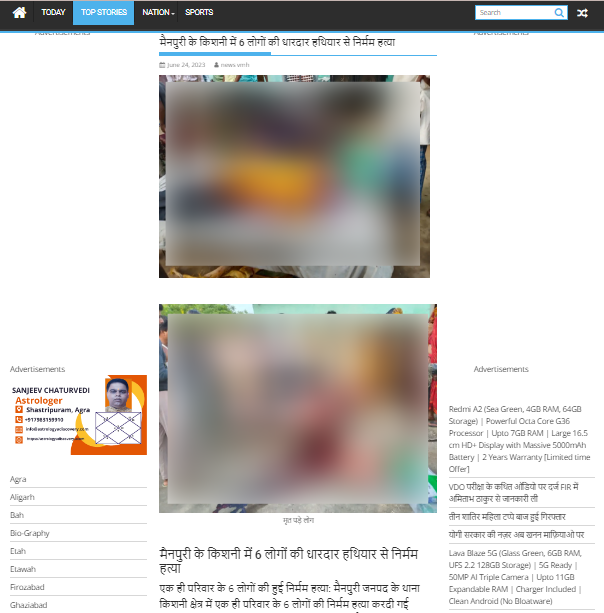 Taking a hint from the above, we ran a relevant keyword search which led us to more news reports related to the incident. According to a Times Now report, the police came to the knowledge of the incident on June 24 in Gokulpur Arsara village where a man named Shiv Veer Yadav allegedly attacked and killed five of his family members with an axe. The victims include his brothers, Bhullan Yadav (25) and Sonu Yadav (21), Sonu's wife Soni (20), brother-in-law Saurabh (23) as well as friend Deepak (20). He also attacked his aunt and his wife, and they were being treated in a critical condition at the district hospital.
A video report by ABP Ganga mentioned that just the day before the incident, the accused's younger brother got married and came back to their village with his wife, hence, a lot of relatives were present at the house.
We also came across a tweet by Mainpuri Police from June 24 where SP Vinod Kumar shared the details of the incident. He mentioned that an investigation was underway to find out the reason behind the incident. The accused used to work at a private firm in Noida and came back to his house in Mainpuri only 20 days ago. SP Kumar added that all the dead bodies had been sent for postmortem.
थाना किशनी अंतर्गत ग्राम गोकुलपुर अरसारा में परिवारिक सदस्यों एवं रिश्तेदार सहित 05 लोगों की हत्या कर आरोपी द्वारा स्वयं को गोली मार आत्महत्या करने तथा घटनास्थल निरीक्षण के संबंध में #SPMainpuri विनोद कुमार द्वारा दिए गए आधिकारिक वक्तव्य। @Uppolice pic.twitter.com/v2ctfJhEVx

— MAINPURI POLICE (@mainpuripolice) June 24, 2023
Alt News reached out to Mainpuri police to confirm the facts about the incident and PRO of SP Vinod Kumar confirmed to us that the information being shared through the viral audio message was fake.
Therefore, the claim that the images of the murder victims from Mainpuri are related to some attacks carried out by weapon-bearing groups is false. The images are related to a recent case where a man attacked his own family members with an axe. The audio is at least 2.5-year old.
Donate to Alt News!
Independent journalism that speaks truth to power and is free of corporate and political control is possible only when people start contributing towards the same. Please consider donating towards this endeavour to fight fake news and misinformation.