One of the most common utility of fake news is as a weapon for character assassination and vilification. Alt News has covered many such instances where fake news has been used for the said purpose. A video was made viral with the claim that Gurmehar Kaur was 'drinking and having fun' in a car, when she was not. In a conservative country like India which looks down upon women drinking, that was an attempt to show Gurmehar Kaur in poor light. The victim of Chandigarh stalking incident Varnika Kunda was declared to be a friend of the accused Vikas Barala by pulling out an old unrelated picture from her Facebook album and claiming that one of the male friends in the picture was Vikas Barala. Those who are rattled by the work that Alt News has been doing have now started using the same strategy against us. Not just once, but thrice in quick succession.
It started with Rajat Sethi of Indian Foundation claiming on Republic TV on September 25th that Alt News has run articles which denied the mass graves of Hindus found in Myanmar. He stated, "I will quote here Quint and other this new favourite darling of this cabal Alt News have been deliberately trying to mute this issue, not to highlight that Hindus are also being called. They deliberately carried articles, and I'm saying with full responsibility, they deliberately carried articles saying oh.. no no no Hindus are being killed." The video clip can be seen below.
.@RajatSethi86 claims @AltNews carried article which denied deaths of Hindus while we haven't written a single article on Rohingya issue yet pic.twitter.com/pjFlOc0em6

— Pratik Sinha (@free_thinker) September 26, 2017
This is an utter lie. The only article that Alt News carried on the Rohingya issue was actually on September 26th, a day after Rajat Sethi made his claim on live TV. This article documented how images of children were being misused to spread misinformation in the context of Rohingya conflict.
This was followed by one Anurag Dixit who is followed by PM Modi on Twitter who not only posted abusive tweets but engaged in defamation using a photoshopped tweet. The initial abusive tweet from Dixit addressed to liberals evoked strong reaction from many twitter users. Dixit later deleted his tweet but not before several people had taken a screenshot of it.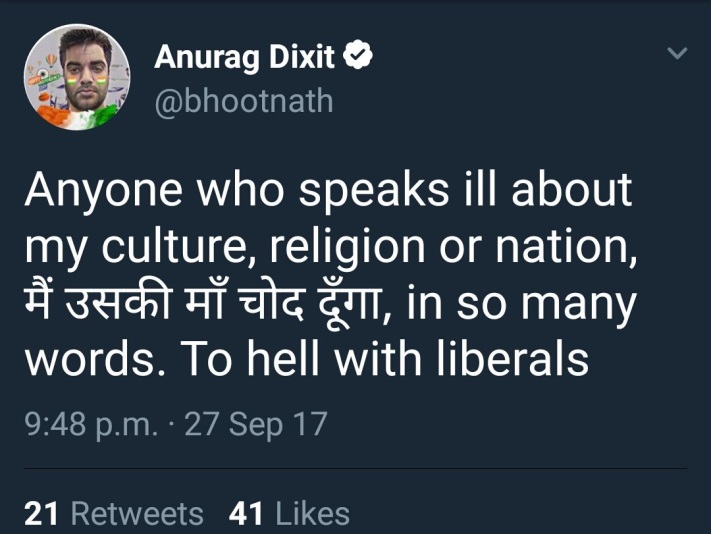 Among others, I also tweeted about Dixit's offensive tweet, pointing out that he was followed by PM Modi on Twitter.
Another one followed by PM @narendramodi. Has deleted the tweet now. Such lack of conviction. pic.twitter.com/yjwGEk68dn

— Pratik Sinha (@free_thinker) September 28, 2017
He tried to argue that it was his freedom of expression. "I will write what I feel like, I will delete what I feel. I will apologize when I want and troll when I feel".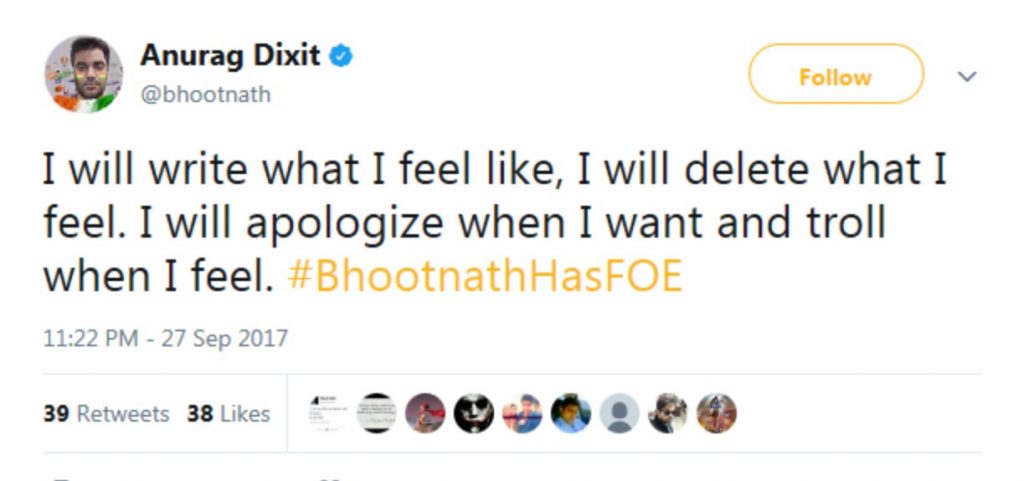 Enraged by people calling him out for his tweet, he posted a fake photoshopped abusive tweet addressed to PM Modi which appeared to originate from my Twitter account and which said, "Dear PM माँ चुड़…".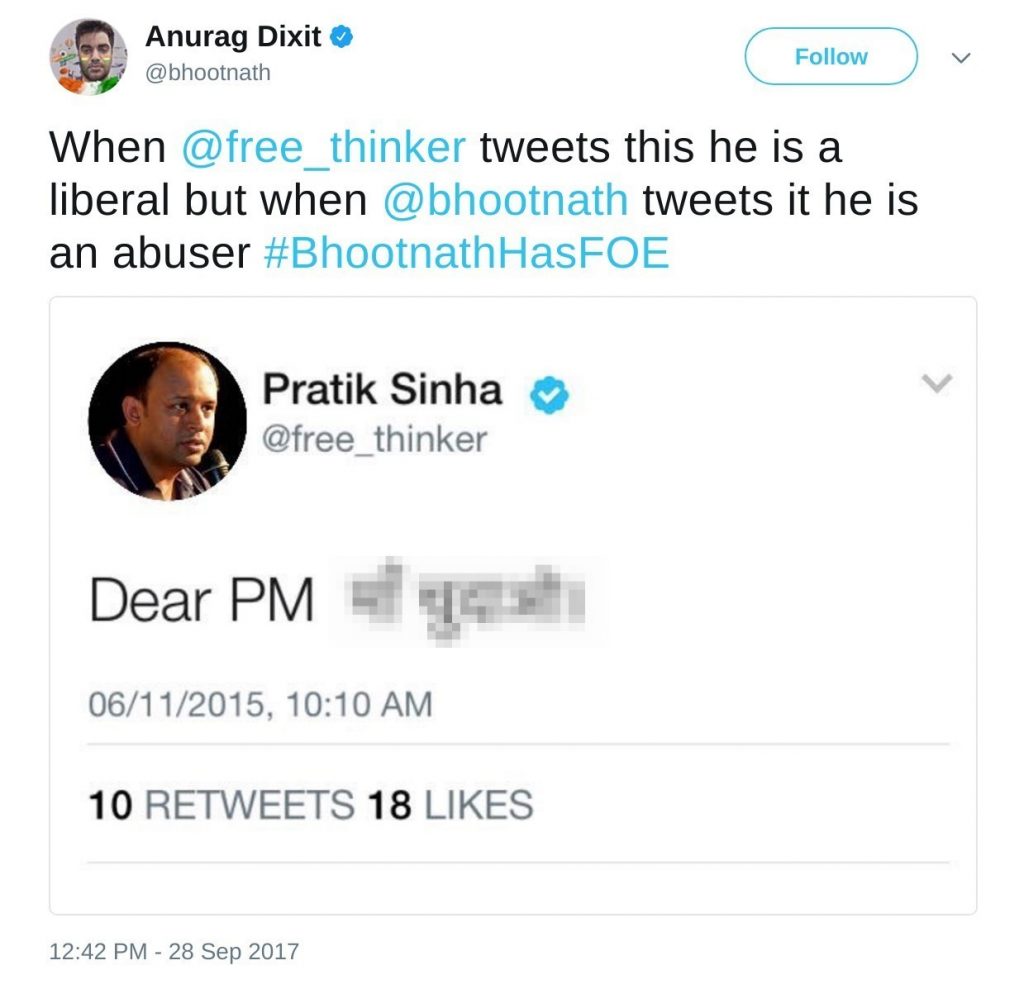 Dixit has deleted his photoshopped tweet after I filed a police complaint against him.
I have filed a police complaint against Anurag Dixit @bhootnath for sending out photoshopped abusive tweets targeting PM Modi in my name. pic.twitter.com/zYQIieOwwz

— Pratik Sinha (@free_thinker) September 28, 2017
Despite his abusive tweets and attempt to defame with a photoshopped tweet, Dixit had support not only from right wing twitter users but also BJP MP, Mahesh Giri.
The cabal is frustrated bcoz common ppl like u hav destroyed the web of lies that they've created for yrs. Nothing will happen. Be assured. https://t.co/ykvGFQ5ujV

— Maheish Girri (@MaheishGirri) September 29, 2017
There was also BJP National IT Cell head Amit Malviya seemingly suggesting that that there's an FIR against me. Despite repeated attempts to get a response from him, he refused to clarify. For the record, I do not have any FIR against me.
.@malviyamit Are you suggesting there's an FIR against me? Coz if you are, that would cross all limits of fakery. Kindly clarify. pic.twitter.com/8wu5S9iJU6

— Pratik Sinha (@free_thinker) September 24, 2017
While Alt News is open to all kinds of scrutiny, in the light of this concerted vilification campaign, we request our readers to reach out to us for clarification in case they see any statement that is attributed to us attempting to show Alt News in poor light.
Finally, we wish to thank our readers for all the messages of love, support and appreciation that are sent on social media and via emails. It is something that keeps inspiring us. We also want to congratulate Boom FactCheck and SMHoaxSlayer and numerous other individuals for the tremendous work they are doing in countering fake news. No amount of vilification can stop this crusade against fake news.
Donate to Alt News!
Independent journalism that speaks truth to power and is free of corporate and political control is possible only when people start contributing towards the same. Please consider donating towards this endeavour to fight fake news and misinformation.