A clip of a woman throwing eggs at a poster of Hindu deity Ram in Chhatrapati Sambhajinagar (formerly Aurangabad) is viral on social media. Right Wing propaganda outlet Sudarshan News tweeted the clip while claiming that the woman seen in the video was a Muslim. The words "छत्रपति संभाजीनगर में जिहादी खातून" (Jihadi Khatun in Chhatrapati Sambhajinagar) have been imposed on the visuals. "Why does the burqa-clad woman hate Lord Sri Ram so much?" they wrote in the caption. (Archive)
कहां से भरा जा रहा है इतना जहर?

बुर्काधारी महिला को प्रभु श्रीराम से इतनी नफरत क्यों?

सड़क पर स्कूटी खड़ी की और फिर प्रभु श्रीराम की तस्वीर पर अंडे फेंके

महाराष्ट्र के छत्रपति संभाजीनगर की है घटना pic.twitter.com/gVngRA64LZ

— Sudarshan News (@SudarshanNewsTV) May 20, 2023
Sudarshan News journalist Sagar Kumar also tweeted Sudarshan News' clip with the same caption. (Archive)
कहां से भरा जा रहा है इतना जहर?

बुर्काधारी महिला को प्रभु श्रीराम से इतनी नफरत क्यों?

सड़क पर स्कूटी खड़ी की और फिर प्रभु श्रीराम की तस्वीर पर अंडे फेंके

महाराष्ट्र के छत्रपति संभाजीनगर की है घटना
pic.twitter.com/jqOVKHjoKZ

— Sagar Kumar "Sudarshan News" (@KumaarSaagar) May 20, 2023
Verified user @JIX5A tweeted the same clip and used the emoji of a burqa-clad woman while writing "parks up scooter and throws eggs at a photo of Shri Ram!" (Archive)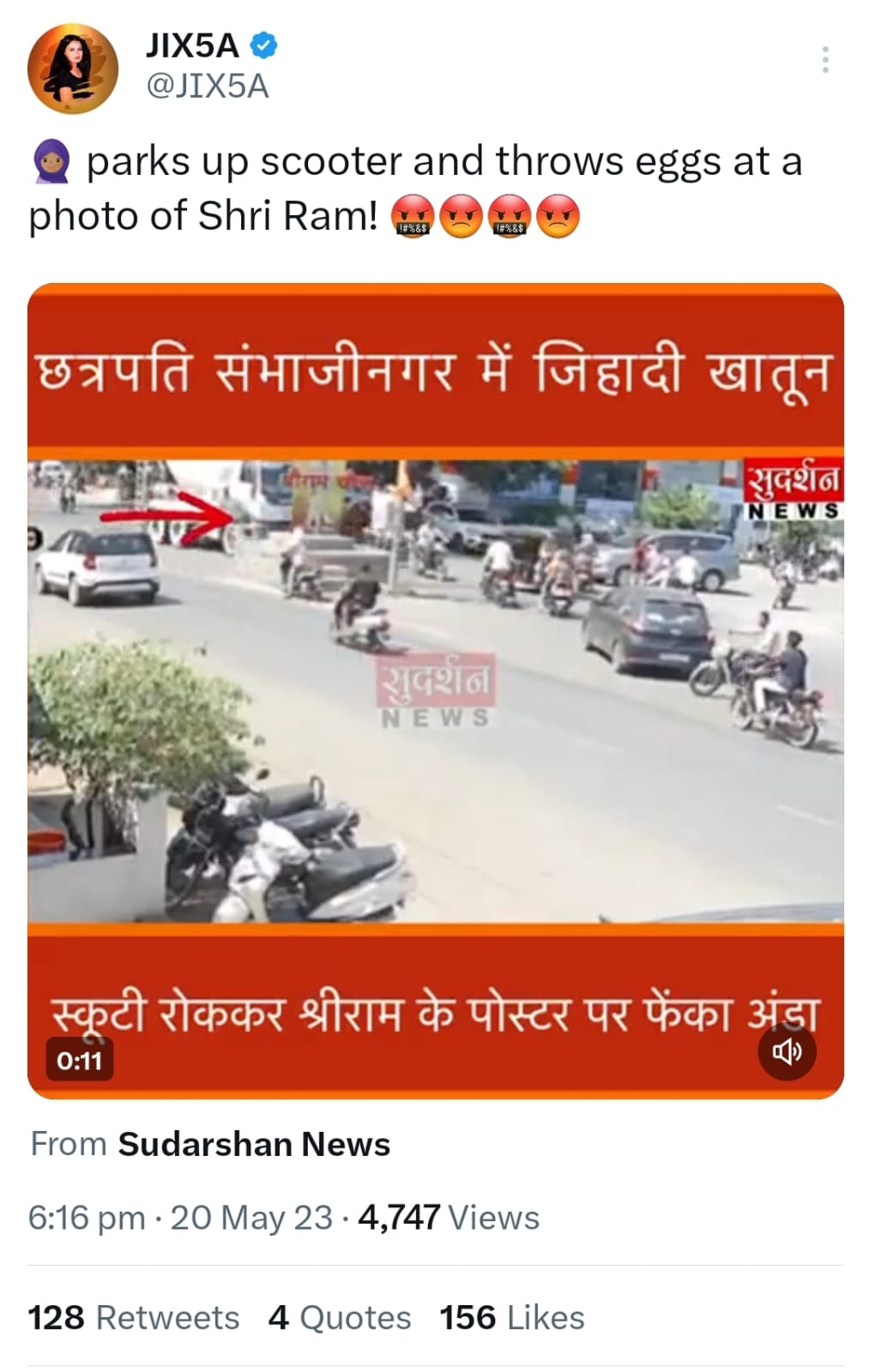 Twitter user @ajaychauhan41 also tweeted the clip with the same claim. (Archive)
कहां से भरा जा रहा है इतना जहर?
बुर्काधारी महिला को प्रभु श्रीराम से इतनी नफरत क्यों?
सड़क पर स्कूटी खड़ी की और फिर प्रभु श्रीराम की तस्वीर पर अंडे फेंके
महाराष्ट्र के छत्रपति संभाजीनगर की है घटना

साभार सुदर्शन न्यूज़ pic.twitter.com/PurSdsSTb1

— हम लोग We The People (@ajaychauhan41) May 20, 2023
The video is being shared on Facebook as well.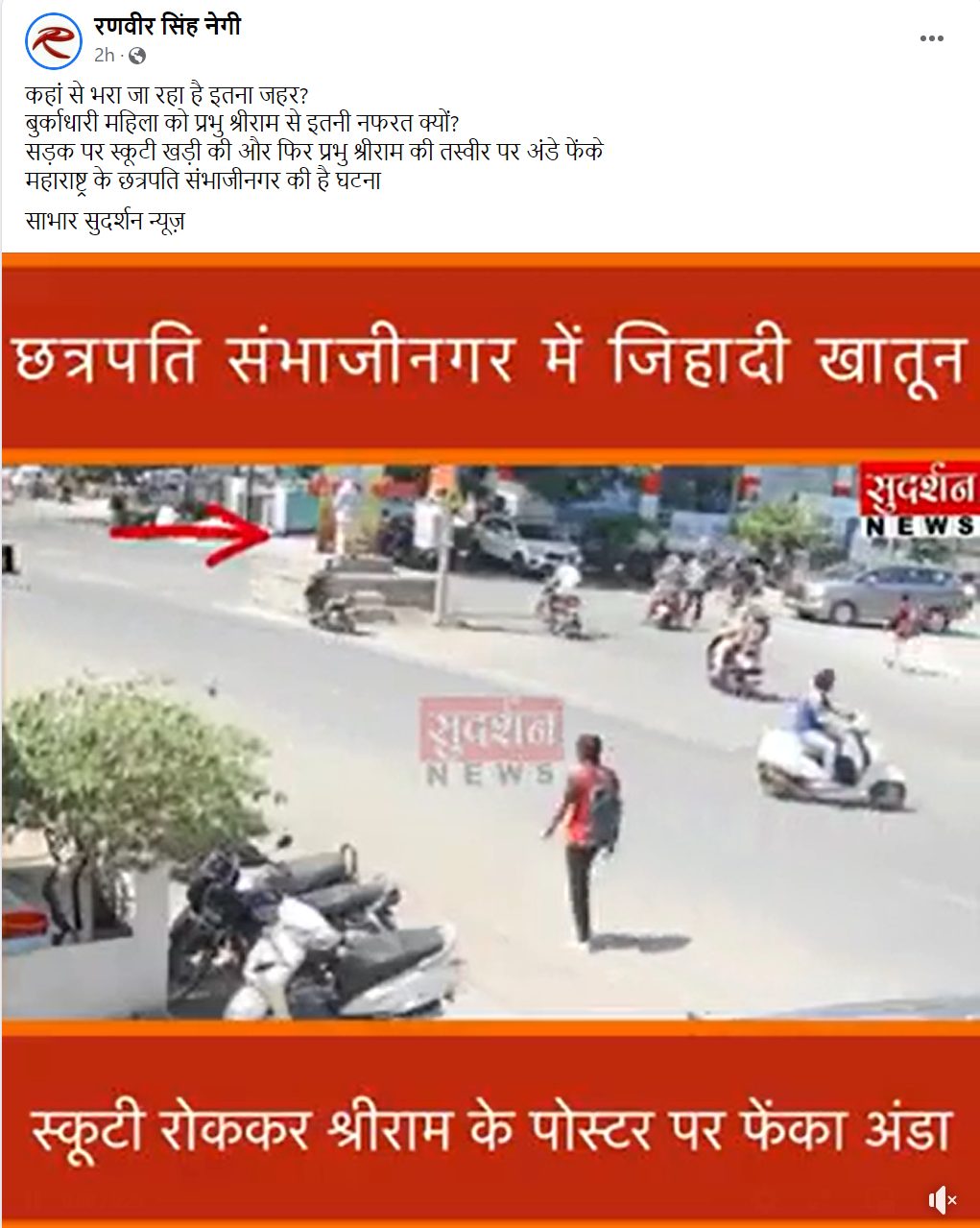 Fact Check
With the help of geolocation, we identified that the CCTV footage was from Sri Ram Chowk in Aurangabad. The area is under Usmanapura police station.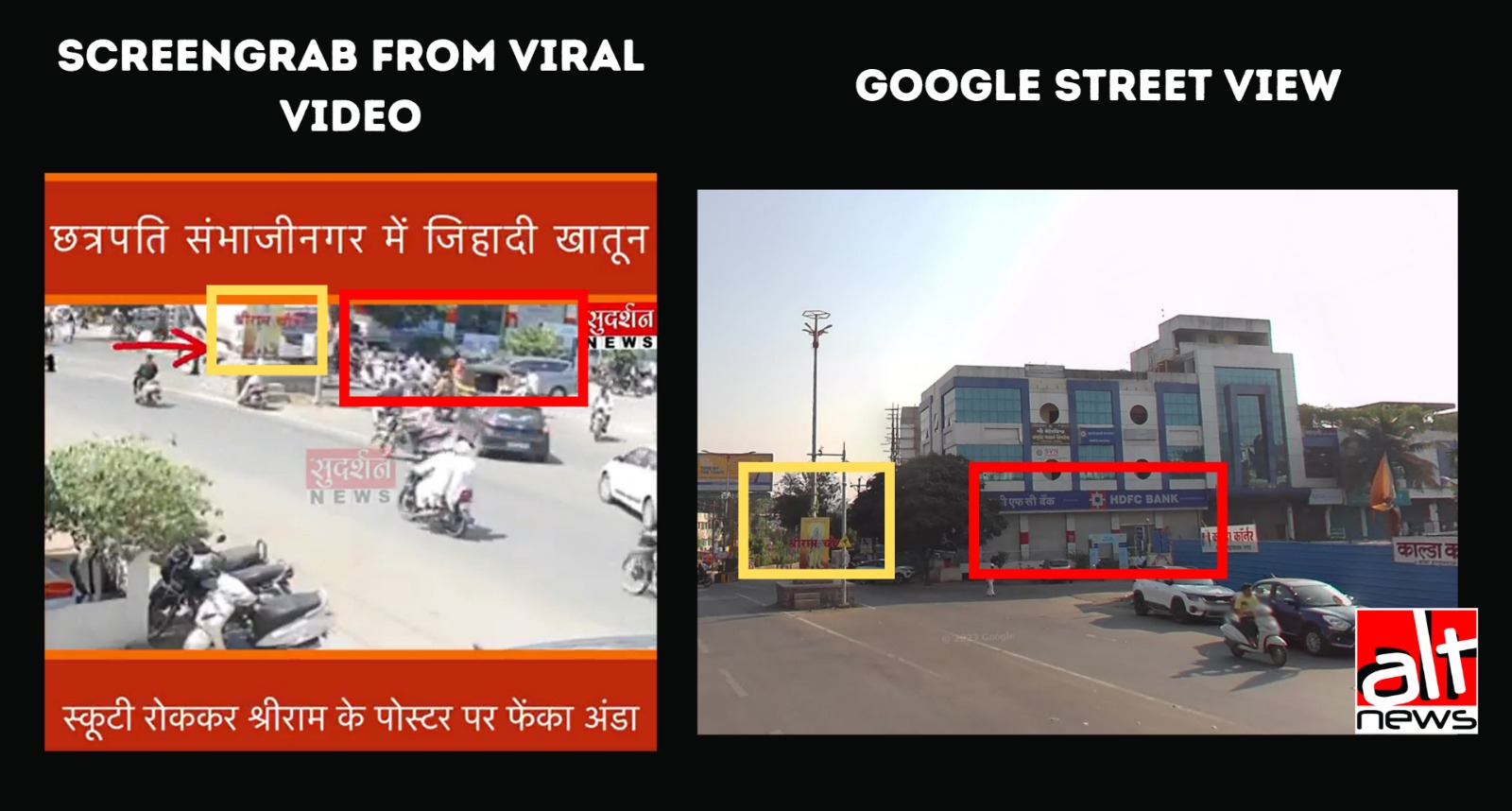 Alt News accessed the police press note related to the incident. It revealed that the woman seen in the video was identified as 38-year-old Shilpa Ramrao Garud alias Shailaja Udavat, a resident of Alok Nagar, Satara. She is a clerk at the Kranti Chowk post office in Jawaharnagar and was depressed due to reasons relating to her family. The woman was arrested and her scooter seized, the note said.
The press note further says that as soon as police commissioner Manoj Lohiya was informed about the incident, the entire city police started looking for the woman, who was accused of defacing the photo of Sri Ram and hurting religious sentiments. The accused confessed to have committed similar crimes at five places in total, including at two places in Satara area, one each in Usmanpura, Pundlik Nagar and Jawahar Nagar areas.
Since the said woman was mentally disturbed, it was concluded that there was no intention of creating religious discord between communities.
We also accessed a video statement by police commissioner Manoj Lohiya. He confirmed that the woman was a Hindu. He cited reasons of mental depression behind her act and appealed to people to abstain from circulating misleading clips on social media. This incident has nothing to do with people from different communities, he said. He added that appropriate action had been initiated against the accused, and requested citizens to cooperate with the police in ensuring that the city remained peaceful and safe.
Hence, CCTV footage of a woman defacing a poster of Hindu deity Ram in Aurangabad's Sri Ram Chowk is viral with misleading communal claims. In reality, the woman is a Hindu and was mentally disturbed, police have confirmed.
Donate to Alt News!
Independent journalism that speaks truth to power and is free of corporate and political control is possible only when people start contributing towards the same. Please consider donating towards this endeavour to fight fake news and misinformation.