PM Modi arrived in Ahmedabad yesterday for the 12th annual India-Japan summit along with Japanese PM Shinzo Abe who is on a two-day visit. As part of this visit, the Japenese PM was accompanied to various historical places in Ahmedabad including Sabarmati Ashram and the 16th century Sidi Saiyyed Mosque. Now, a rumour is rife in Ahmedabad that believers were prevented from offering namaz at the Sidi Saiyyed Mosque in Ahmedabad due to PM Modi's visit. Former IPS officer Sanjiv Bhatt wrote on his Facebook profile, "Believers weren't allowed to offer regular Namaz at Sid Saiyyed Mosque Ahmedabad for the last few days in order to facilitate this Tamasha".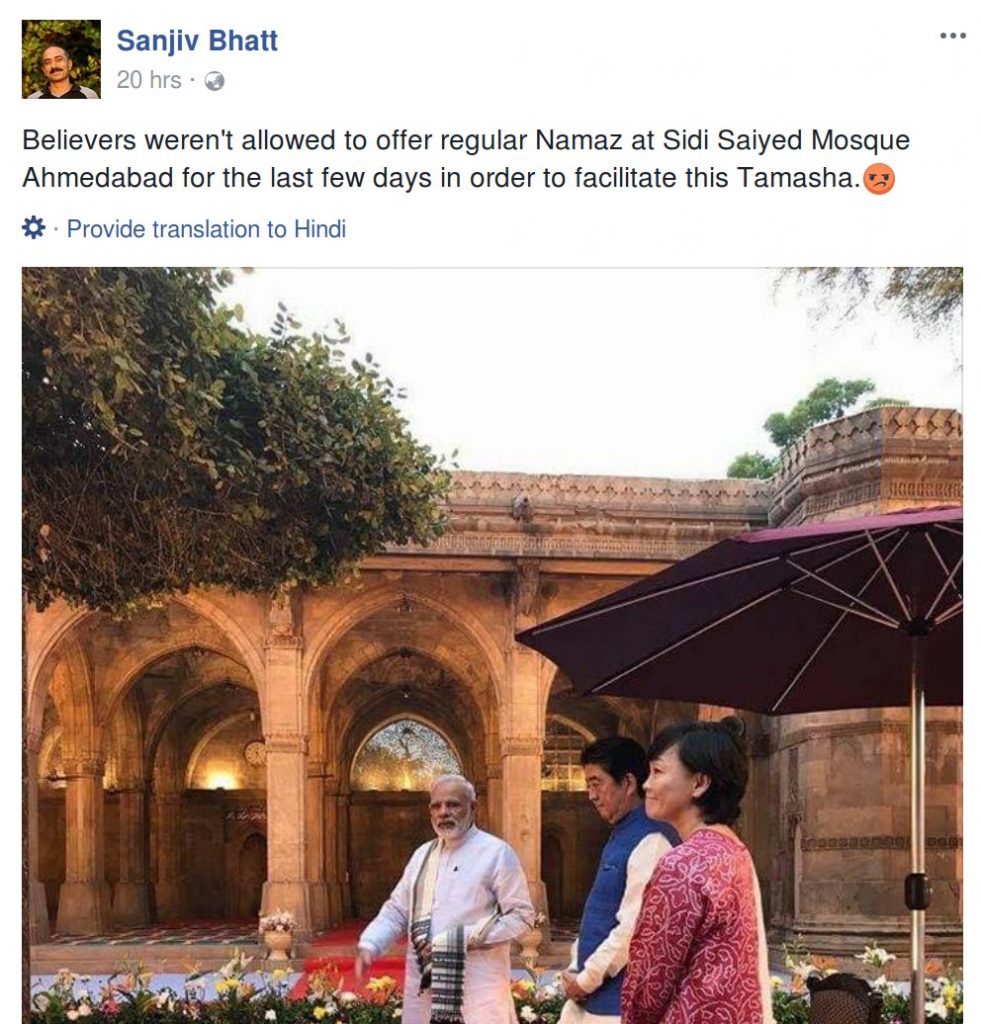 To inquire into this issue, we spoke to the authorities who were co-ordinating the efforts regarding PM Modi and Japenese PM Shinzo Abe's visit to the historical mosque. Rizwan Qadri who is the President of Ahmedabad Sunni Muslim Waqf Committee (Trust) told Alt News that no such disruption of namaz occured. He further stated that initially the time proposed by the PMO for PM's visit was 6:35 which was in conflict with the "Maghrib" Namaz. This conflict of time was intimated to the PM's office and the final schedule of PM's visit did not conflict with the namaz time.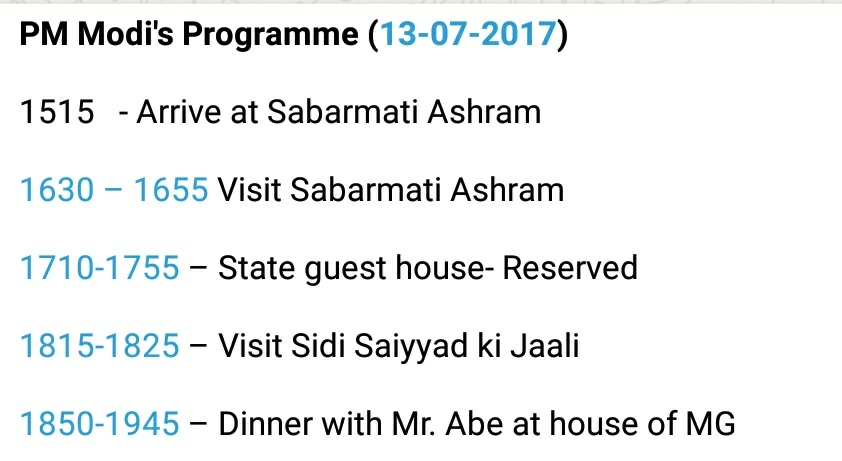 Rizwan Qadri further stated that he himself participated in the namaz and the local police ensured that nobody had any issues regarding the same. The trust had also circulated the following WhatsApp message in Gujarati informing people that no namaz times were affected due to PM Modi's visit, "*અસ્સલામુ અલયકુમ* *અહમદાબાદ* કી શાન એસી *સીદ્દી સૈયદ મસ્જિદ મે ઈન્શાઅલ્લાહ પાંચો વક્ત કી નમાજ મુકરર કિયે ગયે વક્ત સે હી હોગી* ઉસ મેં કોઈ કિસમકા *બદલાવ* નહી હોગા હમારે *પી.એમ મોદી જી ને ઉનકે આનેકા વકત એસે મુકરર* કિયા હે કી *નમાઝ* મેં આને વાલે *નમાઝી* કો કોઈ તકલીફ નહી હોગી. *ટ્રસ્ટી* *અહમદાબાદ સુન્ની મુસ્લીમ વકફ કમિટી*".
Alt News also spoke with the owner of New Golden Furniture Sabir Hussain Mansuri who offered namaz at Sidi Saiyyed mosque after PM's visit. He confirmed that there was no disruption and everything was handled very smoothly. Alt News further spoke with various journalists who covered the event and they reiterated that social media rumours about namaz being disrupted were false.
It is absolutely irresponsible on part of those who circulate such rumours on social media without cross-checking facts. Such rumours lead to communal polarisation. As it is, we are living in times when the strife between various religious/cultural communities is alarmingly high. We do not need social media rumours to further magnify this divide.
Donate to Alt News!
Independent journalism that speaks truth to power and is free of corporate and political control is possible only when people start contributing towards the same. Please consider donating towards this endeavour to fight fake news and misinformation.