For the advancement of right-wing forces in Bengal, there's been a continuous and deliberate attempt to spread fake images/videos to project that Bengal is being taken over by Muslims. Recently, we wrote about how the killing of one Abu Syed in Bangladesh was portrayed as a Hindu man being killed by Muslims in Bengal. The aggressive Hindutva posturing during this year's Ram Navmi celebrations in Bengal with sword waving, slogans and overall provocative behaviour was also a strategy to further the polarisation of voters. There are increasing instances of small-scale communal disturbances in Bengal. The target seems to be 2019 elections and the preparations have begun well in advance.
As part of the preparations, now there's a new video which has gone viral on social media which claims that a Hindu man was beaten up on Hanuman Jayanti (April 11th, 2017) by 2 Muslim IPS officers. We first noticed this video on the right-wing website PostCard.news. They posted an article with the title, "Watch!! Is Birbhum a part of Pakistan or Bangladesh?" in which they claim that a Hindu man was beaten up by two Muslim IPS officers on Hanuman Jayanti. The first two paras in the article narrate their version of the story and are quoted below.
At the bottom of PostCard article is a video clip which shows a man being thrashed by a police personnel while several constables watch. We captured the article on their website and the video in the following YouTube video.
We tracked down this particular video to check its authenticity. As it turns out, the video is neither of Hanuman Jayanti which was celebrated on April 11, 2017 nor was the incident of police brutality from Bengal. This video has been available on Youtube for close to 3 years now and has been uploaded multiple times using various titles. The first instance that we could find was uploaded on September 30, 2014.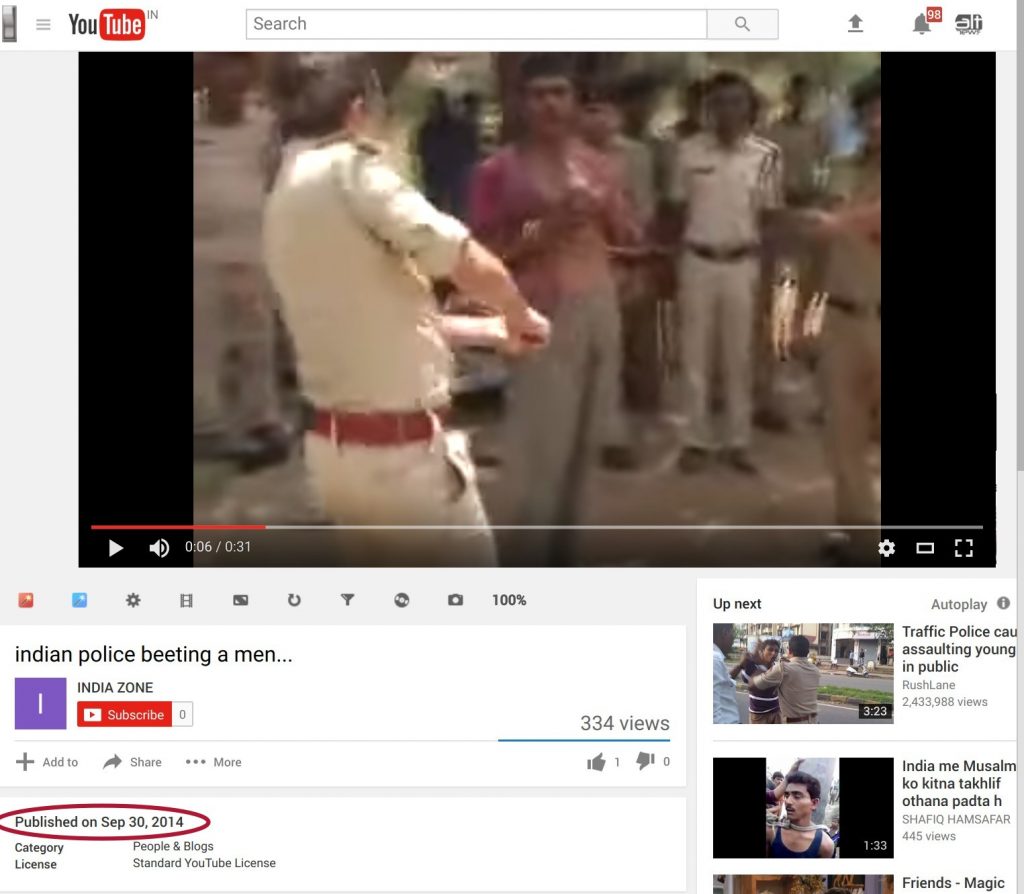 Following are the few instances of this video available on Youtube. The latest in the series claims that his incident happened in Uttar Pradesh. Clearly, the same video is being re-circulated with misleading titles and the origin of the video is unknown.
This video is currently viral on Facebook/WhatsApp and has been shared by multiple pages/individual profiles. Here is a non-exhaustive list of pages/profiles which have shared it with the misleading story of a Hindu man being beaten up by Muslim IPS officers and has been watched by lakhs of people on different mediums.
But who came up with this fake story originally? It turns out that it was Asansol District's BJP IT Cell in-charge Tarun Sengupta who originally posted this on his Facebook timeline at 8:47 pm on April 17th. We also captured Mr Tarun Gupta's little mischief on a video just in case if he suddenly develops amnesia.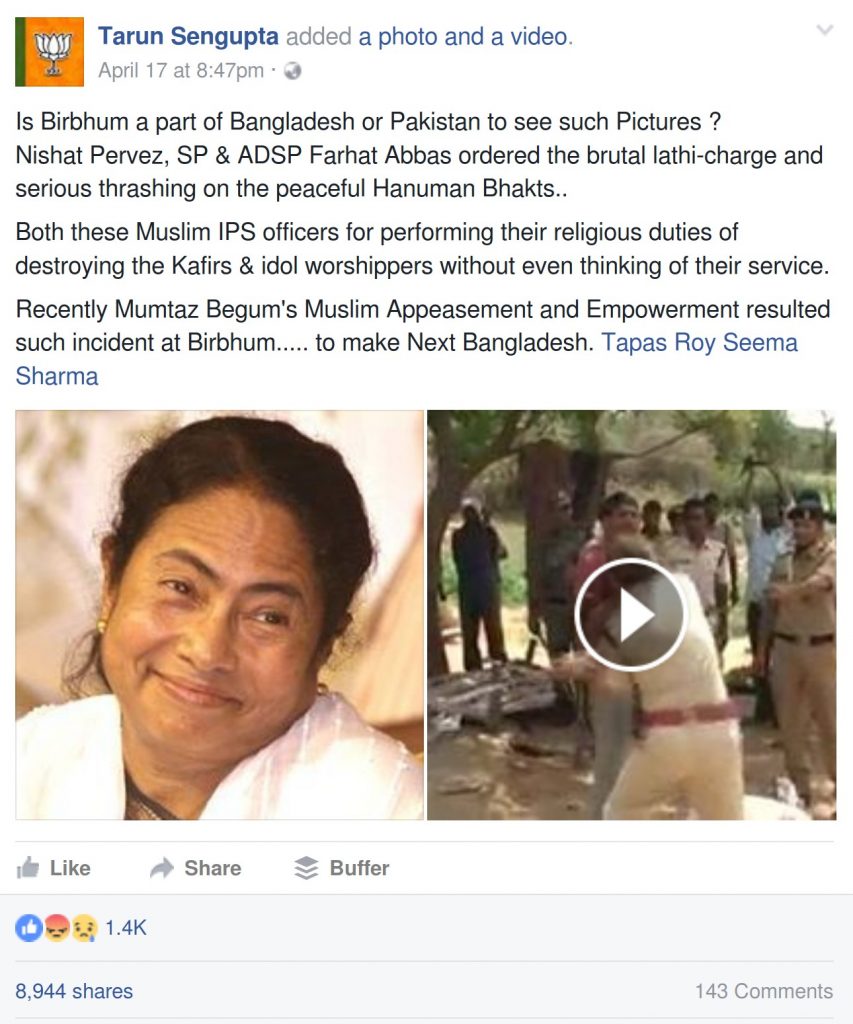 According to Tarun Sengupta's Twitter profile, he is the BJP Asansol District IT Incharge.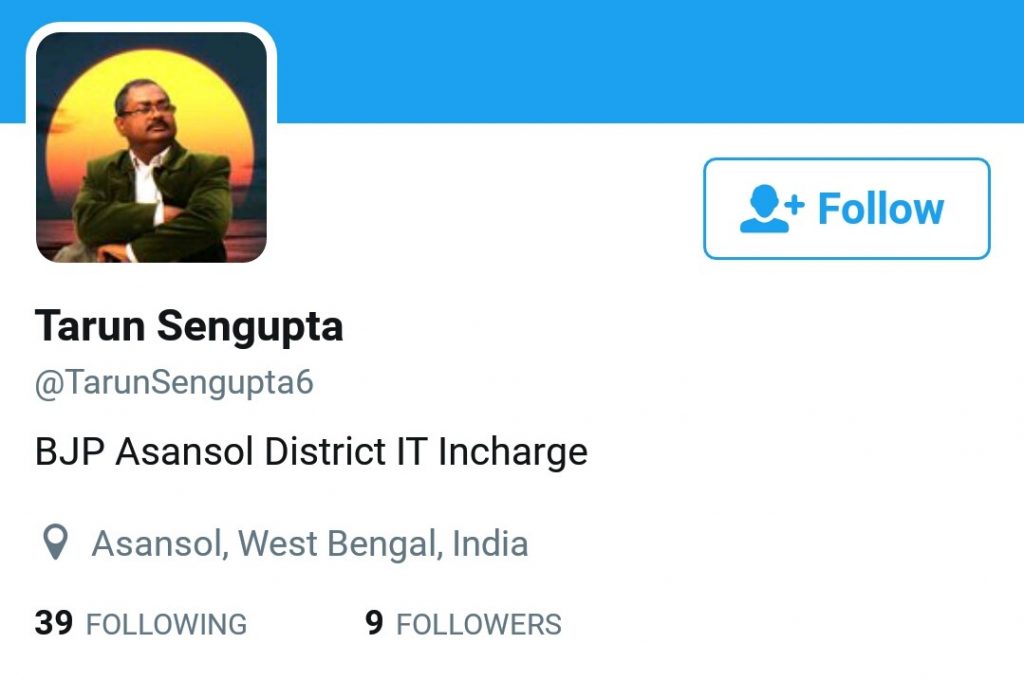 The same profile picture that is used on the Twitter profile is also available on Tarun Sengupta's Facebook profile from which the fake video was posted thus proving that the Facebook profile and Twitter profile belong to the same person.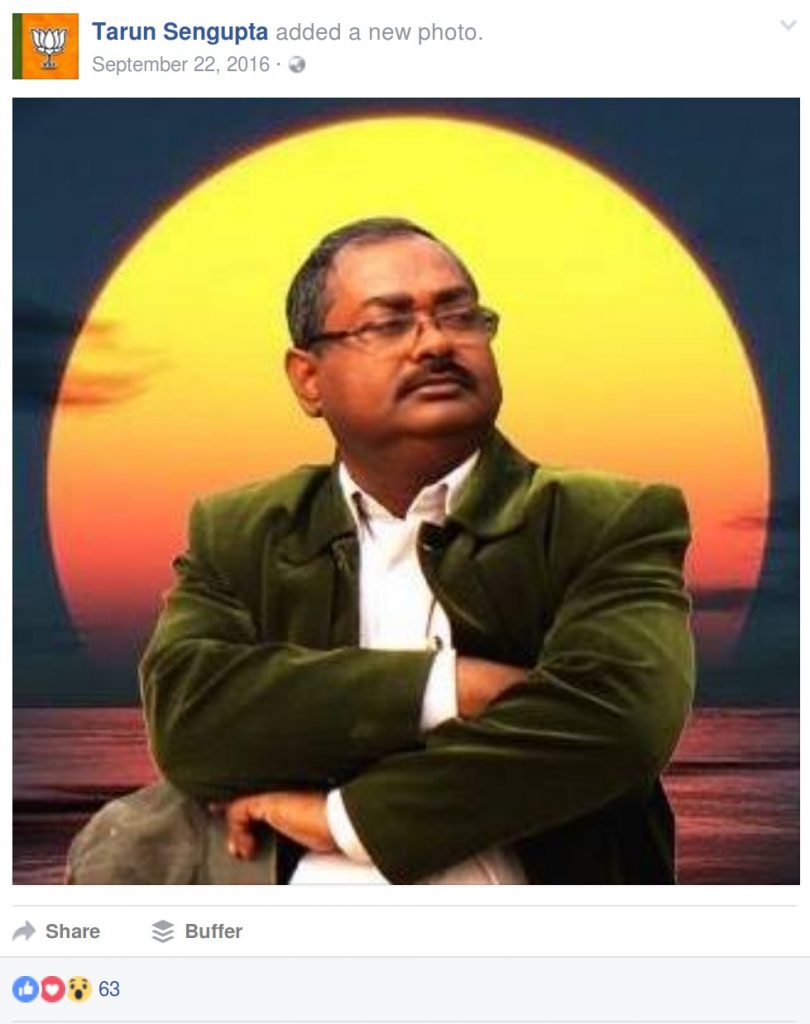 In fact, Tarun Sengupta seems quite close to BJP top brass in Bengal including BJP MP Babul Supriyo. According to pictures on Tarun Sengupta's profile, his family had attended the celebrations of BJP MP Babul Supriyo's swearing in. A picture of Tarun Sengupta's son can be seen with BJP State Executive Member from Bengal, Nirmal Karmakar (circled).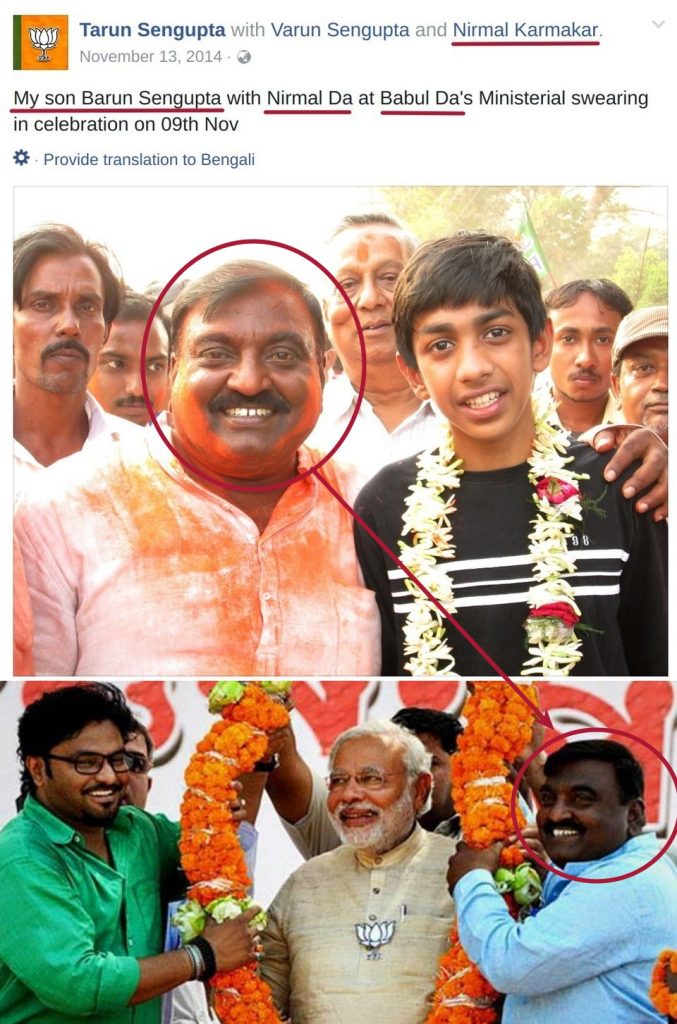 We at Alt News believe that these fake videos which do the rounds on social media and WhatsApp are being created in an organised and pre-planned manner. This is yet another proof that people officially in BJP are also a part of this dangerous propaganda of injecting communal poison in the society. Will BJP now disown Tarun Sengupta just the way they disowned the alleged ISI agents from BJP's IT cell in Bhopal?