A Facebook page योगी आदित्यनाथ की सेना (@YogiSenaGKP) has an impressive following of over 6.5 lakh users. Named after the chief minister of Uttar Pradesh, deciphering its political bend is a no-brainer. In the aftermath of Congress's victory in the assembly elections last year, the page shared a clipped video of Rahul Gandhi to suggest that he took a U-turn on farm loan waivers. The false clip drew nearly 1 lakh views.
Saxena's Twitter account is mostly a repository of retweets of tweets byयोगी आदित्यनाथ की सेना and another handle named HinduRepublicOfIndia which also has a Facebook page by the same name. From what it seems, he could be associated with both the platforms.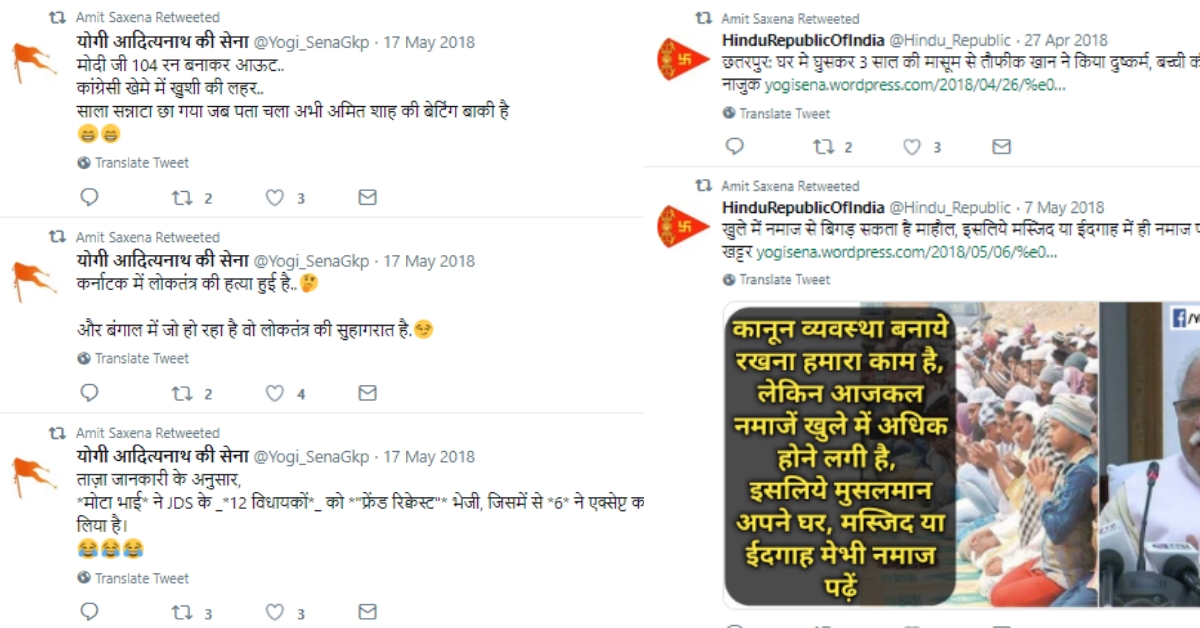 We found that Amit Saxena has been identified as the admin of योगी आदित्यनाथ की सेना on several posts by the page, hinting at a direct connection.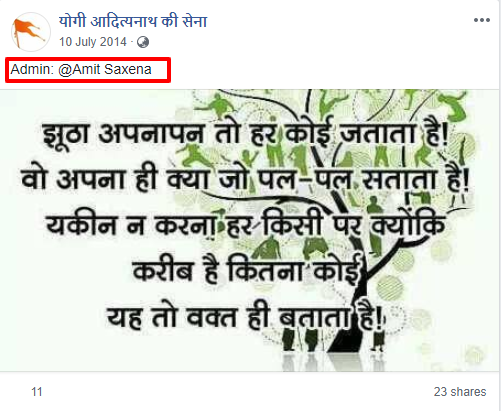 Alt news also discovered that Saxena, a resident of Uttar Pradesh, was also tagged on posts by the official handle of BJP UP ahead of the state assembly elections in 2017.
योगी आदित्यनाथ की सेना isn't only a propaganda platform but routinely circulates misinformation attempting to deceive its lakhs of followers.
A storehouse of fake news
1. False claim that Azam Khan asked Muslims to vote for BJP after SP-BSP coalition
A video of founding member of SP, Azam Khan, asking voters to vote for BJP was posted by योगी आदित्यनाथ की सेना at the backdrop of SP and BSP alliance in Uttar Pradesh.
Alt News found that the video was two years old and was taken ahead of the 2017 UP assembly elections. Moreover, Khan wasn't asking Muslims to vote for BJP but taking an angry gibe after he saw blue flags hoisted on Muslim homes.
2. False claim that Rahul Gandhi said that Gandhiji's non-violence was inspired by Islam
The page posted a 10-second video of Rahul Gandhi where he can be heard saying, "Mahatma Gandhi picked up the idea of non-violence from ancient Indian philosophy from Islam."
Alt News discovered that the video of Gandhi's speech was clipped. He originally said, "…Mahatma Gandhi picked up the idea of non-violence from ancient Indian philosophy, from Islam, from Christianity, from Judaism, from every great religion where it is clearly written that violence will not help anyone achieve anything."
3. False claim that Himachal police caught a "Mohammed Ahmed" who used a Hindu name in Facebook
In July last year, a post by योगी आदित्यनाथ की सेना claiming that Himachal Pradesh police caught a Muslim man running a fake Facebook account using a Hindu name received more than 8,000 shares.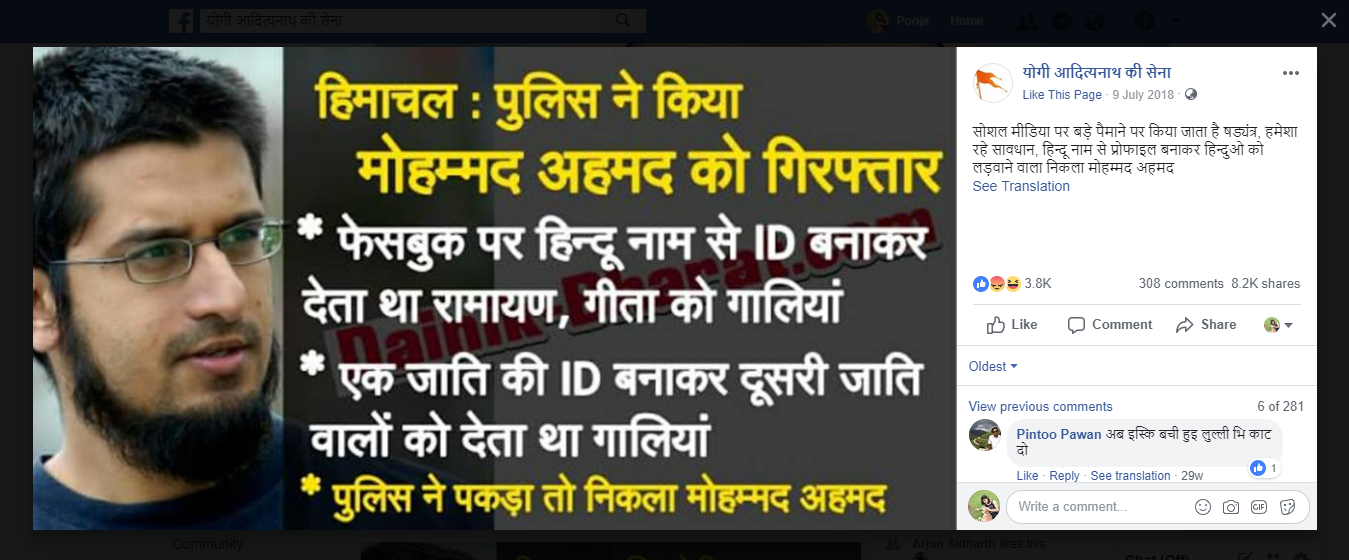 As it turned out, the page picked up the photograph of a freelance data science, blockchain and AI consultant Zeeshan-ul-hassan Usmani. The man has an account on Twitter as well and had posted on Facebook the same photograph used by योगी आदित्यनाथ की सेना.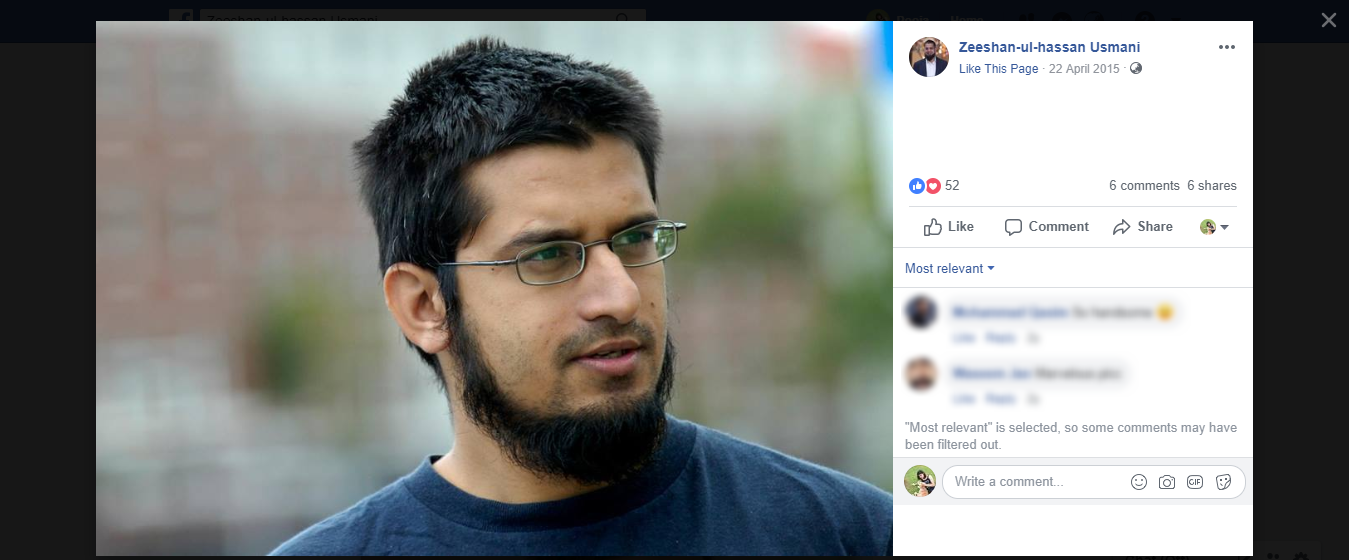 4. Fake quote ascribed to Delhi CM Arvind Kejriwal
In September 2018, the page योगी आदित्यनाथ की सेना posted an image which looked like a cropped article from a Hindi e-paper clip. The article's title was a quote ascribed to Delhi Chief Minister Arvind Kejriwal –"India should concede its right on Kashmir as Kashmiris want independence." The post was shared nearly 5,000 times.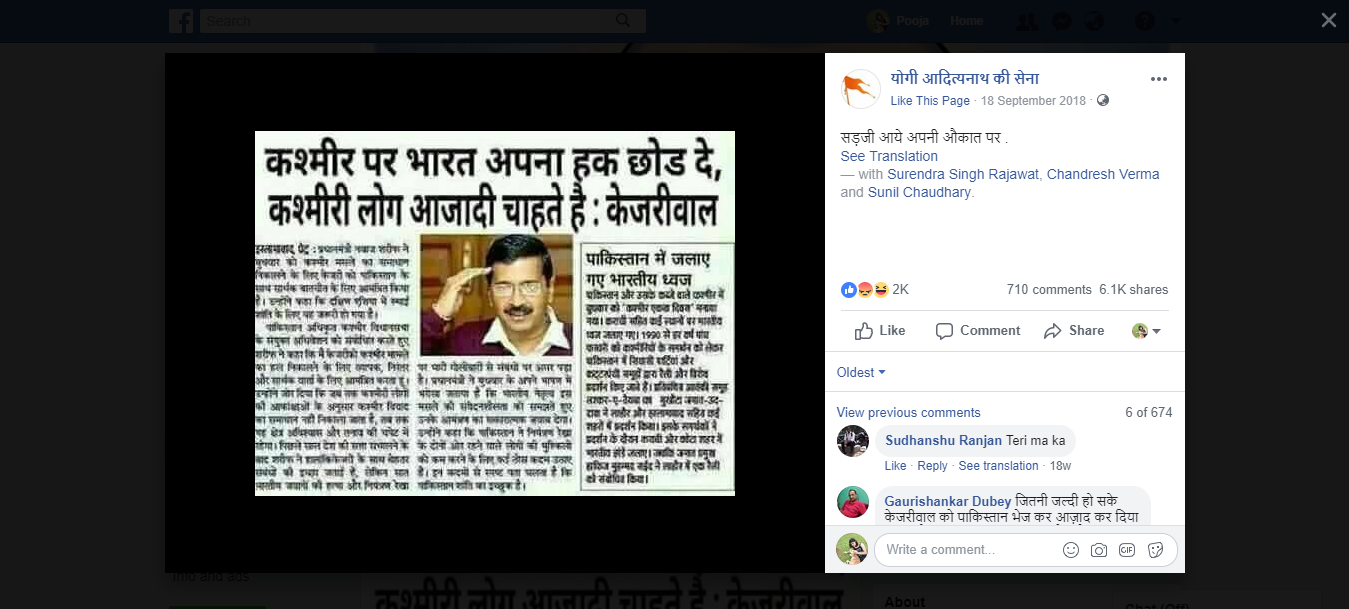 Alt News found that the image of the e-newspaper clip shared by the page was morphed. First, it does not include a date and second, has some serious grammatical flaws. In the first paragraph, the article addresses CM Kejriwal as "केजरी (Kejri)" which is uncharacteristic of a mainstream newspaper. In the subsequent paragraph, a statement by Pakistani PM Nawaz Sharif is not written in the form of a direct quote. As one reads further, similar slights can be identified. However, the most significant indicator of the falseness of the clip is the fact that it says nothing about Kejriwal's quote; it is only mentioned in the title.
5. Fake quote ascribed to BJP MP Paresh Rawal
A poster designed byयोगी आदित्यनाथ की सेना was circulated on WhatsApp. It ascribed a quote to BJP MP and actor Paresh Rawal saying – "Mere 20 crore Muslims are disallowing 100 crore Hindus from constructing Ram Mandir. If they (Muslims) were 100 crore, would they have permitted us to even stay in our own homes? (translated)"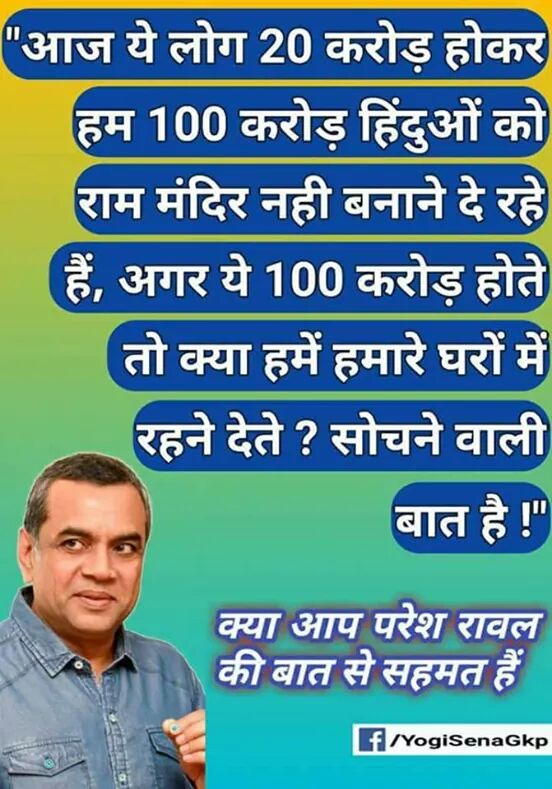 Alt News spoke to the personal assistant to Paresh Rawal who informed that the MP never made the ascribed statement.
6. False claim that the Indian army caught a suicide bomber
Last year, the page circulated an image of an old man with yellow coloured bags attached to his body, claiming that he was a suicide bomber who was caught by the Indian army. The post received nearly 3,000 shares.
The identical claim was also viral this year. Alt News found that an image of a Muslim man carrying hashish, caught by the Pakistani army at the Pak-Afghan border in Turkhum, was viral as a suicide bomber caught by the Indian army.
7. Fake quote ascribed to INC MP Jyotiraditya Scindia on Mandsaur rape case
योगी आदित्यनाथ की सेना ascribed a false quote to Congress Madhya Pradesh MP Jyotiraditya Scindia, claiming that he called for a CBI enquiry in the rape of the 8-year-old girl from Mandsaur, citing the possibility of the rapist Irfan being innocent. The post received nearly 3,000 shares.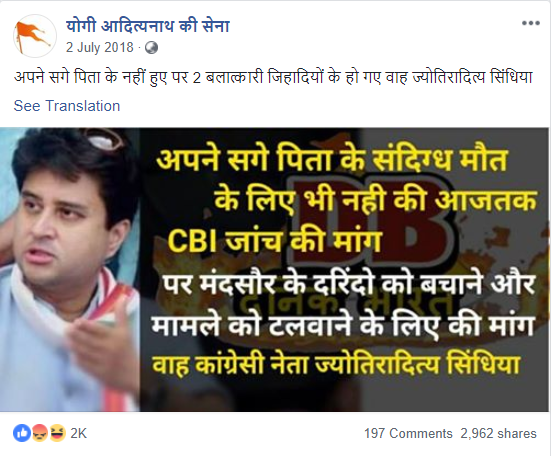 Scindia had never made the statement and the Congress leader had, in fact, tweeted a photograph of him attending a rally demanding capital punishment for the Mandsaur rape accused. Alt News had debunked the misinformation here.
8. Fake quote attributed to journalist Ravish Kumar
"हर गाँव में बिजली पहुँच गई, लेकिन बिजली का बिल गरीब कैसे भरेगा। वो उसके लिए कर्ज लेगा और फांसी लगा लेगा"(Electricity has reached every village, but how will the poor pay the bill? He will have to take a loan for it and then hang himself- translated). This statement was ascribed to journalist Ravish Kumar and was posted along with his picture on the Facebook page योगी आदित्यनाथ की सेना on March 3, 2018. The post received nearly 9,000 shares.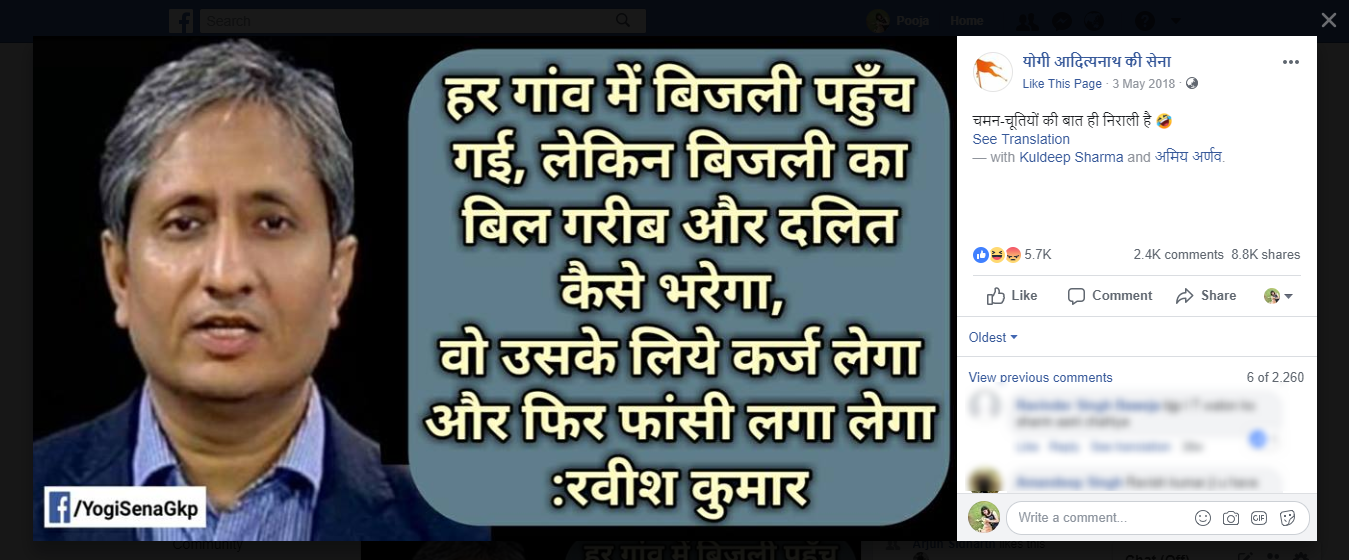 Alt News had contacted Ravish Kumar to find out the truth about these quotations, who clarified that none of the statements ascribed to him have been made by him. This page had earlier spread fake news about missing JNU student Najeeb having joined ISIS, and targeted Ravish Kumar, asking why the latter had not reported on this news.
9. False claim of Priyanka Chopra wearing burqa during visit to Rohingya refugee camp
In May 2018, Priyanka Chopra's visit to a Rohingya refugee camp in Bangladesh's Cox Bazaar as a UNICEF goodwill ambassador invited much slander and abuse. Subsequently, a photograph showing Chopra wearing a burqa was shared across social media platforms with the claim that the actress had donned the attire when she met 'extremist' Rohingya Muslims in Bangladesh.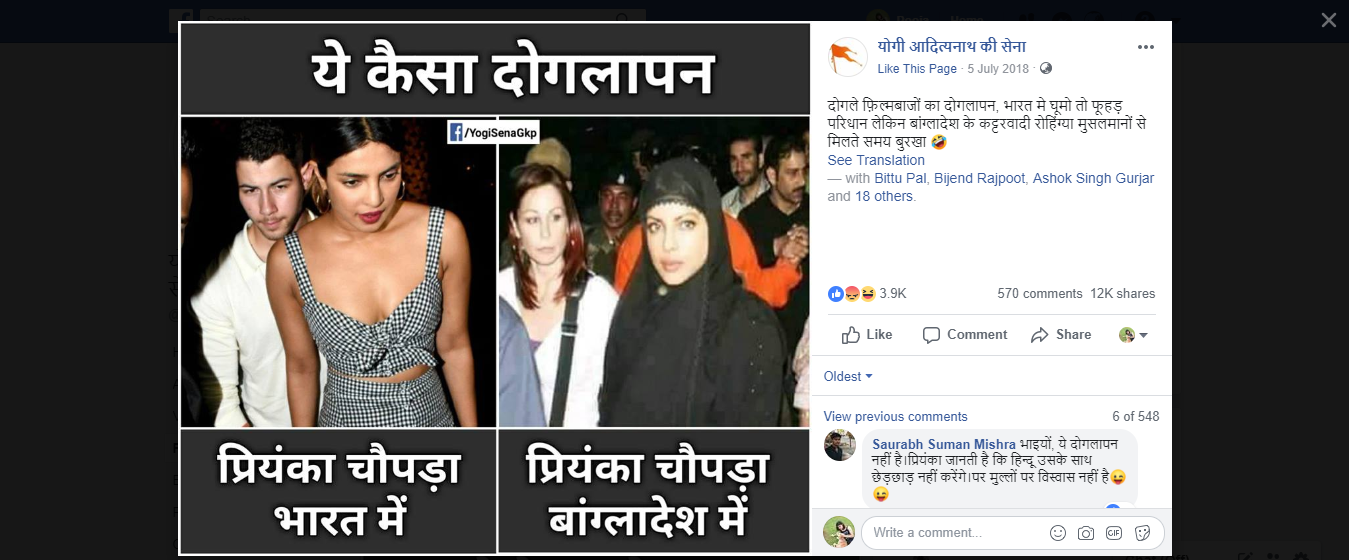 The above post by योगी आदित्यनाथ की सेना was posted on July 5 and was shared more than 12,000 times. The accompanying message says, "दोगले फ़िल्मबाजों का दोगलापन, भारत मे घूमो तो फूहड़ परिधान लेकिन बांग्लादेश के कट्टरवादी रोहिंग्या मुसलमानों से मिलते समय बुरखा" (Hypocrisy of hypocrite film stars, will wear anything in India but will wear burqa when meeting extremist Rohingya Muslims in Bangladesh- translation). The photograph of Chopra wearing a burqa was of 2011 when she was shooting for a movie 'Saat Khoon Maaf'.
10. Misleading images of first Indian Prime Minister Jawaharlal Nehru
Last year, the page shared a collage of multiple photographs of former PM Nehru in the company of women, attempting to portray him as an immoral man.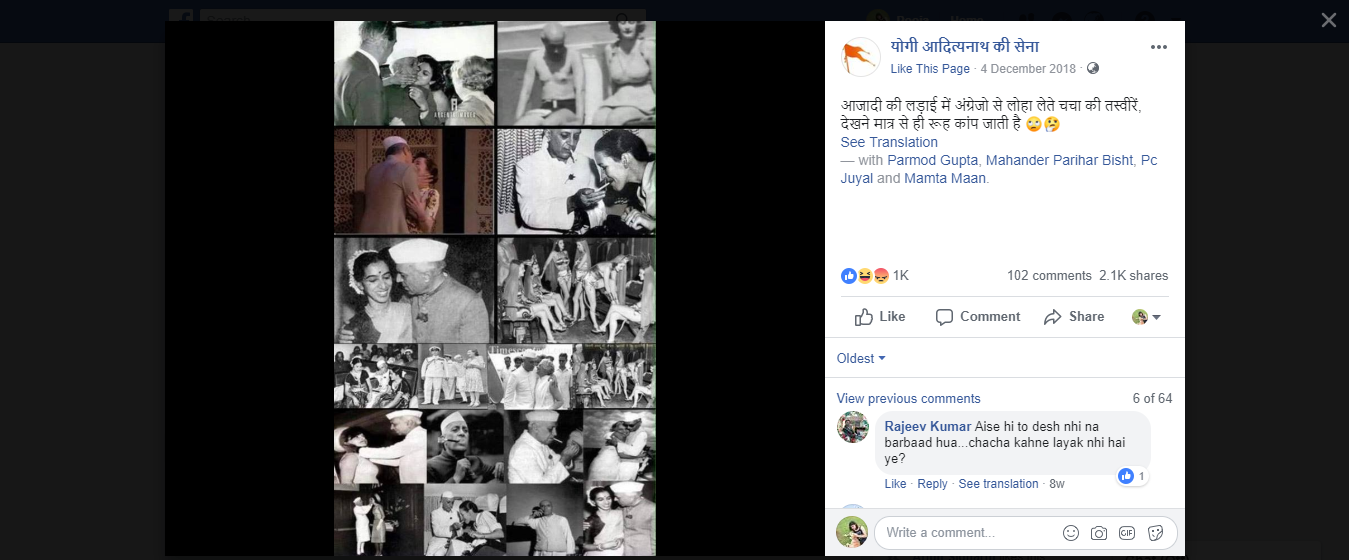 However, most of the images were either photoshopped or showed Nehru posing with family and friends. Alt News has debunked these images separately in the past – 1, 2, 3, 4.
11. False quote ascribed to journalist Rana Ayyub
"Minor child rapists are also human, do they have no human rights. This Hindutva Government is bringing ordinance for death to child rapists just to hang muslims in larger numbers. Muslims aren't safe in India anymore". This quote was credited to journalist Rana Ayyub. A tweet with this quote was posted by an account @repubIicTv which is a parody account of the TV news channel. योगी आदित्यनाथ की सेना had shared this fake quote.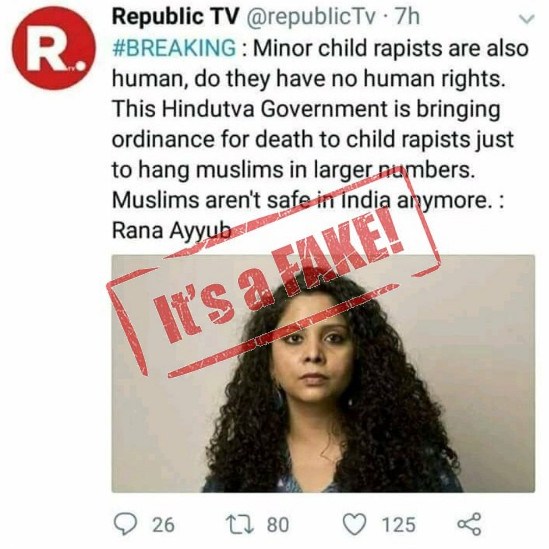 The post was later deleted from the page.
12. Fake quote credited to actor Nana Patekar
"Chhipkali raat ko kide makode khakar subah hote hi gandhi ke tasveer ke pichhe chhup jati hai, theek yahi kaam Congress karti aayi hai" (Lizards after eating ants all night hide behind Gandhi's photograph. Congress has been doing precisely this). This statement was attributed to actor Nana Patekar, and was posted by the page योगी आदित्यनाथ की सेना among others. It had a massive share count of over 11,000.